Michelle White - Timbera Archives - 2009
Friday January 30 2009 - Possibly the Most Important News of 2009
It's 1:12 on Friday morning and I just got back from El Benny, the monthly Cuban club here in Stockholm and I couldn't wait to write. DJ Soto-Mayor was back in town and as always he was spinning music completely to my taste. Even better, he played 2 songs I haven't heard before. I suppose it may be my own fault because I pretty much only go to concerts nowadays, but I think that is about to change. Tonight I heard the new demos from Tirso Duarte and NG La Banda! I thought they were both lost to timba. I thought Tirso had permanently moved into the world of reggaeton, and I don't even quite know what to say about NG's recent hits. But by golly gosh they are both back at timba in 2009!
Tirso's demo is called El Arreglista and NG's must be called something like El Luchador. They are both excellent examples of timba and of what Tirso and El Tosco are capable of creating when they decide they want to tirar la timba. El Tosco is the original timbero and Tirso is the new wonder boy and with their new demos they have both made me very happy. I suspect that "making Michelle at Timba.com very happy" wasn't exactly the specific goal they had in mind when they wrote these songs, but that's OK. I'm happy just the same. I think of myself as an average timbera and if I like what they've done, I think you will all like it too. So let's hope the demos make it into general DJ distribution soon...
Thursday January 29 2009 - Timba Weekend Round-Up
I was writing about Calixto, Pepito and La Bolá when I realized this is a pretty big timba weekend, so here is a round-up of what's going down around the world (as far as I know). If you're going to be in Cuba this weekend start by checking here. If you're in Europe or North America, see below.
January 30: Adalberto Álvarez y Su Son in Zug
Unfortunately I haven't been able to find the full list of concert dates for Adalberto on this tour, but they will be playing tomorrow in Zug, Switzerland at Chollerhalle. If you have any information about other tour dates please send us a mail.
January 30: Salsa Mayor Kicks-off European Tour
Los Mayores have arrived in Italy and begin their winter 2009 tour with a concert in Turin. Saturday they play in Verona at Benacus and Sunday in Milan at La Jiribilla. Click here for the complete list of shows.
January 30 & February 1: Paulo FG and Manolín Live in Miami
Although they were beset with political difficulties and denials of the use of the original venue, the promoters persevered and the concert will take place instead at the Dolce Lounge in Miami Beach on Friday and Sunday. Paulo FG will also perform on Saturday in Tampa. If you can make it to Miami, don't miss this historic performance of two Timba Legends together for the first time in Miami! For tickets and more details click here.
January 30: Telmary and Alberto Live in Toronto
In the Great White North Telmary will perform at Lula Lounge with Alberto Alberto. According to Bill Bryans, who will also be DJing the gig, they will present the audience with a night of "timba, hip-hop, funky jazz and alternative Cuban sounds". The line-up includes quite a list of first-line Cuban musicians so stop by Lula Lounge and get your fix. For more info see Billy's blog.
January 31st: La Bolá with Pepito Gómez & Special Guest Calixto Oviedo
Don't miss out on Saturday when La Bolá will perform with Pepito Gómez at Bayway Polish Club in Elizabeth, New Jersey. Calixto Oviedo will also drop by for a little jam session. He and Pepito recently performed together at La Fonda Boricua in Manhattan and he sent us a picture from that evening.
Bayway Polish Club
625 Pulaski Street
Elizabeth, New Jersey 07202
Tel: (908) 355-3131
21 & Over Proper I.D. Required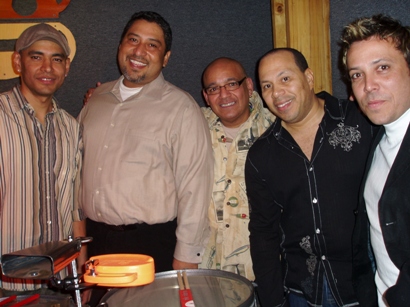 Mauricio Herrera, Ricky Salas, Calixto Oviedo,
Bobby Allende & Pepito Gómez at la Fonda Boricua
Friday January 23 2009 - Calixto Oviedo in New York
Last night Calixto performed in Boston at the jazz club, Wally's with Carlos Averhoff Jr. and Joshua Edesman. And tomorrow night, January 24th, he will be the special guest at Fonda Boricua in Manhattan for Los Sabrosos del Barrio. The line-up includes Ralph Irizarri, Frankie Vazquez, Ivan Renta Pete Nater, Bobby Allende, Arturo Ortiz and others. Sounds like a "don't miss" show to me.
Word is that he will also drop by for a guest spot at the concert Una Noche Cubana with Pepito and La Bolá at the Bayway Polish Club in Elizabeth, New Jersey on January 31st. In February he begins rehearsals for the Afro-Cuban All Stars Tour, an extensive two and a half month tour that takes the band from coast to coast.
And when Calixto gets back to Europe...well let's just say there will be some interesting developments to report so stay tuned!
Thursday January 22 2009 - Leonel Limonta and Nueva Generación
Azúcar Negra's new CD Exceso de equipaje has only been out for a few months but Limonta has already been in the studio working on a new project. I don't know exactly what it will be called but it features many of the singers from Nueva Generación that recorded the hurricane relief song, Así somos.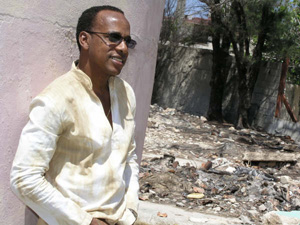 Lionel Limonta
Limonta's new obra is a tribute album to Spanish singer Nino Bravo. Singers include Coco Freman, Vania, el Indio, Ricardo Amaray, El Noro, Waldo, David Álvares, Arlenys, Dantes, and of course Yordis, Aylin and Dayan, the singers of Azúcar Negra. The CD doesn't have name for the CD yet or a released date but it will certainly be interesting to hear the salsa, merengue and bolero arrangements of Nini's music. More information as it becomes available.
Wednesday January 21 2009 - Maykel Blanco y Salsa Mayor Kick Off the 2009 Winter Tour Season
On January 30th Winter Tour Season 2009 officially begins with a concert by Maykel Blanco y Salsa Mayor in Turin. The band is currently on the Piso 6 top 10 with the video for Si le gusta repite a song in the grand tradition of culinary double entendre. With the exception of one concert in Lyon, France, los Mayores will spend all of their time in Italy. For those of us suffering the lethargy and depression of a drab, grey, cold northern European winter, this offers you the perfect excuse to take a long weekend in Italy. Click here to locate the concert most appropriate for you.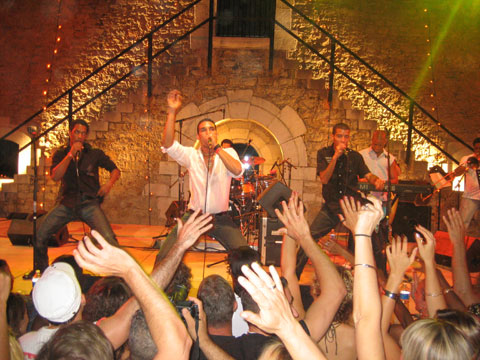 Maykel Blanco y Salsa Mayor at La Seyne Sur Mer July 2008
Saturday January 17 2009 - 2009 is off to a Good Start
2008 was an amazing year for Cuban dance music (click here for a long and yet incomplete list of Cuban dance releases in 2008) and 2009 is already looking very good as well.

Arrasando at iTunes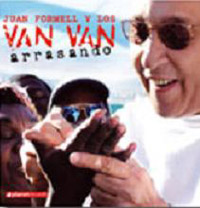 If you are a regular reader of Yemayá's Verse as I am, you already know that Arrasando is out at iTunes. The official release date for the hardcopy is February 6, making Arrasando the first release of 2009.
The CD has been well-received by those who have already purchased it. It has a sort of retro feel reminiscent of more pure songo rather than the heavier timba feel of the last release, Chapeando.
The CD contains 10 songs plus three bonus tracks, one of which is Un tumbao pa' los dos with guest artist Vanessa Formell. Vanessa has already received praise from Van Van fans, which must be a great feeling for both Vanessa and Juan in her first collaboration with Los Van Van.
Upcoming 2009 Releases
But wait! There is even more to look forward to this year!
Bakuleye - Desfiando
I don't have a release date yet but several demos have reached the DJs and people are already talking about La gallina and Josefina la locomotora. This looks to be a must-buy CD for 2009. Take a look at the video below and find out what all the excitement is about.

Bakuleye - La gallina
Tumbao Habana - Mambo duro
It has taken longer than expected for Tumbao Habana to get this CD finished, but I have always liked their style and their distinct sello, so I'm looking forward to this new CD. I have already heard 5 songs and here is a mini-review en adelante. Mambo duro seems to be shaping up to be a good party CD. El padrino has me dancing in my chair even as I write this post. No me conformo will appeal to those who appreciate a romantic bachata from time to time. Mambo duro is another good song for casineros with one of those classic timba tempo changes where it all slows down for a moment and then picks up again. Devuelveme la vida starts as a ballad and drifts into salsa. It is a duet with a Arlenys and is another song for the romantics but not so exciting if you're just looking to dance. And last of the demos I've heard is La nena which is another solid timba in the style of Tumbao Habana. It's been a long wait, but I think it will have been worth it.
Caribe Girls - Mi sueño
Over at TimbaPorSiempre Mirco has the latest on the Caribe Girls including an audio clip of one of the songs they are promoting for their CD which will be released later this year.
Wednesday January 14 2009 - More Where are They Now - BnK
In keeping with Kevin's theme of the day I have a little update for Fans of Boni & Kelly. Here's a little recap. They both left successful careers as lead singers in Cuba: Kelly sang with El Clan and Ebblis with Klímax and later with La Charanga Habanera where he earned the nickname El Boni from the song by the same name. But despite their success, the two blue-eyed brothers wanted to try their hand at a solo, or should I say duo career. They recorded an album together, closer to the music of El Clan than La Charanga Habanera and eventually they left Cuba in order to continue promoting their careers.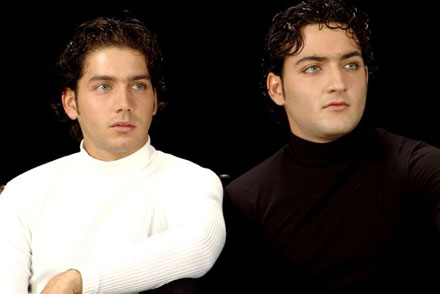 Hermanos bonitos - El Boni & Kelly
BnK are currently finishing up their second CD in Miami under the production of Latin Grammy winner and Spanish hearthrob David Bisbal. Nope it is not timba. Ebblis tells us that this CD "has a lot more pop and rock but always with our Afro-Cuban roots, it will be interesting". On January 20th BnK will be in Spain record the video for the first single from the album. They will then return to Miami to lay down the vocal tracks, but the release, marketing, promotion and concerts will begin in Spain.
Sunday January 11 2009 - Fiebre de Changüí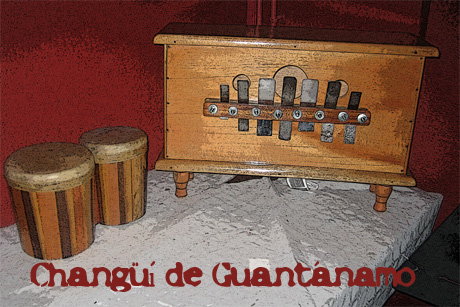 My artistically rendered picture of the bongó and marímbula of
Changüí de Guantánamo
It's been 4 months since I went to Paris to catch Changüí de Guantánamo at the festival D'Ile de France but I have finally uploaded the interview I did with the band in the dressing room before the show. There are some interesting comments in there about clave in changüí and about the importance of the tumbao played by the tres. To watch the interview in WMV format click here (in Spanish).
Most timberos think of Orquesta Revé when they hear the word "changüí" but while the music of Revé includes certain elements of changüí in the percussion, the difference between traditional chnagüí and the music of Orquesta Revé is significant. If you are unfamiliar with traditional changüí let me give very a brief presentation.
Changüí is a rural music style that originated in Oriente in the region of Guantanamo during the second half of the 1800s. As with other rural music forms, its started out as party music. Changüiseros tell us that the parties could last for days if not weeks with many musicians taking turns playing the instruments and singing, replacing one another as they got tired. The format of the bands was simple: tres, maracas, guayo (often just a food grater from the kitchen of the house where the party was held), marimbula or jug for the bass, and bongo del monte. Then in 1945 the musicologist Rafael Inciarte Brioso convinced the Latamblet brothers, Reyes "Chito" and Arturo, to form a permanent group and Changüí de Guantanamo was born.
If you are interested in learning more about both changüí music and dance, don't miss Benjamin Lapidus' new book, Changüí: The Origins of Cuban Music and Dance.

Changüí de Guantánamo was recently on the
Cuban program Descarga where they introduced the
bandmembers and talked a little about the instruments.
Friday January 9 2009 - Cuban Concert Season Kicks off in North America
Get ready because we are off to an early start in North America. On January 15 Calixto Oviedo will perform in Boston and then at the NAMM show in Los Angeles. It may not exactly be open to the general public but there are always the best of the best percussionists there, so if you have a way to get in, go. You can then catch Calixto on the Afro-Cuban All Stars tour from February - April. Click here to find a concert near you.
In other concert news, Pepito Gómez will perform with La Bolá at the Bayway Polish Club in Elizabeth, New Jersey on January 31st. DJ Melao will be spinning tunes that night and there may be a surprise guest as well...And on March 7 two-time Grammy nominees Tiempo Libre will perform at Balboa Theatre in San Diego, California.
A little farther north in Toronto, Ontario there will be a big Cuban night on February 7th with Caribe Girls, Leoni Torres and Mayito Rivera. It's one night only so don't miss it!
Not a bad start to 2009. Hopefully we will soon see a complete opening of the US market to Cuban bands again and there will be monthly timba concerts across the country.
martes, 22 marzo 2011, 07:32 pm