Indice - Table of contents
New Stuff
[hide]
Photos of the Day
[hide]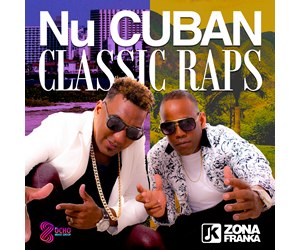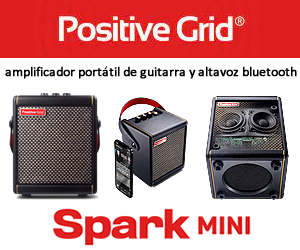 Michelle White - Timbera Archives October 2009
Saturday October 31 2009 - Halloween Salsa with Juan Kemell & La Barriada
Tonight La Barriada will be performing in Vaxjo, Sweden. They are wrapping up their tour with three concerts here in Sweden: Vaxjo tonight, Karlskrona November 7th (at the beer festival which sounds likea great place to see them) and the African Festival by SELAM in Stockholm on November 8th. I will catch them on the 8th in Stockholm. La Barriada has provided us with a couple of photos from the tour. Photos courtesy of Christer Olofsson.
Juan Kemell y La Barriada
La Barriada perform at the Jazz Festival in Kristianstad
Sunday October 25 2009 - Salsa & Rueda Vacation in Mexico
Right now people are gearing up for the holiday season...but what then? I personally have no use for snow and cold weather once New Years is over. Don't worry, here is a great solution to the January post-holiday blues. San Fransisco-based Rueda con Ritmo has organized a Mexican getaway for casino and rueda fans. The event will take place January 23 - 31 in Tulum, Mexico. The city itself is a worthy vacation destination judging from the activities available in the area. But if you're like me you'll forgo the beach for the dance workshops. In fact they also have a class on rhythm and listening for salsa dancers, which is the first time I've seen a class offered to help people understand the music itself (something I'd like to see dance instructors do more often). Here is the description of the class from the Rueda con Ritmo website:
"This class will explore the structure of Cuban music, the roles of different instruments and vocalists, the different sections of a song, and how to dance to these different sections. We'll learn the fundamental rhythmic patterns that make up Cuban music's percussive, polyrhythmic texture. We'll internalize these rhythms such that you understand them fully, physically and intellectually, and know how to incorporate this understanding into your dance. Each day we'll look at a different song in-depth – please bring your favorite music to share and/or songs you have questions about!"
It sounds like a class I'd love to take part in, but alas, living here in Stockholm, it's just a bit too far off for me to attend. I'd be very interested to hear a report from someone who takes the class.
Sunday October 18 2009 - Autumn Tour Round-Up
The fall tour season is underway with La Barriada on tour in Europe, soon to be joined by La Charanga Habanera and Pupy y Los Que Son Son. La Barriada will be at the Latin Festival with opening band Jorge Egües y su Cuban Beat and I will catch them myself here in Stockholm during the African Festival presnted by SELAM. La Charanga Habanera will start their tour on November 6 in Valencia, Spain and currently have 15 concerts set up. But keep an eye on their tours page because there may be additional concerts confirmed shortly. And Pupy y Los Que Son Son will be making a stop in Toronto, Canada on October 23 with guest singer Candido Fabré. This is an excellent combination that you don't want to miss! Pupy has one of the tightest bands in Cuba today and Candido is arguably the best improvisor in Cuba today. One week later Pupy has the the opening concert of the fall European Tour on October 30th in Lyon. And speaking of Canada, Juan de Marcos and the Afro-Cuban All Stars are already there rehearsing and have their first presentation on October 21st. Check their schedule for a concert near you.
Thursday October 8 2009 - La Timba de Suecia Series:
La Jugada - "Se unen dos corrientes con un mismo ideal"
The good things just keep on coming here in Stockholm. You know Calle Real, you know La Tremenda, you've heard about Yanesito's new group Bomba Sonera and if you pay attention to the timba blogs such as TimbaPorSiempre, TimbaStars and MisterBryans you have probably already heard that the newest addition to the Stockholm timba scene is La Jugada. Before I go any further let me say right now that I am the manager of La Jugada, so I can keep you well-informed about what the band is up to. But since I can hardly be considered impartial, I will leave you decide for yourselves what you think when you hear the music.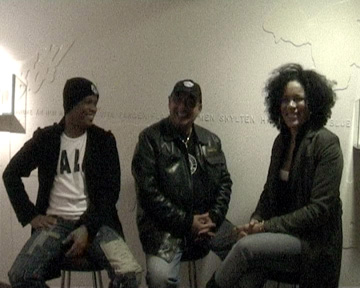 Richard, Calixto & Lily
While Sweden has thus far been known for it's Timba Sueca, La Jugada is making Timba Cubana. The band is a project of Calixto Oviedo (Adalberto Álvarez, NG La Banda), and Richard Ortega (Azúcar Negra, Salsa Mayor), a powerful combination of first and second generation timberos who are set on making timba in the original sense of the word. As Calixto describes it, timba signifies music with a lot of strength, swing, manana, and clave. La Jugada wants to honor the sello of the timba created during the 1990s but with a fresh and energetic take that is still firmly rooted in the Cuban musical tradition.
The band's format is piano/keyboard, bass, tres, drum con timbal, congas, güiro, trombone and three singers. La Jugada's first demo, "Chipi chalapi", was released less than a week ago at La Jugada's MySpace site. It is hardcore timba but with a few interesting twists such as a little contradanza at the beginning and a tasty trombone champola in the middle. Written and arranged by Richard, "Chipi chalapi" features Frank Belicer (Sello LA) on lead vocals with Lily Hernández, Calixto and Richard on coro.
Just as La Jugada is the auspicious union of two timberos, last Sunday was the auspicious conjunction of two special days: El día de Orula and National Cinnamon Roll Day in Sweden. With Calixto on the verge of leaving for the Afro-Cuban All Stars tour of Singapore and Malaysia, I took he opportunity to invite Calixto and Lily over for cinnamon rolls and to sit Calixto, Richard and Lily down for a little interview to introduce timba fans to the band and let them describe in their own words what it is they are trying to do with this project and answer the question "what in the world is chipi chalapi?". Click here to watch the video in WMV format (in Spanish).
Saturday October 3 2009 - La Timba De Suecia Series:
Interview with La Tremenda
Six month after the release of their debute CD, "La Tremenda" I met up with Johan and Magnus, and Magnus' lovely daughter in park in central Stockholm to talk about the group, timba and the CD. Click here to read watch the interview in WMV format (in English).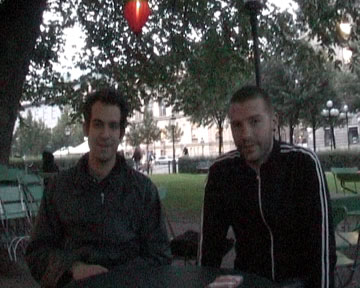 Johan & Magnus of La Tremenda
Tuesday, 22 March 2011, 07:32 PM