Michelle White - Timbera Archives June 2009
Monday June 29 2009 - Salsa Mayor Tour
Maykel Blanco y Salsa Mayor have sent out the concert dates that are confirmed so far for the summer tour. They will be doing the festival circuit: Milan, Rome, Belgium as well as a number of concerts in Italy and even in Copenhagen. Stay tuned for more tour updates.
Friday June 26 2009 - Patrick Bonnard on Havana D'Primera
Last week on a whim photographer Patrick Bonnard and some friends decided to rent a car and head out to the countryside to catch Havana D'Primera. I'm glad they did. The concert was held in a field under a big tent and the atmosphere was lovely. Patrick has shared a few of his great photos from that evening with us. Click here to see the gallery.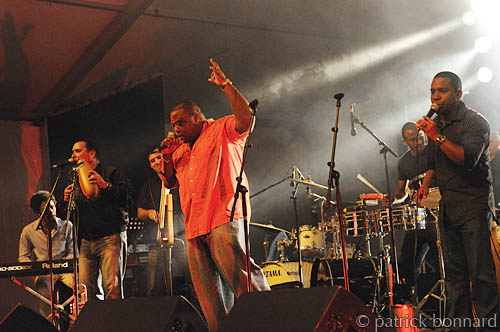 Havana D' Primera by Patrick Bonnard
Wednesday June 24 2009 - La Barriada to Europe
It's been a few years since I've seen La Barriada but they are coming back to Europe riding the wave of popularity after the 2008 release of "Havananza". The CD was one of the Best Of 2008 pick at Descarga and made a strong showing among Cuban music fans. the band will be touring in October/November. If you haven't seen them before, makea point of finding a concert near you. We will post the concert dates as soon as they are available. In the meantime enjoy the video of "Sigue con la rumba".

La Barriada con "Sigue con la rumba"
Tuesday June 23 2009 - Los Van Van Info
The tour cancelation as far as we know only relates to the European tour dates. The concert at the Montreal Jazz Festival with Afro-Cuban All Stars on July 12th is still on according to the Jazz Festival, you North Americans don't have to worry.
Report from Calle Real Release Party
On Monday June 15th, 2099 Calle Real celebrated the release of their second album, "Me lo gané", at Mosebacke in Stockholm. It was an outdoor event and well attended despite the chilly temperature. Click here to read the concert report.
Monday June 22 2009 - Samuel Formell is OK but Los Van Van Tour Canceled for the Time Being
Rumors have been circulating for days now after Samuel's accident. Fortunately, the original horror stories of a car accident were not true. However, he did burn his face in a cooking accident. Samuel told us that he is undergoing treatment which will be completed in 15 days. No surgery is required and it is not expected to leave any scars but it does hurt a lot. Samuel would like to thank all of the fans who have expressed concern for him. So in a few weeks he'll be back again.
In the meantime the band's manager confirms that Los Van Van will not look for a replacement for Samuel. When they tour, it will be with Samuel. This means that a number of concerts will be canceled, although at this point it isn't clear when they will be back. As soon as we have more information about concerts we'll post it.
Timba.com would like to wish Samuel a speedy recovery and we are looking forward to seeing him and the rest of the band back on stage soon.
Friday June 19 2009 - La Timba de Suecia Series
La Tremeda Début CD Released and Section Launched at Timba.com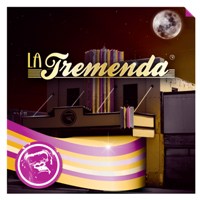 Don't ask me where the Stockholm/Havana connection comes from, but timba continues to gather strength here, the most recent example being the new CD by La Tremenda. Let's face it, the band has such a great name that the best thing to do was not to name the CD anything. The CD has 9 songs, seven of which will satisfy both dancers and DJs and two of which are ballads. The music is highly danceable, funky timba but has some exciting elements that give them a distinct sound. There are nuances of Charanga Forever, Klímax and Los Van Van but you will not mistake La Tremenda for any other group. Most vocals are sung by Lesmer Solenzar (Klímax, NG La Banda), but Thomas Eby and Alexander Abreu each sing lead on one song and there is a Latin fusion pop ballad in English sung by Ander Von Hofsten.
Check out the La Tremenda section to learn more about Scandinavias latest contribution to timba. Click here for the full album review including a link to a medley of songs from the album so you can see what I'm talking about. There are also links to the lyrics. See also La Tremenda's MySpace site.
The CD will be available at iTunes in a couple of weeks and can be found on-line at Most Wanted Latin Music. They are distributed in the US by Reyes Records in Miami and G.B. records in New York, but I don't know for sure when the hardcopy will be available there.
Wednesday June 17 2009 - La Timba de Suecia Series
El timbalero mayor Calixto Oviedo is taking some time out from his tour schedule with Afro-Cuban All Stars to perform with Didara Band at Nefertiti Jazz Club in Gothenburg, Sweden on August 28th. The bandmembers are Lily Hernandez - vocals, Calixto Oviedo - drum/timbal, Yasser Morejon - bass, Carsten Kare - piano and special guest Fredrik Kronkvist - sax. Tickets are available at Nefertiti's website or at Ticknet. Timba is my favorite music, but the jazz environment really provides Calixto with some great opportunities for mind-blowing solos. You don't want to miss this show! And stay tuned for more info about the upcoming Afro-Cuban All Stars tours.
Me Lo Gané Officially Released in Sweden Today
The CD is available in Sweden as hardcopy as well as at iTunes and at CDON. If you read my review, you know that I strongly recommend Me lo gané. It's a great dance album and also fun just for the little nuances that let you know it's not Cuban timba. The release concert was held on Monday and I will soon post a short report... wait, strike that! The guys are being very specific about saying it was not a concert but a promo for the new album. OK, but it sure seemed like a concert to me...albeit with only songs from the new album. So stay tuned. I've been playing around editing the video but I'm still trying to work out what is the best format for uploading it to YouTube. When I finally settle on something and know the links are permanent, I'll post the concert...um...promo report here.
La Tremenda Coming on Friday
If today is Calle Real's big day, Friday, yes Midsummer's Eve to all of you here in Sweden, will see the release of La Tremenda's début as well as the launch of their Timba.com section. So unless you are here in Sweden sitting outside under an umbrella eating pickled herring and drinking snaps in the rain, be sure to check back with us on Friday.
Saturday June 13 2009 - Havana D'Primera Kick off Premier Tour Today
Tonight marks the historic occasion of the premier concert of Havana D'Primera in Europe. It will be held at the Festival Peña y Salsa in Bayonne, France. Although I am heartbroken that I can't be there in person, I can console myself with the concert reports and videos posted by Gabriel during her Havana trip until I can catch one of the concerts later in the tour. Click here to find a concert close to you.
Ahora que buscas? Más videos?
Check out Yemayasverse at YouTube for more great videos

Pepito Gómez Official Web Site
José "Pepito" Gómez has launched a very nice, professional site with all the information you could possibly want and some you probably didn't even know you wanted. He has kept busy since moving to the US with guest appearances at many concerts including an improv with the Afro-Cuban All Stars. So check out his site which includes a bio, music, video and more.
BNK Official Blog
If you've been wondering where in the world pop-singing brothers Boni N Kelly are these days...just check their blog. They started it in May and it seems that since their trip to Spain, they have slowed down a bit on their posts, but that doesn't mean there aren't updates. You can check out the video of their Spanish tour. There is also a forum, photo gallery, video gallery and a music player with unsatisfyingly short audio clips from their album.
Friday June 12 2009 - La Timba de Suecia Series:
La Tremenda
We are having a cold, grey start on summer here in Scandinavia, but fortunately things are hot here in the world of timba, downright tropical! La Tremenda will release their long-awaited debut album on June 19th. As you may already know, I am about to launch the section for La Tremenda, but in the meantime here is a little teaser. The band has updated their MySpace site with more information about the band and bandmembers as well as the cool graphics from the album cover. The great thing about the timba world here in Sweden is that just like in Cuba, each band has it's own sello. So stay tuned for more on La Tremenda, including some audio!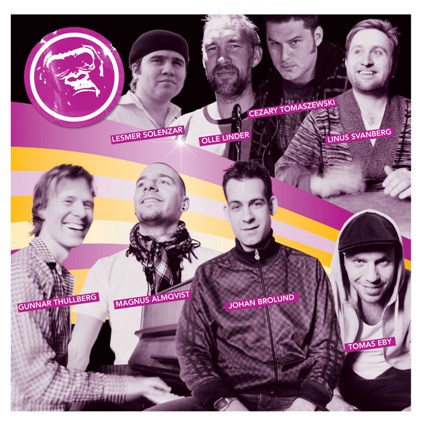 ¡Prepárense que La Tremenda está llegando!
N'Taya and Melao at S.O.B.s
On July 10th N'Taya will perform two shows at S.O.B.s and Melao will be working the turntable. The shows are at 8pm and 10pm, but doors open at 5pm with a dance lesson at 7pm with ladies getting in free before 7pm. So all you timberos and Cuban music fans in and around New York should be sure not to miss your chance to catch N'Taya live. If you haven't heard them yet check out their MySpace site.
Friday June 5 2009 - La Timba de Suecia Series:
Interview with Patricio Sobrado and Thomas Eby of Calle Real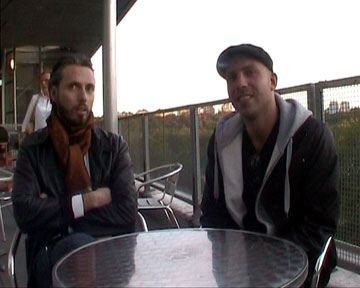 I continue my report on the timba scene here in Sweden with an interview with Patricio and Thomas, the director and lead singer, respectively, of Calle Real. We had planned to do the interview in one of Stockholm's few skyscrapers (a full 26 floors!), formerly known as the "taxscraper" because it housed the Tax Authority, now converted into a mall, student housing and a restaurant and bar with a breathtaking view of the southern island of Stockholm. However, we were shut down by the bouncer who said interviews had to be arranged in advance and held during the day when there were no customers.
So we wandered off to the nearby Clarion Hotel which also has a nice view from the bar but there was a jazz band playing. So we went out onto the terrace of the Clarion where the smokers go, since indoor smoking is prohibited in Sweden. It was actually a nice, relatively warm evening, about 8pm. Of course the Clarion just happens to be directly under the flight pattern for Bromma airport and also relatively close to a hospital. This explains the occasional siren and the numerous airplane sounds during the course of the interview.
The video interview was conducted in English so that will be a relief for those who don't speak Spanish or perhaps speak Spanish but don't understand Cuban. Here are some comments from the interview, taken completely out of context, in order to pique your interest.
"No, we hate each other"
"It's not like they don't get paid if they don't do what I'm saying...Nobody gets paid so it doesn't matter"
"We're not virgins anymore"
"Can you make it with a feminist lyric?"
"It's a very weird song in the beginning"
"We don't get it up, we go down"
Click here to watch the interview (WMV) and find out what prompted all those comments.
Wednesday June 3 2009 - La Timba de Suecia Series:
Calle Real live in France
Stockholm is a hotbed of Timba activity these days. Calle Real's new CD will be out on June 17 followed closely by La Tremenda's début which will be released by Wallboomers on June 19th. So I will be working on a continuing series about what's happing up here near the arctic circle. Yesterday I posted a review of Calle Real's new CD Me lo gané and today I came across a video of La eternidad del amor performed recently in Bordeaux. It's pretty decent audio quality considering it's a fan video with the ambient sound. So check it out. And keep in mind that this is one of the "softer" romantic songs on the CD, which is a monster dance album. Stay tuned for the interview with Patricio and Thomas coming later this week.

Calle Real perform La eternidad del amor in Bordeaux, France
Tuesday June 2 2009 - La Timba de Suecia Series:
En La Calle Otra Vez - Call Real is Back and Hotter than Ever
If you live in France you may already have been lucky enough to obtain a copy of Me lo gané at their recent concert at the Festival Salsamistad. If not, don't worry. The official release date is now set for June 17. The festivities will begin here in Stockholm on June 14 when Calle Real will perform on TV4 morning news program. On June 15th they hold their release party at Moseback, which conveniently happens to be very close to my home. With a little luck we will have good weather and they will play outside in the garden overlooking the Old Town. I know it will be packed so get there early!
If you are already a fan you are going to love the new CD, which takes up where Con fureza left off bringing even more inventive arrangements that still bear the trademark of Calle Real's heavy groove factor. If you've never listened because you don't really trust anyone but Cubans to provide you with your timba fix, you need to give this try. There is a reason that bands are performing Calle Real covers in Peru, the US and Australia, and I have no doubt that when you hear the first bars of Somos familia, the brilliant opening song, any misgivings you may have had will fade away.
Thomas: Calle Real está aquí de nuevo, Pa'l mundo entero
Todos: No me paran con una bala, no me paran ni con dos
Todo sigue con la misma ala, marcha dura y con la misma voz
Inolvidable es mi nombre, interminable es mi andar
Incansable es el ritmo que, yo te traigo pa' tu bailar
Click here for a review of the new CD and links to the lyrics. And stay tuned for part two of the Calle Real report: an interview with Patricio and Thomas which will be up later this week.
martes, 22 marzo 2011, 07:32 pm