Michelle White - Timbera Archives September 2009
Thursday September 24 2009 - Finally! Mayito & Grupo Danson Concert Report
I'm involved in some exciting projects here in Stockholm that have been taking up a lot of my time but finally I have finished the Danson/Mayito concert report. Better late than never.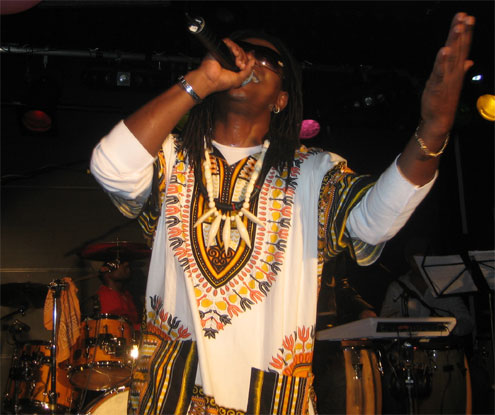 Mayito Rivera in Copenhagen
I was one of the fortunate timberos who had the opportunity to catch Mayito Rivera on his brief solo tour this summer. First let me assure any worried fans that a solo tour by Mayito is not an indication of any impending break with Los Van Van, rather it shows why Formell is able to keep a group of stellar musicians together. He isn't afraid to allow the bandmembers to do their own thing. In fact Mayito has plenty of offers for solo tours and we can expect more. It's just a matter of finding a break in his already full schedule. Click here to read the concert report.
Sunday September 20 2009 - Bamboleo in Japan...with Vannia?
Gabriel from Yemaya's Verse tipped us off that there are plans for a Bamboleo tour of Japan in November. There are also rumours that Vannia will accompany the band to Japan for these concerts, although I haven't seen anything to confirm this. On the other hand, I don't read Japanese, so here's a link to Ryu Murakami's Cuban Night set for November 26/27th.
Thursday September 17 2009 - Latin Festival Copenhagen 2009
The fall tour season is about to begin and it seems like Copenhagen is in the lead right now for best autumn festival. The festival includes both dance classes and concerts and gets underway on October 24th at Amager Bio with concerts by Egües y su Cuban Beat and Juan Kemell y La Barriada. Tickets cost 180 DKK (25 Euro) and can be bought in advance via ticknet or at the door.
On November 14th the party continues this time with Pupy y Los Que Son Son and La Charanga Habanera. Tickets to see these two monsters of timba cost 380 DKK (55 Euro) and can be bought in advance via ticknet or at the door, if you are wiling to take the risk that the concert won't be sold out. I would recommend securing your ticket in advance.
Dance classes are offered during the day on the 24th and 25th of October and the 14th and 15th of November at Hotsteppers Dance studio. For more information about classes and concerts see the Latin Festival website.
While you wait for the arrival of Pupy y Los Que Son Son and La Charanga Habanera, enjoy a couple of their recent videos.
Pupy takes up drawing cariciatures in Se parece a aquel
La Charanga Habanera Con la misma loca & una pila de estrellas de Hollywood
Monday September 7 2009 - More Los Van Van Dates
Our friend Franz Gamarra has updated us a bit more on Van Van's current tour plans.
September 18 Lima, Peru Club Lawn Tennis
September 20 Havana, Cuba Plaza de la revolucion (with Juanes)
October 2 Bogotá, Colombia DownTown Majestic (with Grupo Niche)
October 16 Santiago, Chile Teatro Caupolicán
October 23 Buenos Aires, Argentina Luna Park
Sunday September 6 2009 - Timba in South America
Timba.cl is back online and they have sent us some information about the current South American tour by Los Van Van. El Tren will make a stop at Club Lawn Tennis de Jesus Maria in Lima on September 18th. The Chilean concert will take place on October 16th at Teatro Caupolican. Timba.cl has all the details. Van Van will also perform in Brazil and Ecuador but I haven't found the dates for these concerts. If you have information about other Los Van Van dates in South America, please send us an e-mail.
Timba in Argentina
In other South American news, Manolito y Su Trabuco and Pedrito Calvo are touring are Argentina together. They were in Buenos Aires last night and will perform tonight in Rosario at Mamasalsa. Next month La Charanga Habanera will be in Rosario on October 7th and in Buenos Aires on October 9 and October 10th at Azúcar Belgrano. Van Van will be at Luna Park in Buenos Aires on October 23 and possibly in Mendoza on November 12th, but I haven't found on-line confirmation of this concert.
Tuesday, 22 March 2011, 07:32 PM