The Roots of Timba - Part II - Another Lost Classic
Other than La candela, the most interesting early song that never made it onto an official Los Van Van LP was Y que se sepa. The same rhythm tracks were used to make two different versions -- one with Lele singing lead and another with guest singer Omara Portuondo. Both versions can be found on the "Rosetta Stone" compilation CD.
1973? - Los Van Van - Y que se sepa (EPA-6332A)
xx0x 0xxx 0xx0 xxx0 2-3 rumba clave
xxx0 x0xx xxx0 xxxx kick
0x0x xxx0 xxx0 0x0x MIDI example
bass: Juan Formell - drums: Changuito
source: write EGREM (or go hunting on Calle Ocho!)
notes: At 102 bpm, this is a relatively slow songo. The notes of the "singing" bass tumbao extend it to two claves even though it repeats the same clave-aligned rhythm each time. Changuito plays both bombos and frequently (but not always) adds the next offbeat such that the kick and clave alternate with each other on the 2-side.
The Dawn of Clave License: Y que se sepa appears to be the first time Formell engaged in the fascinating practice he would later call "clave license". This is explained in "The Four Great Clave Debates" and discussed in even greater detail in the appendix of Volume II of "The Tomás Cruz Conga Method". [For readers of Understanding Clave and Clave Changes, the "clave license" category includes Type 1 and Type 3 clave changes, and the so-called "New York style" clave change is equivalent to a Type 2 clave change.] To experience it firsthand, simply clap 2-3 clave along with this audio example. If you stick to your guns, you'll come out right when the coro returns, but note that flute section is repeated twice -- note for note. The first time, you'll find yourself beginning on the 2-side, and then second time on the 3-side! But in 1973, Formell was just warming up and would later pose much trickier clave challenges with arrangements such as Sandunguera, Te pone la cabeza mala, Agua and many others.
Y que se sepa also demonstrates several early examples of rhythm section practices which laid the foundation for timba "gears". While the Omara Portuondo version uses the same rhythm tracks as the original LVV version, the mix is extremely different -- some percussion elements are easier to hear in one version of the other, so listen to them both:
Y que se sepa - breakdown - Omara Portuondo mix
Y que se sepa - breakdown - LVV/Lele mix
When the bass drops out, El Yulo plays an a caballo or sucu sucu marcha, then stops his marcha entirely while the band plays bloques, then enters with a typical songo conga marcha (especially easy to hear in the Omara version) and finally a conga solo (easier to hear in the LVV version) while various combinations of coro, violin guajeos and piano tumbaos hold down the time.
Like La candela, Y que se sepa has a bolero B-side (Y me basta con pensar) which was converted into an up-tempo dance hit on Los van Van's 1990 masterpiece album Aquí el que baila gana.
Me basta con pensar - original version (vocal: Juan Formell)
Me basta con pensar - 1990 version (vocal: Pedro Calvo)

Areito EPA-6333: Pero que falta de respeto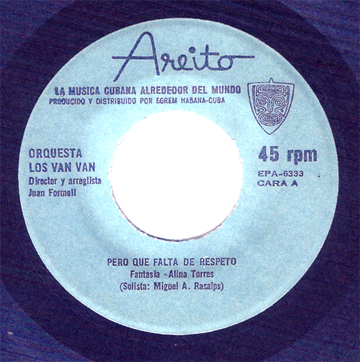 1973? - Los Van Van - Pero qué falta de respeto
(EPA-6333A) (Alina Torres)
xx0x 0xxx 0xx0 xxx0 2-3 rumba clave
KxKx Sxxx xxxK xxxx kick and snare
0xx0 00x0 x0x0 x00x MIDI example
bass: Juan Formell - drums: Changuito
source: Los Van Van, Vol. II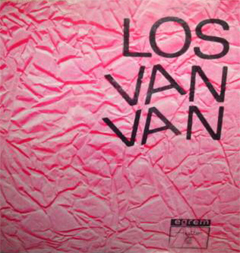 notes: The intro to Pero qué falta de respeto pays homage to Changuito's favorite North American drummer (Bobby Colomby) and group (Blood Sweat & Tears). Similarly, the bass tumbao is the clearest example yet of "The Detroit Connection", but it's the choice of notes that give it such an R&B flavor. The rhythm is very much in keeping with the songo template. In fact, it's also rhythmically identical, plus one note, to the afore-mentioned Con la conciencia bass tumbao from 1997. The first beat of Pero qué falta's kick drum part substitutes KxKx for the more typical KxxK:
xx0x 0xxx 0xx0 xxx0 2-3 rumba clave
KxxK Sxxx xxxK xxxx more typical songo kick and snare
KxKx Sxxx xxxK xxxx Pero qué falta kick and snare
This gives it a slightly more "rock" feel, but then again, it also aligns it even more with the clave! As for the snare, playing it on the backbeat of the 2-side, but not the 3-side had already become the most common practice by this point. Both kick and snare are subject to variations, the most common being adding the snare on the ponche of the 3-side.
Collector Osvaldo Martínez remembers hearing an interview in which Formell lists Pero qué falta as one of his 5 favorite early LVV songs. It was penned by Alina Torres, who wrote several other songs for LVV and is known to timba fans as the composer of Charanga Habanera's El cantinero.
Like Pero a mi manera, there are two versions of Pero qué falta de respeto. We've been listening to the later one, recorded in Spain for the Tránsito album, but thanks to the tireless work of Rich Pagano, we now know that the single version is quite different -- not as refined but full of the raw energy that follows the immediate creation of a new arrangement. The odd mix, not nearly as professional as Transíto, has the happy side effect of highlighting El Yulo's conga track. On the earlier version the congas are almost soloed (albeit at the expense of the bass), allowing us to hear many nuances of which are much harder to hear on the album version.
The flip side, Qué decir del dolor, is another of Formell's songo boleros that's never been released on CD. It's a beautiful song which would be an another exquisite candidate to be re-recorded by the current group. There are also some strange, haunting, almost psychedelic instrumental sections. Hopefully some day EGREM will release a complete box set with all the multiple versions and B sides. Please take the time to write them and encourage them to do so!
martes, 11 marzo 2014, 11:33 am