The Roots of Timba - Part II -     Yo bailo de todo - The Cuerpo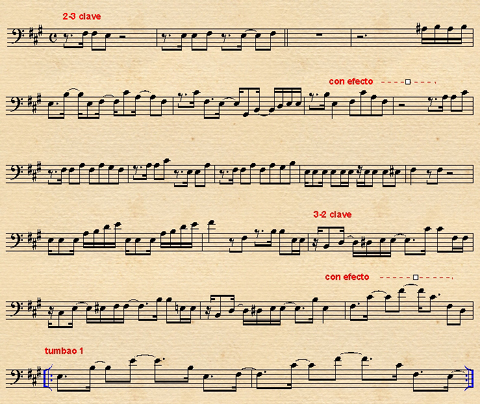 transcription edited by Rob Holland
In 1975, this may have been the most sophisticated and sublime Cuban popular music bass performance ever recorded, and it was seldom if ever equalled by anyone other than Perera himself until the arrival of Feliciano Arango, Pedro Pablo and Alain Pérez in the 90s.
There are three audio clips: the actual recording, a MIDI transcription, at the original tempo, with a tempo map to approximate the two instances of con efecto, and a second MIDI excerpt which plays the transcription as written, in slow motion, without efecto.
Humberto deftly switches from accompanist to soloist and back as he weaves his way through the bloques and several tumbao ideas, playing each one with multiple variations.
Note the "clave license clave change" at bar 16 - if you play clave from the beginning, you'll have to play the 3-side twice in a row to stay in sync with the band.
martes, 22 marzo 2011, 07:32 pm