The Roots of Timba - Part II - Los Van Van for Collectors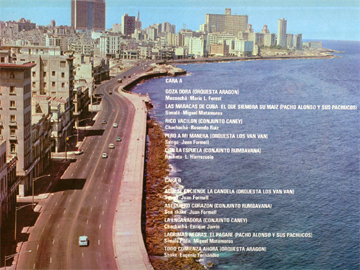 Ritmo de mi Habana - Areíto LD-3383
also see our Los Van Van Discography
"Various Artists" Compilation LPs
It was during the 4 years between their first two LPs that Los Van Van surged into the "Perfect Storm", and tracking down their seminal recordings is a very tricky task. The Ritmo de mi Habana compilation pictured above has the A-sides of La candela and Pero a mi manera. Candela is the same recording, but it's almost a minute longer (the version on most CDs fades out at about 3:45. Pero a mi manera, however, is a completely different recording - not as refined as the version analyzed in this article, but very spirited. Another compilation, Novedades musicales de Cuba, Areíto LD-3387, has the A-side of Y que se sepa. We assume that the singles came first, but it could be the other way around.

In the meantime, if you have all 23 Los Van Van studio albums, it's safe to say that there are only three compilation CDs which are worth pursuing. The Legendary Los Van Van is a greatest hits collection with no otherwise unreleased tracks, but it's lovingly remastered and sounds drastically better than the same tracks in their original form. It also includes a version of Te pone la cabeza mala which recombines the opening and closing tracks of the album into one performance. Last but not least, it has a wonderful 106-page booklet with lyrics, personnel history and much more. If you want to buy one LVV album with excellent sound, documentation, and track selection, this is the one. The 30 year anniversary also inspired a nicely remastered compilation from the "Inspector de la Salsa" label. It has no documentation, no unreleased tracks, and is only recommended if you want remastered versions of about 10 tracks which aren't on The Legendary Los Van Van.
The Rosetta Stone - EGREM 2080: The real title of this album is "Los Van Van", but I called it "The Rosetta Stone". Even if you have all 23 studio albums, you're still missing all sorts of great tracks from singles that never made it onto albums. If you're a true vanvanero and you simply have to have everything, this CD is the the missing link. From a pure listening standpoint, it might be the least exciting LVV CD, consisting of mostly of bolero B-sides and odd collaborations with non-songo artists such as Pablo Milanés, Silvio Rodríguez, Omara Portuondo and Elena Burke. To further discourage you, it seems to be out of print, so your best shot at finding a copy involves a pilgrimage to that little strip of quirky record stores in Miami's Calle Ocho district (aka "Little Havana"). If you're looking for burning hot LVV for dancing or listening to in your car, pelo suelto y carretera, this isn't the one, but from a collector's point of view, it's worth its weight in gold. It has three important singles which were never released on LPs: La candela, (which can also be found on other, more readily available compilations), Y que se sepa (two different versions), and Lo que te dice un guajiro (a great track from 1985 that never made it onto La Habana sí), plus 3 rare early 70s B-sides, including the original versions of Mis dudas and Me basta con pensar, which would both later be converted to up-tempo hits in 1990 on the epic Aquí el que baila gana.
Original Non-Compilation LPs & CDs

From 1990 onward, the albums of Los Van Van were released directly on CD and distributed internationally, but the previous 21 years were more than a bit confusing. For example, the first 6 LPs were all entitled "Juan Formell y Los Van Van". While many of their songs have been released and re-released on dozens of compilation albums, the first 15 albums were only released their complete original form twice: on vinyl LPs in Cuba, and later in the 15-CD set La colección on EGREM, hence the convention of referring to them as "Volume I, Volume II, etc.". In interviews, Formell has rightly bemoaned the fact that the glut of poorly documented compilations has prevented people from hearing the albums as they were originally presented. La colección addresses this problem, but it only has albums, not singles or compilation tracks, has no booklet or other useful documentation, and has very poor sound quality and mastering. If only EGREM would remaster all of LVV's tracks, including unreleased tracks from singles and EPs, provide several hundred pages of detailed, well-written documentation, and then do the same for Ritmo Oriental and Irakere. Don't hold your breath, but feel free to send them an email and encourage them to do so!
Monday, 10 March 2014, 07:21 PM