The Roots of Timba - Part II - LVV III - Un poco más lento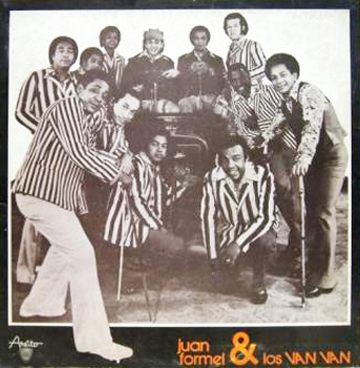 1974: Los Van Van, Vol. III (LD-3471)
Los Van Van's third album is a shining example of our fourth definition of "songo":
4) ... a popurrit of eclectic rhythmic and harmonic experiments by Formell and others which depart completely from the tendencies listed in #3, going so far as to include rhythmically serene ballads and slow, backbeat-heavy drumset rhythms which sound very much like rock or funk..
Tránsito was an up-tempo album with neither the physical nor the aesthetic space for the interesting boleros that Formell had been churning out for the B-sides of his hit singles, at least four of which are to this day only available on rare vinyl 45s and on the "Rosetta Stone" bootleg if you can find it.
Over the decades, dance tracks have been the vehicles for most of the experimentation and innovation in Cuban music. For example, the up-tempo Ritmo Oriental tracks we've been studying were shockingly original, but their boleros, such as Pero déjame mirar from 1977, were quite traditional, relying on the same basic bass tumbao (0xxx 0x0x) used by Arsenio and others since the early 1900s. Of the songs in our Ritmo Oriental discography which never made it onto la Ritmo's compilation CDs, most of them are traditional boleros. The trend has continued: today, when a timba singer such as Mayito Rivera or Haila Mompié slows the tempo down, it's almost invariably for a tip of the hat to tradition -- a faithful rendition of a bolero from many decades past, which, even when it was written, was likely to have used the stock chord progressions and rhythms of its day. In the 2000s, Charanga Habanera and its many followers abandoned the bolero for the R&B ballad, but aside from the Spanish lyrics, they haven't been inspired to innovate in this genre either. Two gorgeous modern exceptions are Bamboleo's versions of Tú y yo, somos una misma cosa (source) and Candil de nieve (source), but in general, slow tempos have always been and continue to be reserved for showcasing the singer in a predictable context rather than for making substantial creative statements ... except in the case of Formell's work of the 70s! "Volume III" probably has more slow-tempo material than any other album by a major Cuban dance band, and it's overflowing with original and creative songwriting, Jamerson-esque bass-playing, and unusual rhythmic accompaniments. As with Tránsito, Formell is very conscious of the "album" as a complete presentaton. The first two tracks are both suites, with the second, the "slow movement" as it were, combining Formell's quirky low key delivery of De todo lo mejor with the hauntingly beautiful Después de todo. De todo lo mejor returns later as a slow introduction to the finale. The next ballad, Será tan grande el amor also sung by Formell, continues the outpouring of otherworldly musical ideas. Listen carefully to the singer on Pues no puede ser. Pedrito Calvo has followed us from Ritmo Oriental to Van Van and has quickly matured from a comic relief gritador to the flexible vocalist who sang more of Van Van's hits than any other singer over a 25 year period.
The opening track of Los Van Van's third album is a very adventurous 9-minute suite with three different tempos and wide range of tumbaos and styles. Two different singles were excerpted from this track.
martes, 22 marzo 2011, 07:32 pm