The Roots of Timba - Part II - Changuito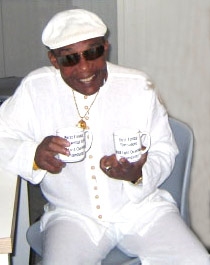 Changuito with his two timba.com Readers Poll Awards:
Best Timbalero & Best Instrumental Soloist
(also #3 for Best Conguero)
Changuito's contributions to Cuban music can't be overestimated. He was one of the first Cuban drumset players to combine aspects of jazz and funk drumming with traditional Cuban comparsa, batá and timbal rhythms. He used the drum kit both melodically and polyphonically and was a master at spicing up slower rhythms with double-time variations. In addition to his performances and recordings, he's also been the musical padrino to generation after generation of students at Havana's Escuela Nacional de los Artes (la ENA), teaching timba giants such as Tomasito Cruz, Alexis "Pututi I" Arce and many others.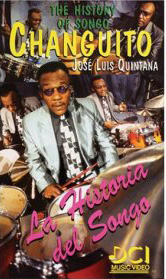 La historia del songo is a must-have instructional video featuring Changuito and Rebeca Mauleón-Santana. By the end, you still don't quite know what songo is, and its history remains murky, but after each viewing, while you may not have learned what you set out to learn, you've nevertheless learned something else of equal or greater value. It's a priceless experience to hear Changuito chat in a relaxed setting and to watch the lovingly overdubbed rhythmic examples. There are also several full performances featuring Changuito playing with a group that includes Giovanni Hidalgo.
Don't panic when you see the rhythmic notation (0xxx)! Here's a tutorial which we claim we teach you to read this type of notation in 10 minutes!
Changuito begins by demonstrating the original drum part used by his predecessor, Blas Egües, on the first Van Van LP:
xx0x 0xxx 0xx0 xxx0 2-3 rumba clave
0xxx 0xxx 0xxx 0xxx guagua
0xxx xxxx xxxx xxxx kick
xxxx 0xx0 xx0x xxxx rim of snare
xxxx xxxx xxxx 0x0x toms
xxx0 xxox xxx0 xxox conga tones MIDI
Changuito joined Los Van Van in 1970, and in the second section of the video he explains the alterations he made to the basic songo groove:
xx0x 0xxx 0xx0 xxx0 2-3 rumba clave
0xxx 0xxx 0xxx 0xxx guagua
xxx0 xxxx xxx0 xxxx kick
x00x x0x0 x00x xxxx rim of snare
xxxx xxxx xxxx 0x0x toms
xxxo ox00 0000 xxoo conga tones MIDI
0=low conga tone o=high conga tone
The most significant change, from our timbacentric point of view, was moving the kick drum from the downbeat to the bombos.
xx0x 0xxx 0xx0 xxx0 2-3 rumba clave
0xxx xxxx xxxx xxxx Egües' kick drum placement
xxx0 xxxx xxx0 xxxx Changuito's first alteration
xxx0 xxxx xxxx xxxx important later Changuito alteration
For our purposes, La historia del songo is the most immediately relevant of Changuito's many educational products, but equally fascinating is Evolution of the Tumbadoras, in which he and Giovanni Hidalgo sit down amidst a sea of congas and interview each other on a wide range of topics. A Master's Approach to the Timbales is a method book-audio CD package co-written by Chuck Silverman, whose website also includes several online "lessons" with Changuito. Finally, there are several videos featuring extended duets between Changuito and Giovanni.
domingo, 09 marzo 2014, 06:06 pm