The Roots of Timba - Part II - The Album (Los Van Van)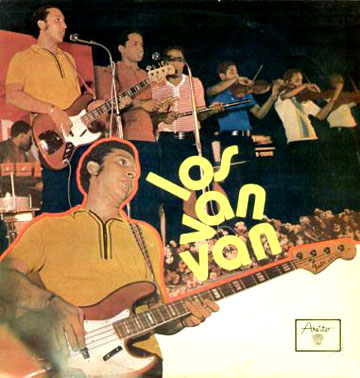 1974: Los Van Van - Volume II (LD-3425)
also released with a different cover as "Transito" (LD-3421)
recorded in Spain as per Changuito
In 1974, Formell, borrowing an idea from The Beatles, began an artistic approach which would stay with him throughout his career - "the album" as an artistic end unto itself rather than just a collection of tracks. The LP, or "long-playing record", was a late-comer to the recording industry. For decades artists had released songs two at a time - an "A side" and a "B side". When the 33 rpm LPs first came out, they usually combined one or more hit singles with lesser filler material, but the pop revolution of the late 60s ushered in the idea of the "concept album" -- an LP that was more than a convenient collection of tracks. Rather, it had a beginning, an end, a sense of dramatic pacing, and an identity and artistic value which was hopefully more than just the sum of its parts. It might even share musical or lyrical themes between tracks. Formell didn't take this idea to the extreme of, for example, The Who's "Tommy", but from Tránsito to Chapeando he's not only created openings and closings, but given his albums a form that starts with a bold statement and then builds at the end to a satisfying climax. In this sense, LVV Volume II/Tránsito was the first Cuban "album". It also remains, to this day, one of the best.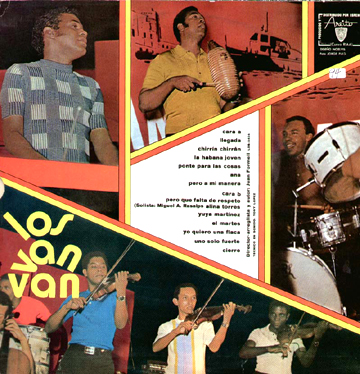 Los Van Van, Vol. II - back cover
The album begins with Llegada, a wild, overdubbed, percussion-only track which introduces the world -- at least on LP -- to the genius of the band's new drummer, José Luis "Changuito" Quintana. The fade-in of Llegada bears an abstract but unmistakable resemblance to the fade-out of "Good Morning" from Sgt. Pepper's Lonely Hearts Club Band (this excerpt stitches them together to demonstrate my far-fetched point!). About halfway through Llegada, the voices enter singing additional percussion parts, and eventually they completely replace the real percussion. The penultimate track, Uno solo fuerte, also begins with only percussion, this time playing a songo groove very similar other LVV songs, including one of the album's most important songs, Ponte para las cosas. Later, the bass and chord instruments enter to join the psychedelic, but deeply Cuban tapestry of sounds and rhythms. The album ends with a reprise of the a capella portion of Llegada, now called Cierre, as it would be in a Santería ceremony.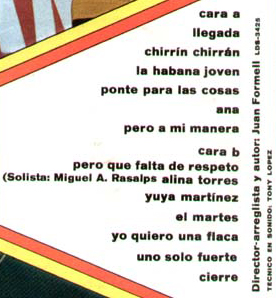 With these musically-related bookends in place Formell begins with the biggest current hits, Chirrín chirrán and La Habana joven and completes the tour de force A-side with the three biggest hits of the previous years.
The last of the new singles begins side B, followed by three songs with earlier roots: Yo quiero una flaca sounds like it could have been on Vol. I; Yuya Martínez is a more sophisticated version of a song which was in fact on Volume I; and El martes is a much more sophisticated arrangement of the biggest hit Formell wrote during his tenure with Orquesta Revé.

In many ways, Volume II is Cuba's first true "album". The outer tracks given it conceptual unity and the inner tracks are all A-side material, sequenced to provide a continuously-paced listening experience with no filler. All it lacks is a grand finale, which ironically could have been provided brilliantly by replacing Yo quiero una flaca with Aquí se enciende la candela. Dita Sullivan was kind enough to ask Juan Formell about this curious omission but even he couldn't remember how it came about. In my custom playlist, I also replace Yuya with Y que se sepa.
Taken as a whole, Los Van Van's second album made it more than clear that Formell, Changuito, Pupy, El Yulo & Co. had found their stride and that our "perfect storm" had reached hurricane force.
martes, 22 marzo 2011, 07:32 pm