Sin Clave No Hay Na
¡FELICIDADES A FORMELL Y LOS VAN VAN POR SU 50 ANIVERSARIO!
CONGRATULATIONS TO FORMELL & LOS VAN VAN FOR THEIR 50TH ANNIVERSARY!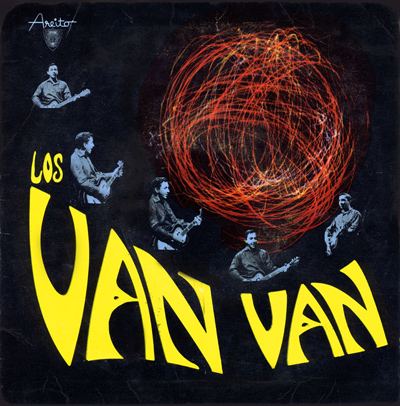 Una portada de 1969 / a cover from 1969

ESPAÑOL: Hoy (el 4 de diciembre) marca el 50 aniversario oficial de Los Van Van, un grupo fundado por el gran Juan Formell que instigó una revolución importante en la música popular bailable en Cuba, y, despues de poco tiempo, comenzó a influir en la música bailable de todo el mundo antes de la aparación de la Timba; José Luís Cortés "El Tosco" tocaba en Los Van Van antes de fundir NG La Banda. Gracias a Radio Habana Cuba en onda corta, este escritor fue capaz de escuchar sus inicios desde una distancia, y durante los 70 sus grabaciones llegaba a unos programas radiales en ciudades como Nueva York y Chicago en EUA.
No se puede exagerar la importancia de Los Van Van, que continúa hasta el presente como uno de los grupos musicales más importantes de Cuba y un tesoro para todo el mundo. En nombre de todo el equipo de TIMBA.com y los oyentes y bailarines de todo el mundo, ¡Felicidades y muchísimas gracias!
Nuestro experto residente en muchos temas, Kevin Moore, ha publicado una extensa sección sobre el grupo a lo largo de los años. Puede explorarla aquí.


Los Van Van 2019

ENGLISH: Today (December 4) marks the official 50th anniversary of Los Van Van, a group founded by the great Juan Formell that instigated an important revolution in popular dance music in Cuba and, after a short time, began to influence the dance music of the whole world before the appearance of Timba; José Luís Cortés "El Tosco" played in Los Van Van before founding NG La Banda. Thanks to Radio Havana Cuba on shortwave, this writer was able to listen to their beginnings from a distance, and during the 70s, their recordings arrived to some radio programs in cities like New York and Chicago in the United States.
One cannot exaggerate the importance of Los Van Van, which continues to the present day as one of the most important musical groups in Cuba and a treasure for the whole world. In the name of the entire TIMBA.com team and listeners and dancers around the world, Congratulations and Many Thanks!
Our resident expert on many subjects, Kevin Moore, has published an extensive section about the group over the years. You can explore that here.
continue reading Sin Clave No Hay Na