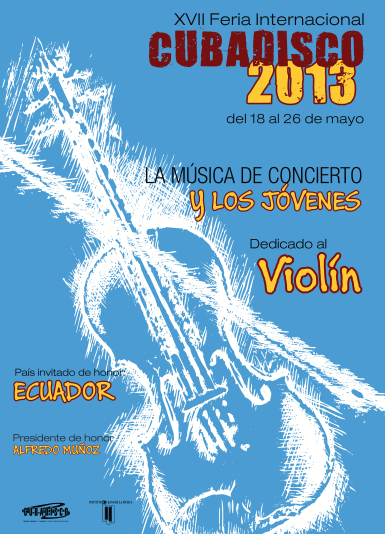 Cubadisco 2013: Key facts
(Thanks to the Instituto Cubano de la Música for the source material - Bill TIlford)
In 2013, 95 musicologists, musicians, radio and television directors, music critics, designers, recording industry executives and other specialists formed a panel to consider the nominations and the final awards. These experts considered 225 recordings, 19 DVDs and 9 Documentaries between them.

145 recordings were nominated in the 49 categories (plus 5 special prizes and 1 Grand Prize). 46 recordings were awarded prizes (some in more than one category). 7 prizes were awarded to recordings made in Cuba by foreign labels, and 4 prizes were awarded to recordings made in other countries by Cubans living abroad. 10 international prizes (for recordings by non-Cubans) were awarded. In addition to the Cuban representatives, 77 representatives from 16 other countries and territories participated in Cubadisco 2013. These were the United States, Ecuador, Venezuela, Spain, Brazil, Argentina, Angola, the Dominican Republic, Mexico, Chile, France, the Netherlands, Japan, Germany, Panama and Puerto Rico.
The distribution of awards among Cuban recording companies was as follows:

Producciones Colibrí: 25 awards (22 in categories, 2 Special Prizes, 1 Grand Prize)
EGREM: 9 awards (8 in categories, 1 Special Prize)
Bis Music: 6 awards (5 in categories, 1 Special Prize)
La Ceiba: 1 award
PM Records: 1 award
(Independent): 1 award
Among domestic artists on foreign labels:

Montuno Producciones: 3 awards
Picap: 1 award
Música Fundamental Stereo: 1 award
Ahí Namá Music 1 award
Manana Music: 1 award
Among Cubans in other countries:

4 awards in categories, 3 of which were independent, and one of which was by the Ediciones Espiral Eterna label).
Additionally, 10 International Prizes were awarded along with 33 Premios de Honor.
---
DOWNLOAD THE COMPLETE BOOKLET (SPANISH) OF CUBADISCO 2013 NOMINEES HERE
DOWNLOAD THE COMPLETE BOOKLET (SPANISH) OF CUBADISCO 2013 WINNERS HERE
DOWNLOAD PUBLICATIONS FROM CUBADISCO'S SERIES MÚSICA, IMAGEN Y SONIDO (SPANISH) HERE:

VOL. 1/5 VOL 3/5 VOL 4/5 VOL 5/5 (Vol 2 is the nominees, above)
SUMMARY EDITION (LARGE FILE: 203MB)
(Thank you to Cubidisco's Publications Dept. for the permission to make these available)
Saturday, 26 April 2014, 10:41 AM