La Última
domingo, 28 febrero 2010, 08:11 pm
Volume 5 - Timba - Now Available March 1, 2010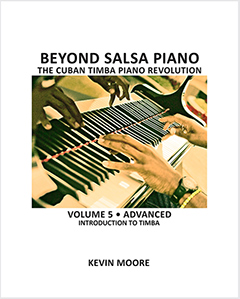 This is the behemoth - the longest of the series - a summary of 11 years of timba obsession.

2010-03-01 Update!
Volume 5 audio and eBook is now available on Lainpulsemusic.com.

Chapter 1: What is Timba? - well, you guys already know that answer.

Chapter 2: History and Listening Tour - this picks up where the online book, The Roots of Timba, left off: with Revé's Suave suave, Van Van's Aquí el que baila gana, and of course NG La Banda's En la calle. It tells the stories of all the major bands, highlighting the best material.


Chapter 3: Ten Timba Piano Innovations - here, we isolate the ten important ways that timba piano differs from its predecessors.
Chapter 4: Estudios - these are 32 tumbaos, all on the same chord progression, created to demonstrate the innovations in various combinations.

Chapter 5: Timba Gears - at last, the explanation of why you can learn Paulito's gear system and still be confused about Charanga Habanera - it's the "general theory of timba gears", explaining how everything fits together into one nice, logical, and endlessly creative and flexible combinación perfecta!

Then, after the FAQ and Glossary, we get to the craziest part, the Timba Harmony Appendix, which takes hundreds of timba coros and analyzes their chord progressions in Roman numerals.

After this ... the deluge ... note-for-note Melón transcriptions in large quantities in Volumes 6, 7, 8 and 9. I haven't actually written Volume 9, I have to admit, but 6, 7 and 8 are done and will be out soon, and if anyone can play all the tumbaos in those 3 before I finish Volume 9, you'll be ready for the big time.

Finally - get ready for Beyond Salsa Percussion - that's all I'll say about that for now, but expect something in first half of 2010 (knock on wood).