Tom Ehrlich - 2023 Monterey Jazz Festival, Part 2
66TH MONTEREY JAZZ FESTIVAL
SATURDAY SEPTEMBER 23, 2023
PHOTOS AND TEXT BY TOM EHRLICH ©
The festival this year included three outside stages and one indoor venue. On Saturday, I decided to cover the bands who performed on the Garden Stage since that stage had the most music which was close to what timba.com usually covers.
This report will include Ray Obiedo's Latin Jazz Project, Elena Pinderhughes and Lionel Loueke A Diasporic Journey, Delvon Lamarr Organ Trio, John Santos Sextet and :Lakecia Benjamin & Phoenix.
RAY OBIEDO'S LATIN JAZZ PROJECT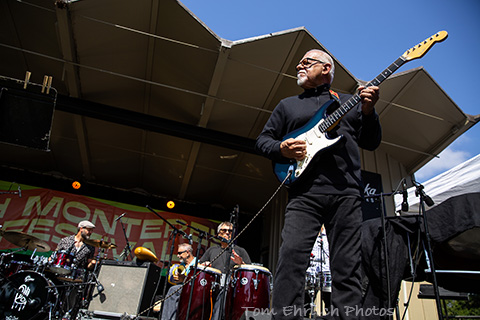 Ray Obiedo guitar
Ray Obiedo has lived his whole life in the San Francisco Bay Area. His music experiences are varied and extensive including releasing 10 recodings of his own groups playing R&B, jazz and most recently Latin Jazz, playing on dozens of other people's reocrdings, producing and recording other artist's albums, composing music for film and much more. He has been a regular member of Pete Escovedo's bands for a number of years.
His Latin Jazz Project is an all-star group of some of the best Bay Area Latin music musicians.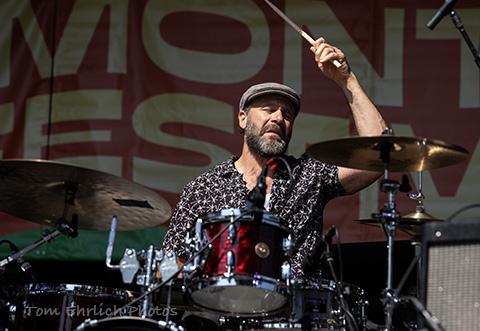 Colin Douglas
Colin Douglas on drum set is an outstanding drummer and percussionist who can play any type of music. He excells at Afro-Caribbian music and I consider him the best timba drum set player in the Bay Area.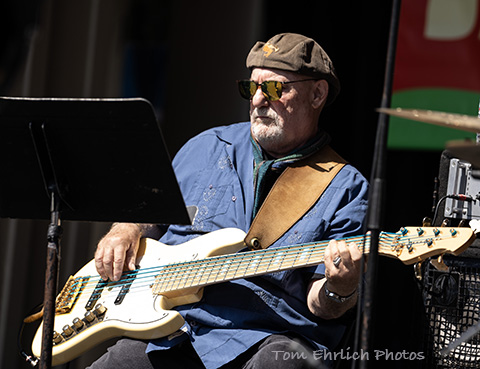 Dave Belove
Dave Belove is a veteran bassist who plays with many types of bands.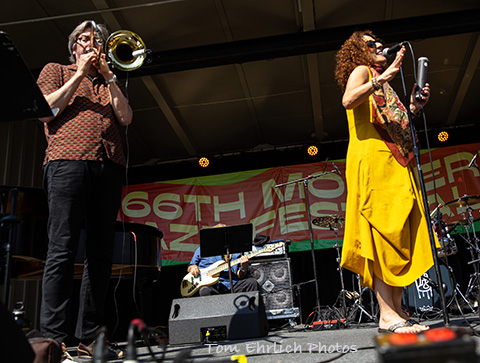 Jeff Cressman trombone and Sandy Cressman vocals
Jeff Cressman is a veteran trombonist as well as a composer, arranger and sound and recording engineer. He has been a member of Santana's band for years as well as having his own projects and projects with his talented wife Sandy Cressman who specializes in Brazilian music. Sandy did a guest appearance with the group and I will be reporting on her special proejct which she performed at the Festival on Sunday.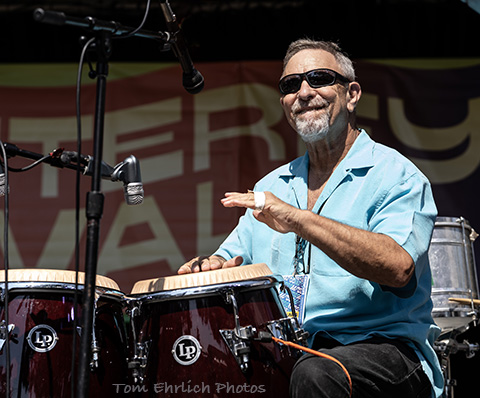 Michael Spiro
Michael Spiro is a master percussionist who plays a multitude of percussion instruments for Afro-Caribbean and Brazlian music. He is well versed in many forms of Afro-Cuban music and has studied with master percussionists in Cuba.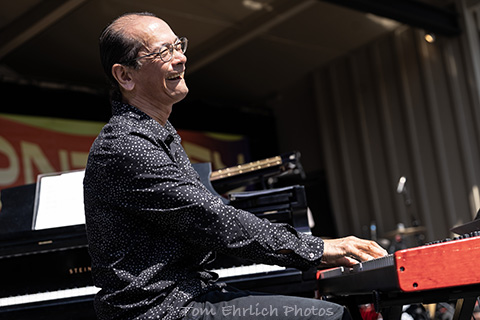 Murray Low
Murray Low is also a master musician who can play any type of music. He teaches a student Afro-Latin big band at Stanford University and is an excellent timba pianist.
Phil Hawkins
Phil Hawkins is another master perucssionist and band leader and on this gig he played Steel pan drums and congas.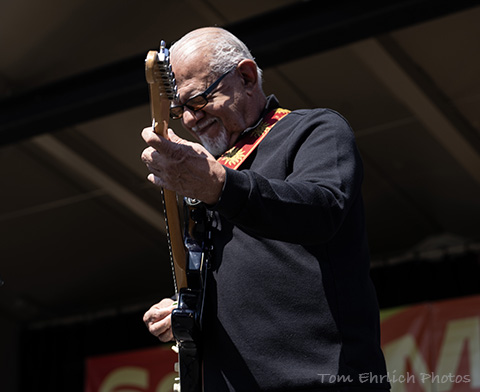 Ray Obiedo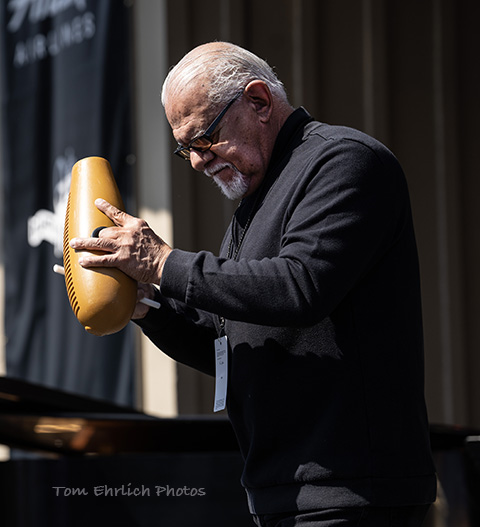 Ray Obiedo
Michael Spiro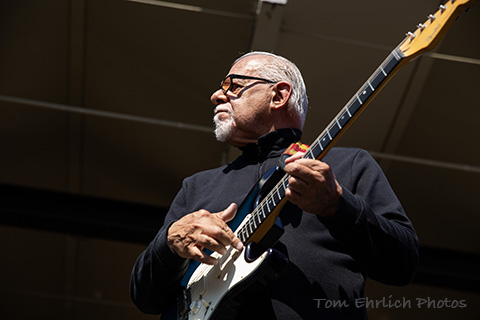 Ray Obiedo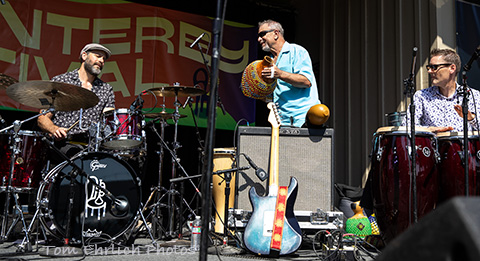 Colin Douglas drum set, Michael Spiro chekere and Phil Hawkins congas
It was a great set of music - a wonderful way to start the day.
ELENA PINDERHUGHES & LIONEL LOUEKE A DIASPORIC JOURNEY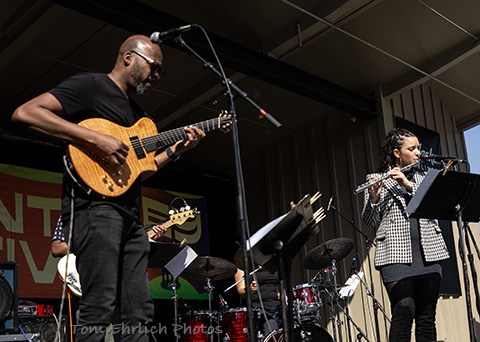 Elena Pinderhughes flute and Lionel Loueke guitar
Elena Pinderhughes is one of the most talented musicians of her generation as a flutist and vocalist. She was born and raised in Berkeley, Califonria. Lionel Loueke is a world class guitarist and vocalist who is originally from Benin on the African continent. Elena and Lionel developed this beautiful project about the different forms African music on the African continent and in the diaspora.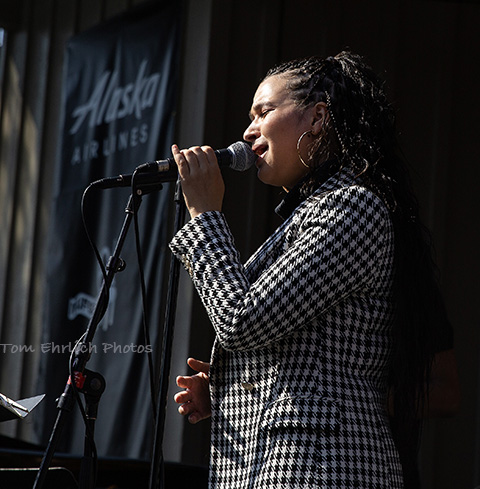 Elena Pinderhughes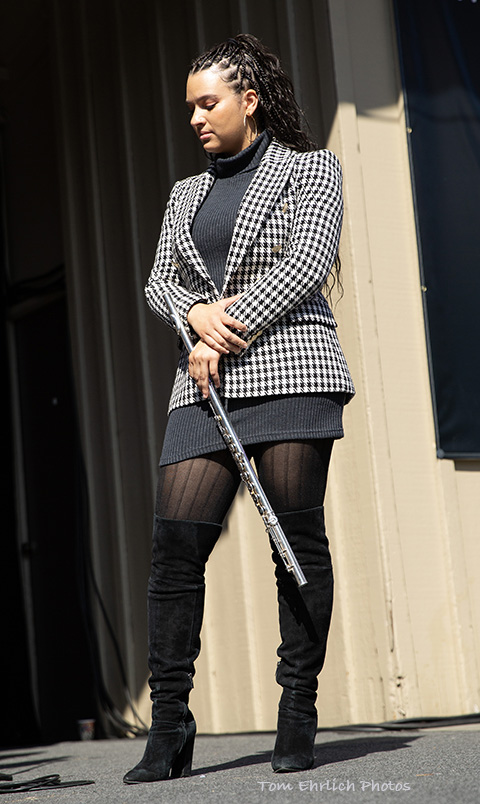 Elena Pinderhughes
Elena is an in demand flutist and vocalist who is a regular part of Herbie Hancock's and hip hop icon Common's bands in addition to having her own projects and projects with her talented pianist composer brother Samora Pinderhughes. Samora wa supposed to be the pianist for this special project but could not make the gig. Elena and her borther reside in New York City.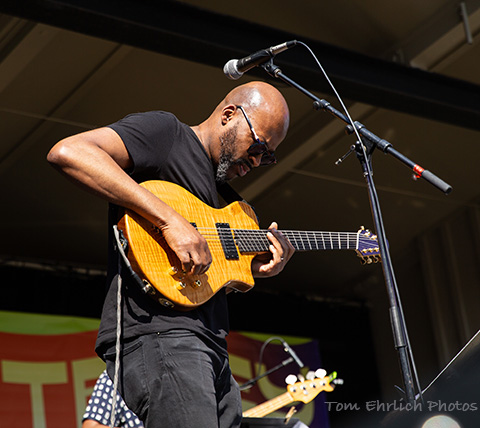 Lionel Loueke
Lionel is also an in demand guitarist who is also a regular member of Herbie Handcock's band. He has been part of dozens of collaborations with other musicians and at this festival, he performed with three or four different groups, including another special project with well known jazz vocalist Gretchen Parlato which was perfomred on Sunday at this years Festival.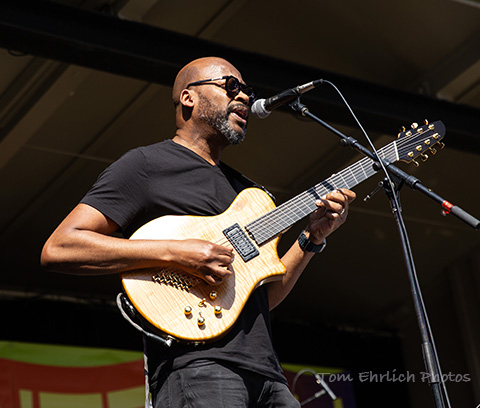 Lionel Loueke
Lionel is a virtuoso guitarist and a unique and interesting vocalist usually sings in his native language and integrates clicking sounds with his singing.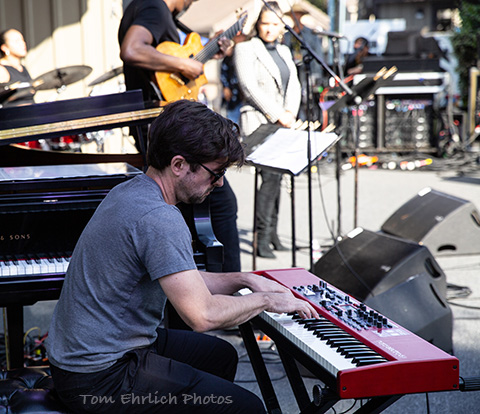 Piano player's name unknown
As previosuly mentioned Elena's brother was supposed to be playing keyboards but could not make it. I neglected to get this pianst's name but he wa an excellent musician.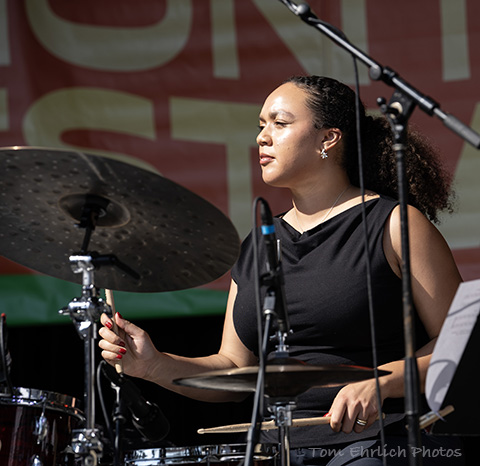 Savannah Harris
Savannah Harris is originally from Oakland in the Bay Area but now lives in New York City. She is a very good drummmer.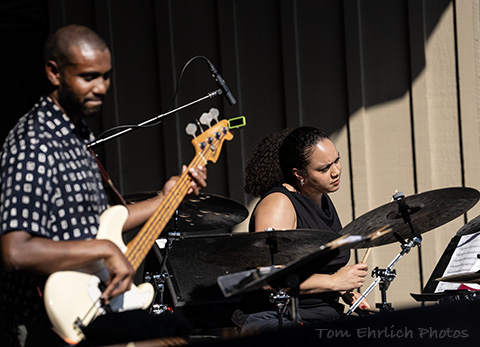 Joshua Crumley bass, Savannah Harris drums
DELVON LAMARR ORGAN TRIO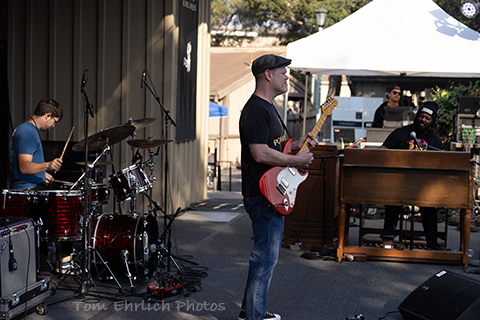 Delvon Lararr organ, Josh Perdue guitar and Steve Groveman drums
Next up was the Devon Lamarr Orgna Trio. Devon met guitarist Josh Perdue in Austin, Texas, liked his playing and asked him to join the trio. Delvon met young drummer Steve Groveman on instagram and recruited him for the band.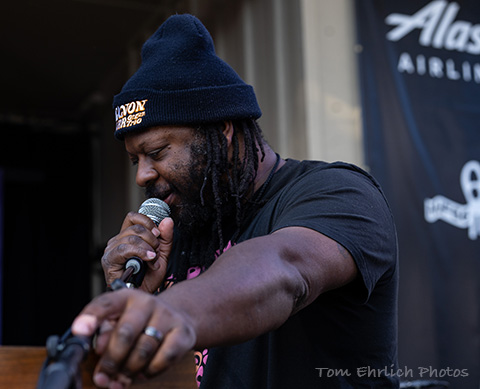 Delvon Lamarr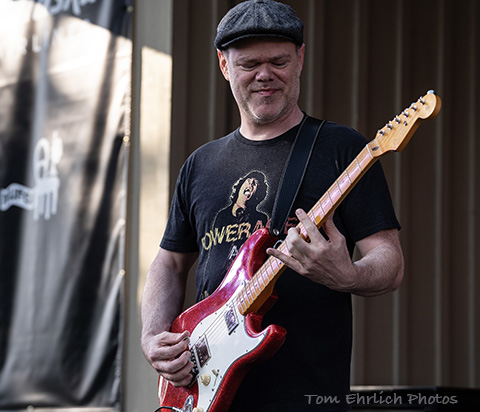 Josh Perdue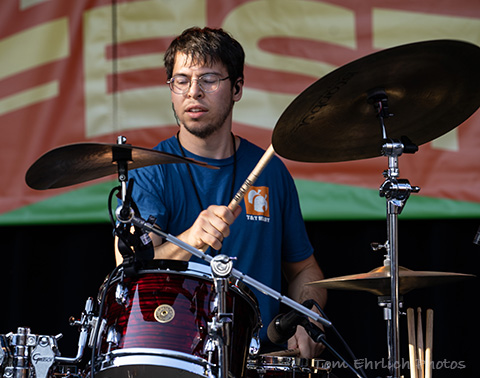 Steve Grovceman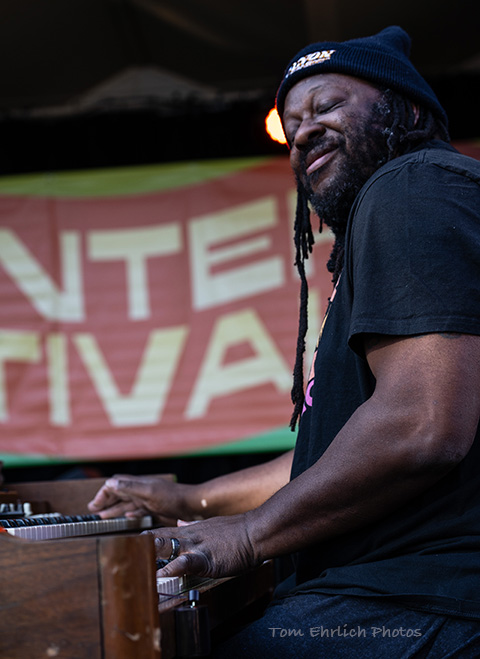 Delvon Lamarr
The band pleased the crowd with their soul jazz style.
JOHN SANTOS SEXTET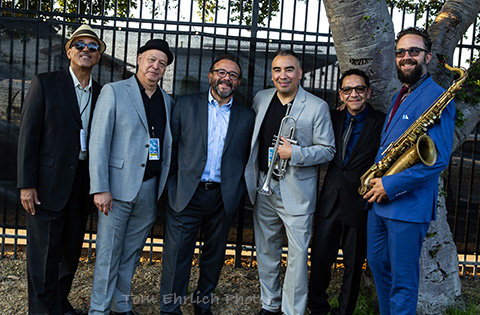 John Santos, John Calloway, Saul Sierra, Marco Diaz, Dave Flores and Charlie Gurke
The John Santos Sextet has a large following in the Bay Area and beyond. Every band member is a master musician and they all have their own projects and play with numerous other bands.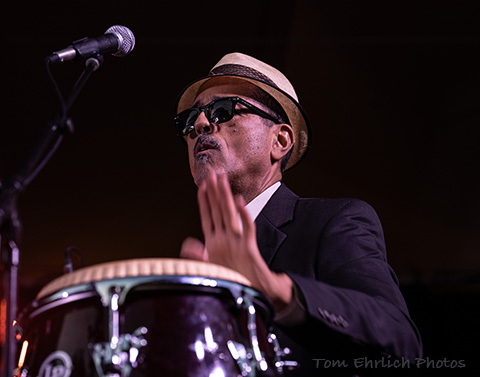 John Santos
Master percussionist, band leader, composer and record producer is well respected internationally for the outstanding music he creates with his bands and projects and also as a well know self taught and self researched educator of Afro-Caribbean music. Besides performing, he constantly gives lectures on Afro-Caribbean music, its history and its place in the struggle for justice for working people and people of color.
A documentary about John's remarkable life "Santos - SKin to Skin". was released recently it has been played in many venues in the US and Puerto Rico and was shown at the Monterey Jazz Festival earlier in the day.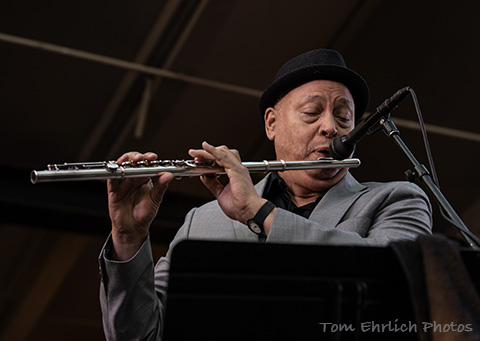 John Calloway
John Calloway and John Santos have been collaborating in many different projects since the 1970s. Calloway is a master flutist, composer and arranger and is involved in many different types of projects as a leader and collaborator. He has a PHD in music and teaches at the college level and was primarily responsible for starting and leading a youth latin jazz group in the San Francisco Bay Area focusing on underserved youth.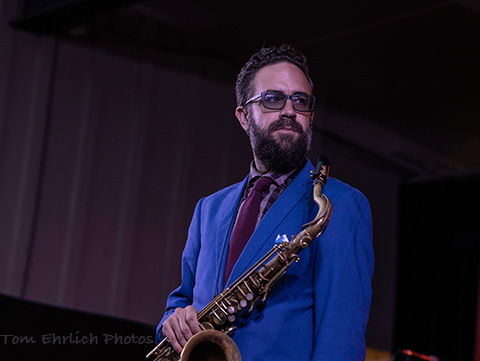 Charlie Gurke
Charlie Gurke is an excellent reads player who usually brings three different saxes (Baritone, Tenor, Alto) and sometimes flute. He like everyone in the band is part of numerous projects.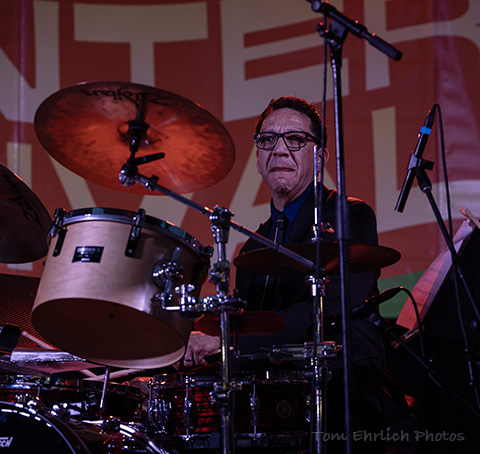 Dave Flores
Dave Flores is a great drummer who plays many different styles of music. His style of playing is well suited for Afro-Caribbena music. Dave lived most of his life in the Bay Area, but recently relocated to New Mexico. He returns often to the Bay Area to play with John Santos and other projects and his is now actively invovled in the New Mexico music scene.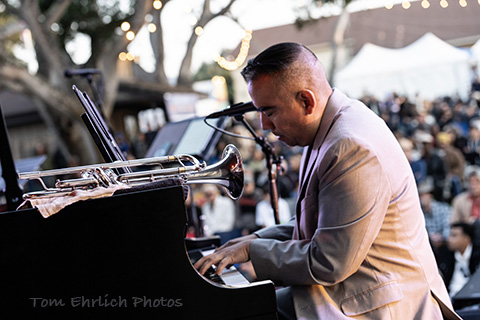 Marco Diaz
Marco Diaz is a world class pianist, composer and arranger and plays in so many bands to numerous to mention - including jazz and salsa groups. He and bassist Saul Sierrra are responsible for most of the arranging for the sextet.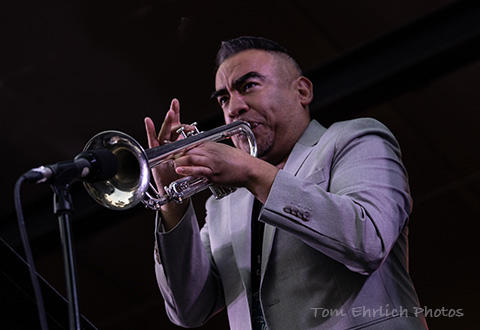 Marco Diaz
Marco is also an very good trumpeter. When he plays trumpet, John Calloway takes over piano duties.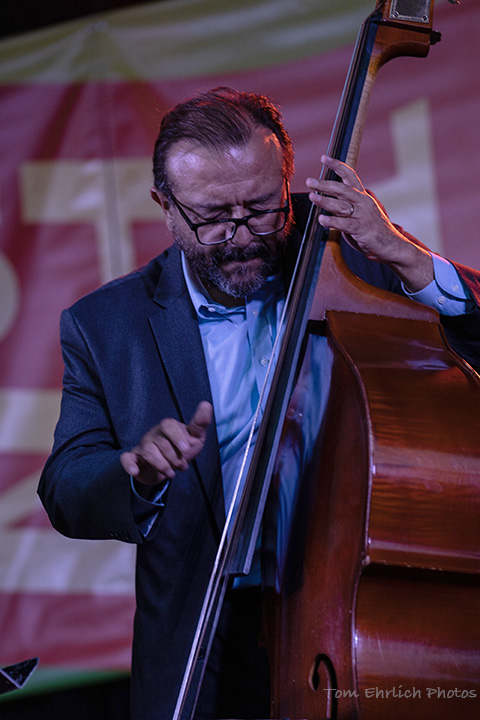 Saul Sierra
Saul Sierra is a world class bassist originally from Mexico and like Marco is involved in dozens of other projects of different types of music. He is an excellent soloist as well as always creating the righr groove.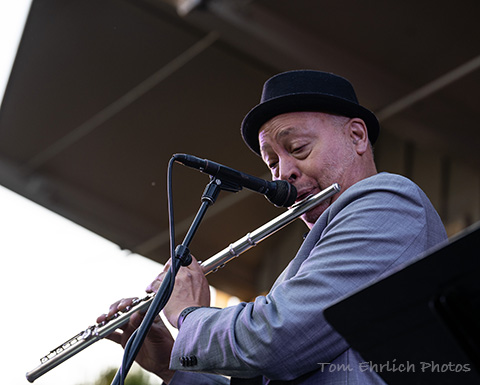 John Calloway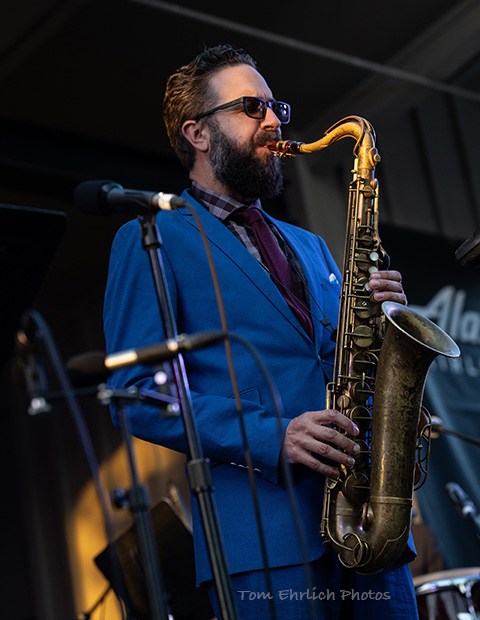 Charlie Gurke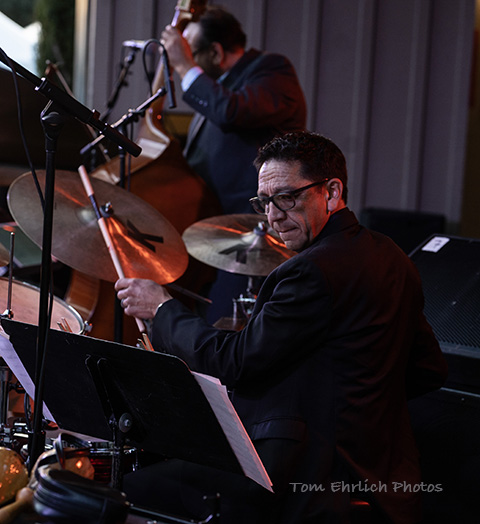 Dave Flores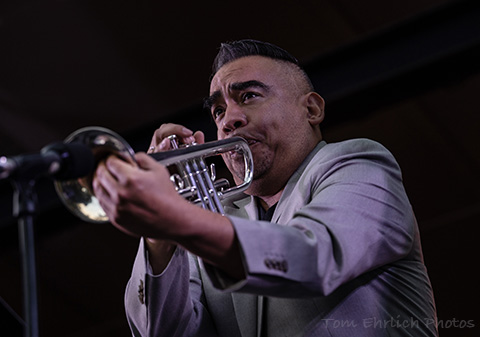 Marco Diaz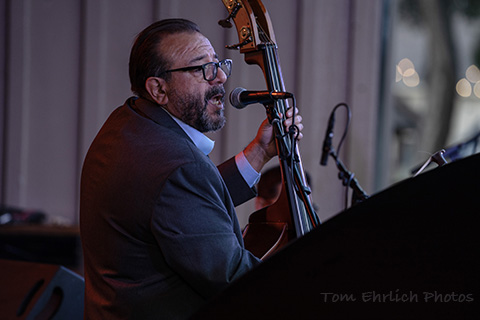 Saul Sierra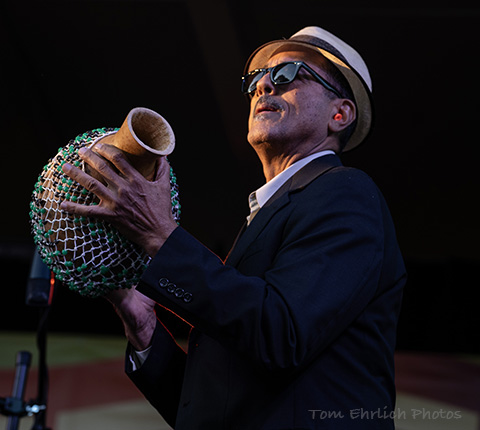 John Santos
The sextet plays different styles of Afro-Caribbean Jazz but predominantly Cuban and Puerto Rican music. John's family is from Puerto Rico (mother) and Cape Verde (father). Many of the sextet's songs include singing coros.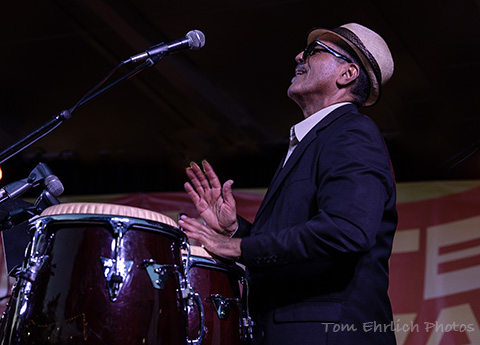 John Santos
The sextet always gets a warm and enthusiastic reception and appreication and their set at the Festival was no exception.
LAKECIA BENJAMIN & PHOENIX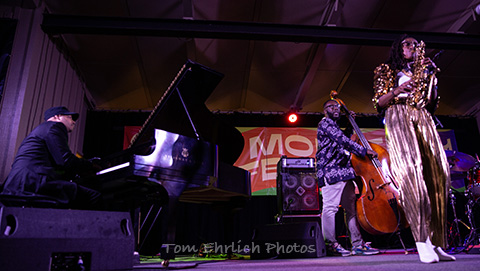 Lakecia Benjamin sax, Zaccai Curtis piano and Ivan Taylor bass
The last group of the day was rising super star Lakecia Benjamin and her fantastic band.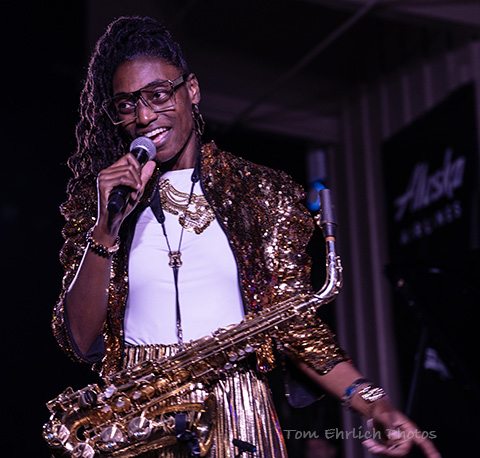 Lakecia Benjamin
This dynamic and exciting performer grew up in the Washington Heights section of New York City which is a predominantly Dominican neighborhood, so Lakecia came up playing salsa and different styles of Latin music. She currently plays a firey style of Afro-American improvised music reminescent of John Coltrane and Pharoah Sanders and like many New Yokers she loves to talk.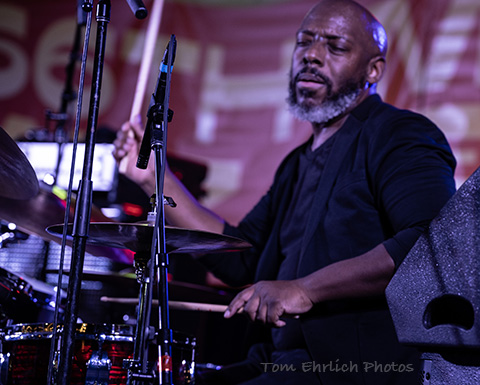 EJ Strickland
EJ Stricktand is a master drummer and provides the rhythms and great solos which perfectly compliment Lakecia's style.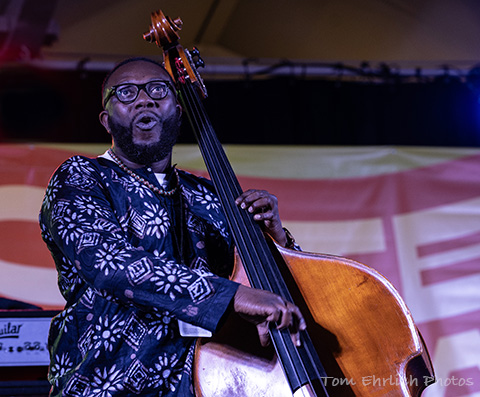 Ivan Taylor
Ivan Taylor provided the correct groove.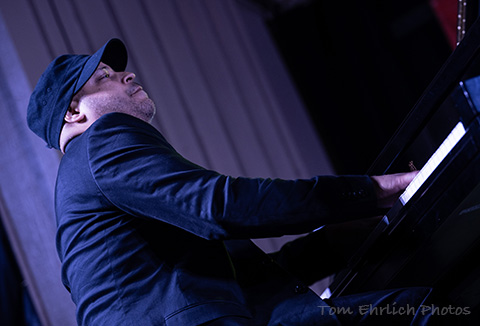 Zaccai Curtis
Zaccai Curtis is a great pianist, composer and arranger who is Puerto Rican and Afro-American. He has his own Afro-Caribbean jazz projects and accompanies many other artist. His brother Luques Curtis is a world class bassist who also plays with many different groups including Eddie Palmieri.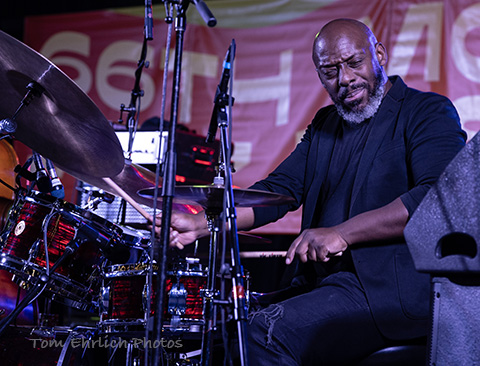 EJ Strickland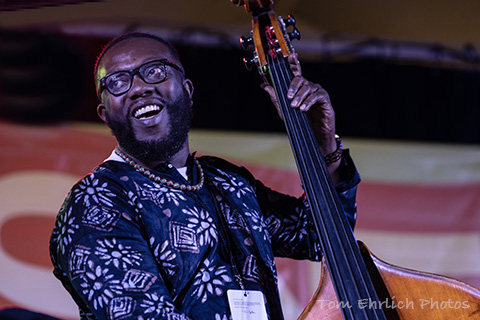 Ivan Taylor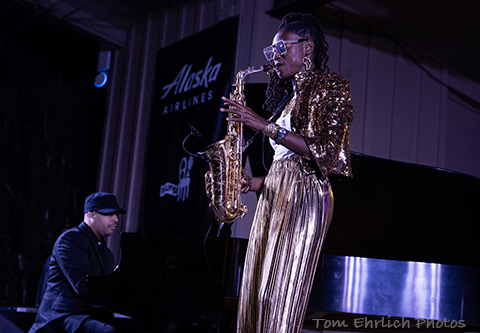 Lakecia Benjamin sax and Zaccai Curtis piano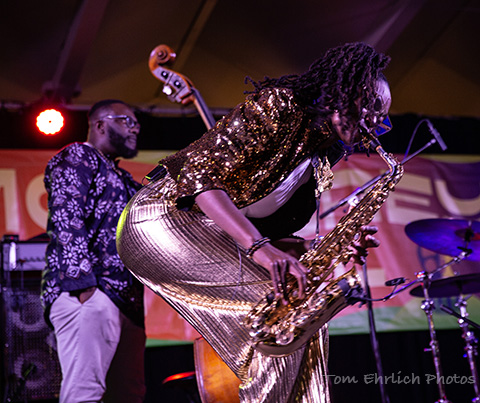 Lakecia Benjamin sax and Ivan Taylor bass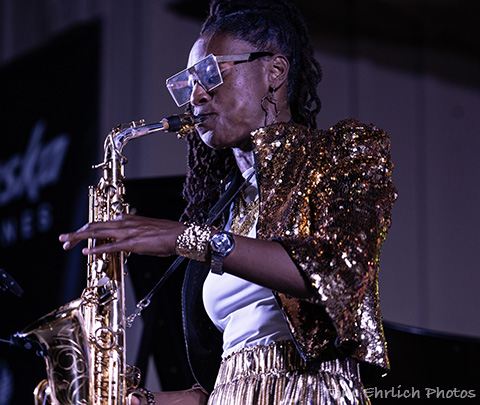 Lakcia Benjamin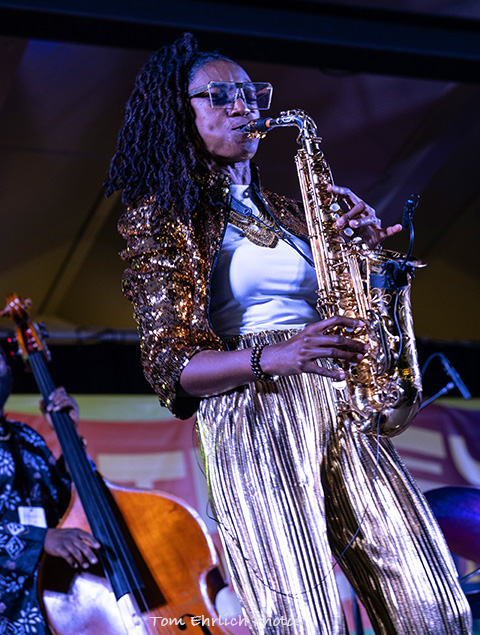 Lakecia Benjamin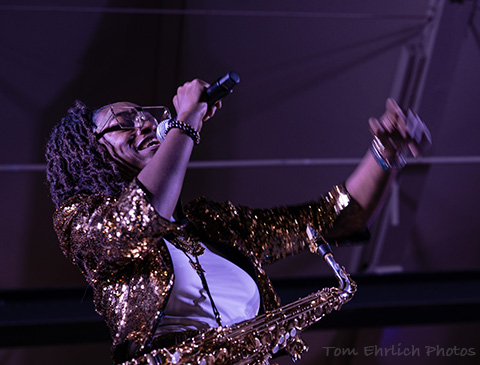 Lakecia Benjamin
A great performance to finish the day. Next up Sunday, the final day of the Festival.
Monday, 09 October 2023, 02:35 PM