Tom Ehrlich - 2023 Monterey Jazz Festival, Part 3
66TH MONTEREY JAZZ FESTIVAL, PART 3
SUNDAY SEPTEMBER 24, 2023
PHOTOS AND TEXT BY TOM EHRLICH ©
SULLIVAN FORTNIER TRIO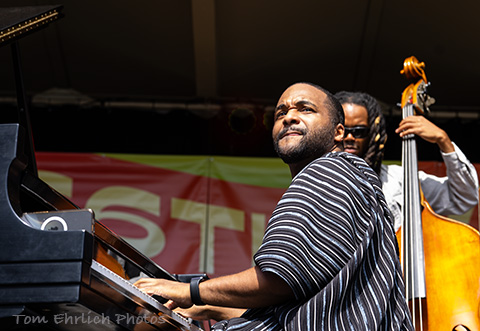 Sullivan Fortnier
Sullivan Fortnier is a 37 year old master pianist, composer, arranger and band leader. He was born and raised in New Orleans. He has a B.A. from Oberlin /Conservatory of Music and a Masters from Manhattan School of Music. He has been the pianist for Steffen Harris and Roy Hargrove and currently is Cecile McLoren Salvant's piansit as well has having his own projects as a band leader.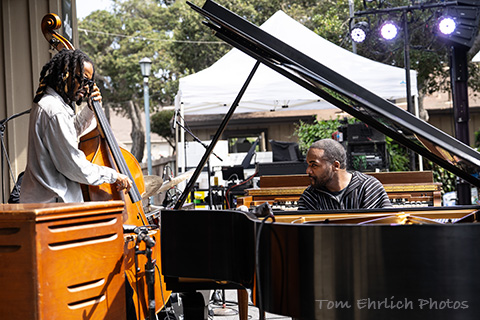 Sullivan Fortnier piano and Tyrone Allen bass
Sullivan had Tyrone Allen on bass and Kayvon Gordon on drums. He has a unique set up for the trio with his drummer behind him and the bassist next to him on his left. The trio played a beuatiful set of music. Sullivann is definitely one of the better pianists of his generation.
Tyrone Allen
TERRI LYNE CARRINGTON & NEW STANDARDS

Terri Lyne Carrington drums, Linda May Han Oh bass, Mary Halvorson guitar and Kris Davis piano
Terrii Lyne Carrington lead a strong group of musicians playing "new standards".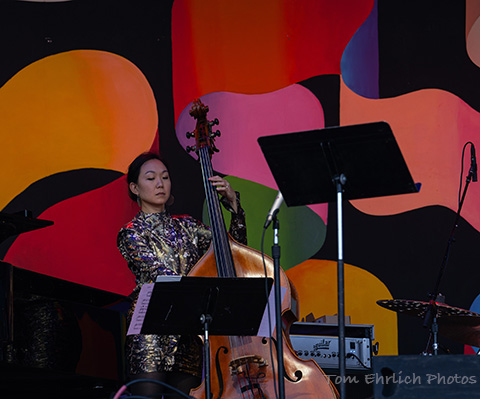 Linda May Han Oh
Linda May Han Oh is an excellent bassist, composer and band leader who has won numerous awards as best bassist of the year and others. She has an extensive resume of working with many top jazz artists as well as composing for various projects including film. Linda is a professor at Berklee School of Music and part of the Institute of Jazz and Gender Justice lead by Terri Lyne Carrington.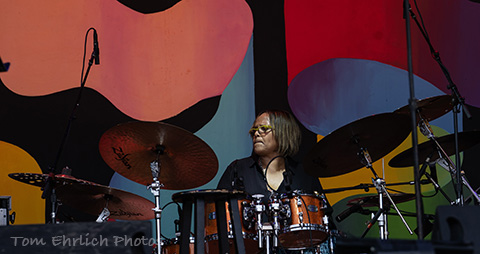 Terri Lyne Carrington
Terri Lyne Carrington is a major drummer in Afro-American improvised music. She is also very active in social justice issues including gender equity in the arts.
KENDRICK SCOTT'S CORRIDORS FEATURING REUBEN ROGERS AND CHRIS POTTER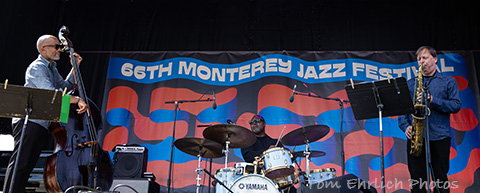 Kendrick Scott drums, Reuben Rogers bass and Chris Potter sax
Kendrick Scott, one of the top drummers of his generation. He has excelled as a musician since high school at Houston's High School of Performing and Visual Arts. This trio is composed of heavy hitters Chris Potter on sax and Reuben Rogers on bass. Kendrick is a composer and band leader. He performed three different times at the Festival with Charles Lloyd and Terrence Blanchard in addtion to his trio.
Chris Potter
Chris Potter is one of the better saxophonists on the scene. He also has an extensive resume with reccording over 20 albums as a leader and 150 as a side man.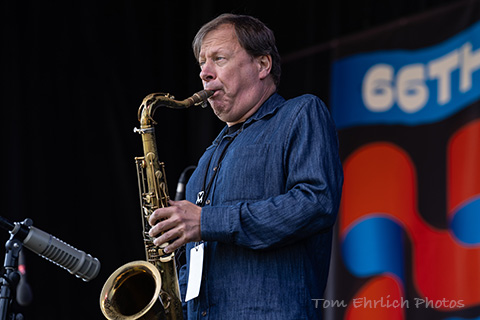 Chris Potter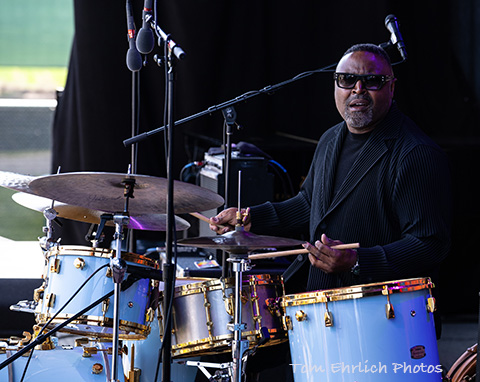 Kendrick Scott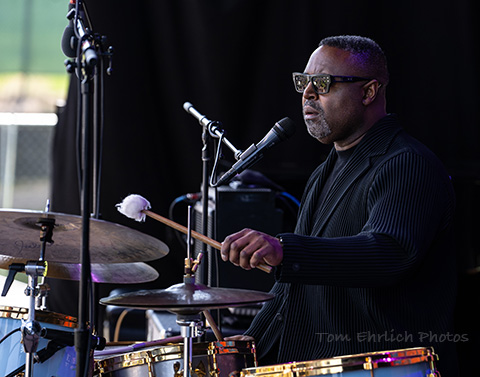 Kendrick Scott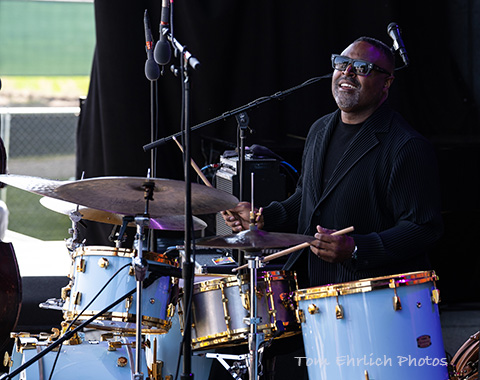 Kendrick Scott
Kendrick excells both in maintaining the right rhythms for the music as well as a soloist.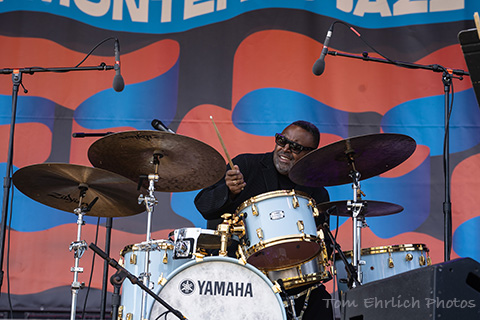 Kendrick Scott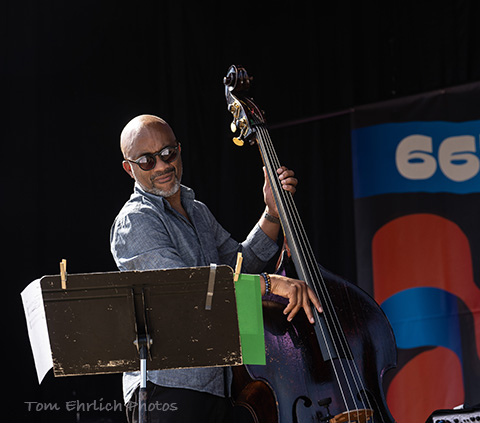 Reuben Rogers
Reuben Rogers is a well respected virtuostic bassists that can make virtually any kind of music sound better. He was born and raised in the Virgin Islands and started in music playing gospel, calypso and raggae. Reuben has performed with numerous high profile groups and has reocrded on over 100 different albums.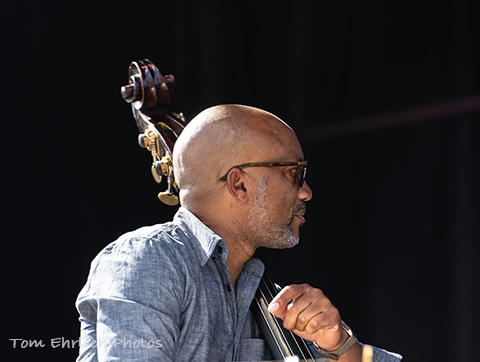 Reuben Rogers
Reuben creates perfect grooves and plays beautiful solos.
LEW TABACKIN QUARTET FEATURING JEREMY PELT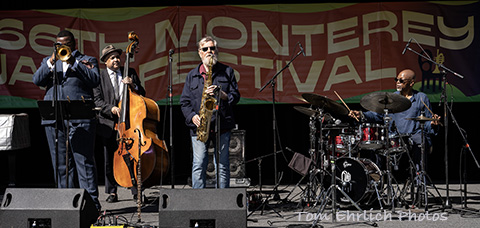 Lew Tabackin sax, Jeremy Pelt trumpet, Peter Washington bass and Lewis Nash drums
83 year old Lew Tabackin brought a top of the line group to Monterey with Peter Washington on bass, Lewis Nash on drums and featured the great trumpeter Jeremy Pelt. Lew took a long time to get set up and complete the sound check, but his playing was strong and amazingly good in spite of his age.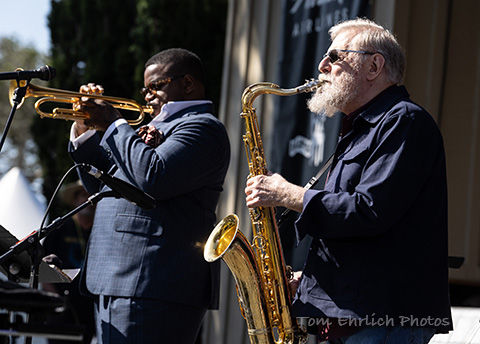 Lew Tabackin sax and Jeremy Pelt trumpet
Lew and Jeremy traded solos anjd played together beautifully.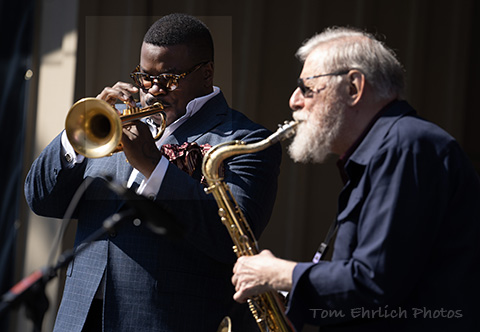 Jeremy Pelt trumpet and Lew Tabackin sax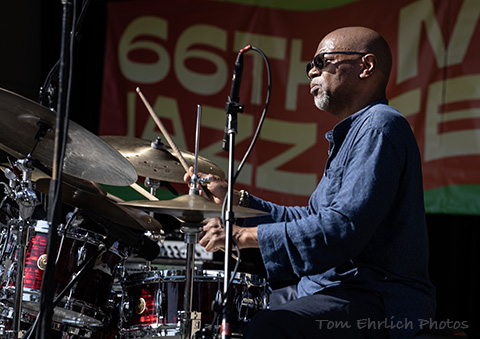 Lewis Nash
Lewis Nash is a veteran drummer whose playing was typically impressive. He has participated in over 400 recordings and is known for his versatility.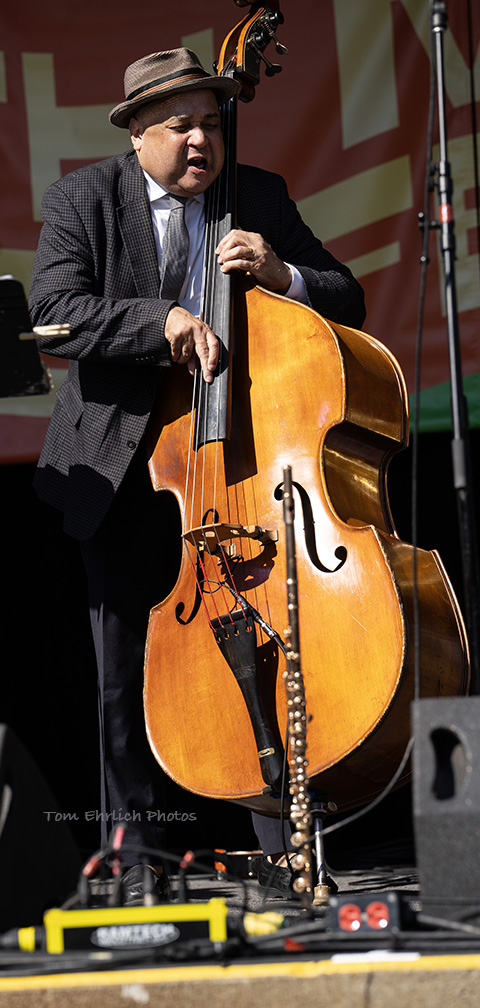 Peter Washington
Peter Washington has a similar bakcground as Lewis Nahs versatile, has particiapted in over 400 recordings and is an in demand bassist.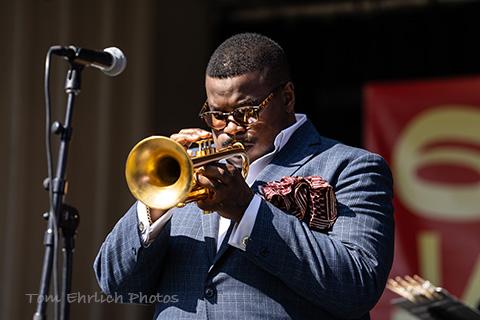 Jeremy Pelt
Jeremy Pelt is the younster of the group at 46 years, but is one of the best on his instrument. He has an extensive disography both as a leader and side man.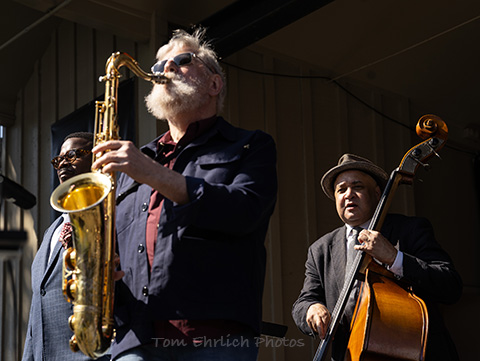 Lew Tabackin sax and Peter Washington bass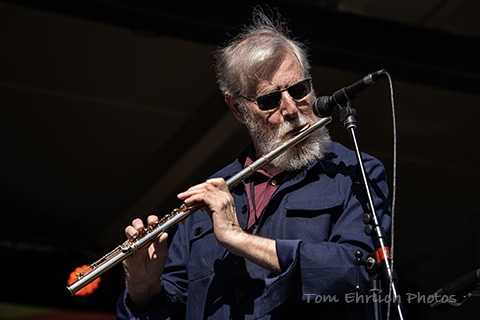 Lew Tabackin
Lww is known for his sweet flute playing in contrast to his hard bop style of his sax work.
Great set of music.
TEXAS SOUTHERN UNIVERSITY JAZZ COMBO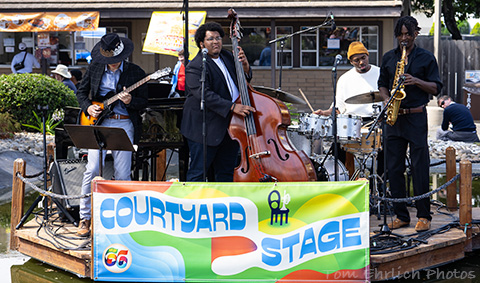 Sabastian Morales guitar, Braylon Walker bass, Mark Simmons drums and Terrance Teagle sax
Texas Southern University is one of the largest and most comprehensive Historically Black Colleges and Universities in the United States. TSU and Monterey Jazz Festival have partnered since 2019, offering TSU students the opportunity to work with professionals in all aspets of jazz music creation, production and documentation.
This jazz combo comprised of TSU students impressed the crowd with their outstanding performance.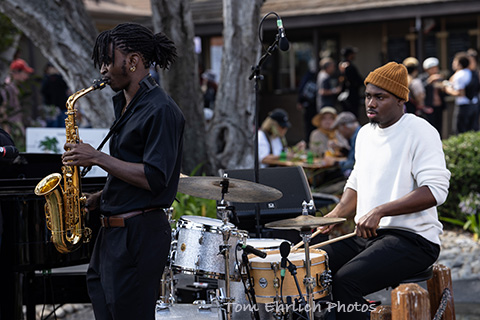 Terrance Teagle sax and Mark Simmons drums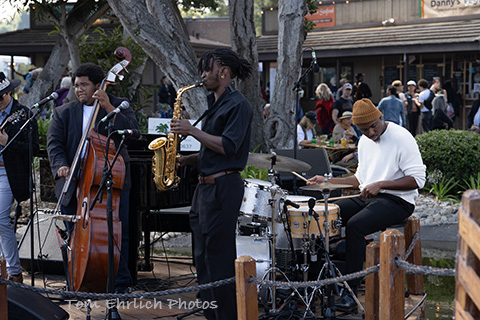 Braylon Walker bass, Terrance Teagle sax and Mark Simmons drums
CHARLES LLOYD QUARTET
Gerald Clayton piano, Charles Lloyd flute, Reuben Rogers bass and Kendrick Scott drums
Legendary 85 year old Charles Lloyd still going strong and seems to be getting better with time.
His outstanding group consisting of young masters included Gerald Clayton piano, Reuben Rogers bass and Kendrick Scott drums.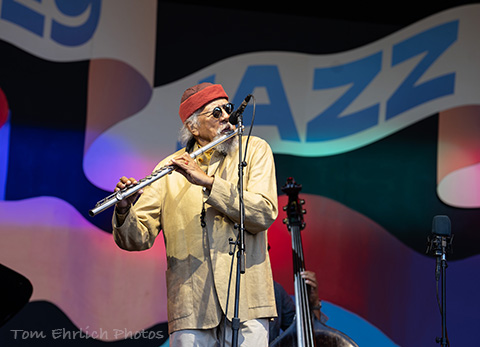 Charles Lloyd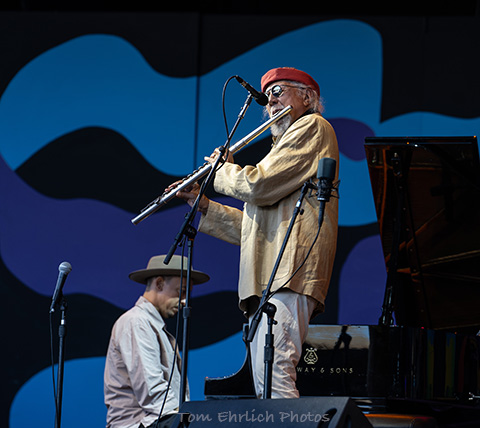 Charles Lloyd flute and Gerald Clayton piano
MUSIC FOR ABOLITION WITH TERRI LYNE CARRINGTON, GINA DENT AND ANGELA DAVIS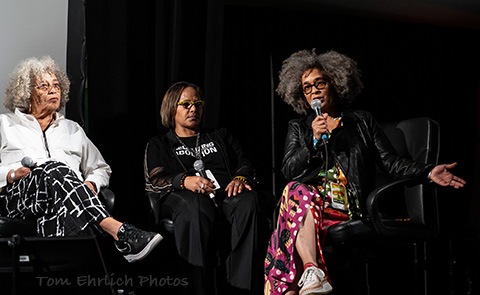 Gina Dent, Terri Lyne Carrington and Angela Davis
An extremely interesting, moving and motivating discussion with Gina Dent UC Santa Cruz professor, Terri Lyne Carrington well known jazz musician and acitivist and legendary Angel Davis - US Santa Cruz professor and social justice activist discussed an outstanding project curated by Terri Lyne Carrington with numerous artists and acitivists regarding abolishing prisons.
If any reader is interested, here is the link to see aspects of this project on the UC Santa Cruz website: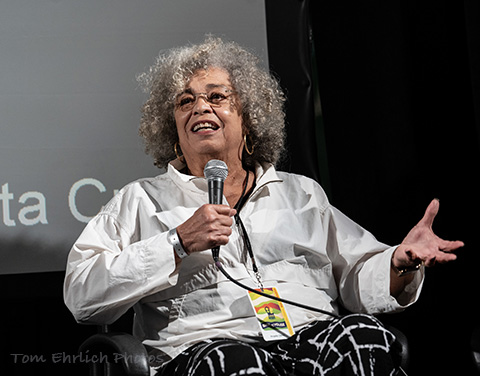 Angela Davis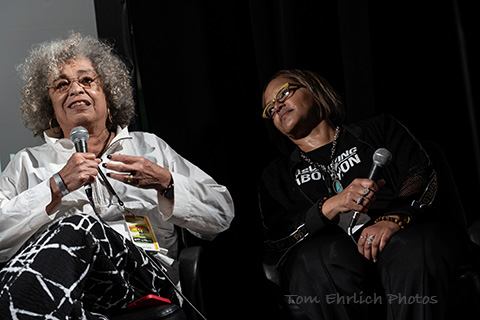 Angela Davis and Terri Lyne Carrington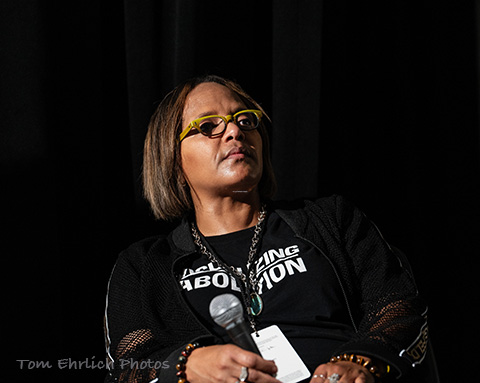 Terri Lyne Carrington
BILLY CHILDS QUARTET FEATURING SEAN JONES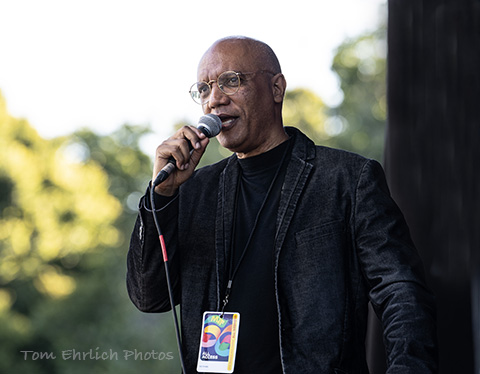 Billy Childs
Another outstanding performance by master musicians. Billy Childs is one of the best iiving composers, arrangers and pianists. He assembled a wonderful quartet which featured the great trumpeter Sean Jones.
Billy Childs
Billy's arrangement and piano playing were breathtakenly beautiful.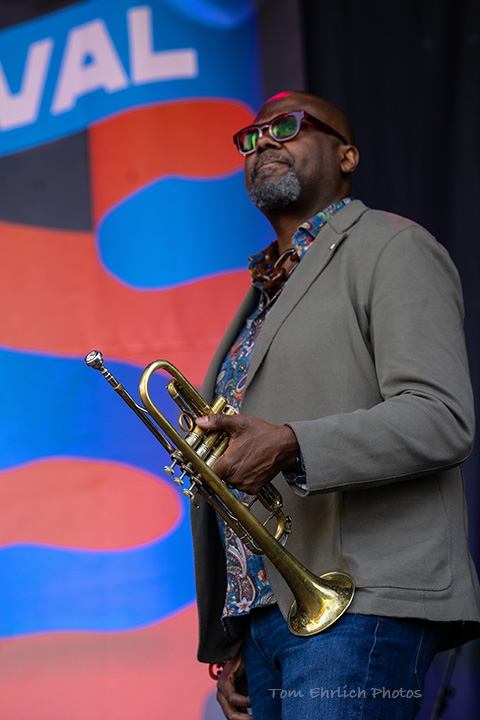 Sean Jones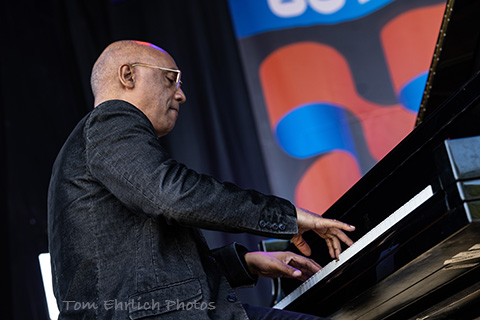 Billy Childs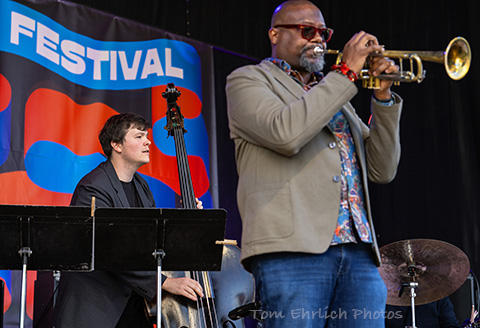 Sean Jones trumpet and Dan Chmielinski bass
Sean Joes' playing was equally outstanding.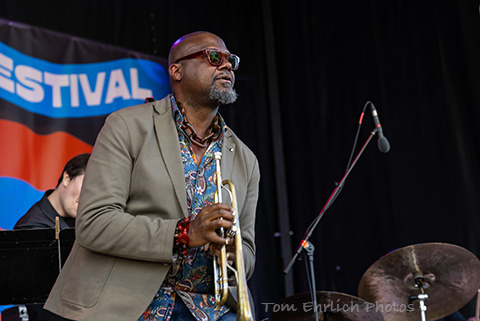 Sean Jones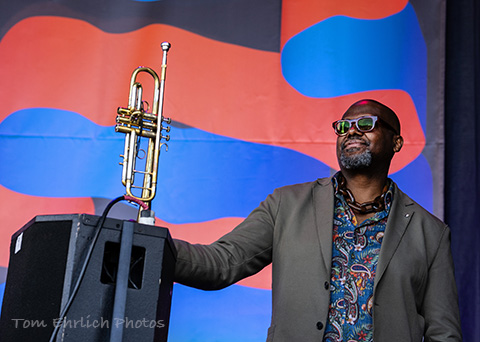 Sean Jones
Next up will be the second part of Sunday at Monterey Jazz Festival.
Tuesday, 17 October 2023, 04:01 PM