La Última
viernes, 18 junio 2010, 08:41 am
Last Chance to See Pupy in California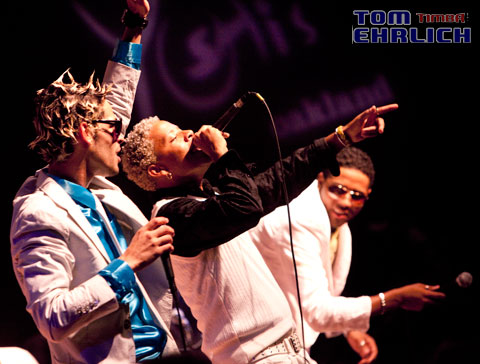 photos by Tom Ehrlich
It gets hotter every night. I've seen every Bay Area show and will definitely be at Yoshi's Oakland for the grand climax tonight. Los Que Son Son has always had one of the most torrid grooves of any timba band but their new style is a quantum leap forward, featuring the pedales and bombas of bassist Daymar Calvario ("the cavalry is coming!"), Miguelito Escuriola, Duniesky Barreto and founding member Bombón Reyes, who of course also played in the legendary 2000 Issac band.
When the bass starts to pedal, slide or thump, the energy level simply goes through the roof and it happens repeatedly on every song. In my geeky opinion, this is the factor that was missing in both Pupy and Van Van - they made up for it with a relentless basic groove and masterpiece songs, but adding the "gear" factor is the pièce de resistance.
Percussion solos are a regular part of the show and Pupy's solo on La bomba soy yo has brought the house down nightly. There was even a baby bass solo one night in SF. Many Bay stars have sat in, highlighted by Fito Reinoso, Rebeca Mauleón, John Santos and Carol Steele. Members of the Terry family are supposedly still in town and we're hoping for a last-minute guest appearance from the world's greatest chékere player.
See you tonight! Next tour stops are Washington DC and Boston. The band returns to Havana on July 2.