La Última
First Melón Volume Goes Live!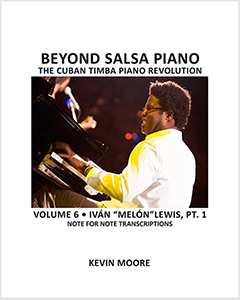 Volume 6 of Beyond Salsa Piano is the first of four volumes on Iván "Melón" Lewis, the cult-legend timba hero who played piano with Issac Delgado in late-90s.

Volume 6 includes extensive analyses of all the tumbaos of No me mires a los ojos and La vida sin esperanza, along with Melón's history and discography, and a general analysis of his style and the style of the amazing 1997 incarnation of Issac Delgado's band, with Alain Pérez on bass and Pepe Rivero on teclado.

Click here for the eBook and audio files.

Click here for the hard-copy book.

Click here for downloadable preview files. (There are more here.)

Special Note to buyers of Volume 5 - Introduction to Timba: If you didn't receive an email, please check your spam filter. Reader Keith Johnson found a couple nasty errors and provided a very valuable enhancement. All have been integrated into Revision 1.1 and you can update both audio and eBook for free.