Michelle White - Timbera Archives - 2006
Saturday January 28 2006 - Hurricane Habanera
Last night was the Stockholm concert, and I'm still on a post-concert high. Leo has definitely grown into his role as a fully-fledged charanguero, another example of David Calzado's ability to take young talent and help them realize their potential as musicians and showmen. Of course the "old singers" were as good as ever. The show has some great new choreography, and Aned and Noel are up to more crazy antics on stage. As for the musicians, what can you say about the metales and the rhythm section except that their performance is flawless and full of energy. It's fun to see how much they smile and laugh during the show.
I will do a full report with pictures soon, but for now here is a very short interview with David (WMV format) about the new CD and the upcoming DVD (to be released in May). For those who don't yet have a copy of El Ciclón de La Habana, bring some extra money to the concert because they are selling the CD there. Maybe you can even get the band to autograph your copy :-)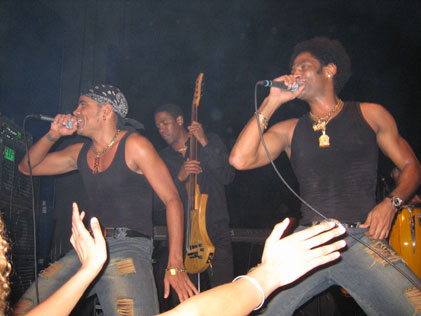 Where did she put her hands!?!
Ciclón Habanera
El noche de ayer fue el concierto en Estocolmo, y todavía estoy volando. Leo definitivamente ha crecido en su papel de charanguero maduro, otro ejemplo de la capacidad de David Calzado para encontrar talento jóven y ayudarles realizar su potencial como músicos y actores. Por supuesto los "cantantes viejos" eran tan buenos como siempre. El show tiene algunas fantasticas coreografías nuevas, y Aned y Noel hacen más cosas locas en el ecenario. En cuanto los músicos, qué se puede decir sobre los metales y la base a menos que su ejecusión es impecable y tiene mucha energía. Es un diversión a ver cuanto sonríen y ríen durante la actuación.
Pronto hago un reportaje completo con fotos pero para el momento aquí es una muy breve entrevista con David (formato WMV) sobre el nuevo CD y el futuro DVD (se lanzará en mayo). Para la gente que no tiene una copia de El Ciclón de La Habana, traiga un poco dinero adicional porque venden el disco en los conciertos. Quizá puedes pedir la banda a firmar tu copia :-)
Tuesday January 24 2006 - El Ciclón Ya Llegó
La Charanga Habanera has started their tour of Europe. They play here in Stockholm on Friday at Dieselfabriken. But as a special treat there will be a little pre-party from 18:00 to 21:00 at the club El Benny where people can have a chance to chat with their favorite charanguero. The party costs 50 SEK and an additional 20 SEK if you want to take the bus with "the boys" to Dieselfabriken.
Pupy y los que son son are also touring now. They will be in Spain for most of the month, but have added 3 dates in Rome to their tour schedule.
Wednesday January 11 2006 - Soneros All Stars Living Up to Their Name in 2006
Fans of Soneros All Stars will be pleased to hear that the band will be going back into the studio in June. Their first CD, Dime Nagüe, has received rave reviews and was recently picked as one of the Top Ten Releases of 2005 by Descarga.com. And for whatever it's worth, it's also a favorite of mine. I even gave my mother a copy.
So what can we expect in 2006? Just take a look at the preliminary line up below, talk about All Stars! The songs will be a combination of original songs and old songs. All the new songs will be arranged by none other than Pupy Pedroso, while musicians include...well just look at that list! You could call it Revé con Trabuco y Son Son. Even Changuito is participating in this project. So get ready for another arse-kicking CD!
Soneros All Stars Siguen Con Las Estrellas en 2006
Fans de Soneros All Stars estarán satisfechos saber que el grupo regresa al estudio en junio. Su primero CD, Dime Nagüe, ha recibido muy buen crítica y recientemente fue seleccionado por Descarga.com como uno de los Top Ten lanzamientos de 2005. Y para lo que vale, también es un favorito mío. También lo compré a mi mamá una copia.
¿Pues qué podemos esperar en 2006? Sólo mira abajo la lista preliminarde integrantes. ¡Hablando de All Stars! Los temas estarán una combinación de canciones nuevas y viejas. El mismísimo Pupy Pedroso va arreglar todos los temas nuevos, mientras músicos incluyan...bueno ¡sólo lea esa lista! Lo podrías llamar Revé con Trabuco y Son Son. Aunque Changuito participa en el proyecto. ¡Entonces prepárense para otro disco buenísimo!
Soneros All Stars preliminary line-up 2006
Arr: Cesar Pedroso "Pupy"
Canta y coro: Cristina Azcuy Garcia
Canta y coro: Pascual Matos Aguirre "El Sinsonte"
Canta y coro: Armando Cantero "Mandy"
Coro: Enrique Castellanos Cuesta
Tres/bandleader: Janne Bogdan (Special guest: Papi Oviedo)
Piano: Manolito Simonet
Baby bass: Victor Miranda
Trumpet: Oslén Ceballo Brian
Trumpet: Julito Padron
Trombone: Eulises Benavides "El caramelo de Zamorána"
Trombone: Ariel Guillot Manzano
Bongos y campana: José Luis Quintana "Changuito"
Congas: Yaroldy Abreu Robles
Drums y pailas: Roicel Riverón
Thursday January 5 2006 - Entrevista con Pepe Salsa de la Élite
David Doogue hizo una entrevista con Pepe Salsa, joven pianista del grupo Paulo FG y su Élite. Pepe Salsa, que tiene sólo 19 años, es la pianista más joven de los grupos de la primera linea.
Aisar Hernández Segundo Goes to La Revé
Rumor has it that Arnaldo's replacement in Orquesta Revé is Aisar Hernández Segundo from Dan Den, who has also recently recorded on El Zorro's new CD, Somos Hermanos.
Now we just need to know who is replacing Aisar with Dan Den...
Aisar Hernández Segundo Va a La Revé
El chisme es que el sustituto de Arnaldo en Orquesta Revé es Aisar Hernández Segundo de Dan Den, que también recientemente grabó en el nuevo disco de El Zorro, Somos Hermanos.
Ahora sólo necesitamos saber quien sustituirá Aisar en Dan Den...
Wednesday January 4 2006 - Arnaldo Jiménez Goes Solo
Informed sources tell us that super talented bassist and arranger Arnaldo Jiménez has left Orquesta Revé in order to pursue his own project. Arnaldo is a great bassist and is highly sought after as an arranger. He has been working alot with the Envidia label in recent years. In 2005 in addition to arranging for La Revé, Arnaldo wrote the arrangement for the critically acclaimed Soneros All Stars CD Dime Nagüe and Orlando Canto's Sigo Siendo Un Van Van and he still found time to release his second solo CD, Cosmopolita Pa' Rato... In addition to his own project, he has expressed interest in continuing his collaboration with Soneros All Stars. Hmmm...maybe they can put together a tour for the end of 2006...Janne, what do you think?
Tuesday January 3 2006 - Tour Updates
We have received the final dates for the Tour of Spain of Pupy y Los Que Son Son. Some of the dates have changed or been replaced so check the new tour schedule to be sure you find the concert nearest you! Believe me, if you haven't seen them live yet, you simply must go!
We have also updated the Charanga Habanera tour schedule with more links to the venues as well as with the preliminary dates for their Tour of Spain, which will take place from the middle of February through the beginning of March.
Via one of our reader we have gotten a little update about Adalberto Álvarez. They will be playing at Floridita in Vienna, Austria on March 13. We are still waiting for the full schedule for Adalberto, so keep checking back with us. In addition, I suspect that Manolito y Su Trabuco will also be doing a Tour of Spain, and I am hoping to soon have those dates as well.
I just want to thank Timba y Son for their work in bringing timba to Spain. In the past only a few groups have played there and mostly in the Canary Islands, with very few concerts on the mainland. But now we have a 10-date tour by Pupy and La Charanga Habanera has a preliminary schedule of 13 concerts! Let's hope the tours are successful and open the way for more timba in Spain.
Actualizaciones de las Giras
Hemos recibido las fechas completas de la Gira de España de Pupy y Los Que Son Son. ¡Algunas de las fechas han cambiado o substituido pues mira el nuevo horario para ser seguro hallazgo el concierto más cerca a ti! ¡Créame, si no las has visto en vivo todavía, simplemente debes ir!
También hemos actualizado el horario de La Charanga Habanera con más enlaces a los lugares así como las fechas preliminares de su Gira de España, que ocurrirá desde el medio de febrero hasta el principio de marcha.
Un lector nos puso corriente con otras fechas de Adalberto Álvarez. Tocarán en la Floridita en Viena, Austria el 13 de marzo. Aún esperamos el horario completo de Adalberto, entonces sigue controlando la página. Además sospecho que Manolito y Su Trabuco también hará una Gira de España y estoy esperando que pronto tenga esas fechas también.
Sólo quisiera agradecer Timba y Son por su trabajo con traer la timba a España. En el pasado solamente algunos grupos han tocado allí y sobre todo en las Canarias, con muy pocos conciertos en el continente. ¡Pero ahora tenemos una gira de 10 fechas para Pupy y la Charanga Habanera tiene un horario preliminar de 13 conciertos! Esperemos que las giras son exitosos y abran el camino para más timba en España.
Monday January 2 2006 - Artist Line-up For World Congress of Cuban Salsa - Munich
The list of confirmed instructors for the Munich Congress of Cuban Salsa is now available. The Munich congress will be held from March 17-20. The congress features 48 workshops, such as Casino - Salsa Cubana, Rueda de Casino, Cha cha cha, Son, Orishas, Cuban Ladystyle - Despelote, Rumba Cubana - Yamb, Guaguancó, Columbia, Vacunao, Tembleque, - On3 - Ritmica Cubana, etc., and classes are available from beginner to master level.
The price for a full pass will go up on January 31, so if you plan to go, you should order your full pass now at cubamemucho.com. Also group leaders with a group of 10 or more people will receive a special group price plus 2 additional free full passes. If you are not sure what you think about idea of a Cuban salsa congress, you can also check out videos from last year's events and make your decision.
Cubakultur 2006 Salsa Program
Cubakultur has published their 2006 salsa program at http://www.cubakultur.dk. In addition to salsa classes and dance trips to Cuba, Cubakultur arranges concerts during the year as well as the annual Latin Festival. For more information contact Stine.
Lista de Artistas para el Congreso Mundial de la Salsa Cubana - Munich
La lista de instructores para el Congreso Mundial de la Salsa Cubana en ya es publicado. El congreso de Munich estará el 17-20 marzo. El congreso tiene 48 clases como Casino - Salsa Cubana, Rueda de Casino, Cha cha cha, Son, Orishas, Cuban Ladystyle - Despelote, Rumba Cubana - Yambú, Guaguancó, Columbia, Vacunao, Tembleque, - On3 - Ritmica Cubana, etc y hay clases para cada nivel desde principiante hasta maestro.
El precio del boleto completo se aumenta el 31 de enero, pues si vas a ir debes comprar tu boleto completo ahora a cubamemucho.com. También liders de grupos que tienen 10 personas o más recibirán un precio especial más 2 adicional gratis boletos completos. Si no estás seguro de lo que piensas sobre un congreso de la salsa cubana, puedes mirar videos de los eventos del año pasado y tomar tu decisión.
Cubakultur 2006 Programa de la Salsa
Cubakultur ha publicado su programa de l salsa para 2006 en http://www.cubakultur.dk. Además que clases de la salsa y viajes de baile a Cuba, Cubakultur arregla conciertos durante el año así como el Festival Latino anual. Para más información escribe a Stine.
Tuesday, 22 March 2011, 07:32 PM