Michelle White - Timbera Archives July 2006
Thursday July 27 2006 - Orishas in Milan - Report by Claudia D'Ammassa
Yes, I know that they don't play timba, but there are enough timba fans who also like Orishas, myself included, that I was happy to post this report by Claudia D'Ammassa. She also got Timba.com a very interesting and exclusive interview with Ruzzo.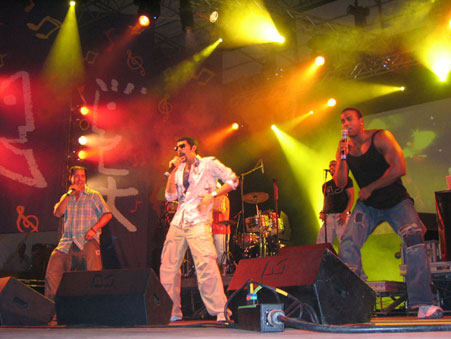 Orishas en Milano
Orishas en Milano - Reportaje por Claudia D'Ammassa
Sí, lo sé que no tocan timba pero hay bastantes fans de la timba que también les gustan Orishas, yo mismo incluido, que me siento feliz poner este reportaje por Claudia D'Ammassa en la página. También hizo una entrevista en exclusiva para Timba.com con Ruzzo.
Wednesday July 26 2006 - Festival Salsa Casino HabanaCaracas
September 22nd-24th casino-style salsa will invade Caracas with the Festival Salsa Casino HabanaCaracas. The program is available at the website. So far Adalberto Álvarez is confirmed for September 22nd, and there are rumours that Pupy may be playing there too. We'll keep you posted.
Paulo FG in Milan
We also have an update about a new concert schedued for August 4 in Milan at La fiesta del Moskito in EL PARAISO.
Thursday July 13 2006 - Azúcar Negra's New Line-Up
At the beginning of July, I spent 10 days with Azúcar Negra as their summer tour started. I have done some minor updates to add information about the new bandmembers, but I've been busy working in Holland and that's my excuse for not updating properly. But there is more to come about Azúcar Negra as soon as I have a few days in front of my computer. For now you can read about the new musicians in the Azúcar Negra Bios section. Limonta has returned to a line-up with one female singer, Ailyn Dalleras, and 3 young men who come from some of the most popular young groups: Bernardo Pérez (Chispa y los Complices), Lester Ciarreta (Salsa Mayor) and Ricardo Alberti (Tumbao Habana). And yes we have pages for Oslien Borroto, the new conguero and Hanselt Pérez, the new bassist.
NOTE!!! They are selling the new CD, Toque Natural at the concerts so bring some extra money with you and be the first in your town to have the new CD. The CD includes a bonus video clip of the Toque Natural EGREM All Stars version with singers such as Pedrito Calvo, Leoni and Leo, Amaray, and Jannier.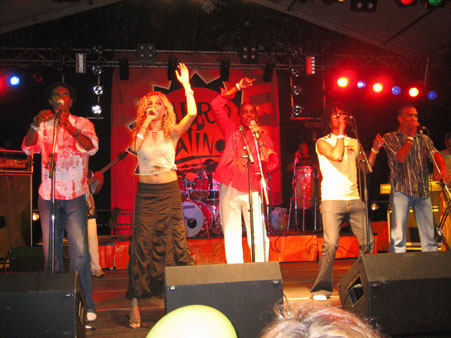 Azúcar Negra at the AfroLatino festival in Belgium
Azúcar Negra y Los Músicos Nuevos
Al inicio de julio estaba 10 días con Azúcar Negra cuando comenzó su gira de verano. He hecho algunas actualizaciones pequeñas para añidir información sobre los nuevos integrantes pero he tenido bastante trabajo en Holanda y esa es la razón para no actualizar bien. Pero viene más sobre Azúcar Negra cuando tengo unas horas frente de la computadora. Por el momento pueden leer sobre los integrantes nuevos en la sección de biografías de Azúcar Negra. Limonta ha regresado a un grupo con una hembra, Ailyn Dalleras, y 3 joven varones que vienen de algunos de los joven grupos más popular: Bernardo Pérez (Chispa y los Complices), Lester Ciarreta (Salsa Mayor) y Ricardo Alberti (Tumbao Habana). Y sí, tenemos páginas para Oslien Borroto, el conguero nuevo y Hanselt Pérez, el nuevo bajista.
¡¡¡NOTA!!! Venden el nuevo CD, Toque Natural en los conciertos pues trae un poco dinero extra para ser la primera persona en tu pueblo que tiene el nuevo disco. El disco incluye un bonus video clip de Toque Natural EGREM All Stars version con cantantes tal como Pedrito Calvo, Leoni y Leo, Amaray, y Jannier.
Summer Tours
For the moment I have uploaded the complete tour schedule for Pupy y Los Que Son Son. They have quite a few concerts in Italy that weren't on the list previously. As always, the Italians seem to be in first place when it comes to Timba (and of course in football).
I have also updated Los Van Van's tours page with a few dates in Australia... yes, Australia you heard me right. Apparently in connection with their Japanese tour, Los Van Van will also play a few gigs in Australia. Are we seeing the beginning of a positive trend for timberos in Australia? First Afro-Cuban All Stars with Tirso did an Australian tour and now Los Van Van. Let's hope it keeps up. And as long as they're downunder, it seems to me that it's time for the vast number of timberos that I just know are waiting silently in New Zealand to make themselves heard and demand at least one gig per island!
Giras de Verano
Por el momento he cargado el horario completo de Pupy y Los Que Son Son. Tienen muchos conciertos en Italia que no eran en la lista antes. Como siempre parece que los Italianos son en primero lugar en cuestiones de la Timba (y en el fútbol por supuesto).
También actualizé la página de giras de Los Van Van con tres fechas en Australia... sí, Australia me escuchaste bien. Aparentamente en conexción con la Gira de Japón, Los Van Van también tocará algunos conciertos en Australia. Ya vemos el inicio de una tendencía positiva para los timberos de Australia? Primero Afro-Cuban All Stars con Tirso hice una gira de Australia y ahora Los Van Van. Esperamos que sigue. Y mientras están downunder, a mí me parece que es hora para el número enorme de timberos que sé están esperoando en silencio en Nuevo Zelandia que reclaman al menos un concierto por isla!
Charanga Habanera Report from Claudia D'Ammassa in Milan
La Charanga Habanera faced an almost impossible challenge: a concert in Milan on the same night as the World Cup Final match between Italy and Germany. One might expect them to be faced with an empty concert hall, but the Italians love their football (soccer) AND their timba and found an elegant solution: A big screen TV broadcast the game during the concert. Click here to read Claudia D'Ammassa's short report and see more pictures of the concert and the band enjoying the football (soccer) match.
Reportaje Sobre la Charanga Habanera en Milano por Claudia D'Ammassa
La Charanga Habanera afrontaron una tarea casi imposible: un concierto en Milano la misma noche que el final de La Copa Mundial entre Italia y Alemania. Uno pudo esperar que sean afrontados con un lugar vacío pero los italianos les gustan el fútbol Y la timba y encontraron una solucion elegante: una televisión grande diseminó el partido durante el concierto. Pon clic aquí para leer el breve reportaje por Claudia D'Ammassa y a ver más fotos del concierto y la banda gozando el partido de fútbol.
Tuesday, 22 March 2011, 07:32 PM