Michelle White - Timbera Archives November 2006
Sunday November 26 2006 - International Dancer's Meeting Begins in Havana
Today marks the beginning of the International Dancer's Meeting in Havana. The event is six days of dance classes and academic presentations during the day, and every night at Hotel Habana Libre there is a concert by the biggest names in Timba. We don't know the exact concert schedule, but the invited groups are:
Los Van Van
Adalberto Alvárez y su Son
Charanga Habanera
Paulo FG
NG La Banda
Manolito Simonet y su Trabuco
Pachito Alonso y sus Kini Kini
Yumuri y sus Hermanos
Azúcar Negra
Anacaona
Pupy y los que Son Son
Elito Revé
I simply must go next year and am now shamelessly soliciting donations. Send me an e-mail, or better yet a check, if you want to contribute to the "Let's send Michelle to a kick-*ss timba event" fund.
Thursday November 23 2006 - Adalberto Álvarez Tour Begins Tomorrow
Adalberto Álvarez y su son begin their autumn tour of Europe tomorrow. Their first performance is in Nettuno, Italy at Buena Vista Club. Click here for the complete tour schedule.
Mañana empieza la gira de Adalberto Álvarez
Mañana comienzan Adalberto Álvarez y su son su gira Europea de otoño. La primera actuación estará en Nettuno, Italia en Buena Vista Club. Pon cliq aquí para el horario completo.
Thursday November 9 2006 - Updates , update, updates
It's hard to keep up with what is happening with Timba around the world, but with contributions from musicians and fans around the world, we do our best. Here's just a little selection of things that are happening around the globe.
Jorge Maza & Típica Toronto
Jorge Maza and fellow members of Cubanismo, Pablosky Rosales and Jorge "Papiosco" Torres have all recently relocated to Toronto in Ontario, Canada. Together with Frank Durand, they are forming a charanga típica but Maza says they will also include some timba in their repertoire. Maza, Pablosky and Papiosco all recorded on the upcoming and as yet unnamed Cubanismo CD.
In addition, Pablosky has been trying his hand at composing and arranging. Petit mambo on the new Cubsnismo CD is his composition and arrangement while he also arranged the song Préstame a su mujer. He also recorded with a new and successful Cuban band called Karamba on their CD Mírame on which he composed and arranged songs. Apparently he has a lot of energy because he is also working on a tres method book. We'll update you when it becomes available.
¡Ay Karamba!
And really it's a small world because today I was watching the weekly "news" from Piso 6 on muchoswing.com and there was a long interview with the leader of Karamba. They will be releasing Mírame in Europe in December. Here is a sneak preview of Karambera, a song composed and arranged for Karamba by Pablosky. It's sort of a hip-hop, flamenco, rap and has been popular in Cuba. They recently completed a European Tour including the Latin Festival in Copenhagen. And speaking of the Latin Festival...
Alianza
Alianza is a Cuban hip-hop group based in Stockholm. They also performed at the Latin Festival recently and are also about to release a new CD. Their previous CD was released in 2004 and called Seres Humanos. The new CD is under the production of Nate (Reactive) and the new material is described as a mix of tropical-ragga-latin with flamenco influences, modern hip-hop beats and reggaeton. I'm going to see them tomorrow at Bar Brazil and we'll see what the new material is like.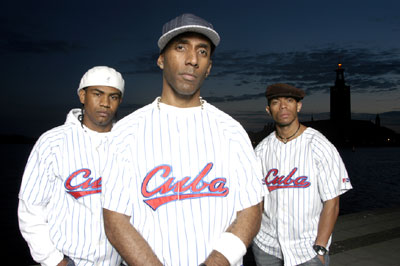 Alianza
Los Van Van
Los Van Van are about to complete their South American tour before taking a short break and heading north to Canada...in December...brrrrrrr. They will be heating things up when they get there. Check out this report at Timba.cl from a concert in Chile (in Spanish).
Monday November 6 2006 - Play It Again
Calixto Oviedo, Lily Hernández, Yarién Oviedo, Pepe Espinoza and Alexander Abreu will all be performing with Havana Open in Casablanca, Morocco from December 10-12.
You can find some of Calixto's recent concerts in our video section. You can listen to some of Alexander's compositions and vocals at Grupo Danson's site. And there is a video of Yarién's performance at the Nova Festival at YouTube.
Sunday November 5 2006 - Maraca Live in Concert on Radio France
This Tuesday November 7th Radio France will broadcast a live mini-concert plus interview with Grammy nominee and many-time Cubadisco winner Maraca. You can catch the broadcast at 91.7 FM in France from 20:00 - 22:00 . Fans outside of France can listen to the program, called Un Mardi Idéal, over the internet.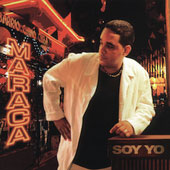 This year Maraca added to his awards winning Best Recording for the CD Soy Yo.
Click here to see a short clip from the title track in MPG format. You can watch the entire clip at Maraca's offical site. For live video from EuroDisney 2004, click here.
Friday November 3 2006 - Osvaldo Chacón in Ireland this Sunday
Osvaldo Chacón will be playing at the Galway Salsa Congress in Ireland on Sunday November 5. Chacón is also releasing a Greatest Hits CD entitled Best of Salsa Afro-Cubana. If you don't have his other CDs, you should buy this to get a selection of his best songs.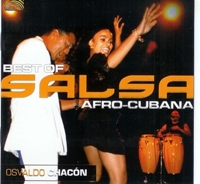 Charanga Habanera Concert Reports
La Charanga Habanera and las Voces de Cuba are currently touring Europe. In addition to "the boys" guest artists Osdaliga, Vania and Eddy K are all performing together. I caught their first performance of the tour at Musikens Hus in Gothenburg, Sweden on October 19th, while Indochino and Pat Bonnard saw them in France at The Dock Haussman in Aubervilliers on October 29th.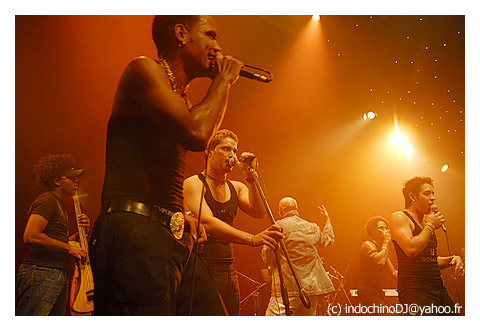 Photo courtesy of Indochino
Indochino contributes this report about the Paris concert:
The band left Barcelona (Spain) the day before, despite the tiring trip to Paris, they delivered one of the best performances ever.
The band was there, Osdalgia was there, incredible Vannia was there, the french timberos were there .... all ingredients were there for a successful & crazy timba week-end !
Click here to see Indochino's excellent photo gallery at fiestacubana.net.
Click here for my own report on the concert in Gothenburg and Pat Bonnard's pictures, which are much better than mine so I'm using his, by permission of course. The report includes 2 special bonus videos that are not in the video section, so don't miss them.
Check out the video section for new live videos: one of the estrenos plus Llegaron los grandes with Eddy K, also videos of Vania and Osdalgia.
This concert was the first time I saw the new bassist, Ernesto Masar Kindelán. He's been with the band since April, and was recruited by David from Charanga Forever where he was working as co-musical director. Only 22 years old, he is another example of the caliber of musician turned out by the Cuban music schools. He plays with great energy and sabor and is already a well-integrated part of the show. It surprised me to see that he plays both the electric bass and the baby bass, the first time I've seen an electric bass with Charanga Habanera. Click here to watch a brief (and very dark) interview with Ernesto where he introduces himself to the people of Timba.com.
Thursday November 2 2006 - Calixto Oviedo Trae La Timba
Calixto Oviedo is one of the pioneers of Timba, one of the elite who defined timba at its inception. He is always in demand and spends a good deal of time touring Europe as a guest artist with various bands, both touring and recording. He has also found time to record two solo CDs: La Recompensa and Calixtos Way, a Latin Jazz CD. This year, he returns to timba preparing to record a new CD. Calixto already has at least 5 new songs and I have seen 4 of them performed live at two concerts here in Stockholm. They are timba verdadera. It was very exciting to hear his new material. I am really looking forward to a new CD, but with his busy schedule I don't know when he'll find time for the studio.
The current line up of the band is:
Calixto Oviedo - Director, drums, timbal
Lily Hernández - Vocals
Frank Belicer - Vocals
Yarién Oviedo - Vocals (and rap)
Gunnar Thullberg - Piano
Luis Romero - Bass/baby bass
Linus Svanberg - Congas
Lázaro Sandoval - Sax
Yoel Terry - Sax/flute
Karl "Kalle" Frid - Trombone
Jacek Onuskiewicz - Trumpet
On occasion Calixto brings in guest artists such as Alexander Abreu (vocals and trumpet), Yaser Morejón (bass) or, on this occasion, Eduardo Céspedes, bassist and founding member of Bamboleo who also recorded on Calixto's Latin Jazz CD. Calixto and Eduardo are both children of Changó so watch out when they play together!
Click here for a report from a recent concert in Stockholm. Click here to see some live video from Stockholm, including Sin Sentimiento, one of Calixto's new songs.
We have also updated Calixto's section with more tour dates and an updated Grupo page.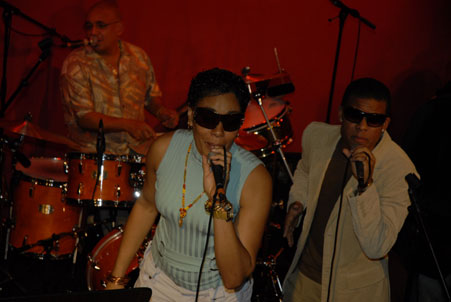 Los Oviedos: Calixto, Lily y Yarién
Calixto Oviedo Trae La Timba
Calixto Oviedo es uno de los pioneros de Timba, uno de la élite que definió la timba en su inicio. Calixto siempre es muy solicitado y pasa mucho tiempo en viaja en Europa como artista invitado con las varias bandas, en las giras y en grabaciones. Ha tomado tiempo para grabar dos CDs como soloista: La Recompensa y Calixtos Way, un disco de Latin Jazz. Este año, regresa a la timba y se prepara de grabar un nuevo CD. Calixto tiene ya al menos 5 canciones nuevas y lo he visto tocando 4 de ellas en vivo en dos conciertos aquí en Estocolmo. Son la timba verdadera. Estoy muy feliz cuando escucho sus canciones nuevas. Ya estoy esperando su nuevo disco pero con el horario que tiene no sé cuando encontrará el tiempo para entrar en el estudio.
Los integrantes son
Calixto Oviedo - Director, batería, timbal
Lily Hernández - Voz
Frank Belicer - Voz
Yarién Oviedo - Voz (y rap)
Gunnar Thullberg - Piano
Luis Romero - Bajo/baby bajo
Linus Svanberg - Tumbadoras
Lázaro Sandoval - Saxo
Yoel Terry - Saxo/flauta
Karl "Kalle" Frid - Trombón
Jacek Onuskiewicz - Trompeta
Pon cliq aquí para un reportaje de un concierto reciente en Estocolmo (en inglés). Cliq aquí para ver video de conciertos en Estocolmo, incluyendo Sin Sentimiento, una de las canciones nuevas de Calixto. Calixto y Eduardo los dos son hijos de Changó pues cuídate cuando tocan juntos!
También actualizamos la sección de Calixto con más conciertos y una página nueva para el Grupo.
martes, 22 marzo 2011, 07:32 pm