Michelle White - Timbera Archives September 2006
Thursday September 28 2006 - Interview with Vitaly Osmachko by MUSIC IN LATIN
Artem Ivantsov, the man behind the excellent but as yet unpublished magazine Music In Latin has provided Timba.com with a facinating interview with his countryman, Vitaly Osmachko. Vitaly is the leader of the project "Vitaly y su Timba Habanera". His CD, Desnudar tu cuerpo was actually recorded in Havana 2001 but in the past year or two it suddenly caught the attention of timberos, largely through word of mouth over the Internet. Unfortunately, the record company never had any plans for international promotion and this has made the CD a hard-to-find gem.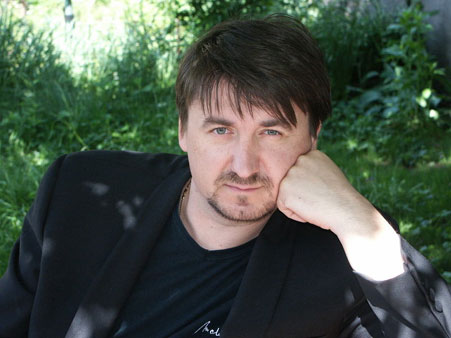 Vitaly Osmachko
The interview introduces us to Vitaly and explains how he became interested in timba and how the project "Vitaly y su Timba Habanera" came about. The CD features some of the biggest names in timba and Cuban music.
Click here to read the interview.
Thursday September 21 2006 - Correction - Haila & Charanga Habanera on Separate Tours
The other day I posted information about the Charanga Habanera tour which I was told would include Haila. This information is not correct. The Charanga tour will feature special guests Vania and Osdalgia.
Haila will also be touring in October and November, but with her own band in order to do justice to her current project and her fans. We don't have the dates on Haila's tours page yet, but we will post them soon.
Wednesday September 20 2006 - ¡Maraca & the New Collective in California!
Kevin, Shabby and Ahmed are keeping everyone up-to-date on the latest concerts in the US. But here's something they haven't mentioned yet: in just 9 days Maraca will be touring Califirnia. Readers here at Timba.com voted him the Best Timba Flautist, oh yeah and I suppose I should mention that he's also won several awards at Cubadisco and even been nominated for a Grammy.
For the US tour Maraca has put together a group of excellent Cuban, Puerto Rican and US musicians. If you are hungry for top class Cuban music you don't want to miss this! The line up is: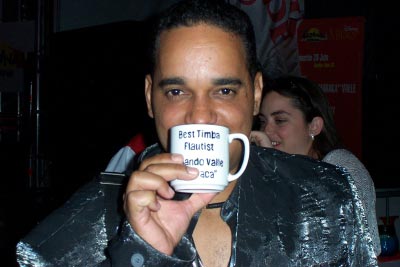 Maraca - winner of the Timba.com Best Timba Flautist award
Orlando "Maraca" VALLE, bandleader, flute, arrangements
Piro RODRIGUEZ, trumpet
Craig HANDY, saxophones
Tony Perez, piano
Humberto "El Nengue" Hernandez, congas
Jorge "El Sagua" Perez, bass
Reinier GUERRA, drums, timbales
Alberto PINO, vocals
Adonis PUENTES, vocals
Click here for the concert dates. You can also visit for Maraca's homepage which includes 6 videos.
Tuesday September 19 2006 - Cuban Autumn
Northern Europe experienced a beautiful summer this year. The usual grey rainy weather didn't show. Instead we had three warm, sunny months filled with timba concerts and Cuban festivals all over Europe. But all good things must come to an end and now as the cool weather sets in, the festival tents come down and the last of the bands have returned to Cuba, you might think depression would set in. Fortunately, round 3 of the 2006 tour season will begin shortly.
Cubamemucho
Here in Scandinavia we kick things off with the Cubamemucho Cuban Salsa Congress in Stockholm, Sweden from September 29 through October 1. I've heard good things about Cubamemucho from friends of mine who have attended previous congresses and I am looking forward to seeing first hand what it is like.
The congress includes workshops at all levels in salsa cubano, casino, tropicana, son, rueda, rumba, despelote, chachacha, orishas and even something they call timba. I am particularly interested to see how the dance instructors differentiate salsa/casino/timba. If you can't take a wekend in Stockholm, Cubamemucho will be stopping in Amsterdam and London later this year.
Concerts
Maraca and Charanga Habanera featuring Vania & Osdalgia will be touring the autumn. Yumurí will also and Adalberto Álvarez y su son be on tour, but so far we don't have any of their concert dates. Personally I plan to catch the Latin Festival in Copenhagen on October 20-22 so I can see Maraca on October 20 and La Charanga Habanera with Vania & Osdalgia on the 21st. The festival also includes dance lessons and shows.
Thursday September 14 2006 - Oviedo Update
Calixto has been busy as always this summer participating in festivals ranging from the Red Sea Jazz Festival in Israel to Nordischerklang in Germany. Here are a few pictures from this summer including some of El Yoruba, Yarién Oviedo who has recently recorded his demo CD entitled Religion.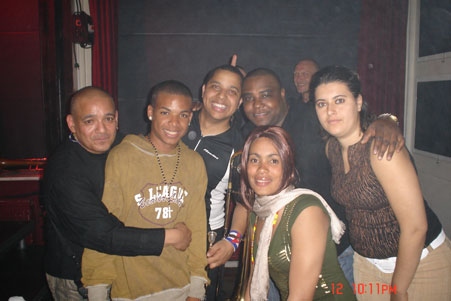 Calixto y su Latin Train in Düsseldorf
Monday September 11 2006 - More Issac Delgado
Now that I'm back from vacation I want to finish the Issac Delgado report. I have uploaded four video clips from the concert at the Stockholm Culture Festival. Issac is so smooth, so relaxed, so in control and the sound at this concert was probably the best I've heard at any concert this summer.
I also took the opportunity to interview the percussion section in an attempt to help Kevin with his never-ending gears studies. The interview took place in the hotel lobby after the show so there is a lot of background noise and the lighting is poor. I was hoping to find a way to lighten up the video, but I decided to finally link the interview. After all, it's more important to hear them than to see them. Click here for the percussion interview.
Tour Updates
Sadly the European tour season is at an end. I have updated the tours page which basically means that I took away most of the links. However, there are still some concerts to look forward to this fall. For instance in Europe we have Maraca, La Charanga Habanera touring with Haila, Osdalgia and Vania. Adalberto Álvarez is scheduled for a tour this fall too, but we haven't seen any dates yet. And in the USA Orishas are currently on tour and Tiempo Libre has a number of gigs coming up. Kevin has the latest on groups such as the Cuban Timba All-Stars and Habana NRG.
For a great retrospective of this summer check out Yemaya's Verse. Gabriel continues to update with more video from her visit to the festivals in Italy.
Tuesday, 22 March 2011, 07:32 PM