Michelle White - Timbera Archives August 2006
Friday August 24 2006 - Paulo FG to in Mexico
After a very successful tour of Europe, Paulo FG will be playing in Cancun, Mexico. All we have so far is a single date August 28th. I don't know the venue or if there will be more than one concert, so if anyone has more information pease send us an e-mail.
And if you haven't read Gabriel's report of the Paulito, Manolín, NG la Banda, Pupy night in Milan, click here. There is also some video of Paulo and Manolín together and of Mandy singing De la Timba a Pogoloti.
Thursday August 17 2006 - Concert Reports and Photos from France
Our friend and gifted photographer, Alain at Fiesta Cubana has provided us with some short concert reports and pictures of various concerts he's attended this summer. All photos ©indochino(at)yahoo.fr.
Azucar Negra - La Clef, Saint-Germain-En-Laye on 02/07/06
What to say about Azucar Negra, maybe just an electrical and powerful performance @ La Clef. From 6 to 50 years old, the audience was completely & quickly on captivated by a dynamic and 100% 'pura' timba vibes.
Note from Michelle: The concert at La Clef followed a day of Timba classes by Azúcar Negra at the La Clef music school. The music students divided into rhythm section, horns and singers and were instructed in timba by the various members of the group. The students had been studying Azúcar Negra's "Loco por ti" (from Sin mirar atrás), so the band worked on using this song as well. The singers were coached by Limonta and the singers of Azúcar Negra. This included Limonta calling on each singer in turn to practice their communication skills with the audience, which is an important part of connecting with the audience. Click here for photos from the timba classes.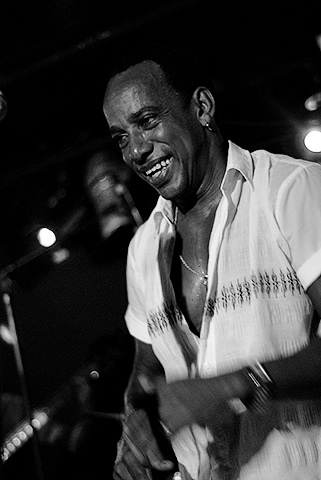 Leonel Limonta at La Clef
Click here to see the photo gallery from the concert at La Clef. Click here to see the remaining concert dates for Azúcar Negra in Europe.
Issac Delgado - Cabaret Sauvage, Paris (France) on 29/07/06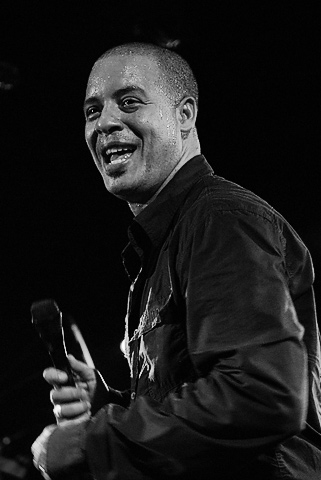 El chevere
Track list :
- Y que tu quieres que haga ("Prohibido")
- La titimania ("Prohibido")
- Catalina ("Exclusivo para Cuba")
- El pregon del chocolate (" La formula" )
- Cuando ( "La formula" )
- Dime cual es (" Prohibido ")
- No me miras a los ojos ("El ano que viene")
- Yo te queria Maria ( "Versos En El Cielo" )
- Si te gusta mi compas ("Prohibido")
- Bis : Que te pasa loco (" Con Ganas ")
Click here to read the concert review (in french) and here to see the photo gallery. Click here to see the remaining concert dates for Issac Delgado in Europe.
Maraca - New Morning (Paris ) on 27/07/06
Excellent concert with music covering Afro/Latin Jazz, Conga to pure Timba that could only please a large audience ... with great virtuosity.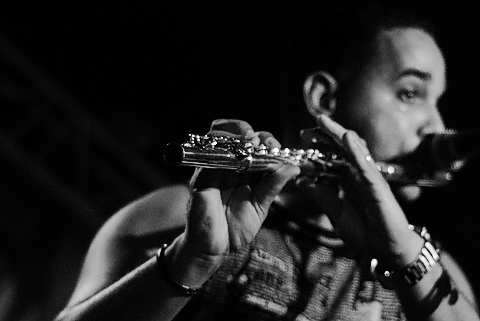 Maraca - Mejor flautista de la timba
Click here to see the photo gallery of Maraca's concert at New Morning. Click here to see Maraca's concert dates for the European tour.
Tuesday August 15 2006 - Issac in Stockholm
Last night Issac Delgado was the opening act at the Stockholm Culture Festival.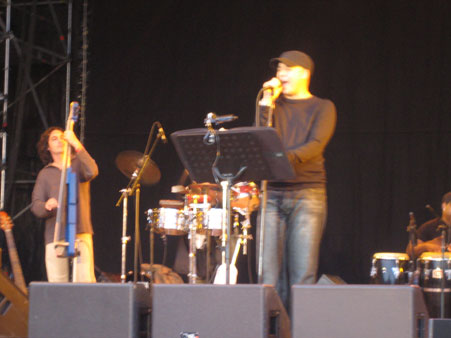 The concert was held outdoors at Gustav Adolfs Square and it was packed! In addition to all the familiar salsa faces, the square was filled ith "regular Swedes" as I like to call them, that is to say people who are not salsa fans.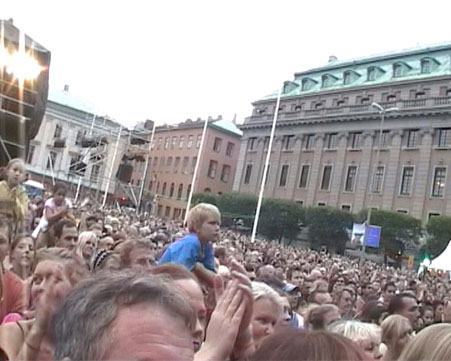 A little Sueco getting his first taste of Cuba
The sound was great, and as always Issac's musicians were excellent. And what can you say about the man himself? Issac's style is so laid back, so effortless. He never has to push; it all just flows so smoothly and naturally. Issac forges an immediate rapport with any audience, whether or not they speak Spanish, and this concert was no exception. Fortunately there was no rain until the end of the show. Unfortunately, the festival program only allotted the band 1 hour to play, and with true Swedish precision the band wasn't even allowed to do an encore despite the audiences' cries for "otra".
After the show I spoke briefly with Issac about changes he has made to the percussion section, and about future CD and tour plans. Click here to watch the interview in WMV format.
Tonight the band is in Gothenburg and after this only 4 dates remain on the 2006 European Tour. Don't miss them if they are coming to a city near you, and watch for them in Mexico and Spain later this year.
Tuesday, 22 March 2011, 07:32 PM