Michelle White - Timbera Archives March 2006
Wednesday March 29 2006 - Music in Latin
The first issue of "Music in Latin" has gone to press. I'll be getting my copy soon. Of interest to timberos are the interviews with Manolito Simonet, La Charanga Habanera and Janne Bogdan of Soneros All Stars. The magazine is looking for distributors in some regions. If you're interested in getting involved contact Artem Ivantsov.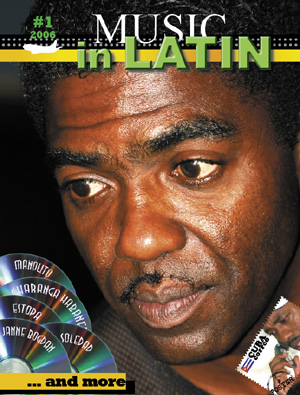 Tuesday March 28 2006 - What's Up with Chispa?
Fellow timba blogger Billy Bryans of Canada posted an update on Chispa. Apparently it is their anniversary next month. To celebrate they will perform live on television well as at Casa de la Música. In addition, Billy says that they have added Leito Vera, son of legendary ex-charanguero Leo Vera, as their newest singer. I would be very interested to hear him sing. Leo Sr. is credited by some as having revolutionized singing in timba. Billy also has information about their new CD.
What's Up with Mamborama?
The track listing for the new mamborama CD, Directamente al Mambo, as well as a couple of clips of the song Mi Bailadora, have been posted at Mamborama.com. The CD features lead vocals by Calunga, Robertón, Tony Calá, Pepito, Alexei "El Nene" Sánchez and Flipper and El Doctor from Cubanito 20.02, with lyrics by Bill Wolfer solo and together with El Indio and David Bencomo. Very much an all star line up. Current plans are to release the CD in the late spring.
What's Up with Yulién?
Well I assume his fans have all seen the video at salsamania.it. A friend of mine who recently saw him in concert said: "I went to see Yulién at a concert with his new group and he's fabulous...really he sounds fantastic". Remember, it's not timba and he's not playing percussion, but if you're curious to see what he's doing these days, you can catch him at Delirio Habanero on Monday April 3, Paseo y 39. Plaza.
Monday March 27 2006 - Tour Updates
Thanks to help from readers we have been able to update our tours section with a new date for Issac Delgado in Switzerland and a date for Bamboleo's summer tour. Bamboleo will be performing at the Caliente Festival in Zurich on June 17. If anyone has more information about Bamboleo's tour dates please send us an e-mail. As the festival season approaches, we will be updating the tours section more often, so remember to check with us before planning your summer vacation.
Dantes Cardosa's First Solo CD, "En Mí La Fe"
I haven't heard any of the songs from the new CD, but what we know is that it is a salsa and "fusion" album directed and produced by Pedrito Camacho of El Clan. We also know that Dantes performs a bachata duet with Haila on the CD. For more information about what Dantes is up to check his website: http://www.dantesrickyricon.com
El Primero CD Como Soloista de Dantes Cardosa, "En Mí La Fe"
No he escuchado ninguna canción del nuevo CD pero lo que sabemos es que es un disco de salsa y "fusión" dirigido y producido por Pedrito Camacho de El Clan. También sabemos que Dantes canta una bachata en duo con Haila en el CD. Para más información sobre lo que hace Dantes ve su página: http://www.dantesrickyricon.com
Azúcar Negra's New Look
There have recently been some changes in the singer line-up of Azúcar Negra and here is a photo of the new front line.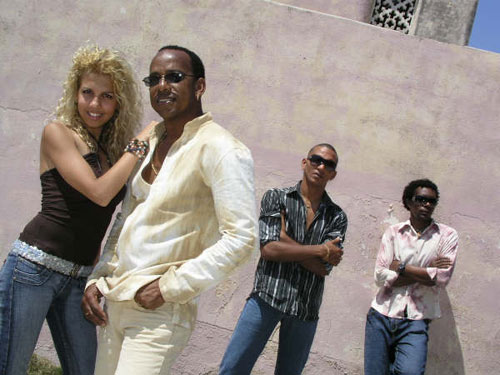 Ailyn Dallera, Limonta, Bernardo Pérez & Lester Ciarreta
El Nuevo Look de Azúcar Negra
Recientemente había cambios de los cantantes de Azúcar Negra y aquí es una foto de los cantantes con Limonta.
Monday March 21 2006 - Pupy y Los Que Son Son to Release New Video and DVD
One of the top releases of 2005 was Pupy's Mi Timba Cerrá. The CD has so many great songs that I can't even choose a favorite. As a bonus the CD includes a video clip of the song De la Timba a Pogolotti. And now Pupy is working on the next video from that CD, which will be for the hit song, La Borrachera.
In addition, Pupy will release a DVD this summer that is described as "a walk through Pupy's life". It will include such significant Cuban personalities as reknowned concert pianist Frank Fernández and needs-no-introduction-to-timba-fans Juan Formell. This DVD will be fascinating since Pupy has been such a central figure in much of the development of contemporary Cuban dance music. I am first in line to buy one, so get behind me and start asking "¿quién es el úlitmo?".
Pupy's upcoming tour plans include a trip to Mexico in April where Pupy y Los Que Son Son will participate in an important festival in Palenque in Chiapas. This will be the band's first tour in Mexico so don't miss it! If you live in the US you should also take the opportunity to go on a timba vacation to Mexico. Seriously, Pupy y Los Que Son Son are so good that you do not want to miss them. The band will then be back in Europe in June for their summer tour with their new European Manager Fabriccio Corso.
Pupy y Los Que Son Son Lanzarán un Nuevo Video Clip y DVD
Uno de los mejores discos de 2005 era Mi Timba Cerrá de Pupy. El CD tiene tantas canciones buenas que ni puedo elegir una preferida. Como un plus el disco incluye un video clip de la cancion De la Timba a Pogolotti. Y ahora trabaja Pupy con el próximo video clip de este CD, que estará del éxito, La Borrachera.
Además, Pupy lanzará un DVD este verano que se describe como "un paseo por la vida de Pupy". Incluirá las personalidades cubanos significativas tales como el famoso pianista Frank Fernández y no-necesita-ninguna-presentación-a-fanes-de-la-timba Juan Formell. Este DVD estará fascinante que Pupy ha sido una figura tan central en mucho del desarrollo de la música contemporáneo bailable de Cuba. Estoy la primera en la cola para comprarlo, pues ponte detrás de mí y pregunta ¿quién es el último?".
Los planes para giras de Pupy incluyan un viaje a México en abril donde Pupy y Los Que Son Son participarán en un festival importante en Palenque en Chiapas. Estará la primera gira del grupo en México entonces ¡no la pierdas! Si vives en EE.UU también debes aprovechar la oportunidad de hacer un vacación de la timba en México. Hablando en serio, Pupy y Los Que Son Son, son tan buenos que no quieres perderles. La orquesta estará en Europa de nuevo en junio para su gira de verano con su nuevo manager de Europa Fabriccio Corso.
Monday March 20 2006 - Los Van Van Echando Humo en Ambéres
Well, actually I guess it was the curtain at the back of the stage. At the Antilliaanse Feesten indoor festival, about 1 hour into the show, right when Mayito was singing Soy Todo, the curtain caught fire. It was quickly put out with fire extinguishers, but the resulting mix of smoke and chemicals made it too hard to breath and the concert came to an untimely end. It's a shame because the group is "echando humo" of their own on this tour. Keep an eye out for concerts near you. We have updated Los Van Van's tours page with information about the Festival Latino at Zenith Hall in Munich, Germany on July 7.
We would like to thank Linda Eems for sending us these pictures of Los Van Van before and after the fire.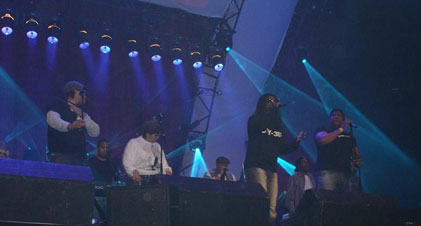 "Yo soy el poeta de la rumba..."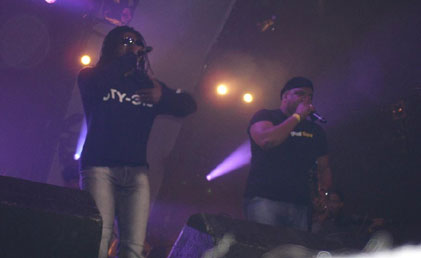 "...soy la misión de mi raíz, la historia de mi solar"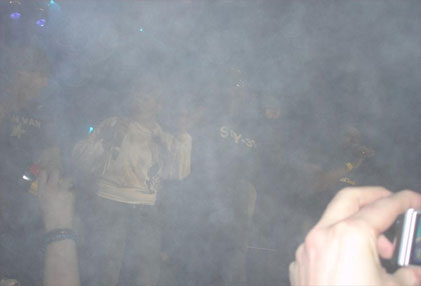 Well, you can see why they couldn't continue
Wednesday March 15 2006 - A Brief Report on Adalberto Álvarez in France
Our friends at Fiesta Cubana send us the following short concert report.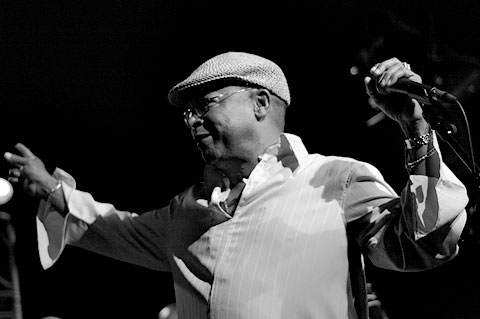 Adalberto Álvarez © Indochino for www.fiestacubana.net
Adalberto Alvarez Y Su Son and the french fans: a love story.
This is the second concert within a year and another great concert, I would say a friendly concert with such good moments of vibes and feelings between the band and the audience. Adalberto Alvarez "Caballero del Son" is not only the band leader but it is also a showman.
Playlist: "Linda Habanera", "Para bailar Casino", "Ella es una abusadora ", "Bailar el toca-toca", "Tumba, timbal y bongó ", "Chocolate" and the must have "Y que tu quieres que te den"..., etc
For more photos of Adalberto Álvarez by IndoChino see fiestacubana.net.
Monday March 13 2006 - Maraca's CD, Soy Yo, Nominated for 2 Awards in Cubadisco
Cubadisco 2006 will take place in Havana from May 20-28. We are waiting to get the full list of nominations, but we already know that Maraca has been nominated in two categories for his excellent CD Soy Yo: Best Album of Contemporary Dance Music and Best Recording.
El Disco de Maraca, Soy Yo, Nominado para 2 Premios en Cubadisco
Cubadisco 2006 tendrá lugar en La Habana el día 20 hasta el día 28 de mayo. Esperamos la lista completa de nominados, pero ya sabemos que Maraca es nominado en dos catagorías por su excelente CD Soy Yo: Mejor Álbum de Música Bailable Actual y Mejor Grabación.
English Translation of Michel/Tirso Interview Up
Our thanks to Lani Milstein for her Spanish transcription and English translation of the Michel Maza - Tirso Duarte interview by Linda Rodriguez. The Spanish transcription can be helpful to people who speak Spanish but have a hard time understanding Cubans. Stay tuned because Linda also has an interview with up-and-coming timba group Salsa Mayor...coming soon...
Saturday March 11 2006 - Azúcar Negra Has New Singer
Lester Siarreta Hernández is the new singer for Azúcar Negra. Lester leaves Salsa Mayor to join Azúcar Negra. He has also previously sung with Colé Colé and briefly with Pupy y Los Que Son Son. Lester replaces El Nene. With this change, the singers for Azúcar Negra are: Biunaikis Marquetti, Ailyn Dalleras, Bernardo Pérez and Lester Siarreta.
Azúcar Negra Tiene Nuevo Cantante
Lester Siarreta Hernández es el nuevo cantante con Azúcar Negra. Lester sale de Salsa Mayor para entrar en Azúcar Negra. Anteriormente también ha cantado con Colé Colé y brevemente con Pupy y Los Que Son Son. Lester substituye a El Nene. Con este cambio, los cantantes de Azúcar Negra son: Biunaikis Marquetti, Ailyn Dalleras, Bernardo Pérez y Lester Siarreta.
Michel Maza - No, Pero NG La Banda - Oye Síííí
Well now we hear that Michel Maza is cancelled for March 19 but that NG La Banda will be playing at Caruso Café de Oriente on March 19th instead.
Michel Maza - No, Pero NG La Banda - Oye Síííí
Bueno ahora dicen que Michel Maza es anulado por el 19 de marzo pero que en su lugar NG La Banda tocará en Caruso Café de Oriente el 19 de marzo.
Friday March 10 2006 - Update on Timba in France
Our friend Indochino at Fiesta Cubana tell me that the Los Van Van concert in Paris was incredible. They played for 2 and a half hours with a playlist very similar to that in Stockholm. Again Yeni made a big impression on the audience.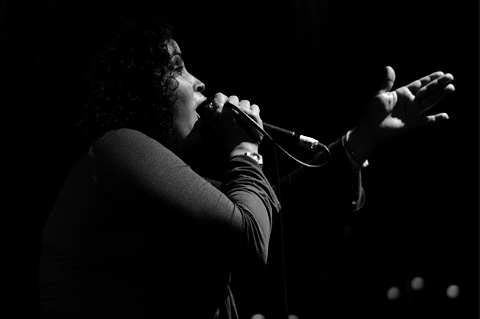 Jennisey Valdés © Indochino for www.fiestacubana.net
For more photos by Indochino of the Paris concert see Fiesta Cubana.
Manolín in Paris
Indochino also tells us that Manolín will play in Paris at New Morning on April 21.
Michel Maza in Rome
OK. Here's what we've been told. Michel is coming by himself and it is not for a tour. So if you have the possibility of going to Rome for the concert, take the oppotunity. It may still be a while before we see Michel on a European Tour. And as for Tirso...it is possible he will go to Rome in April. We'll see how it develops.
Michel Maza en Roma
Oké. Aquí es lo que nos han dicho. Michel viene solo y no es una gira. Entonces si tienes la posibilidad de ir a Roma, aprovecha la oportinudad. Todavía puede demorar un rato antes que vemos Michel en una gira europea. Y en cuanto a Tirso...es posible que va a Roma en abril. Veremos como se desarolla.
Thursday March 9 2006 - Tour Updates - Michel Maza in Europe?
A few new dates in Italy have been added to Los Van Van's tour schedule.
Also we have received information that Michel Maza will play at Caruso Café de Oriente in Rome on March 19th! Can this be true? We are taking steps to confirm the information. If so, is he by himself or with Tirso? Will it be a full tour or just a few dates in Italy? Did someone see Linda's interview and decide to give the guys a call? Hopefully we will be able to answer all these questions and more by tomorrow. Stay tuned...
Actualizaciones de las Giras - ¿Michel Maza en Europa?
Algunas fechas nuevas en Italia son añadidas al Los Van Van's tour schedule.
¡También hemos recibido información de que Michel Maza tocará en Caruso Café de Oriente en Roma el 19 de marzo! ¿Es posible que es la verdad? Estamos tomando medidas para confirmar la información. Si es verdad, ¿viene solo o con Tirso? ¿Estará una gira completa o sólo algunas fechas en Italia? ¿ Es que alguien miró la entrevista de Linda y decidió llamar los muchachos? Esperamos que mañana poder contestar a todas estas preguntas y más. Stay tuned...
Tuesday March 7 2006 - Fuera de Liga - Los Van Van in Stockholm
This is the second week of Los Van Van's winter tour of Europe, and here is my report on what you can expect from the band on this tour. I know many of you have questions about what is going on with the band so here's a little FAQ:
Q: Is Juan Formell touring with the band?
A: No. While he sometimes still performs with them in Cuba, this tour has a very tough schedule and Samuel is in full control as the Musical Director of Los Van Van.
Q: Is the band playing new songs on the tour?
A: No. They are rehearsing several new songs but nothing is ready for performance. The current repertoire is heavily based on the many hits from the Latin Grammy nominated CD Chapeando.
Q: When will there be a new CD?
A: December of next year is what I was told, but I'm hoping they really meant December 2006. Robertón said that they will be recording new singles this summer.
Q: When will Los Van Van play in the US again?
A: Only Orula knows, but I do know that at least one hardcore timba lover from New York took the opportunity to see Los Van Van in Stockholm. She has previously gone to London to see Paulo FG, so if you are in need of some timba and can't go to Cuba, become proactive and take a timba trip to Europe or Canada. It's not as crazy as it sounds. What's crazy is going 8 years with no timba! Pa' lante!
Fuera de Liga - Los Van Van en Estocolmo
Es la segunda semana de la gira invernal de Los Van Van en Europa, y aquí es mi reportaje (en inglés) sobre lo que puedes esperar de la banda en esta gira. Sé que mucha gente tiene preguntas de lo que pasa con el grupo pues aquí es un pequeño FAQ:
Q: ¿Está Juan Formell con el grupo en la gira?
A: No. Mientras todavía toca a veces con el grupo en Cuba, esta gira tiene un horario muy dura y Samuel tiene controlo completo como Director Musical de Los Van Van.
Q: ¿Toca el grupo canciones nuevas en la gira?
A: No. Están ensayando varios canciones nuevas pero nada está lista para los actuaciones. El repertorio atual se basa mucho en los tantos exitos del disco nominado para un Grammy Latino Chapeando.
Q: ¿Cuándo viene un nuevo disco?
A: Diciembre el año que viene es lo que me dijeron pero espero que realmente quisieron decir en diciembre de 2006. Robertón dijo que grabarán nuevas canciones este verano.
Q: ¿Cuándo tocará Los Van Van en EE.UU de nuevo?
A: Solamente Orula sabe, pero yo sé que al menos una fanática de la timba que vive en Nueva York aprovechó la ocasión a ver Los Van Van en Estocolmo. Ha ido previamente a Londres a ver Paulo FG, entonces si necesitas un poco de la timba y no puedes ir a Cuba, tomar medidas y haga un viaje timbero a Europa o Canadá. No es tan loco como parece. Lo que es loco es vivir 8 años sin timba! Pa' lante!
Thursday March 2 2006 - Interview with Manolito Simonet
Here is the interview I promised. It took place at 01:00 after the concert, and I would like to thank Manolito once again for taking the time to do an interview with Timba.com so late at night. Click here to watch the interview in WMV format for modem and broadband.
Entrevista con Manolito Simonet
Aquí es la entrevista que prometí. Ocurrió a la 1:00 de la mañana después del concierto, y quirero agradecerle a Manolito otra vez para hacer la entrevista con Timba.com a esta hora de la noche. Da clic aquí para mirar la entrevista en formato WMV para modem y broadband.
Los Van Van Begin Their Tour
Tomorrow Los Van Van kick off their tour with a concert here in Stockholm. Of course I will be on hand to report on what you can expect. Click here to see the complete tour schedule.
Los Van Van Comienza La Gira
Mañana comienza Los Van Van la gira con un concierto aquí en Estocolmo. with a concert here in Stockholm. Por supuesto voy al concierto para hacer un reportaje sobre lo que podrán esperar. Da clic aquí para ver todas las fechas.
Yulién Oviedo's New Video
I know that many people have been wondering what Yulién has been doing since leaving La Charanga Habanera. Salsamania.it has a new video of Yulién's song Ángel in their Novitá Video section. It is not timba, but a romantic R&B ballad well-suited to Yulién's voice.
El Nuevo Video de Yulién Oviedo
Sé que mucha gente se ha preguntado lo que hace Yulién después de salir de leaving La Charanga Habanera. Salsamania.it tiene un nuevo vode de su cancion Ángel en la sección Novitá Video. No es la timba sino un balada R&B muy romantico que está bien hecho para la voz de Yulién.
Wednesday March 1 2006 - Manolito y Su Trabuco - Hot, Hot, Hot
I finally finished the concert report from the recent Stockholm concert by the Trabuco. I will very soon be following it with an interview with Manolito himself. In the meantime, I have added a page to the musician's directory about new Trabuco bassist Roberto "Chino" Vázquez, and I have updated David Bencomo's page with information about a CD/DVD he recorded with a a number of famous Cuban and American artists in 1999 (Bridge to Havana - Pyramid Music).
For those of you who my be too lazy to read the concert report, here is my executive summary: the band is hot, the new songs are already classics, buy the new CD, Hablando En Serio, when it is released (summer 2006) and buy the new DVD, KO featuring Manolito versus Bamboleo, when it is released (summer 2006) and make sure you go to the concert nearest you. You'll be glad you did.
Manolito y Su Trabuco - Candela, candela, Candela
Finalmente terminé el reportaje del concierto reciente del Trabuco en Estocolmo (en ingles). Muy pronto lo complemento con una entrevista con el mismísimo Manolito. Mientras tanto he puesto una página nueva en el musician's directory sobre el nuevo bajista del Trabuco, Roberto "Chino" Vázquez y actualizé la página de David Bencomo con información de un CD/DVD que grabó con algunos artistas famosos de Cuba y EE.UU en el 1999 (Bridge to Havana - Pyramid Music).
Para ustedes que quizás están demasiado perezosos para leer el reportaje del concierto aquí hay el resumen ejecutivo: la banda está candela, las canciones nuevas ya oson clásicos, compra el nuevo CD, Hablando En Serio, wcuando se lanzará (el verano 2006) y compra el nuevo DVD, KO con Manolito versus Bamboleo, cuando se lanzará (el verano 2006) y sea seguro que vas al concierto lo más cerca de ti. Estarás alegre que lo hiciste.
Tuesday, 22 March 2011, 07:32 PM