Michelle White - Timbera Archives April 2006
Saturday April 29 2006 - New Timba Photos by Patrick Bonnard
French photographer Patrick Bonnard sent us a selection of his timba photos. They have that special intensity of black and white photos. He sent us some Charanga Habanera, Issac Delgado, Maraca, Changuito, Los Van Van and more. If you are in France keep an eye out for future photo exhibitions and other timba-related projects that Patrick may be working on soon. Click here to see some of his photos.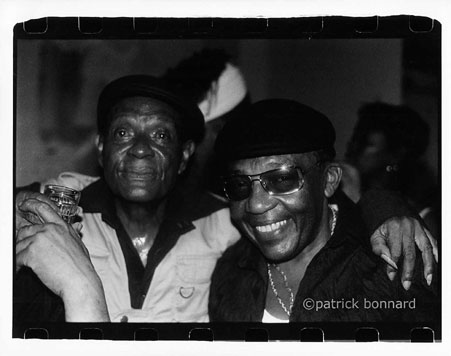 Tata Güines & Changuito
Nuevas Fotos Timberas por Patrick Bonnard
Fotógrafo francés Patrick Bonnard nos envió una selección de sus fotos de timba. Tienen esa intensidad especial de fotos en negra y blanca. Nos mandó un poco de Charanga Habanera, Issac Delgado, Maraca, Changuito, Los Van Van y más. Si estés en Francia está alerta para exposiciones de las fotos y otros proyectos con la timba con los cuales Patrick puede trabajar pronto. Haga cliq aquí para ver algunas de las fotos.
Friday April 28 2006 - Pupy Newsflash - Tonight at la Maraka! Esta Noche en La Maraka!
A Pupy fan sent us the following link for tonight's show at La Maraka. Maybe a bit late but I hope it helps someone. I don't know where the final show will be, but if I find out I'll post it here.
Pupy y Los Que Son Son in Mexico City
Pupy is still in Mexico and has two more performances in Mexico City. Unfortunately I don't know the names of the venues. Maybe Mama Rumba? If you're in Mexico City, make some calls to find out where they are playing because you do not want to miss seeing Pupy live!
Pupy y Los Que Son Son en México D.F.
Pupy aún está en México y tiene dos conciertos más en México D.F. Desafortunadamente no sé los nombres de los lugares. ¿Quizás Mama Rumba? ¡Si estás en México D.F. haz algunas llamadas porque no quieres perder la oportunidad de ver a Pupy en vivo!
Tuesday April 25 2006 - Fiesta Cubana has a Report on Manolín in France
Manolín seems to be touring Europe more regularly now, but unfortunately for me, he hasn't come to Scandinavia yet. In November Juan Tomás reported in En Frecuencia that Manolín had recorded a new CD called Contando Estrellas, but so far I have only heard one of the new songs: De Tarea Pa' La Casa. Fortunately for me, Indochino sent us the following brief report and picture from the recent Manolín Concert in France, so I can live vicariously through Fiesta Cubana for now.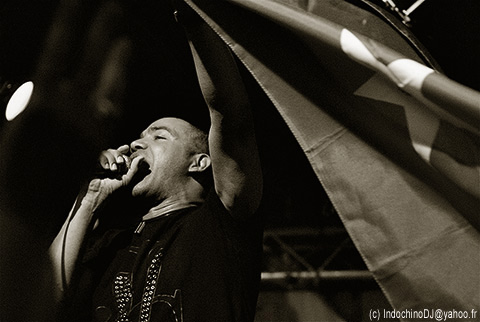 Manolín con la bandera de su Cuba amada
© Indochino for www.fiestacubana.net

Manolín - El Médico De La Salsa - one of the most awaited salsa artists in France - once again an incredible concert! No surprise, Manolín and his prodigious musicians (to only name few of them: the fabulous Alexander Abreu, Ivan "Melon" Gonzalez, Joel Dominguez, etc. ) delivered the best of their music & talents to the French fans with a fantastic playlist! No more words to express such a brilliant concert, just glance at the concert photos and the concert report (in French).
Manolín misses Cuba, the French fans already miss him, we all look forward to seeing him more often in France!
Playlist: El puente (intro), Es Que Me La Llevo, La Vida No Es Tan Tan, Ellas Son Las Que Son, Y No Lo Comentes, Somos Lo Que Hay, El Que Este Que Tumbe, Me Pase De Copas, Pegaito, De tarea pa' la casa..."
Sunday April 23 2006 - Tour Updates
More information is coming in as the summer tour season approaches: Calixto Oviedo in Europe, Maraca in Canada, more dates for Los Van Van in Germany and Manolito in Poland.
Cubadisco 2006
The 10th International Cubadisco Fair will take place this year from May 20-28. The Cubadisco site has been updated for 2006 including a full list of nominations. In the dance music category we have the following nominations: Pupy y Los Que Son Son - Mi Timba Cerrá, Sur Caribe - Credenciales, Adalberto Álvarez - Mi Linda Habanera, La Charanga Habanera - El Ciclón De La Habana, Maraca - Soy Yo and Issac Delgado - Prohibido. Wow! What a list of nominees! No matter who wins it will be a great CD.
In addition to the awards, Cubadisco includes a commercial fair for the music industry, a 4-day symposium called "The music and the dance: two supreme arts of the Cuban cultural patrimony" as well as concerts and special events.
Wednesday April 19 2006 - Pedrito Camacho y El Clan Coming to Europe
Pedrito and El Clan will be touring Europe to promote their new CD, Bailando Con El Clan. I haven't seen them since the concert at EuroDisney in 2004 (concert review in Spanish), so I hope they come to Stockholm. We don't know the dates of the tour yet, but as soon as we have more information about the tour we will post it here.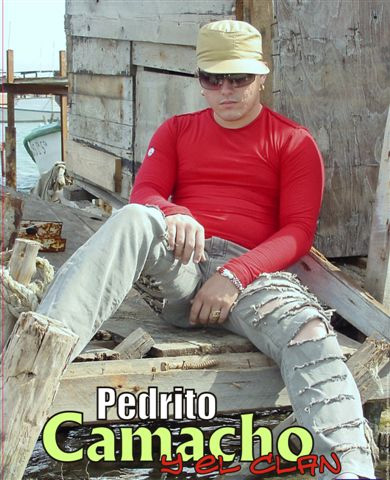 Ready for Europe - Pedrito Camacho
Pedrito Camacho y El Clan Vienen a Europa
Pedrito y El Clan estarán en gira en Europa para promocionar su disco nuevo, Bailando Con El Clan. No he visto el grupo desde el concierto en EuroDisney el año 2004 pues espero que vengan a Estocolmo. Por el momento no sabemos las fechas de la gira pero en el momento que nos llega la información de la gira, la ponemos aquí.
Tuesday April 18 2006 - London Carnival de Cuba 2006
The Carnival de Cuba will take place in London on June 10 and 11. The organizers are working together with Egrem to present some of "hot right now" bands in Cuba: Sur Caribe, whose Añoranza por la Conga has been a huge hit this year, Arnaldo y su Talisman and Pedrito Calvo. More information about the program will be available soon at the Carnival de Cuba website.
London Carnaval de Cuba 2006
El Carnaval de Cuba tendrá lugar en Londres las días 10 y 11 de junio. Los organizadores están trabajando junto con Egrem para presentar algunos de los grupos más "caliente ahora" en Cuba: Sur Caribe, cuales Añoranza por la Conga ha sido un gran éxito este año, Arnaldo y su Talisman y Pedrito Calvo. Más información sobre la programación estará disponible pronto en la página del Carnaval de Cuba.
And for the Timba Scholars...
The Transcultural Music Review has posted a number of articles about timba, with titles such as "Somos Cubanos!" – timba cubana and the construction of national identity in Cuban popular music" and "Making meaning by default. Timba and the challenges of escapist music". Yes these are topics only a geek could love so dig in. There are articles in both English and Spanish.
Y para los Eruditos de la Timba...
La Revista Transcultural de Música ha cargado varios artículos sobre la timba, con títulos tales como "Del Barrio a la academia. Introducción al dossier sobre timba cubana" y "Intertextualidad en las letras de la timba cubana. Primeros apuntes". Sí, son asuntos que solamente un loco puede apreciar pues ¡a comer! Hay articulos en español e inglés.
Monday April 17 2006 - Calle Real - Con Fuerza
Calle Real is not a household name among timberos...yet, but here in Europe they already have a following in Scandinavia, France and Italy. In March this year they released their first CD, Con Fuerza, here in Sweden. The CD is scheduled for release in the rest of Europe at the end of April and in the US at the end of May. It is already available for preorder at some internet stores.
Calle Real is a 10-man band of Swedish musicians, many of whom have studied music in Cuba at some point in their career or have visited a number of times. The only Latino members are band leader Patricio Sobrado, born in Chile but raised all over Europe, and Rickard Valdés, son of Bebo Valdés, born and raised in Sweden.
Why am I writing about a Swedish band? Quite simply because I like their CD. They play timba, but without trying to imitate the great Cuban bands. They don't do timba covers, but write all their own songs. Their idea is to bring something of their own, something unique to the music.
I am as skeptical as the next timbero about the ability of non-Cuban musicians to get timba right, but the simple fact is that their debut album has been in my CD player regularly since I got it. But don't just take my word for it. If you are curious about what happens when Havana meets Stockholm, check out the section on Calle Real. The introduction page gives you a feel for what the band is about. There are also bios, a CD review, an interview in English and live video clips so you can get a sense of what their music sounds like. Or check out their own homepage http://www.callereal.se.
Tuesday April 11 2006 - Yarién Oviedo's First International Performance
Yarién Oviedo, better known to his fans by the name "El Yoruba", will be joining the tour of Calixto Oviedo & Latin Train this summer. His specialty is rap, but he also sings salsa. Recently he has been performing in venues in Havana such as Café Cantante, Delirio Habanero and Jazz Café with his brother, Yulién. His first international performance will take place on May 6 at the Nova Festival in Copenhagen. I hope that I get a chance to see the youngest Oviedo perform this summer.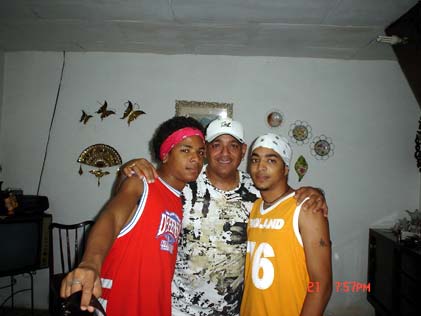 Los Oviedos: Yarién, Calixto, Yulién
La Primera Presentación Internacional de Yarién Oviedo
Yarién Oviedo, mejor conocido a sus fans por el nombre "El Yoruba", participará en la gira de Calixto Oviedo & Latin Train este verano. Su especialidad es rap pero también canta salsa. Recientemente se ha presentado en lugares en la Habana tal como Café Cantante, Delirio Habanero y Jazz Café con su hermano Yulién. Su primera presentación internacional estará el día 6 de mayo en el Nova Festival en Copenhague. Espero que consiga una ocasión de ver el Oviedo más joven en concierto este verano.
Saturday April 8 2006 - ¡Feliz Cumpleaños Azúcar Negra!
El 8 de abril 1998 Leonel Limonta formó el grupo Azúcar Negra. Hoy el grupo cumple 8 años y después de varios cambios en el grupo, ya están preparándose para la gira de verano. Timba.com desea Leonel Limonta y Azúcar Negra feliz cumpleaños.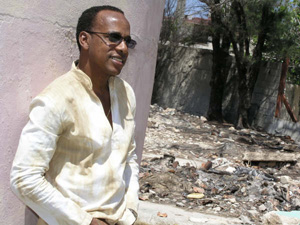 Leonel Limonta director of Azúcar Negra
Happy Birthday Azúcar Negra!
April 8, 1998 Leonel Limonta formed the group Azúcar Negra. Today is their 8th birthday, and after various changes in the group, they are now preparing for the summer tour. Timba.com wishes Leonel Limonta and Azúcar Negra happy birthday.
Thursday April 6 2006 - Gary Dominguez Review's Calixto Oviedo's New CD
New York DJ Gary Dominguez has reviewed Calixto's CD, Calixto's Way. Click here to read the review at http://www.laconga.org (in Spanish). Always in demand here in Europe, Calixto has recently finished his tour with Latin Groove Orquesta, and will be touring with the Norwegian Rikskonsertene in April before beginning his summer tour with his own group, Latin Train. In addition, he will take part in recording a CD with an Italian quintet that plays Latin Jazz and Funk.
Reseña por Gary Dominguez Sobre el Neuvo CD de Calixto Oviedo
DJ Gary Dominguez de Nueva York ha reseñado el disco de Calixto, Calixto's Way. Pon clic aquí para leer la reseña en http://www.laconga.org. Siempre bien buscado aquí en Europa, Calixto ha recientemente terminado una gira con Latin Groove Orquesta, y estará en gira con Rikskonsertene de Noruega en abril antes de comenzar la gira de verano con su propio grupo, Latin Train. Además, participará en la grabación de un CD con un quinteto italiano que toca Latin Jazz y Funk.
Wednesday April 5 2006 - Paulo FG Recovering After Accident
En Frecuencia recently reported that there was gossip that Paulo FG was in an accident. Paulo has confirmed this, and he tells us "I had an accident that fortunately only left me lamenting two broken ribs. Now I'm recovering and will soon be en la pelea. Don't worry."
Timba.com and all of Paulo's fans wish him a speedy recovery. At least we know that he will be fully recovered in time for the tour season.
Paulo FG Se Recupera Después de un Accidente
Recientemente En Frecuencia divulgó que había chisme de que Paulo FG tuve un accidente. Paulo ha confirmado esto y nos dice "Tuve un accidente que afortunadamente solo me dejó lamentando dos costillas rotas. Ahora me recupero y pronto estoy en la pelea. No te preocupes."
Entonces Timba.com y todos los fans de Paulo lo desean una recuperación rápida. Por lo menos sabemos que se recuperará completamente con tiempo para las giras del verano.
Sunday April 2 2006 - Salsa Mayor Está Pa' Comer y Pa' Llevar
Cristian Muñoz was in Cuba at the begining of March and has shared with Timba.com some of his photos of Maykel Blanco y Salsa Mayor, who are hot in Havana right now. The band is currently facing some changes in the line-up of singers, since Lester went to Azúcar Negra, but if they can maintain the momentum they have at the moment with the popularity of songs such as Cubano, Esto Está and Cambia Tu Faceta, they may soon be putting pressure on some of the established groups. One of the great strengths of young bands like Salsa Mayor is that you can really see how much fun they are having when they perform. They are young and hungry for success, and they aren't taking anything for granted, so they give the audience everything they have. See the list of band members below.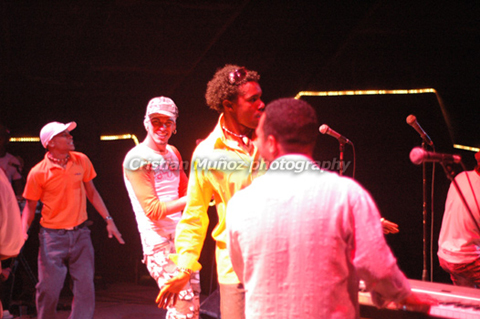 Maykel Blanco y Salsa Mayor - CDLM Havana march 11, 2006
Salsa Mayor Está Pa' Comer y Pa' Llevar
Cristian Muñoz era en Cuba al principio de marzo y ha compartido con Timba.com algunas de sus fotos de Maykel Blanco y Salsa Mayor, que son caliente en la Habana ahora. Actualmente el grupo está haciendo cambios con los cantantes, que Lester se fue para Azúcar Negra, Pero si pueden mantener el ímpetu que tienen con la popularidad de canciones como Cubano, Esto Está y Cambia Tu Faceta, pueden pronto hacer presión en algunos de los grupos establecidos. Una de las grandes fuerzas de grupos jóvenes como Salsa Mayor es que puedes ver que se diviertan tanto cuando actúan. Son jóvenes y quieren tener éxito, y no dan nada por sentado, pues dan todo que tienen al público.
MAYKEL BLANCO CUESTA - director
NORISLEY VALLADARES GOMEZ - cantante
LAZARO MAYA MOLEJON - cantante
ORLANDO VALEDES VARONA - trompeta
AMED GONZALEZ POSADA - trompeta
SAIMEL CALDERON ORTIZ - trombon
LEONEL POLLEDO LLORENTE - trombon
HOMERO RUIZ CARVAJAL - bajo
ROGELIO PEREZ BALANZA - bateria
ASLIEN BORROTO ALEJO - congas
ROBERTO DESPAIGNE GUTIERREZ - Guiro
ERNESTO M. CUEVA RODRIGUEZ - audio
ELVIS DIMOS BESS - representante
Tuesday, 22 March 2011, 07:32 PM