Michelle White - Timbera Archives October 2006
Monday October 30 2006 - Afro-Cuban All Stars featuring Tirso Duarte in Canada
Juan de Marcos and the Afro-Cuban All Stars begin another tour of Canada this Saturday. I have never had the pleasure of seeing the band, but I have their latest CD, Step Forward, and can vouch for the fact that Tirso's role in the band is to "represent" for the timberos. Juan de Marcos' idea seems to be to present a much broader spectrum of Cuban music to foreign audiences in a single performance, assembling an orquestra that is capable of presenting the best of each genre. He is gently leading audiences from the Buena Vista Social Club style they are used to, to more modern interpretations of Cuban music, including moments of Afro-Cuban jazz and timba.
The first concert is this Saturday, November 4th in Toronto. Click here for the entire schedule. Looks to me like timberos in North America need to consider relocating to Toronto where you get the Afro-Cuban All Stars in November and Los Van Van in December.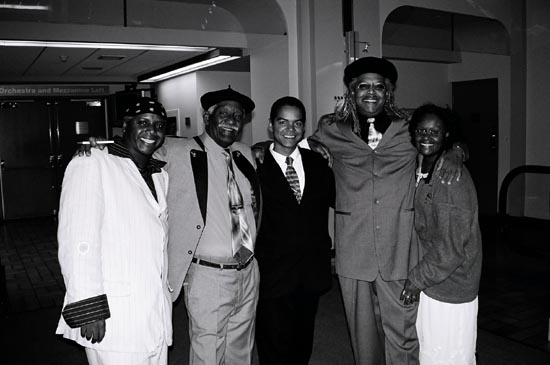 Photo courtesy of Cristian Muñoz of Salsa2salsa.com
Friday October 27 2006 - Cubamemucho Opens Tonight in London
The Cuban Salsa Congress World Tour is in London this weekend featuring quite an impressive list of instructors. The idea behind Cubamemucho is to bring Cuban dance, not just casino, but a wide variety of Cuban popular dances and afro-cuban folkloric dance, to a wider audience, providing them with the premier instructors.
I attended Cubamemucho in Stockholm and was impressed with the ability of the teachers to break things down in a way that was understandable to us Yumas. They were also very enthusiastic and fun. I was especially impressed with Alberto Valdes class in rumba, since I have always found rumba difficult. He has a teaching method that makes things a little clearer to me. Click here for some videos from various classes.
The Stockholm Congress also featured the participation of the renowned Chiqui Dixon, premier dancer of Conjunto Folklorico Nacional, who now lives in Sweden. At the party on the last day of the congress Alberto, artistic director of Cubamemucho, and Chiqui took a moment to talk to timba.com. Click here to watch the video interview.
After London, Cubamemucho moves to Bern, Switzerland from November 24-26th.
New Year's West Coast Casino Rueda Congress
Speaking of Cuban congresses, the New Year's Salsa Extravaganza in Palm Springs will feature a casino rueda congress. It's nice to see people working with casino in California where LA style is so firmly rooted. The congress will take place from Dec. 28, 2006 - Jan. 1, 2007 at Doral Resort, Palm Springs, CA. For more information click here.
Wednesday October 25 2006 - Festival Fiesta del Tambor 2006
Ayer empezó la Fiesta del Tambor en La Habana bajo la dirección del ganador del premio Timba.com Mejor Baterista de la Timba, Giraldo Piloto. El festival es desde del martes 24 al sábado 28. Además que clases de percusión y varios conciertos por la cuidad, se realizará un concurso internacional abierto de percusión con 5 categorías: batería, tumbadoras, bongoes, timbales y batá. Este concurso es único en Cuba que cualquier interesado puede ir el ISA para competir. Los ganadores recibirán un instrumento nuevo de primera calidad.
Este año los grandes percusionistas de Cuba se reúnan para hacer un homenaje a Miguel Díaz "Angá", que falleció trágicamente este verano. Angá era uno de los más grandes percusionistas cubanos y ganador del premio Mejor Conguero de La Timba en nuestros Premios Timba.com.
Pon clic aquí para ver la programación entero.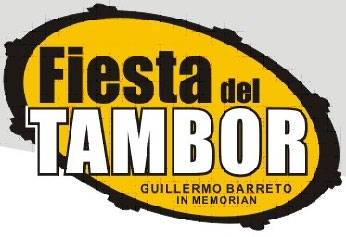 Festival Fiesta del Tambor 2006
Yesterday the Fiesta del Tambor began in La Habana under the direction of the winner of the Timba.com prize for Best Timba Drummer, Giraldo Piloto. The festival takes place from Tuesday the 24th through Saturday the 28th. In addition to percussion classes and various concerts throughout the city, there is an open international percussion competition with 5 categories: drums, congas, bongos, timbales and batá. This competition is unique in Cuba because anyone who is interested can go to el ISA to compete. The winners receive a new instrument of highest quality.
This year the great Cuban percussionists are uniting for a tribute to Miguel Angá, who tragically passed away this summer. Angá was one of the greatest Cuban percussionists and winner of the Best Timba Conguero award in our Timba.com Awards.
to see the entire schedule.
La Bala Que Te Mata
El video clip de La Bala de Billy de Pupy y Los Que Son Son es nominado en siete categorías en los Premios Lucas.
Video música popular bailable actual
Video agrupación
Animación
Dirección de arte
Dirección
Video del año
Video más popular

Para la gente que no ha visto este video buenísimo, es una película Cowboy con Pupy como el Sheriff y con la participación especial de Gregory Peck. Para ver el video entra en salsamania.it y pon clic en Anteprime - Lo Más Pegao.
Otros grupos/cantantes timberos que son nominados son: Gardi, Bamboleo, Vania, Paulo FG y Pedro Camacho y Su Clan. Todos los nominaciones son en la página Cubasi.
La Bala Que Te Mata
The video La Bala de Billy by Pupy y Los Que Son Son is nominated in seven categories in the Premios Lucas.
Music Video Popular Dance
Group Video
Animation
Art Direction
Direction
Video of the Year
Most Popular Video
For those of you who haven't seen this excellent video, it is a western with Pupy as the Sheriff and a guest appearance by Gregory Peck. You can watch the full vildeo at salsamania.it. Click Anteprime - Lo Más Pegao.
Other timba groups/singers that are nominated are: Gardi, Bamboleo, Vania, Paulo FG and Pedro Camacho y Su Clan. All the nominations can be found at Cubasi.
Sunday October 22 2006 - Los Van Van in South America & Canada
Los Van Van begin their tour of South America on Friday October 27th with a concert in Rio de Janeiro, Brazil. This tour takes them to Brazil, Chile and Argentina. For more information see Los Van Van's official website. For information about the concerts in Chile, go to Timba.cl. This is a cool timba site with links to videos, photos and more. I'm glad to see more and more sites about timba popping up all around the world.
In December Los Van Van move north for the Canadian concerts. So far we only know the dates and locations of the Montreal and Toronto concerts, but there is also rumored to be a concert in Ottawa. If you have information about the Ottawa concert, please send us an e-mail. Keep in mind that this is an opportunity for all you timba-starved people in the US to get a serious timba fix. If you've never taken a trip to another country to see a concert, it's about time you did! Just take off to the Great White North. Oh, and when you get there, tell them that Timba.com sent you.
Wednesday October 18 2006 - Dantes Website Update
El Ricky Ricón, Dantes Cardosa, has recently updated his site including an updated biography, tour information and lyrics and tracks from his new CD En mí la fé on which he collaborated with Pedro Camacho. He will be back in Europe from December 14 - January 8.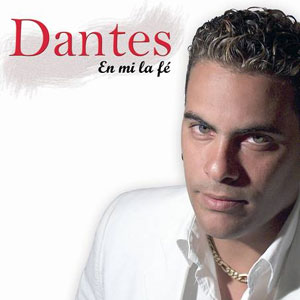 El Ricky is back
Friday October 13 2006 - La Charanga Habanera y las Voces de Cuba
Thanks to our friend Michela we now have the full tour schedule and the full details of the of La Charanga Habanera's upcoming tour. The project is called La Charanga Habanera y las Voces de Cuba and features the special guests Vania, Osdalgia and Eddy K. Click here for the full tour schedule.
Right now at http://muchoswing.com you can get an idea of what to expect. There are two Charanga Habanera clips, one is a timbaton featuring Eddy K with the catchy hook "Te cogió y te metiste en candela, porque en eso de pegarse nosotros somos la escuela".
Change to New World Latin Festival Schedule
Charanga Habanera will be playing at the New World Latin Festival in Copenhagen on the 21st, but the organizers of the festival have informed us that the concert with Maraca on October 20th was cancelled. Maraca will be going to Denmark in 2007 instead. But don't dispair, Grupo Danson with Alexander Abreu will perform on the 20th instead.
Grupo Danson (no NOT Danzón) is a timba group from Copenhagen that won the award for best band at the Danish World Awards 2005 and the song Mi Música won the prestigeous Djembe Award for Best Song. Personally I can't get enough of Mi Música, written and sung by Alexander himself. Click here to listen to clips at their website - excellent. "Soy el sentimiento, la pimiento y el ají, yo soy lucumí"
New Charanga Forever CD Released
And let's not forget that there is another Charanga. Fans of hardcore, aggressive timba will be happy to hear that La Charanga Forever has released a new CD, Somos Charangueros. The CD features special appearances by ex-charangueros Michel Maza and Tirso Duarte. I don't have my copy yet but I can't wait to get it!
Sunday October 8 2006 - Los Van Van Tour of Canada
Congratulations again Canada! This time you get Los Van Van. The promoters are going all out on this one, renting a large venue in Toronto, so invite all your friends. There is even an "official site" for the Toronto concert. If you live in the US, take a timba pilgrimage up north. If you live in Europe, isn't it about time you visited Canada? So far we only have the information about the Toronto concert, but they will also be playing in Montreal and in Ottawa. We will post the information on those concerts as soon as it arrives. Click here to see Los Van Van's Canada schedule.
Monday October 2 2006 - I finally got my copy of Popular!
I've been waiting for some time for the DVD to arrive and now that I have it, I have watched it at least once a day. The documentary about La Charanga Habanera has what a fan wants: interviews with the band members, lots of behind the scenes moments and lots of concert footage. The film also includes a clip from the "Suspension Concert", yes the legendary moment when Michel Maza did what he did that caused the band to be suspended for 6 months. Click here to read a little more about my thoughts on the DVD. Or click here to skip my thoughts and go directly to the trailer.
¡Al fin recibí mi cópia de Popular!
Hace tiempo he esperado a que el DVD llegará y ahora que lo tengo, lo he mirado al menos una vez por día. El documental sobre La Charanga Habanera lo que los fans tenían que tener: entrevistas con los integrantes, muchos momentos entre bastidores y muchas secuencias de conciertos. La pelicula también incluye un clip del "Suspension Concert", sí, el momento legendario cuando hizo Michel Maza lo que hizo que hice que el grupo se suspendió para 6 meses. Pon clic aquí para leer un poco más de mis pensamientos sobre el DVD (perdona mi español). O aquí para omitir mis pensamientos y ir directo al trailer.
martes, 22 marzo 2011, 07:32 pm