Michelle White - Timbera Archives June 2006
Saturday June 17 2006 - Festa Tropical Latino in Turin, Italy
First Turin hosted the Winter Olympics and now something much more important: the 2nd edition of the Festa Tropical Latino! The festival lasts from June 15th to August 15 and this year features the following Cuban artists:
June 16 - Bamboleo
June 23 - Calle 54
June 24 - NG La Banda
July 1 - La Charanga Habanera
July 16 - Cuban Grammys
July 22 - Pupy y Los Que Son Son
July 28 - Issac Delgado
August 5 - Paulo FG
August 12 - Yumurí
Keep an eye on the tours section as the updates keep coming in.
Monday June 12 2006 - Interview with Pupy Pedroso
I didn't get to a lot of concerts during my short visit to Havana, but I did make a point of seeing Pupy y Los Que Son Son twice: once at Galiano and then at a Cubadisco concert for students at el ISA. You can always be certain that a show with Pupy will rock. The band is flawless, the singers are excellent is and the music won't let you stand still. It is no wonder that Mi Timba Cerrá was nominated for Cubadisco.
During the concert at el ISA, the band performed Calla, Calla. It is Jannier's new number and you really must hear what Pupy has done with this song! Fortunately they will be in Europe again soon so many of us will get a chance to see it performed live. Great percussion effects, trust me!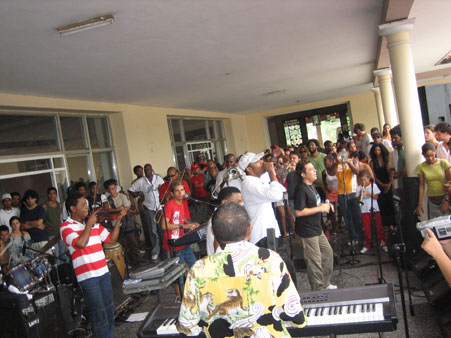 Pupy y los que son son at el ISA
Another interesting moment, or should I say moments, at el ISA was when Pupy's piano stand collapsed...twice! But the band are consumate professionals and no one missed a beat. In fact, I bet the people standing a little farther back without a clear view just thought it was a gear change when the piano dropped out for a moment. I happened to be standing right behind Pupy, so I couldn't miss it.
And as if seeing Pupy twice wasn't enough, I was fortunate to be given a chance to interview this icon of Cuban music. In fact, he even picked me up and drove me to his home for a delicious lunch before the interview. Of course, when people got a look at who was driving, they'd wave and Pupy would wave back. On the stereo he had a great live CD of a recent concert...does this sound like I was dreaming or what!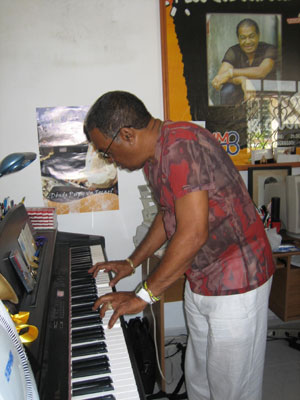 Pupy in his "office"
But I have the proof. Click here to watch the video of the interview (in Spanish). After the interview we were invited to his "office" where he showed us a bunch of cool old pictures with Los Van Van and played us a few tumbaos.
Sunday June 11 2006 - Grupo Danson Release Their First CD Mi Música
What happens if you take a Danish/Cuban son group and add Alexander Abreu as composer and singer? You get Timba! The group will release their first CD on June 30th at Jazzhouse in Copenhagen, Denmark at 20:00. The title song, Mi Música, composed and sung by Alexander, has already won Denmark's Djembe Award for "Best world track of 2005." With their son background, it's not surprising that the CD contains 2 traditional tracks: Camina y prende el fógon and Cienfuegos, which features guest vocals by El Indio. All other songs on the CD are original timba compositions.
Grupo Danson consists of:
Ernesto Manuitt - vocals
Mia Engsager - trombone and coro
Carlos Pérez - trombone and coro
Rune Thorsteinsson - piano
Peter Ehler - congas
Alexander Abreu - vocals and trumpet
Yasser Morejón - bass and coro
Tony "El Negro" Moreaux - timbales
Jorge Egües - bongo
I haven't seen the band yet myself, but they have a great website including four full-length samples from the CD. And the following report was filed by hardcore timbero Hendrik at Timba Geeks at the end of May:
I have been to a great timba concert in Berlin ... Yesterday night I
went to Grupo Danson from Denmark !!
Cantante !!!!! y trompeta ---->> Alexander Abreu
Cantante y coros ----->> Ernesto Manuitt
Much energy, great timba ... all great new tracks
Great was their introductory song which might be called "Me llamo
Danson" or alike. Alexander only took the trumpet for a minor part of the concert, which parts were as can be expected from him
O U T S T A N D I N G !!!
Mayor part of the metales were done by two trombonistas (a Danish
guy and Carlos Pérez !!) who were marvellous.
Keep an eye on these guys !!!!!!!! Ahí Namá
Note: The name comes from the "Dan" in Danmark and son and isn't a reference to the genre danzón. Click here to see pictures from the Berlin concert.
Saturday June 10 2006 - Popular - Charanga Habanera Documentary Trailer
Speaking of DVDs, the trailer for Jennifer Paz' documentary of La Charanga Habanera is now available at the documentary site. The site also includes pictures and descriptions of the band members as well as links for ordering the documentary on DVD.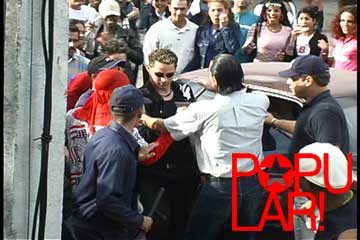 Leoni surrounded by admirers
Popular - El Trailer del Documental de la Charanga Habanera
Hablando de DVDs, el trailer para el documental de La Charanga Habanera por Jennifer Paz ya está disponible en la página del documental. El sitio también incluye fotos y descripciones de los integrantes así como enlaces para pedir el documental en DVD.
La Charanga Habanera in Spain
We have received information about 2 concerts by La Charanga Habanera in Spain: June 29 at La Paloma in Barcelona and June 30 at Sala Santana in Bilbao. For all the dates we have so far, see the Charanga Habanera Tour page.
La Charanga Habanera en España
Recibemos information de 2 conciertos por La Charanga Habanera en España: el 29 de junio en La Paloma en Barcelona y el 30 de junio en la Sala Santana en Bilbao. Para todas las fechas que tenemos actualmente, ve la página de giras de la Charanga Habanera.
Friday June 9 2006 - The Year of the DVD
2006 seems to be the Year of the DVD for timba bands. Groups that will be releasing a DVD this year include La Charanga Habanera (we are also waiting for the trailer to the Charanga Habanera documentary by Jennifer Paz), Orquesta Revé, Los Van Van and César "Pupy" Pedroso.
Pupy is participating in the Los Van Van DVD, and Formell is participating in Pupy's DVD. Hopefully they will both be available at the end of the year, but we may be looking at 2007.
Pupy invited me to a rehearsal with Los Van Van where they were preparing material for the DVD concerts. The DVD film crew was also there to get some behind the scenes footage. Click here for a short report on the rehearsal.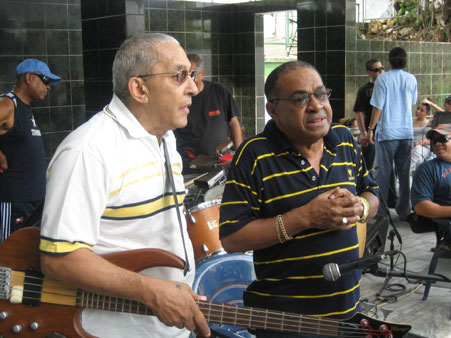 Together again on DVD
El Año del DVD
2006 parece ser El Año del DVD para orquestas timberas. Grupos que lanzarán un DVD este año incluyan La Charanga Habanera (también esperamos al trailer del documental sobre la Charanga Habanera por Jennifer Paz), Orquesta Revé, Los Van Van y César "Pupy" Pedroso.
Pupy participa en el DVD de Los Van Van, y Formell participa en el DVD de Pupy. Esperamos que ambos estén disponibles al fin del año pero puede ser el 2007.
Pupy me invitó a un ensayo de Los Van Van donde preparaban el material para los conciertos del DVD. El equipo de la película de DVD también estaba para filmar un poco de lo que pasa en el ensayo. Pon clic aquí para un breve reportaje del ensayo (en inglés).
El Primer CD Como Soloista de Dantes Cardosa
Grabado en La Habana en marzo 2006, En mí la fe, el primer disco como soloista de Dantes se acabó de editar. EL disco es una salsa-fusion producido por Pedro Camacho de El Clan. El disco incluye un duo con Haila María Mompie. Esperamos que pronto poder esuchar los primeros temas del disco en su sitio: http://www.dantesrickyricon.com/.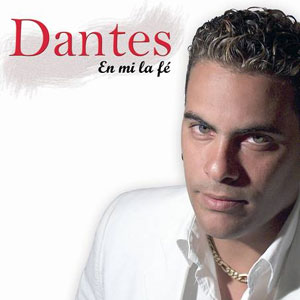 Dantes Cardosa's First Solo CD
Recorded in Havana in March 2006, editing is now finished on En mí la fe, Dantes' first solo CD. The CD is a salsa-fusion produced by Pedro Camacho of El Clan. The CD includes a duet with Haila María Mompie. We hope to get a chance to hear the first tracks from the CD soon at his site: http://www.dantesrickyricon.com/.
Wednesday June 7 2006 - Interview with Yarién "El Yoruba" Oviedo
At the end of May I spoke breifly with the youngest Oviedo about his current work in Europe, where his apodo comes from and about his music. Click here to watch the interview in WMV format.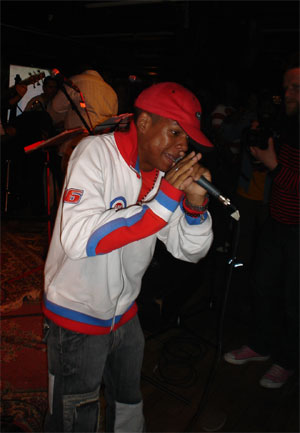 El Yoruba performing in Copenhagen
Entrevista con Yarién "El Yoruba" Oviedo
Al fin de mayo hice una breve entrevista con el Oviedo más jóven sobre su trabajo actual en Europa, de donde viene su apodo y de su música. Pon clic aquí para mirar la entrevista en formato WMV.
Tuesday June 6 2006 - Cubadisco 2006
I am back at work now after a 2-week vacation. Unfortunately due to technical problems I arrived 1 day late and missed the Cubadisco Awards ceremony. Here are some of the winners, with Sur Caribe in the lead with 3 awards. Current Dance Music: Adalberto Álvarez - Mi linda Habanera, Best Recording: Maraca - Soy yo, Theme of the Year: Sur Caribe - Añoranza por la conga, CD Design: Sur Caribe - Credenciales, Best Video: Sur Caribe - Añoranza por la conga, Folkloric Music: Clave y Guaguancó - Noche de la rumba, Song: Paulo FG - Ilusión, Grand Prize: Chucho Valdés - Cancionero Cubano. Click here for the complete list of winners.
Cubadisco 2006
Regresé al trabajo ya después de 2 semanas de vacaciones. Desafortunademente por problemas técnicas llegué 1 día tarde y me perdí la cerimonia de los premios Cubadisco. Aquí son algunos de los ganadores con Sur Caribe andando primero con 3 premios. Música Bailable Actual: Adalberto Álvarez - Mi linda Habanera, Grabación: Maraca - Soy yo, Tema del año: Sur Caribe - Añoranza por la conga, Diseño: Sur Caribe - Credenciales, Video Clip: Sur Caribe - Añoranza por la conga, Música Folklorica: Clave y Guaguancó - Noche de la rumba, Cancionistica: Paulo FG - Ilusión, Gran Premio: Chucho Valdés - Cancionero Cubano. Pon clic aquí para la lista completa de ganadores.
Tour Updates
As you plan your summer vacation be sure to check the tours section. We have updated Issac Delgado's schedule with more dates for his European tour.
We also have recieved news about a Japanese tour for Los Van Van to follow their European Tour.
And Cubadisco winner Maraca y Otra Visión will be busy this summer with a Canadian Tour that begins June 22, followed by a European Tour starting July 14th.
You should also take a look at the Festivals page (note: the page isn't completely updated) since many of the festivals, such as LatinoAmericando and Fiesta are now publishing their summer programs.
Actualizaciones de las Giras
Mientras planeas tus vacaciones del verano no olvides de controlar la sección de las giras. Actualizamos el horario de Issac Delgado con más fechas para su Gira de Europa.
También recibimos noticias sobre una Gira de Japón para Los Van Van siguiendo su Gira de Europa.
Y ganador en Cubadisco Maraca y Otra Visión trabajarán mucho este verano con una Gira de Canadá que comienza el 22 de junio, seguido por una Gira de Europa que empieza el 14 de julio.
También hay que leer la página de festivales (nota: esta página no es completamente actualizada) ya que muchos de los festivales, tales como LatinoAmericando y Fiesta ya publican sus programaciones del verano.
Other Updates
Now that I am back, I will be catching up on some projects that I started before my trip, such as an interview with El Yoruba, Yarién Oviedo which will be followed by an interview with César "Pupy" Pedroso and other reports from Havana.
Otras Noticias
Ya que regresé voy a seguir con algunos proyectos que inicié antes de mi viaje, como una entrevista con El Yoruba, Yarién Oviedo que se seguirá por una entrevista con César "Pupy" Pedroso y otros reportajes de La Habana.
Tuesday, 22 March 2011, 07:32 PM