Michelle White - Timbera Archives February 2006
Friday February 24 2006 - Latin Groove Orquesta Begins Tour
Calixto is back from a successful visit to the US and off on a tour with Latin Goove Orquesta. The band sounds great, and what else would you expect from the following line-up?
Hernan Lugano - piano
Calixto Oviedo - drums and timbal
Alexander Abreu - trumpet and flugelhorn
German Velazco - sax and flute
Felipe Cabrera - bass
Pepe Espinosa - congas
The band will be playing for a week at the Halfnote in Athens, Greece and will then move on to Switzerland, Denmark, Austria, Italy and Sweden. Click here for the tour complete schedule.
Danny Lozada Correction
Lara Greene spoke with Danny and he said that his next concert will be Saturday March 4 at Club Aché.
The address is:
Club Aché
Hotel Versailles
3425 Collins Avenue
Miami Beach, FL
Get out there and show your support for hardcore timba; make Miami the Timba hotbed that it is meant to be!
Manolito - Future Tour Plans
Manolito y Su Trabuco are currently touring Europe. I was lucky enough to see them on Wednesday and will soon be uploading a report from the concert, including an interview with Manolito, as well as updates to some of the musicians' pages. After Europe, the band will return to Cuba for 15 days and then leave for a month in Mexico in April. I don't know the venues where they will be playing, so if anyone has that information, please send a mail to our Tours section. This is a good opportunity for those of you who live in southern states to take a little spring break vacation to Mexico to see the Trabuco live. They are hotter than ever so don't miss them!
Wednesday February 22 2006 - Danny Lozada in Concert on Sunday
Lozada will be playing a concert on Sunday in Miami. We think it will be at Club Aché but we will keep you posted when we know for sure. Timberos in Miami, don't miss this concert! All reports say that Lozada is tearing things up with the same aggressive timba that he played on his first solo album Tanto Le Pedi, a timba masterpiece, although the sound quality of the CD leaves something to be desired.
Cuban Timba Allstars Tour Stars Tonight
And in other Timba en la Yuma news, tonight is the first concert in the California tour of Cuban Timba Allstars. Don't miss this opportunity to see some real timba without having to leave the country. Click here for the tour schedule.
Monday February 20 2006 - Manolito Simonet and Lazarito Valdés in Knock Out Fight!
This news in from our friends in France: the battle was captured on film and will be available on DVD soon - a joint concert with Manolito and Bamboleo! Filmed at Karl Marx Theatre it features the full bands of both groups. For a short preview of the DVD go to http://www.fiestacubana.net and click the link that says << Se rompieron los termometros >>
Manolito is currently touring Europe and receiving great reviews. They will be in Stockholm on Wednesday and I will do my best to give you a report on that concert.
Manolito Simonet y Lazarito Valdés en Partido K.O.
Esta noticia de nuestros amigos en Francia: el batalle se filmó y pronto estará disponible en DVD - un concierto con Manolito y Bamboleo! Filmado en el Teatro Nacional de Karl Marx, presenta las orquestas enteras de los dos grupos. Para un breve prevista del DVD ir a http://www.fiestacubana.net y pon clic en el enlace que dice << Se rompieron los termometros >>
Actualmente Manolito está en gira de Europa y recibiendo reseñas buenísimas. Estarán en Estocolmo el miercoles y haré lo mejor que puedo para darles un reportaje de ese concierto.
Thursday February 16 2006 - Calixto at Nuyorican Poets Café Tonight!
The clinic at Berklee was a success. It was 100% full. Now they are moving on to New York where he will play tonight at Nuyorican Poets Café. If you are anywhere near New York, don't miss this opportunity to see a master at work.
Calixto en Nuyorican Poets Café Esta Noche!
El clínico en Berklee fue un éxito. Era 100% llena. Ahora van a Nueva York donde toca esta noche en Nuyorican Poets Café. Si estás cerca de Nueva York, no pierdas la opportunidad a ver un maestro trabajando.
Monday February 13 2006 - Calixto Has Arrived!
Calixto Oviedo, Lily Hernández and Lázaro Sandoval have arrived in the US where they will perform with a group of major artists in New York to promote the new CD, Calixto's Way. And on Wednesday Calixto will hold his clinic at Berklee College about Timba Cubana: Rhythms and Origins.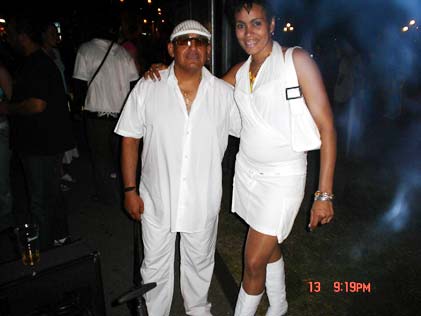 Calixto Oviedo & Lily Hernandez
¡Calixto Ya Llegó!
Calixto Oviedo, Lily Hernández y Lázaro Sandoval han llegado a EE.UU donde tocarán con un grupo de artista grandes en Nueva York para promocionar el nuevo disco, Calixto's Way. Y el miercoles hace Calixto la clínica en Berklee College sobre La Timba Cubana: Ritmos y Comienzos.
Sunday February 12 2006 La Charanga Habanera Tour of Spain Postponed
We just found out that the tour of Spain has been postponed until the middle of May and June. We don't know why it has been postponed. That would make tonight in Taranto, Italy the final concert of this tour por lo que sabemos.
La Gira de La Charanga Habanera en España Pospuesta
Acabamos de discubrir que la gira de España se pospone a mediados de mayo y junio. No sabemos porque se pospone. Ese significa que esta noche en Taranto, Italy es el último concierto de esta gira
Saturday February 11 2006 - New Singer with Azúcar Negra and More
During the promotional trip to Russia, Leonel Limonta recorded remixes of Mi Única Vida and El Dun Dun. They have a rap/reggaeton/club feel to them and may work well in clubs that focus on a more pan-Latino sound rather than salsa.
Upon returning to Havana, Limonta invited Bernardo Pérez Pérez, formerly of Chispa y los Complices, to join the orchestra. Bernardo replaces Jorge Luis Arregoitía. Click here to see the current line-up of Azúcar Negra (as well as a history of previous band members).
The band will be touring Europe again this summer promoting the new CD Toque Natural which is scheduled to be released in February or March. Click here for En Frecuencía's MP3 clips from the new CD. And click here to see live video of some of the new songs from last summer's tour.
Azúcar Negra Tiene Nuevo Cantante y Más
Durante el viaje promocional de Rusia, Leonel Limonta grabó mezclas nuevas de Mi Única Vida and El Dun Dun. Las canciones tienen un sentido de rap/reggaetón/club y podría funcionar bien en clubs que tocan música que es más latina que salsera.
Cuando regresó a la Habana, Limonta invitó a Bernardo Pérez Pérez, antes de Chispa y los Complices, entrar en la orquesta. Bernardo substituye Jorge Luis Arregoitía. Haga clic aquí para ver la lista actual de integrantes de Azúcar Negra (así como una historia de los integrantes anteriores del grupo).
La orquesta estará otra vez en gira de Europa este verano promociando su nuevo discoToque Natural que se lanzará en febrero o marzo. Haga clic aquí para En Frecuencia y algunos clips MP3 del nuevo disco. Y haga clic aquí para mirar videos en vivo de algunas canciones nuevas de la gira del verano pasado.
Wednesday February 8 2006 - Calixto Oviedo in the US
Attention timberos! Calixto Oviedo will be arriving shortly in the US. On February 15 he will teach a clinic at Berklee College of Music entitled "La Timba Cubana: Rhythms and Origins". If you're a musician trying to unlock the secrets of Cuban music don't miss this clinic. Calixto will also spend some time in New York promoting his new CD, Calixto's Way.
Calixto Oviedo en EE.UU
Atención timberos! Pronto llegará en la Yuma Calixto Oviedo. El 15 de febrero enseñará una clínica en Berklee College of Music sobre "La Timba Cubana: Ritmos y Comienzos". Si eres músico intentando comprender los secretos de la música cubana no pierdas esta clínica. Calixto estará también en Nueva York promocionando su nuevo disco, Calixto's Way.
Sunday February 5 2006 La Charanga Que Te Encanta
I finally finished the concert report. Click here to read about the Stockholm concert. Thanks to Tina Ahlzen, timba geek and DJ, for taking the pictures and helping with the video camera!
Sunday January 29 2006 - More Charanga Habanera
I have updated the Charanga Habanera videos section with clips from the Stockholm concert Friday night. Four of the songs are estrenos from El Ciclón de la Habana, one is Nube Pasajera where the guys decided to throw a little agua mala on the audience.
Interview with the Mengual Brothers I also tried to help Kevin out with his gears studies by interviewing Orlandito and Lazarito. Click here to watch the interview in WMV format.
Más Charanga Habanera
He actualizado la sección de videos de La Charanga Habanera con clips del concierto en Estocolmo. Cuatros canciones son estrenos de El Ciclón de la Habana, una es Nube Pasajera donde los muchachos decidían tirar un poco de agua mala en el publico.
Entrevista con los Hermanos Mengual
También traté ayudar a Kevin con sus estudios de marchas por hacer una entrevista con Orlandito y Lazarito. Haga clic aquí para ver la entrevista en formato WMV.
Tuesday, 22 March 2011, 07:32 PM