Indice - Table of contents
Lo Nuevo
[hide]
Fotos Del Día
[hide]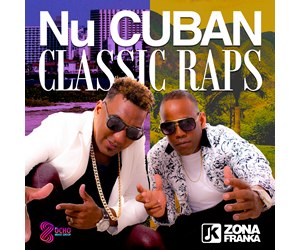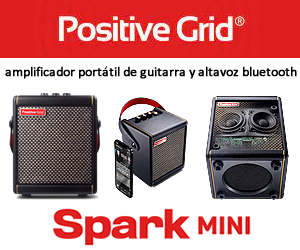 Michelle White - Timbera Archives November 2007
Wednesday November 28 2007 - More on La Charanga Habanera in Peru
La Charanga Habanera will arrive in Lima on December 1 and from what we have heard so far, they will perform every Friday and Saturday in December in tumbao de la Victoria and tumbao VIP de Miraflores. Once again, stay tuned and we'll try to find all the details.
In the meantime, those of you who are members of Facebook might want to check out the Charanga habanera facebook fan club.
Interview with Maykel Blanco at Soy-salsero.com
This is a very recent interview with Maykel that I think you will enjoy. It was up, then down and now it's back again, so if you haven't had a chance to read it, here it is again. . En español. En français. Sorry no English version.
Tuesday November 27 2007 - Review of Klímax in Toronto
Billy Bryans is back from Havana and has posted a link to a review of the Klímax concerts at Lula Lounge in Toronto November 16-17. It should surprise no one that Piloto and his crew, made up of current bandmembers and Cubans residing in Canada, dazzled the audience and resulted in a few more timba converts. Click here to read "The Live Music Review" article by Joyce Corbett.
La Charanga Habanera in Peru
Word on the street is that la Charanga Habanera will be performing in Peru the entire month of December. We are still waiting for dates and information. If you have any details, please send an e-mail.
Monday November 26 2007 - La máquina se va
Salsa Mayor are one their way back to Cuba today after a tough tour with almost no rest days. They will take a week off to get caught up on their sleep before hitting the Havana scene again. Below is a picture of the guy just before going on stage in Rimini for the final concert of the tour. At this concert I met a couple of Italianas who have seen the band several times both in Havana and Italy. They were joking that they are the Salsa Mayor fan club.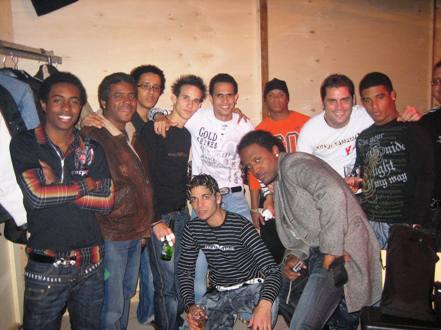 Los Mayores waiting in the dressing room in Rimini
So now that I'm back home for a while, I should be able to get my concert reports up including a few video interviews with Maykel and the guys. Stay tuned...
Friday November 23 2007 - More from Modena
Rodolfo Medicato saw Salsa Mayor in Modena on Monday and sent the following report with pictures. Indeed the band played the estreno No pido tanto (Marisela) as a bonus for the fans, but apparently it is still under development. Click here to read more.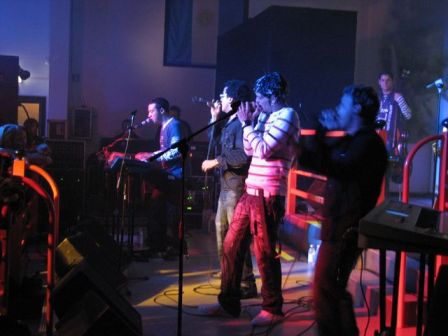 World premier of No pido tanto (Marisela) at Modena
Wednesday November 21 2007 - Salsa Mayor Concert Report from Modena
Well I can't keep up with everyone else. I'm still not done with my report but here's a link to an Italian blogger in Modena about the concert on Monday. The English translation at the end of the blog leaves something to be desired so below is my own translation. Click here for the original Italian.
Maikel Blanco has returned again to Modena, he has not disappointed expectations...That is to say of this person and his salsa mayor, incredible, during the dinner I asked him about the new song in progress "Marisela". His response was the execution of the song at the end of the concert, which is to say great!!! Moreover we have spoken about the new album, for sure the beginning of the recording is set for January 2008 to be completed in February 2008, released in "spring/summer 2008". Stay tuned...
Note from Michelle: Talking about this song the other day, Maykel told me the name is No pido tanto, but with everyone just calling it Marisela, who knows what it will be called on the album.
Paulo FG in Mexico City
Don't forget to take a trip to Mexico City to catch Paulo FG at La Maraka November 30 and December 1st. Thanks to Ulises for sending us the link.
Tuesday November 20 2007 - Salsa Mayor Concert Report from Rome
I'm almost done with my reports from the Stockholm/Copenhagen converts. I also spent the weekend in Italy at the Latina, San Benedetto and Milan concerts. But I missed the concert at Mambooo Kings in Rome fortunately a fan has sent us the following report with pictures.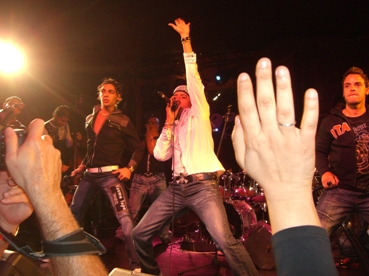 Salsa Mayor at Mambooo Kings in Rome
Rome 2007-11-16
Cold, wind and rain didn't stop the Salsa Mayor band that played in Rome Thursday night; an excellent performance. The Maikel Blanco team seems to work hard to achieve every time a better quality in terms of sound and on-stage performance. It was a very great Timba night, where this sound pushed strongly bringing a hot Cuban atmosphere into a cold Italian night. The band played an ovation to the original Cuban music that some people believe is disappearing. Rome agrees with Salsa Mayor and enjoyed this wonderful rhythm last night.
Click here for more pictures. Pon clic aquí para ver más fotos del concierto en Roma.
Tuesday November 6 2007 - Get Ready For Revé
The new Revé CD, Fresquesito, is due for release this month....maybe. Things never really go according to schedule anyway. I myself am guilty of this as well. I never managed to get the concert report of Orquesta Revé in Copenhagen written. I apologize for that. But what better way to prepare for the upcoming CD and also get a feel for the Copenhagen concert than to watch the Revé videos in our Videos section. The new CD contains 11 songs and we have six of them on live video.
Fresquesito - Stockholm January 2007
No te doy más na' - Stockholm with El Nene on lead (Eric sings it now that El Nene left)
El martes - Copenhagen with a trumpet improv by Alexander Abreu
El dinero - Copenhagen with vocal improv by Alexander Abreu
El teléfono - Copenhagen with Lázaro Maya (ex-Salsa Mayor) on lead
A sancochar boniato - Copenhagen a cool rumba/timba/son also with Lázaro Maya
If you read Italian you can check out the short article about Revé and the interview with the talented new Revé bassist and arreglista Aismar, at locosporlasalsa.com.
We are also beginning to get tour dates for the Charangón's next European Tour.
Friday November 2 2007 - Osvaldo Chacón y Su Timba Tomorrow at Galway Salsa Congress
Chacón is back from his recent tour of Australia with Son Veneno and will be performing tomorrow in Ireland at the Galway International Salsa Congress. Gabriel has several reports at Yemayá's Verse, including this one from Chacón's last Australian performance. check it out. It includes video of his hit Circúlame.
Here's another fun old clip of Chacón singing the Bamboleo classic Película Vieja.
Bamboleo y Osvaldo Chacón Película Vieja

Thursday November 1 2007 - International Cubanía week?
Next week there is a lot of Cubanía around the world. The second European Tour of Salsa Mayor kicks off with a concert in my hometown of Stockholm Sweden on November 9th. November 8th Interactivo featuring Telmary will perform in London, and on that same day La Charanga Habanera will perform in Québec. To top it off the 5th Aquí Cuba festival takes place in France that weekend featuring dance, conferences and three concerts, one by Grupo Danson on the 10th. See below for details.
Interactivo in London November 8th
Not timba, but Interactivo is the Cuban leader in alternative music. They will be performing at "The Best of the Cuban Music Awards 2007" at Floridita on Thursday November 8. Billy Bryans says that the group performing in London will include: Roberto Carassés, Rodney Barreto, Elmer Ferrer and singers William Vivanco, Francis del Rio and Telmary. Click here for information and tickets. In the meantime, here is a look at Telmary's new video for the song Que Equivoca'o, a computer animated look at gender relations in Cuba with a touch of brujería.
Telmary - Que Equivoca'o

La Charanga in Canada
In just one week La Charanga Habanera will be back in Canada for 4 concerts: Quebec the 8th, Toronto the 9th, Montreal the 10th and Sherbrooke the 11th. This will be the first Canadian performance with the new singer line-up: Aned, Leoni, Juventino, Andro and Junior. Yes, I guess four singers just wasn't enough for David. To get yourself in the mood for the concert, here is a look at, El Duro, a great dance tune from their latest CD, El Rey de Los Charangueros. Remember, if you go to the Québec City concert, you'll also hear DJ Melao in action.
La Charanga Habanera - El Duro

5th Aquí Cuba Festival
The 5th annual Aquí Cuba Festival will be held in Pont Pean and Rennes, France from November 9-11. The festival consists of animations, dance, conferences, debates and concerts. Dance performances will include both traditional and folkloric dances (Rumba, Son, Orishas) as well as modern dances (Rueda, Casino, Reggaeton). Opening night will feature Fiesta Cubana, which they describe as the new Parisian All Stars of Timba. That sounds interesting! Saturday the 10th is a big party with 2 bands: Rumbayazz at 20:30 followed by Grupo Danson at 22:30.
martes, 22 marzo 2011, 07:32 pm