Indice - Table of contents
Lo Nuevo
[hide]
Fotos Del Día
[hide]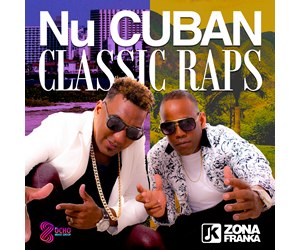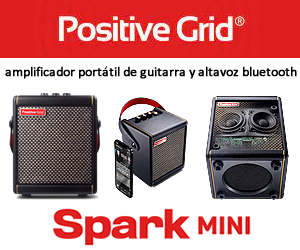 Michelle White - Timbera Archives June 2007
Sunday June 24 2007 - Changüí Conversation between El Tusa and Sinsonte
One of the great things about being in Havana is how music is all around you and how singing almost comes as naturally as talking. When Yanesito was in Havana recording the new Soneros All Stars CD, La Timba Soy Yo (scheduled for release in October 2007), he took his video camera with him out on the town and caught one of these moments that spontaneously arose one afternoon when they stopped by a restaurant in Havana.
To set the scene, Amaury "El Tusa" Menoscal singer from Oderquis Revé y Su Changüí was jamming with some friends in the band playing at the restaurant. Then who walks in but Sinsonte, singer from Elito Revé y Su Charangón. It almost sounds like an old western: "this bar ain't big enough for two changüiseros".
In the clip we see El Tusa and Sinsonte get into a conversation using the idiom changüí. It looks like Sinsonte just wanted to relax and didn't pay attention at first, but in the end he couldn't resist so we get 7 minutes of improvisation by two of the leading changüí singers in Havana. 100% spontaneous and 100% Cuban!

El Tusa & Sinsonte, Havana 2007
Friday June 22 2007 - Más Fotos de Yulién
Cristian Muñoz has once again stepped in to help us out in the photo department. The photo I posted yesterday is from a concert held on Tania's birthday. Guest artists included Paulo FG, Dantes and Yulién, among others. Click here to see more of Yulién's performance at Tania's birthday concert.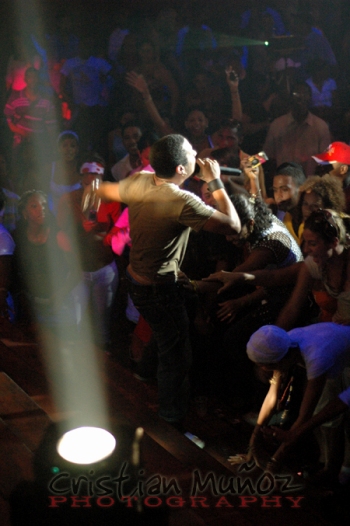 Yulién seems in danger of losing his pants to las fans
On May 24 Cristian photographed a concert by Yulién y su Onda Light and shared some of these fotos with us as well. Click here to see more of Yulién y su Onda Light.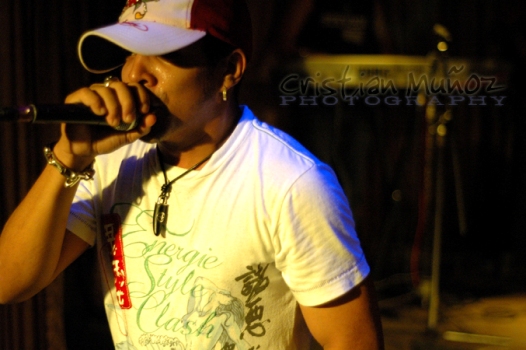 Yulién with his own band Onda Light
Thursday June 21 2007 - The Oviedo Family in Concert!
Some of you may have seen the classic clip of Calixto and Yulién playing together on Mi Salsa circa 1993.

Jam de las estrellas en Mi Salsa featuring Calixto y Yulién
Well el niño prodigio has grown up, ahem, as we can see below...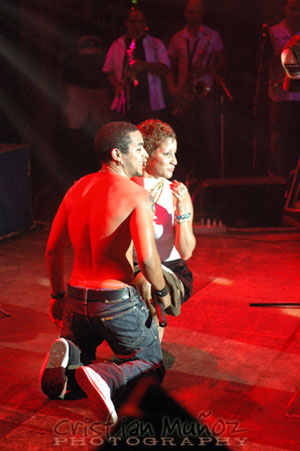 Yulién & Tania cortesía de Cristian Muñoz ©2007
...and has gone from percussion prodigy to successfully launching a solo carrier with his project Onda Light. Yulién arrives in Spain tomorrow to do promotion in Europe and for the release of his new video in the Canary Islands. I don't know what song the video is for, but I hope it is soon available to everyone.
Papa Calixto also happens to be in Spain rehearsing with his new group Afrolatin Jazz Project. The band includes Calixto youngest son, Yarién as well as his wife, Lily Hernández. So when Yulién joins the group as special guest on vocals and percussion, we will have a rare convergence of the entire Oviedo family in Spain and Italy this summer. We will publish any concert dates that we find so you don't miss this opportunity.
Members of Calixto Oviedo's Afrolatin Jazz Project
Rhumer Mora - congas & percussion
Alberto Rodriguez - baby bass & bass
Edson Martinez - piano & keyboards
Eddy Ponce - sax & flute
Orestes Machado - trompet & flugelhorn.
Calixto Oviedo - drums & timbales
Yarien Oviedo vocalist & percussion
Yulien Oviedo all percussion & vocal Special Guest
Lily Hernandez vocalist
Click here for a playlist of some live video of Yulién y Su Onda Light.
Sunday June 17 2007 - El Zorro Update
El Zorro tells us that the drwaings are from Spanish artist Fransisco de Goya's "Desastres de la guerra". I thought they looked pretty darn good. Check out the videos of Para by click on the embedded links below.
El Zorro Releases New Video
Swiss musician El Zorro has released two new videos of the song Para from his new CD Volando (Envidia 7172). Volando is his third salsa/timba CD and as always he has brought in some of Cuba's top musicians to collborate, including Mayito Rivera, Ángel Bonne, Osdalgia and Nelson Manuel.
Para features Ángelito Bonne on lead vocals and is an anti-war/violence song thet refers to violence carried out in the name of religion. Àngelito has one of the great voices of Cuban popular dance music and his performance of Para is excellent.
The first video was directed and edited by El Zorro himself and uses firey visual effects to evoke an image of the destruction of war. The second video was directed and edited by Carmen Stadler and shows Ángel singing against a background of sketches of wars throughout history. I don't know where the drawings come from, but they are excellent and it would be interesting to find out more about them.
Click on the embedded videos below to see each one and pick your favorite.
For more information about El Zorro's work, check his website and his site at MySpace for more video and audio.
Director film shooting: Lester Hamlet (CU),
Cameraman: Luis Najmías (CU),
Stylist/ Make-up: Manolo Marrero (CU),
Artistic consulting: Stephan Teuwissen (BE)
Para from the CD Volando
featuring Ángel Bonne
Video 1

directed by Martin Richard Lehner
---
Para from the CD Volando
featuring Ángel Bonne
Video 2

directed by Carmen Stadler
Friday June 15 2007 - Festival Season Begins
There seems to be no end to the number of Latin Music and Dance festivals in Europe during the summer months. I just discovered another one I didn't know about. Festival Sudamericando began a week ago in Tavagnasco, Italy. From a timba perspective the interesting concerts will be Maikel Blanco y Su Salsa Mayor - June 29, Gente d'Zona - July 7 and Charanga Habanera July 14. Caliente starts today in Zurich, but this year doesn't feature any Cuban artists. And DJ Melao has all the details on Carnival de Cuba which starts tomorrow in London.
Check our Festivals page for links to all the festivals we know about. Maybe you'll find something near you. If you know of a festival featuring timba groups that we have missed, please send us an e-mail so we can updated our information.
Aquí El Que Baila Gana - 2007 Meeting of Dancers in Havana
Soycubano.com has updated their site concerning the 2007 Meeting of Dancers which will be held November 25-30 (note: the english and other language sections aren't fully updated yet). The pass gives you entrance to daily dance classes in a variety of Cuban dance genres and evening concerts by the biggest names in Timba. The lists of invited bands includes: Los Van Van, Charanga Habanera, Manolito y Su Trabuco, Anacaona, NG La Banda, Adalberto Álvarez y Su Son, Paulo FG, Pachito Alonso y Sus Kini Kini, Azúcar Negra, Yumurí y Sus Hermanos, Elito Revé y Su Charangón, and Pupy y Los Que Son Son. But as always in Havana, you never know until the last minute. There are three different packages this year. Click here for prices.
Thursday June 14 2007 - Alain Daniel's New CD
In her blog, Yemaya's Verse, Our Lady in Havana, Gabriel, waxed lyrical about how great Alain Daniel is in concert. But she said that almost none of the songs were from the album he has released. Well, she will be happy to hear that Alain is in the process of releasing a new CD with 12 songs, all composed by himself. The CD was recorded at EGREM and is called Bendita locura. I don't know exactly when it will be available, but judging from how excited Gab was about Alain's concert, it is something all timberos can look forward to.
Mario Sombrilla's New Project
Ex-charanguero (both Habanera and Forever) lead singer Mayito Sombrilla is back with a new project called Mayito Sombrilla y Su Timba Light. If you are in Havana, you can catch their show at the peña every Wednesday at Las Vegas. Gab was there this week but due to sound problems the show ended very early. From her description the timba is heavily funkified and not so light at all. The band is also preparing for a summer tour that will take them to every corner of Cuba. ¡Di tú!
Wednesday June 13 2007 - Soneros All Stars - "La Timba Soy Yo"
In 2004 Janne Bogdan completed the project that started as a conversation with Pascual "Sinsonte" Matos Aguirre around Janne's dinner table. The result was ¡Dime Nagüe!, a CD of hard-hitting, modern changüí and one of the best releases of the year. In addition to Janne on tres and Sinsonte on lead vocals, the musician roster read like a who's who of elite Cuban musicians, including the late José Antonio Rodriguez on lead vocals, arranger/bassist Arnaldo Jiménez, Samuel Formell, Papiosco, Boris Luna, Eulises Benavides among others.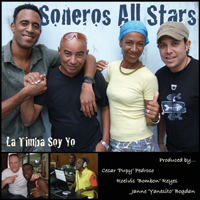 Well Soneros All Stars are back with La Timba Soy Yo. Janne's latest project is described as "a mix of son cubano, changüí and songo with a modern twist ". This time Janne has collaborated with none other than César "Pupy" Pedroso, who lends his unmistakable tumbaos to the album. Continuing this collaboration with first-line Cuban musicians, La Timba Soy Yo features Sinsonte, Mandy Cantero, Pepito and Cristina Azcuy on vocals and featuring drummer/arranger Bombón, and Alexander Abreu.
As the title indicates, the new CD balances the cubania and sabor of son/changüí with the agressive sound of timba. Recorded in March 2007 at EGREM, La Timba Soy Yo is scheduled for release in October 2007. Fortunately Janne sent us some cool embedded programs so you don't have to wait until October to see what is coming. You can listen to a potpurri of songs in the player below. You can also join a mailing list to be notified when the CD is released and where it is available on-line.
Tuesday June 12 2007 - Más Fotos por Cristian Muñoz
Esta vez Cristian de nos envió del 15 aniversario de Paulo FG, Los Van Van y más de Cubadisco. ¡Gracias Cristian por compartir con los timberos del mundo!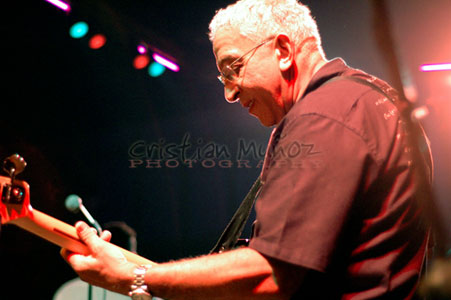 Juan Formell con nuevo color del pelo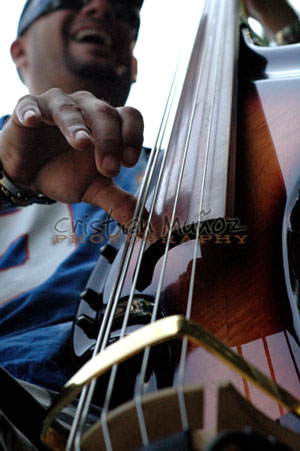 Y Pavel con otro color del baby bajo
Haz cliq aquí para ver todos las fotos por Cristian que tenemos en Timba.com.
Sunday June 10 2007 - Photos from Cristian Muñoz
Cristian has returned to Canada and has sent us a sample of some of the pictures he took while at Cubadisco and other events in Havana. Patrick Bonnard told us about the concert at la Tropical with Manolito and Andy Montañez. He also said that they recorded a song together at EGREM. Here is a photo of the two of them together, courtesy of Cristian.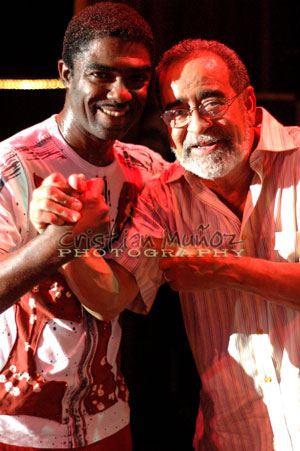 Manolito Simonet and Andy Montañez
Click here to see more by photos by Cristian of Bamboleo, Paulo FG and Vania, and Alexander Abreu with Carhabana.
Thursday June 7 2007 - Summer Festivals in Europe
Two of the biggest Latin summer festivals have now published their 2007 program. Fiesta in Rome normally runs from the middle of June through the middle of August. So far they only have the July and August program published. I don't know what that means for June, so keep checking their site. Latinoamericando in Milan will take place from June 21- August 26, and their entire program is available now.
While Italy has the longest festivals, other important annual events take place in Belgium, Holland and France, and this year we also have the Festival Varadero in Essen, Germany. Our Festivals page has links to most of the major festivals that feature timba artists. If you know of any festivals we have left out, please send a mail with the information.
Or you can just check out the schedule of your favorite artists in the Tours section. We expect to have most of the tour schedules in a couple of weeks. Again, if you know of any concerts that we haven't listed, please send us the information.
Monday June 4 2007 - Noticias de La Habana
Photographer Patrick Bonnard has just returned from what sounds like a very fruitful trip to Havana where he spent time with some of the biggest names in timba. He promises to share some of his photos with us later but for now he sent in this excellent report about what is going on in Havana.
Los Van Van
Los Van Van were rehearsing almost every morning at the Salon Rosado de La Tropical. They were working new arrangements of old material: "Dale Dos" and "Si A Una Mamita". Juan Formell was there and supervised the work. Their record is ready; they will play new songs during the summer tour.
La Charanga Habanera
I saw La Charanga rehearsing in Fanguito. It sounded really nice. I met David Calzado in the Egrem studios calle 18 in Miramar. The disc will be ready in a week. He was recording güiro and doing the mix. I took him to the sea for a half-hour photo session.
Azúcar Negra
Leonel Limonta (Azúcar Negra) shot a video clip for La Palabra. I saw them filming in Vedado at the ballet school and at Estacion de Ferrocaril. Limonta invited me for a rehearsal in his house. Very nice guy! They were doing new arrangements of "Se Acabo La Rabia" (from the Andar Andando album). Sounded great!
Hermanos Arango
I've been warmly welcomed in Feliciano Arango's family in Guanabacoa and returned the next day. This guy is a MASTER! He can play anything! And yeah! I know who's (ataca) Chicho now!: el anemador del Palacio de la Salsa!
Sur Caribe & Pedrito Calvo
Sur Caribe was rehearsing intensively before the London Carnaval. After working their own material they rehearsed two Van Van songs: "Marilu" and "El Negro Esta' Cocinando" (Que No Me Toquen La Puerta) that they will play with Pedrito Calvo. Ricardo Leyva wrote for the carnaval a new conga "De La Habana Hasta Londres" Al carnaval yo te quiero invitar...
Manolito & Andy Montañez
Manolito Simonet gave a concert at La Tropical with Puerto Rican Andy Montañez. The concert was filmed for airing on TV. The next day they recorded a song with Andy Montañez in Egrem studios. Manolito invited me in the studio the next week but the session was cancelled.
Pupy y Los Que Son Son
I left La Habana 4 days with Los Que Son Son in Oriente, in the Holguin region for the Mayari carnaval. Mayari is famous for its son festival. The song Chan Chan refers to the villages from Holguin to Mayari:
De Alto Cedro voy para Marcané
Luego a Cueto voy para Mayari
We stayed at the hotel Pernik in Holguin 1hour1/2 from Mayari. Three night concerts. We were arriving around midnight - 2a.m. concert until 4-5 a.m. return at the hotel around 7-8 a.m.! The singers were sleeping all day long, and the musicians were killing time playing dominos. Pupy records each concert and listen and analyses it in the bus on the way back!
News from the next album: only 4 songs have been recorded so far: "Calla Calla" "La Italiana", "La Machucadera" and "Parece Mentira" that was yet not given radio airing. All the arrangements are ready but the band waits the tour to give it a shot and see the audience reaction before returning to the studio. The summer tour has been delayed until September/October. Expect recording sessions for end of year.
Here is the playlist of last night in Mayari: "Calla Calla", "La Italiana" ("muevete pa'qui, muevete pa'ya"), "Dicen Que Dicen", "La Machucadera", "La Borachera", "La Bala de Billy" (Boom Boom Boom Te Mate) and "De La Timba a Pogoloti"
El Tosco
I went to José Luis Cortés studios. He has a flute school on the roof of his house. I met the master Tony Pedroso who lived two years in Paris. And to end this trip, nothing's better than a portrait of Tosco in late afternoon "saliendo de su cama"! He put the Habana Club "Especial" bottle I brought ("te traigo tu medicina") on a shelf, put a shirt and followed me in the street, rubbing his eyes.
Sunday June 3 2007 - Festival Varadero - The Maximum Timba Experience!
Echo Latino presents the first Festival Varadero, a festival celebrating Cuban music and dance. The organizers are aiming at making Festival Varadero one of the best-known festivals in Europe and with event they have put together, I have no doubt that they will succeed.
The festival will be held in Essen, Germany on August 4 & 5. This may well be the most impressive single concert of the European summer season. How does this sound? In one evening, August 4th, you will see Azúcar Negra, Orquesta Revé, Eddy-K, Willie Colón, and you will finish the night with Manolito y Su Trabuco. ¡Qué locura!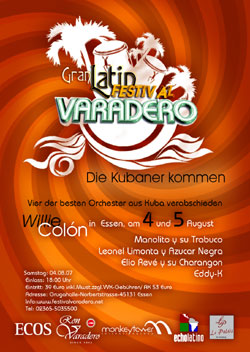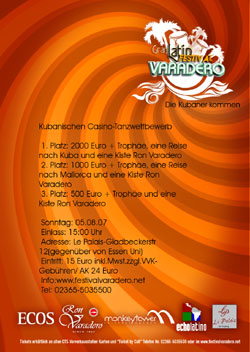 Hot off the presses the final line-up for Festival Varadero
The next day, August 5th, there is Casino dance contest with some serious prizes: 1st prize - 2000 Euro + trophy, a trip to Cuba and a case of Ron Varadero; 2nd prize - 1000 Euro + trophy, a trip to Mallorca and a case of Ron Varadero; 3rd prize - 500 Euro + trophy and a case of Ron Varadero. I may just have to dust off my dance shoes and see if I can't at least try to win a case of rum.
The concerts will be held at Grugahalle on Norbertstrasse and the dance contest at Le Palais on Gladbeckerstrasse. It's great to see a Cuban event of this magnitude in Germany, where timberos have complained about the lack of Cuban music and dance. So here is a fantastic option for those of you looking to get the maximum Cuban experience in a short amount of time. Thank you Echo Latino!
For more information see the website or call +49 (0) 2365 503 5500
Saturday June 2 2007 - Big Weekend for Timba in North America
After some bizarre travel problems that have only been hinted at on Billy Bryans' blog, Manolito y Su Trabuco performed last night in Toronto. I heard from a friend who attended the concert that they were great and very much appreciated by the audience. We are looking forward to any pictures or concert reports from Canada. Tonight the Trabuco is in Montreal and on Sunday they perform in Sherbrooke. Click here for details.
Not to be outdone by her northern neighbor, Jelly's in San Francisco presented Danny Lozada last night. Tomorrow he will be performing at Ruby's Café in Oxnard and on June 5th at King King on Hollywood Boulevard. Click here to see Danny's full tour schedule.
Nice to see that promoters continue bringing timba to the people of North America. I was really feeling sorry for you guys for a while there.
martes, 22 marzo 2011, 07:32 pm