Indice - Table of contents
Lo Nuevo
[hide]
Fotos Del Día
[hide]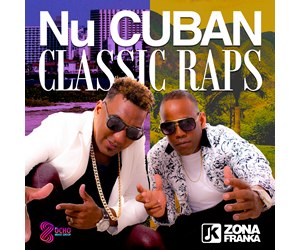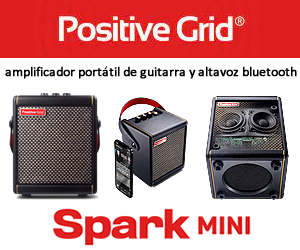 Michelle White - Timbera Archives October 2007
Wednesday October 31 2007 - Tour Dates for Maykel Blanco y Salsa Mayor
I want to thank the fans that have sent us information about the tour. With your help we have been able to update the list of tour dates for Salsa Mayor in November. I'm sure there are still some missing but hopefully we can fill in the blanks very soon.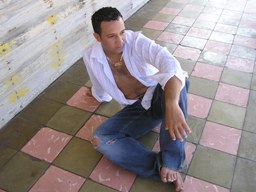 With the exception of the first two dates in Scandinavia, the tour seems to be concentrated to Italy. So if they are not coming to your country, you might want to look into taking a timba trip to Italy. For example, the Milan concert on November 18, organized by La Jiribilla, will even include a buffet and one drink for the price of €18, or for only €15 if you buy in advance. Click here for the list of concerts we have so far, and keep checking for updates.
Interview with Maykel Blanco at locosporlasalsa.com
Locosporlasalsa continue their interview series with an interview by Stefano Santini. Click here to read it in Italian or Spanish.
Tuesday October 30 2007 - Havana Street Band - It's not Timba but You Might Like It

Havana-born flautist Leonel O Zúñiga & Havana Street Band have just released Con Guapería, a CD that varies from Latin Jazz to salsa to timba. I have not heard the whole CD just a few clips at MySpace, but I liked what I heard. It seems evry well produced and the song Mi Gente seems to venture into timba, although the audio sample cuts off at the first gear change.
Con Guapería was just released on October 27 with a concert at L'Auditori, in Barcelona, where the band is based. Timberos may be interested to know that Roberto Riverón collaborated on the arrangements. For audio samples, video, photos, concert dates and more information see www.myspace.com/havanastreet
Orishas Tour - It's not Timba but You Might Like It
Yes, I know that Orishas aren't Timba either, but certainly some of their songs such as 1999 and Guajiro are fine for dancing casino. Not to mention Revé's excellent cover of 1999. But I digress. Click here for upcoming tour dates in Europe for Orishas.
Friday October 26 2007 - Salsa Mayor Anniversary Concert Moved
Maykel Blanco founded Salsa Mayor on October 13, 2004. The band was all set to celebrate its third anniversary in La Tropical in October, but due to the heavy rains in Havana they have changed the venue to La Cecelia. The anniversary concert has been rescheduled for November 3. Note: This will be their last concert in Havana before the November tour, so if you have the chance, don't miss it! They begin their second European tour on November 8. We still don't have all the concert dates, but click here to see what we have so far. If you know of any dates we are missing please send us an e-mail.
Other Current Tours
Don't forget that Pupy y Los Que Son Son are in Zurich, Switzerland tonight and tomorrow they play the final concert of this tour in Verona, Italy. And Orquesta Maravilla de Florida is also on their way to the final concert of this tour which will take place tomorrow in Marseilles, France.
Thursday October 25 2007 - Tania Pantoja Releases Solo CD - Di Que Piensas
Thanks to muchoswing.com and the Piso 6 updates from Cubavision we have learned that timba diva Tania Pantoja will be celebrating the release of her first solo project with a concert at Carlos Marx Theater this Saturday, October 27. The CD, Di que piensas, was produced by Germán Velazco, winner of the Cubadisco 2007 award for Best Jazz CD for his album The Cuban Timba Fusion Project. She also collaborated with Ryu Murakami.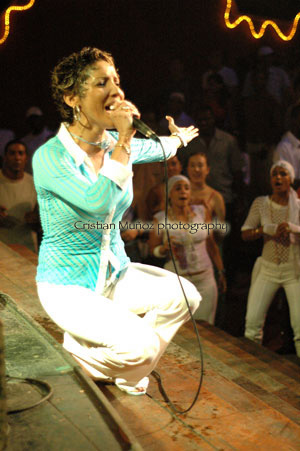 Tania Pantoja at Casa de la Música Galiano
Photo ©Cristian Muñoz used by permission
Di que piensas contains five ballads and five salsa, written by artists such as Alain Daniel, Ricardo Amaray, Manolito Simonet, Giraldo Piloto and Lazarito Valdés. The concert at Carlos Marx will be a star-studded event, including the participation of Juan Formell, Manolito Simonet, Paulo FG, Alain Daniel and Amaury Pérez Vidal, and Giraldo Piloto. If you're in Havana, don't miss it! Oh, and send us a report please.
Tuesday October 23 2007 - Latin Festival in Copenhagen, Denmark
The annual Latin Festival in Copenhagen will take place this year from November 9-11 at Amager Bio. The festival features workshops in salsa, samba and reggaeton; lectures; exhibitions and concerts.
November 9 is Brazil night with samba lessons followed by concerts by Senzala and Vanja Santos. November 10 is Cuba night with salsa classes and concerts by Jorge Cordero y Team Latino and Maykel Blanco y Salsa Mayor. November 11 is a family day with events for children and adults. You can buy tickets on-line, at the door or a full festival pass for 300 DKR.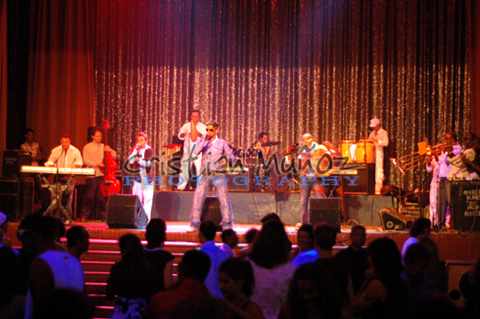 Salsa Mayor will be in Copenhagen November 10 at the Latin Festival
Photo ©Cristian Muñoz used by permission
Click here for the entire music program in PDF format. For information about the lectures and exhibitions as well as recommendations for hotels, see the website: http://www.latinfestival.dk
Saturday October 20 2007 - Adonis Puentes y Su Banda at King King
A lot is happening in Cuban music in the US these days. Tuesday October 23 Adonis Puentes will be back at King King, this time with his own band. He performed there recently with Maraca, and now you ahve the chance to catch him with his own repertoire. For more information about Adonis, including music samples visit his MySpace site: www.myspace.com/adonispuentes
Showtime 10:00PM
Doors Open: 9:30PM
6555 Hollywood Blvd.
Hollywood, CA 90028
Tel: (323) 960-5765
www.kingkinghollywood.com
Tickets:
$13.50 / advance
$15.00 / door
Advance Ticket Purchase:
www.lucumiyque.com
Friday October 19 2007 - Short Report from Pupy in Bilbao
DJ Carlota has posted the following report at her MySpace site, photos courtesy of Rod Lawson. She went from London to Bilbao to catch Pupy y Los Que Son Son on October 12. Click here to see Pupy's remaining tour dates and if they aren't playing in your town, take a Timba Trip like DJ Carlota!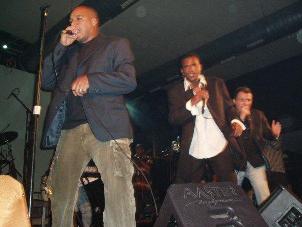 I've been a very bad timba geek- a very very bad timba geek. In fact, I should be sent home without any supper. Why? Well, all started well with an epic journey from Manchester to Bilbao to see the loves of my life- Pupy Y Los Que Son Son but I ended up getting so carried away that my pen never made it to my hand to take note of the experience unfolding in front of me. Will I go to hell? Hmm, not sure.
The second date in their postponed European tour was sure to be a good one and despite the compact turn-out, the atmosphere was like no other- all smiles, dances and expectation. Maybe we were all keen to see them now they'd finally made it.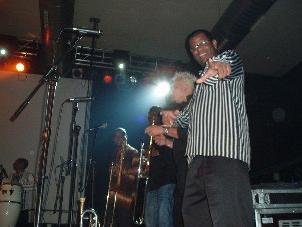 At 2am, the stage was illuminated in blue, we downed our drinks and dived to the front, and the opening to "Que Cosas Tiene La Vida" announced the band's arrival, with Mandy calling "Todo mi gente preparada..." in his rough-but-endearing voice.
From here they didn't cease- there was no rest for the entire room Of course, being a bad noteless geek, I can only recall with a smile the tracks- "Gato Por Liebre" "Dicen Que Dicen" "La Baila de Bily" "La Borrachera" "El Buenagente" "La Machucadera" "A La Italiana" and "Seis Semanas" as an encore.
The audience weren't the only ones with smiles on their faces- Pupy looked as if he was savouring every second like a fine wine and grinned wildly at everyone. The same was true of all on stage- they interacted with the crowd like it was a small gig in someone's house making eye contact and smiling at everyone individually, like we were all in on a secret. I'd never seen them this charismatic before!
The highlight of the evening wasn't the band in fact, but a girl who was intent on capturing Mandy's heart through various tactics who eventually ripped one of the mics from its socket and left all dumbfounded. She certainly got noticed!! Not sure it was how she intended though.
Am heading to Cuba in a couple of weeks so maybe then I can make up for my irresponsible behaviour and give you a better low-down.
Wednesday October 17 2007 - El Ciclón de La Habana to hit Mexico & Canada
David Calzado y la Charanga Habanera are keeping busy these days. This Sunday, October 21 they will perform in Mexico City at La Meson. The venue is located on Calle de Medellin just a few doors down from El Rincón Cubano. The event begins at 8:00 PM. This is another chance for those living close to Mexico to take a Timba weekend to Mexico and see one of the hottest timba bands en vivo.
But that's not all! In November El Ciclón de La Habana will hit Canada. November 8 they will play at L'Ozone Ste-Foy, 2800 Boulevard Laurier, Québec. DJ Melao has all the details because he will be behind the turntable to provide the music!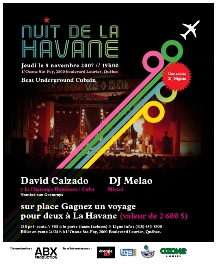 November 9 the charangueros move on to The Docks in Toronto. Interestingly, ex-charanguero and founding member of Charanga Forever Jorge Maza leads the opening band, Típica Toronto, which begins playing at 9:30 PM. Zona Franca will also make a special appearance. For more info see http://www.cubaintoronto.com/.
So, my poor US timbero brothers and sisters, if Mexico is too far away for you, maybe Canada is a better option for your Timba getaway. To prepare yourself for the concert, check out the latest Charanga Habanera video, Chico Caramelo, from their popular new CD El Rey de Los Charangueros. It's pretty funny and filmed at the beach in Cuba. It starts with the singers buried up to their necks in the sand. But don't worry, the five-man singer/dancer line-up does show their dance moves later.
La Charanga Habanera
Chico Caramelo from El Rey de Los Charangueros

Tuesday October 16 2007 - Clinic with Calixto Oviedo & Omar Hakim in November
The Artist Factory and Music Megastore have arranged a percussion clinic in Mardid and Barcelona guaranteed to make a percussionist drool. It features Omar Hakim, Calixto Oviedo. Pedro Vega, Manuel de Lucena (flamenco) and Ramón Gonzales. The clinic takes place on in Madrid at Sala TAF on Saturday, November 10 and moves to La Nau en Viu in Barcelona on Monday, November 12.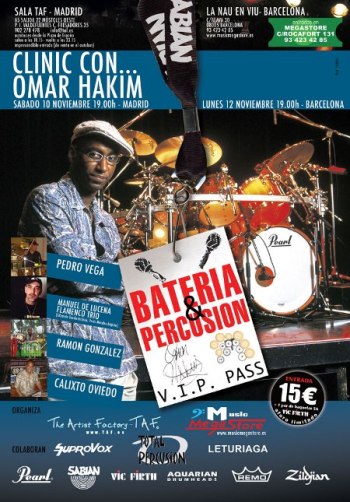 Monday October 15 2007 - Pupy y Los Que Son Son Tour
The band has performed the first few concerts which I've heard were great. Hopefully we'll have a report form someone soon. In the meantime they play tomorrow in Paris at Back up. The Paris audience is great so it's worth the trip to see them there. They will also be playing a number of dates in Italy. Click here for the full concert schedule.
PUPY EN PARIS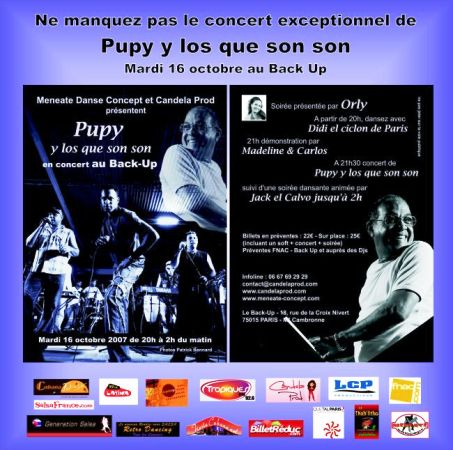 Pupy en Paris mañana - no lo pierdas
PUPY EN LECCE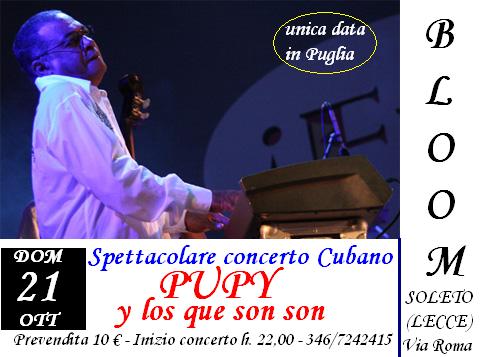 Monday October 8 2007 - Killing Time in a Bar with Salsa Mayor
I still have 6 concerts to write about in the Tour Report but Salsa Mayor will be back in Europe in less than a month. Since I doubt I'll have time to finish before they arrive, I'm skipping ahead to an interview I did with some of the guys on the ferry between Naples and Palermo.
We had 10 hours to kill and not much to do. So I took my camera to the bar where some of the guys were sitting and started filming. It wasn't so much an interview as a conversation. I would ask a question and everyone who had something to contribute would put in their 2 centavos. It was fun, relaxed atmosphere, aided no doubt by the beer and varios tragos de ron. Some of the discussions are quite interesting, like when Maykel explains the origins of the song Recoge y vete, and others are just silly, like when Pepe sings Pepito tú eres como una fiera.
I would like to transcribe and translate it someday for people who don't speak Spanish, but it's 35 minutes long so that will have to wait. For now, those who understand Spanish can click here to watch the conversation in a bar with Salsa Mayor.
Monday October 8 2007 - Leonardo's First Solo Concert Sold Out Twice Over
Granted he's singing ballads not timba, but Leoni Torres is a favorite singer of many Timba fans who are also interested in his solo project. TimbaTV posted the following report at the Timba Geeks forum about his first solo concert at Capri:
from an email regarding Leonid, aka Leoni aka "Leonardo":

Translation: Leoni performed at the Capri and they say that it was completely
full and outside there were enough people to fill it up again, all the musicians
of the Charanga were there including David Calzado and Lazarito Valdes, etc.
They say it was really nice.

te dire que Leoni toco en el capri y dicen la gente que se lleno completo y
afuera quedo publico suficiente para llenarlo de nuevo, estaban todos los
musicos de la charanga hasta david, lazarito valdes, etc. Dicen que fue genial.
And if you have watched it yet, check out the video interview with Leonardo at Locos por la salsa. It is specifically about his solo project.
TimbaTV Live Timba Videos
TimbaTV continues to bring us up-to-the-minute high quality video/audio of live timba. Recent videos include Manolín live in Hialeah and Maraca live at King King.
Melao Updates
DJ Melao has also posted photos and live video from the Latin Grammy's concert in Miami with Issac, Manolín Carlos Manuel and a surprise guest. Click here for his report and don't forget to vote in the poll for Best US Timba Group! Right now Danny Lozada has a comfortable lead.
Tuesday October 2 2007 - Locos por la Salsa Interviews with Leonardo and Pepito
The Italian site Locos por la salsa has two new video excellent and very interesting interviews. The first was done by Michela with Leoni Torres (in Spanish with Italian transcriptions). The interview was about his solo project where he is using his full name to differentiate this work form his work with La Charanga Habanera. Well, watch the interview to find out more about his name, how the project came about, who he worked with and when it will be released...everything you need to know.
The second interview was done by Roberta "Besito de Coco" at the home of Pepito Gómez (in Spanish with an Italian summary). This is a cool black & white video to get that 1950s Havana feel. He talks about the split and return to Pupy y los que son son. He's also been quite busy working on the new Los Que Son Son CD, a recording with a rapero, a recording with Charanga Latino. Pepito even picks up his tres and gives us a little tumbao and a coro for Besito de Coco.
You can see Pepito in Europe soon on the Pupy y Los Que Son Son Fall 2007 tour. I hope they bring the new CD with them!
Monday October 1 2007 - Tumbao Habana Going to Peru
Chico Timba Peru has updated his blog with info about an upcoming Tumbao Habana trip to Peru. They will be in Lima from October 25th for several shows. If we get more information about the performances we'll let you know. Click here for a short interview with Pascualito (in Spanish).
martes, 22 marzo 2011, 07:32 pm