Indice - Table of contents
New Stuff
[hide]
Photos of the Day
[hide]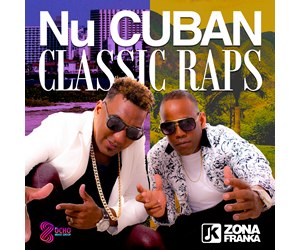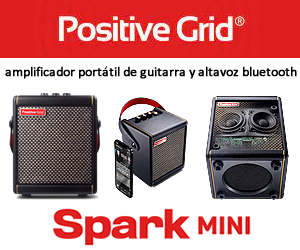 Michelle White - Timbera Archives July 2007
Tuesday July 31 2007 - Klímax Concert Review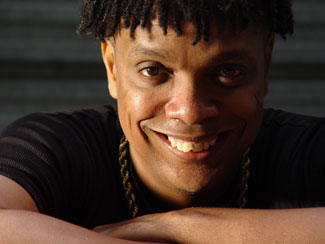 Giraldo Piloto - Best Timba Drummer
Klímax have just completed a short tour of Sweden and Denmark. Here they were playing so close to my hometown, and I missed them because I was on the Salsa Mayor tour. Well, you can't be in two places at once, but thanks to a review at Salsa-Dj.dk (in Danish) we can get an idea of what the Horsens concert was like, and despite problems with the sound system, the band was electric and won over the reviewer, who was not much of a fan before the concert. Oh, and apparently the arrangers played Country & Western music during the break???
Now, I suspect that there are some of you who are not fully proficient at Danish, so I have added an English translation below. Fortunately my sister, who is fluent in Danish, helped me in the rough spots so I think this as a pretty good translation. Thanks Pamela.
KLIMAX IN HORSENS (July 07) - review from Salsa-Dj.dk
Super fantastic concert with Cuban Klímax. Thank you! What a bang of a concert. Total energy discharge in the middle of Horsens. It's been a long time since I've seen and experienced such a good concert. My feet simply didn't stand still for the 2½ hours it lasted. I didn't have big expectations of Klímax. Having heard their last album from 2004, Nadie se parece a ti, and I didn't think that it would be this wild concert. The man behind Klímax, Giraldo Piloto, is one of the great figures of Cuban music – he was co-founder of what became the legendary NG La Banda in which, for example, Issac Delgado and many other Cuban musicians have started their musical careers. Giraldo Piloto has both written hits for Charanga Habanera and been musical director of the previously mentioned Issac Delgado. I admit that the band has never done a lot for me, and I seldom play Klímax out in the salsatecs. But that is going to change.
Yes, I risk my hide and say that this concert was the concert of the year and also of the previous year. The concert started with a catastrophe of sound where the whole sound mix was out of balance. But it was corrected right away – but the sound was never really optimal. But the further we got into the concert, the less it mattered – because the 3 front figures did their job perfectly. A happy and high spirited band that kicked A... Himself Mr. Giraldo Piloto, gave the drums a good thrashing and also ran around on stage himself in wild dancing together with the 3 boys who really showed how to get the girls to scream… Chippendales GO HOME:-)… there were old well-known numbers such as Oye Como Va and the band ended with 2 super fat reggaeton numbers by Daddy Yankee... 10 stars to Klímax. I am happy that the group will hopefully release a new CD soon –and a tip to the concert arrangers: Next time you bring a salsa band to town, don't play country & western music during the break…it is bad taste. /Salsani July 07
Monday July 30 2007 - More Mayor
I finally got all my video downloaded onto my computer and I hope to begin publishing my tour memoirs very soon. In the meantime let me leave you with yet another estreno by Salsa Mayor, Anda pégate, which may also be the name of the upcoming CD by Maykel Blanco y su Salsa Mayor, or maybe it will be "La máquina llegó" or maybe something completely different...
This video is taken from the Modena where they were called back on stage and performed Anda pégate as the encore. Ahem...if the video gets a little shaky at times it's because I couldn't stop myself from dancing. Sorry about that.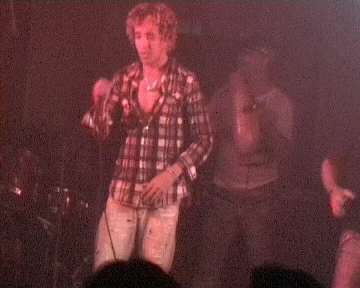 Ricardito viene barriendo con to'
Saturday July 28 2007 - Manolito, Eddy-K and NG la Banda in Spain
In past years Spain has had surprisingly few timba concerts. But this year we are seeing more of Cuba in Spain. The Mas i mas festival in San Miguel runs from July 24 - September 9 and will feature Manolito y su Trabuco and Eddy-K on July 31. NG La Banda will perform August 1st. For details click here.
Photos, Photos & More Photos
Wow! The guys at Fiestcubana.net keep uploading more and more and sharing their great photos with Timba.com.
Indochino has uploaded some fantastic black-&-white pictures from the Los Van Van concert in Enghien-Les-Bains on March 9th as well as the Manolín concert at Backup on March 24th.
Pat Bonnard has continued to go through his pictures from Havana spring 2007 and has sent us behind-the-scenes photos of Feliciano Arango, David Calzado, Leonle Limonta and Azucar Negra and Los Van Van. He has also uploaded photos of Azúcar Negra at the Seyne sur mer festival to fiestacubana.net.
Click the pictures below to see the photos for each group.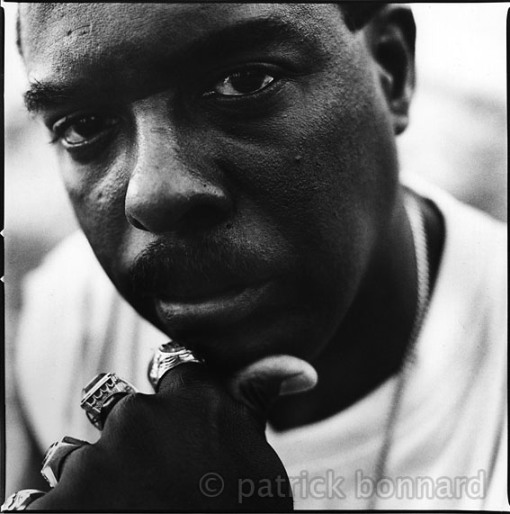 Feliciano Arango - Best Timba Bassist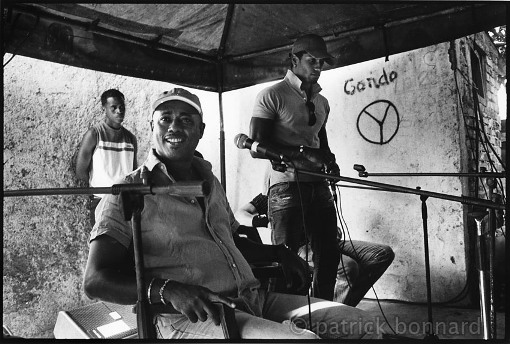 David Calzado & Juventino rehearsing in Fanguito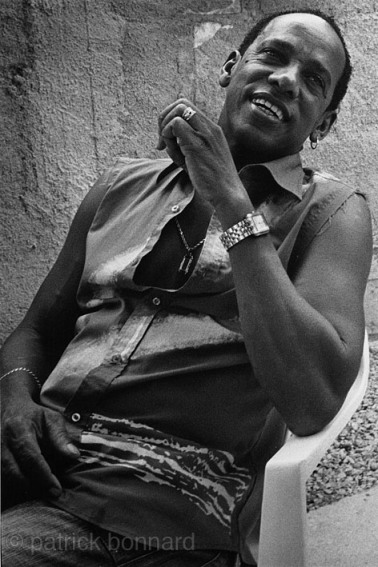 Leonel Limonta & Azúcar Negra filming video for La Palabra
Thursday July 26 2007 - Gilito Moving Into the US Market
Gilito recently signed a three-year contract with Envidia records which has released his CD Timbeando con Gilito as part of the Cuban Roots series. Timbeando con Gilito is now available at Descarga and Prodland. But more than that, the program "Cómete la Manzana" on channel 19 in Miami is using Timbeando as their theme song. Gilito is also preparing a tour in the US beginning in Houston on September 2 and running through September 22. We will post more information about the concert locations when we have them.

Timbeando con Gilito
Manolito in London this Weekend!
Don't forget that Manolito will be playing at The Coronet on Sunday July 29. This is one opportunity you don't want to miss! El Trabuco is on fire! There will also be a dance performance by double world champion casineros Rafael and Janet. Concert details below: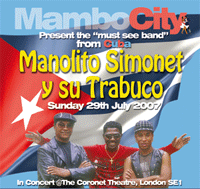 Sunday 29th July
The Must See Band From Cuba
Manolito Y Su Trabuco
Manolito Simonet 16 piece band,
Live @The Coronet, Elephant & Castle
Supported by The Uk's Top Cuban DJs
Doors open 7pm, Salsa Class 7:30
Band on Stage 10pm
Followed by Dancing til 2am

Price: £20
Purchase tickets via
http://www.ticketweb.co.uk
Box Office 0870 600 100
http://www.mambocity.co.uk/manolito.htm
Tel: 07017472572
Wednesday July 25 2007 - La Charanga Habanera en Catalunya
Reportaje por Rubén López Cano

El 21 de julio pasado la nueva Charanga Habanera (con la mitad de los cantantes renovada y sólo con Leoni y Aned del cuadro anterior) ofreció un concierto cerca de Barcelona en una población llamada Vilanova i la Geltrú. Esta es conocida también como "la petit Habana" porque muchos de sus pobladores emigraron a Cuba durante el siglo pasado y es notoria la influencia arquitectónica de los "indianos".

El concierto comenzó con una inusitada y extraordinaria descarga de jazz latino ejecutada por la sección instrumental. ¡Algo imposible de hacer en Cuba pues el público de la isla quiere bailar de inmediato!!

La banda aprovechó el concierto para dar a conocer algunos de los números del nuevo disco. Calzado sigue combinando bases rítmicas de regetón (a la que sabiamente le quita los acentos más característicos) con los arreglos de metales de funk y la balada romántica.

Como de costumbre invitó a varias chicas del público a bailar en el escenario el tema "esa es mi charanga" mejor conocida como "la camisa negra". El asombró fue muy grande cuando una catalana ejecutó el tembleque como si fuera una cubana. Al terminar la intervención de las chicas se fue la luz del escenario y todo quedó oscuro, no se podía ver nada en el parque donde fue el concierto. La banda nunca dejó de tocar. Entonces el público comenzó a corear a ritmo "quien apago la luz"… inmediatamente David Calzado retomo el coro y le agregó "yo creo que fuiste tú". Con este nuevo coro y siempre a oscuras, la banda inició un nuevo ascenso con masacote, bomba y despelote incluídos… hasta que llegó la luz y pudieron regresar a su espectáculo habitual.
Estuvo de lujo!!
Saludos!!
Tuesday July 24 2007 - La Máquina Se Fue
Yesterday, after a very successful maiden tour, Maykel Blanco y su Salsa Mayor returned to Cuba. Fortunately they are already working on plans for a fall tour. I hope it pans out because fans in Northern Europe still haven't had the chance to see the band live, and I want to see how we here in Stockholm compare to the locos in France and Italy.


Live, Desde la casa de la Música
I will be spending the next couple of weeks editing the video from the tour and working on the full-length report. In the meantime, those who have never seen a Salsa Mayor concert can share the experience, and those who saw them in concert can relive the experience, with the recently released live album, Live, Desde La Casa De la Música. It is available at prodland.com and descarga.com, and maybe at other sites as well.
Live, Desde La Casa De la Música contains five songs from Recoge y vete, including the monster-hits Esto está and Recoge y vete as well as a potpurri from Maykel's first CD with Suprema Ley and two estrenos: La masa and Control, which you may have already heard via your local DJ. Click here for a review of the new CD, including short clips from the two estrenos.
El Noro singing La Masa in Pamiers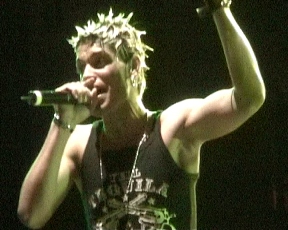 Sé que soy su bombón, su caramelo, su galletita
Ay mamá, la temba quiere que le den, la temba quiere salsita
For more of that "live" feeling, here is some live video of La masa from the concert in Pamiers, France, July 14, 2007. Unfortunately my audio can't compete with that from the CD, but hey, you take what you can get.
Thursday July 19 2007 - Speaking of El Tosco...
Photographer Pat Bonnard took some amazing photos while at Cubadisco and in a example of excellent timing just sent us a few, including El Tosco, Mandy and Pepito. So to see a few pictures of the man of mystery who is El Tosco, click here.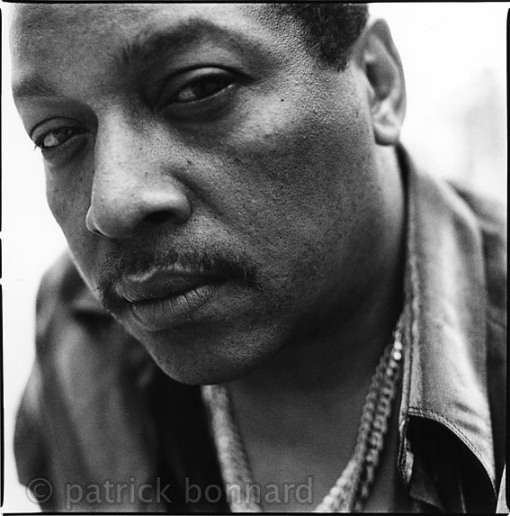 The man, the mystery - El Tosco
Tuesday July 17 2007 - Indochino's Salsa Mayor Photos at Fiestacubana.net
Indochino has now posted more excellent photos of Maykel Blanco y su Salsa Mayor from the Paris concert at Fiestacubana.net. To see his slide show, click here.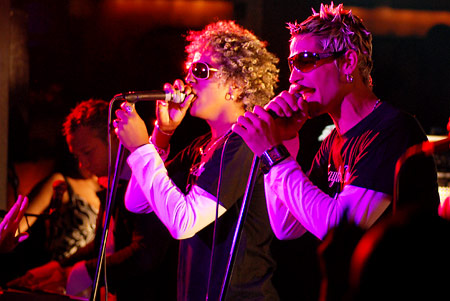 Photo used by permission ©Indochino at fiestacubana.net
On Tour with Salsa Mayor Journal Updated
I have added the Pamiers and Ghent concerts to the journal now and will keep working on the full-length report. I will also try to get s a few pics and some more video up before I leave again to catch the end of the tour.
Tour Schedule Updates
As the tour season progresses we are getting more information about upcoming concerts. The latest updates are for Azúcar Negra, Orquesta Revé and Issac Delgado. Check for a concert near you!
Thursday July 12 2007 - Ella dice - Estreno 2007 Salsa Mayor
Tomorrow I leave at 4:45 AM to start my trip to meet up with Salsa Mayor who are tonight enjoying themselves at the Charanga Habanera concert at Fiesta in Rome. I have to pack so I have no time to finish even the beginning of my full-length report. But I want to leave you all with a clip from the Salsa Mayor concert in Zürich.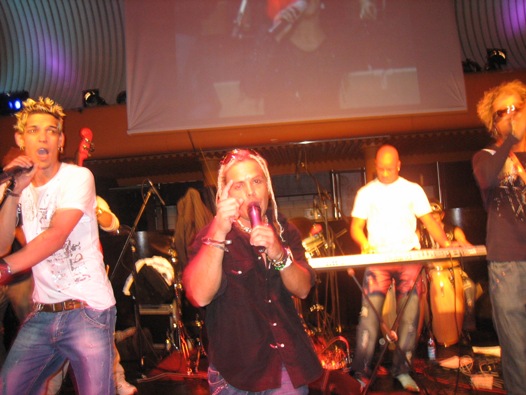 Norbe singing Ella dice at Cubanito in Zürich
Ella dice is one of the songs that will be on the next Salsa Mayor album and it is already a favorite of mine. Unlike the demo version, which you can hear at DJ Melao's blog, they have been starting the song off in concert with a ballad intro that is absolutely gorgeous. In fact, I and many of the musicians are often singing this song in the bus, especially Jaime, the conguero.
So here's the plan. I want everyone to watch this video until you memorize the lyrics so you can surprise the band by singing along at the concerts. And notice when, just before the coro, Norbe says "Jaime!", it's a joke refering to how much Jaime had been singing the song. Click here for the broadband version and prepare yourselves for a concert near you. And if there isn't a concert near you, just go somelpace where there is one. That's what I'm doing.
Wednesday July 11 2007 - A Clip of Salsa Mayor in Paris
I have begun to work on my full-length detailed report complete with photos and video, and I probably should wait and do things in chronological order. But just watching the videos gives me an adrenaline rush of reliving the concerts, so I decided to upload a clip of Salsa Mayor performing Recoge y vete in Paris.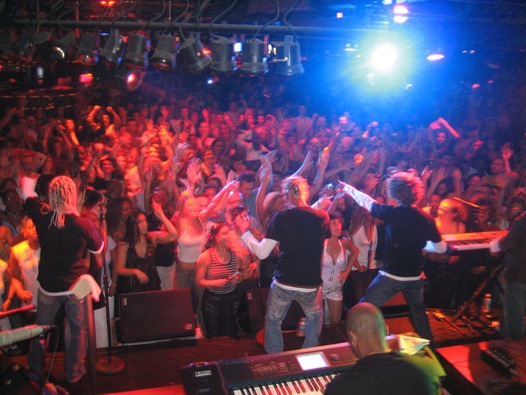 Salsa Mayor at Back-up in Paris
Things to notice in this video:
1) As soon as Maykel plays the first chord of the song the audience recognizes it and reacts immediately. You'd think it was the 50s and they were the Beatles.
2) I did an audience close up because there were so many cell phones and digital cameras up in the air for this song.
3) Then at about 2:55 minutes Maykel calls out to the guys to let the audience sing so they repeat the section, and the audience does indeed know all the lyrics.
4) At 4:40 when it's time for "Eh, se acabó" the audience yells it out without any prompting.
Click here to watch the broadband version. Yes, yes, I know. It's filmed from behind again, but while it didn't give the optimal audio, it certainly gave me a good vantage point to get the audience in the picture. Honestly I've never seen anything quite like it before. These Paris concerts are HOT! If you get the chance, catch a timba concert in Paris. A guaranteed good time.
Tuesday July 10 2007 - Tour Updates
Salsa Mayor are not the only band on tour in Europe right now. La Charanga Habanera begin their first tour with the new singers on July 12th. Their schedule has recently undergone some changes so click here for the latest.
Maraca has also added some new concerts to his tour so click here to see if he will be performing in a city near you.
We have also received some new dates for Los Van Van and Gente d'Zona in Spain and Azúcar Negra and Adalberto Álvarez in Germany.
Monday July 9 2007 - Home for a Week
I have to go back to my real job for a while so I will start uploading pictures and videos from what has happened thus far on the tour. Unfortunately I will miss the concert tomorrow at Fiesta in Rome as well as the one at Latina. I hope to hook up with them again for Toulouse and Polé Polé in Belgium.
In the meantime here are a few pictures from the concert in Paris courtesy of Indochino of fiestacubana.net.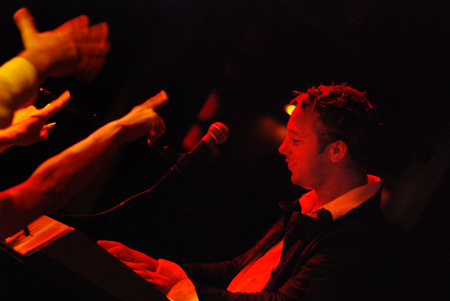 The people's reaction to the first notes of Recoge y vete
© Indochino fiestacubana.net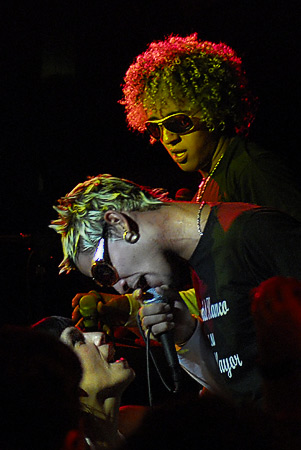 El Noro singing to la fanatica
© Indochino fiestacubana.net

Ricardito, El Noro and Norberto
© Indochino fiestacubana.net
Stay tuned for more photos, videos and recollections as I rest up for the next leg of the tour.
Tuesday, 22 March 2011, 07:32 PM