Indice - Table of contents
Lo Nuevo
[hide]
Fotos Del Día
[hide]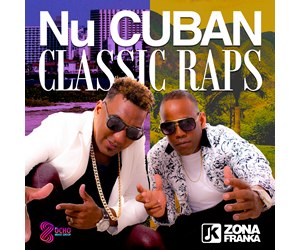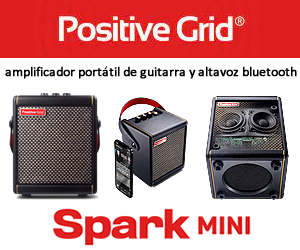 Michelle White - Timbera Archives September 2007
Tuesday September 25 2007 - Official Music Video of the 2007 Summer Tour - Maykel Blanco y Su Salsa Mayor
My fellow Timba fans, I have just taken a step into a world that will soon make me rich and famous...or not. But let me digress. I got the idea on the way to Luxembourg. I was sitting at the back of the guagüita listening to Anda pégate on my iPod and watching the countryside pass by, when suddenly it occurred to me that the rhythm of the highway passing by fit the rhythm of the song. And even the lyrics, lines such as "Ya llegó, la máquina llegó. Viene barriendo caminos" and "Sí, no es tarea fácil alcanzar un sueño" , seemed to fit the occasion of the first tour for this young band. So I decided that I would like to make a real "video clip" as they call them in Cuba. I wanted to take the audio from the Anda pégate promo and overlay video scenes from various moments of the tour. I just didn't know how to do it.
Finally the other day I decided to see what I could do with the basic video editing program I have at home. It took me a while to figure it out since I didn't want to do anything as vulgar as read the manual. But after 4 hours I finally ended up with a finished product that I uploaded to an undisclosed location. I sent out links to various test subjects, including my mother. After their feedback, especially from Mom, and some minor changes, I feel ready to release my first video clip to the public. And don't worry, I got Maykel's permission to use the audio from the demo so it's all OK. Let's hope that this is only the first of many timba.com/artist collaborations.
The clips are almost all available in the tour report, so if you've been following along, you will recognize the moments, if not you can always check out the report which will continue when I get my harddisk fixed. So without further ado Timba.com & Salsa Mayor bring you the Official Video Clip of the 2007 Summer Tour!
Timba.com & Salsa Mayor Official 2007 Summer Tour Video Clip
Music: Anda pégate by Maykel Blanco
Video: Michelle White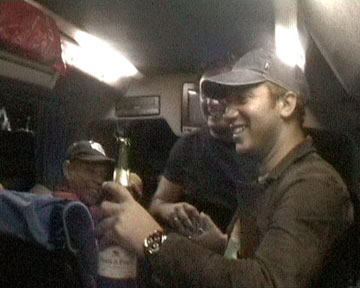 Sunday September 23 2007 - Salsa Mayor Third Anniversary Concert
In the second half of October Maykel Blanco y Su Salsa Mayor will celebrate their third anniversary with a special concert at La Tropical. The band has been extremely successful developing a strong following among dancers in a very short time, rapidly moving into the "big league" with their mega-hit first CD Recoge y vete followed by a successful tour of Europe. We will give you more details about the anniversary concert as they become available.
In the meantime you can catch them live every Monday at the Matinee at Casa de la Música Miramar (from 5:00 pm) and every Wednesday for the night show at Casa de la Música Habana (from 11:00 pm). They are also organizing the songs for the next CD, which I've been told are specifically selected for dancers and for those who just like to listen.
Love at First Sight - Salsa Mayor in Lecce, Italy
I need to hurry up with the tour report because Salsa Mayor will be back in Europe in November and I really should be done with the report before they arrive. So here is the report from Lecce. This was a special concert for many reasons. First, it seemed like we would never make it when we got lost in the Italian countryside for two and a half hours. Second, it was the premier concert of Salsa Mayor in Italy, which made it a night to remember for the guys. It also featured an unexpected performance by Arlenys and some of her musicians who joined in on Recoge y vete. And last but not least, the band was awarded the prize for Best Timba Cubana Group 2006/2007 which they won in an Internet vote at salsalento.it. What a night!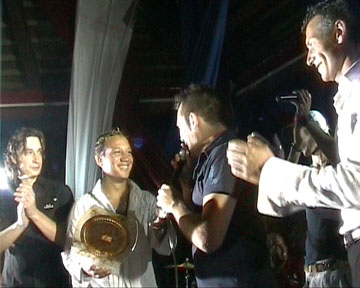 Maykel recibe el premio por Mejor Agrupación de la Timba Cubana 2006/2007
Click here to read the report and watch the accompanying video. And stay tuned for the Official Timba.com + Salsa Mayor 2007 Summer Tour Video Clip which will be coming in just a day or two.
Saturday September 22 2007 - Timba in North America
My computer has suffered yet another harddisk crash which once again slows down my Salsa Mayor report. I hope I still have enough video to complete Lecce tomorrow. In the meantime, Kevin is off with El Pikete for the weekend, but I just wanted to remind you all about other upcoming concerts in North America. I'm sure I'm missing something, but Kevin and Melao will no doubt fill in the blanks.
Danny Lozada at SOBs in New York September 28
Pedrito Calvo & Hilario Duran at Lula Lounge in Toronto - September 30
Maraca at:
Mariachi Festival San José - September 28
Yerba Buena - September 29
King King in Hollywood - October 2
Chuchito Valdés in California - October 4 - 7
Yoruba Andabo Canadian tour - October 12 - 28
La Charanga Habanera at The Docks in Toronto - November 9
Giraldo Piloto at Lula Lounge in Toronto - November 16 - 17
New Poll - Best Charanga Habanera Singer
Melao's new poll is on the hot topic of Best Charanga Habanera singer. Don't miss your chance to add your 2 centavos. Click here to vote!
Thursday September 20 2007 - Pupy y Los Que Son Son Tour Schedule!
Finally we have uploaded the confirmed concert dates for Pupy y Los Que Son Son to the tours section! Keep checking because a few more dates will likely be confirmed soon.
Interview with Geppo of Salsalento.it (in Spanish)
Coincidentally I see that Pupy y Los Que Son Son will be playing in Lecce on October 21st. It just so happens that I have uploaded an interview with Geppo, the man behind the Salsa Mayor concert in Lecce this summer.
Geppo is a DJ and also works with the site Salsalento.it. He is a big fan of timba and casino and, in addition to Salsa Mayor, has worked with such artsist as Haila and Adalberto Álvarez in the past. He told us that Lecce was very heavy into timba and that in Italy the song Recoge y vete was "love at first sight".
Click here to watch the interview and learn a little about the state of timba in the Lecce/Salento area.
Tuesday September 18 2007 - Orquesta Maravilla de Florida in Europe
October is set to be a great month for timberos in Europe. Not only is Pupy on the way, but Maravilla de Florida will be touring Europe for 1 week. This charanga has been around since 1948 and as with other long-lived Cuban bands, has managed to renew itself through the years. I haven't heard their 2005 release Luchando con fe but Gabriel of Yemaya's Verse waxed lyrical about it in her recent review and she and I generally share the same taste. Some names that should be familar to timberos are Manolito Simonet, formerly the pianist and musical director, Pepito Gómez of Pupy y Los Que Son Son and Leoni Torres who moved from Maravilla to la Charanga Habanera.
I hope I can make a trip to finally see them myself at one of the concerts on their short European tour in October!
More Photos of the Festival Varadero
Tom Bauer sent us another batch of photos from this incredible night featuring Azúcar Negra, Eddy-K, Manolito y Su Trabuco, Elito Revé y Su Charangón and Willy Colon on his farewell tour. So click here to see 4 pages of great new shots. This festival is a must-see for me next year!
Sunday September 16 2007 - Soneros All Stars Release Free Download of El Maraquero Today!
Soneros All Stars have been finishing the mixing and matering of the new CD La Timba Soy Yo. Today they have released the first single in it's complete mixed/mastered form for free download at http://www.soneros-all-stars.com. I hope this means we can expect the entire CD soon!
Calle Real in Venezuela
Calle Real has been invited to the 3rd International Salsa Week in Venezuela for the dates October 19-21. This will be Calle Real's first meeting with the Venezuelan audiences and they are very excited about it.
Report from Festival Varadero in Essen, Germany
This was one festival I really did not want to miss, but unfortuantely I did. It featured Azúcar Negra, Eddy-K, Manolito y Su Trabuco, Orquetsa Revé and Willy Colón on his farewell tour. Fortunately for us Tom Bauer was there and sent us several pictures as well as the following comment about the concert: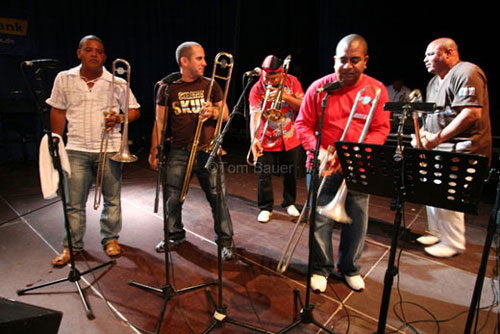 Orquesta Revé featuring 5 trombones
©Tom Bauer used by permission
Remarkable was that a friend of mine played trombone with Revé 12 years ago. Also he was the musical director of the orchestra. His name is Ardiles Ruiz. He lives here in Germany. You can see him on one of the photos in the background in the middle. So Elito was very happy to meet him again and introduced him (and his band collegue) spontanously to play with them. 5 Trombones! Could you imagine?
Also remarkable was the change between Manolito and Reve. Manolito started with ui ui ui que veo and then changed all bandmembers step by step during the song. Amazing. They all played fantastic.
Click here to see Tom's photos from the Varadero Festival.
Oviedo Family Update
We have updated Calixto Oviedo's tour schedule. He is doing both timba concerts and latin jazz concerts. He will also be in the US during January/Feburuary 2008 teaching masters classes in percussion at Berklee Collge, as well as touring with the Afro-Cuban All Stars USA:
In other Oviedo family news, Yarién Oviedo has joined the Matanzas-based rap group Cubano New Boys, who are performing every Wednesday-Sunday at Cuba Café in Malmö, Sweden. Lily Hernández has also started her own group performing soul, bossa and R&B.
Saturday September 15 2007 - Salsa Mayor Tour Report - All Roads Lead to Rome, July 5-6
So the last report ended after another great concert, this time in Zurich. Now the band had to get from Zurich to Lecce in southern Italy for what would be the historic first-ever concert of Maykel Blanco y Su Salsa Mayor in Italy.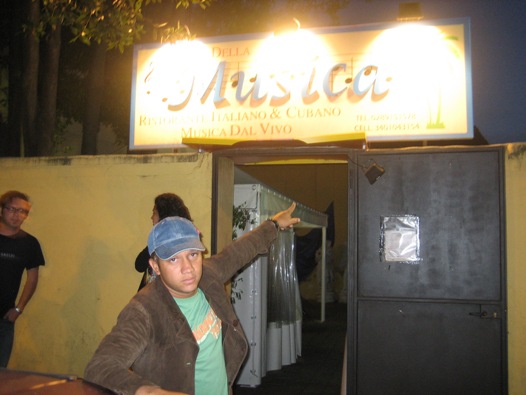 Maykel outside Casa Della Música Milano
It was a 20 hour trip with a 2 hour break for dinner at Casa Della Música Milano. The dinner included music by a Cuban trio, Los Amigos Cubanos, and of course Los Mayores couldn't resist the chance to get up and perform a little as well. Some of them also danced casino and I got to experience first had that they are very good dancers. It was a very nice break and a chance to see the guys just relax and have fun. Click here for the report on the trip to Rome.
Stay tuned for the trip to Lecce, which included 2.5 hours lost in the Italian countryside, and a fantastic concert with a couple of surprises.
Friday September 14 2007 - Timba in Paris
The Paris/Havana connection contiues to be strong. The first concert date we have for Pupy y Los Que Son Son is October 16 at back-up in Paris. This concert is once again organized by Orly Solomon who did the Calle Real and Salsa Mayor concerts. I feel confident in guaranteeing that this will be a fantastic concert. In fact, I will try to go myself if I can manage.
Orly knows how to arrange a good concert because she is not only a fan but also a musician. In fact, she recently spent some time in Havana where she met up again with the guys from Salsa Mayor. While she was there Maykel composed and arranged a song for her to sing, which she recorded with Los Mayores in Havana. The song is called Ya verás, ya verás and I would call it a modern son rather than timba. If you go to the Pupy concert in France, you may just hear it there.
We should have the rest of Pupy's concert dates very soon so check back with us.
Speaking of Salsa Mayor...
Maykel is now finishing the arrangements for the new album and hopefully they will find time to record later this fall. However, there are already rumors that they will be back on tour before the end of the year, so they may simply not have time to get into the studio. Meanwhile, if you are in Havana you can catch them every Wednesday night at Casa De La Música Habana in Galiano. If you are in el campo, you might get lucky too. Tomorrow they play in Jaruco.
And for those of you who are stuck in la Yuma with no hope of seeing them live at all until 2009, I will be continuing with the Tour Report this weekend. If you haven't been keeping up, take some time today to read the sections you've missed and watch the behind-the-scenes videos you haven't seen in preparation for the first Italian concert of the tour: Lecce!
Sunday September 09 2007 - Entrevista con Maykel Blanco
If you've been following the Salsa Mayor tour report, you hve now made it with us through the Zurich concert. July 5 was spent on the road traveling from Zurich to Rome. I took advantage of the opportunity to ask Maykel a few questions about his initial impressions of the tour. While I work on the next installment in the tour report, click on the image below to watch this short interview filmed on the bus as we were leaving Zurich (in Spanish).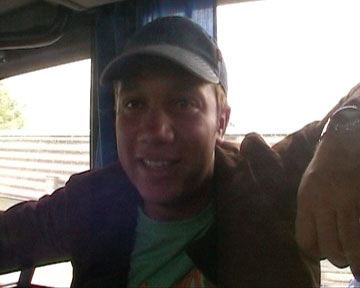 Maykel talks about the tour thus far
Saturday September 08 2007 - Los Mayores En Suiza
July 2-3 were days off for Salsa Mayor. July 2nd was spent mostly on the road between Paris and Zurich. It turned out to be a 12 hour trip. Funny how tired you can get from sitting still for hours. The 3rd was spent shopping and July 4th was the concert at El Cubanito.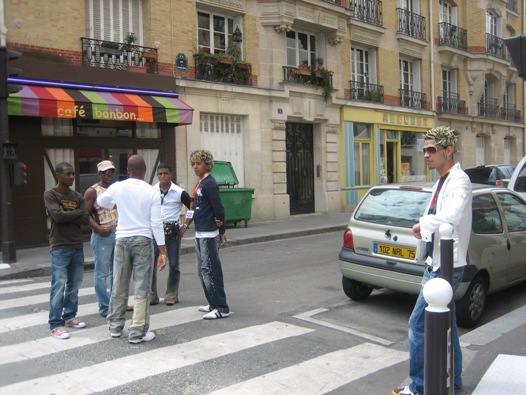 In Paris waiting for the bus to Zurich
This report features video shot by Los Mayores themselves during a rest break on the way to Zurich, as well as an exclusive preview of a Salsa Mayor estreno in the very first stages of arrangement. Or maybe it was arranged but Maykel was just beginning to teach it to the singers. I call it Marisela, you'll see why, and I hope it will be on the new studio CD. I like it already.
So click here to see what the trip was like and how Salsa Mayor spent the 4th of July. And let me apologize already for my poor Spanish, but it was 12:10 in the morning so give me a break!
Friday September 07 2007 - ¿Dónde Pupy Va a Tocar?
People have been asking about the tour pf Pupy y Los Que Son Son, which was originally scheduled to begin in Septermber. I am happy to announce that it has not been cancelled, but delayed. The tour will now take place from October 10-29. We should have the concert dates for you shortly. So don't let the grey, rainy European autumn get you down que ahora viene Pupy con la inyección de sabor pa' curarte tus dolores. Click the image below for a little taste of Pupy live from the Timba.com video archives.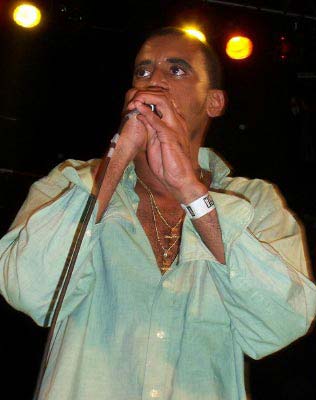 Mandy cantando De La Timba a Pogoliti
Timba at YouTube
YouTube has turned out to be a treasure trove for Cuban music fans. If you haven't tried it yet, don't waste another minute, well wait till you read down to the part of this post that has the links anyway. If you are looking for music video you'll find everything from vintage NG La Banda and Los Van Van to the latest Eddy-K, Telmary and Salsa Mayor. There are also rumba videos, drumming technique videos, changüí, son...a veritable plethora of Cuban music genres.
But that's not all. If you're interested in dance you will find everything from casino to rueda to son to rumba...well you get the idea. Some are performance videos others are clips of social dancing and there are even some instructional clips. You can search for particular dance styles or for a particular dancer. For example here are the search results for Rueda and here are the results for Yanek Revilla.
Since search results are not always 100% relevant, here is a link to a large selection of Timba music videos at YouTube, I am proud to say that many of them are Timba.com videos. I recommend going by playlist band-by-band because they include links to videos uploaded by many different users.You can choose to watch the entire playlist like a show, or you can pick and choose one song at a time. YouTube will also suggest related videos that may not be part of the playlist.
This should get you off to a good start. Enjoy!
martes, 22 marzo 2011, 07:32 pm