Indice - Table of contents
Lo Nuevo
[hide]
Fotos Del Día
[hide]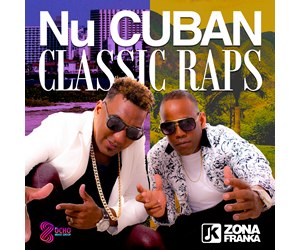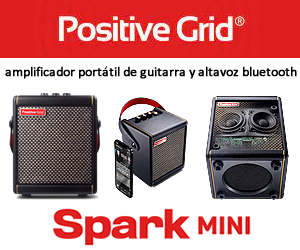 Discography - The 2000s
2003: En el malecón de La Habana
Concierto en vivo
Pimienta 245 360 556-2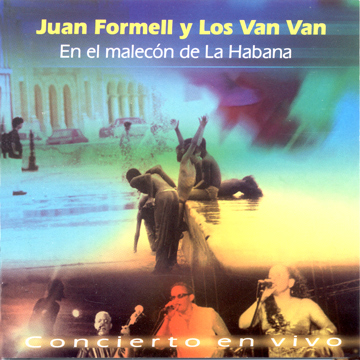 | | | | | | |
| --- | --- | --- | --- | --- | --- |
| tr | title | | composer | arranger | lead singer |
| 1 | Tim-Pop con Birdland | . | Formell-Zawinul | Formell | Mayito |
| 2 | Quién no ha dicho una mentira | . | Formell | Formell | Robertón |
| 3 | Soy todo | . | Formell-Machado | Formell | Mayito |
| 4 | Mi mimí | . | Formell | Formell | Yení Valdés |
| 5 | Esto te pone la cabeza mala | . | Formell | Formell | Robertón |
| 6 | Mi chocolate | . | Formell | Formell | Mayito |
| 7 | Qué cosas tiene la vida | . | Pedroso | Pedroso | Lele, Jr. |
| 8 | Temba, Tumba y Timba | . | Pedroso | Pedroso | MayitoRivera |
| 9 | El sol natural (repris) | . | Formell | Formell | Mayito |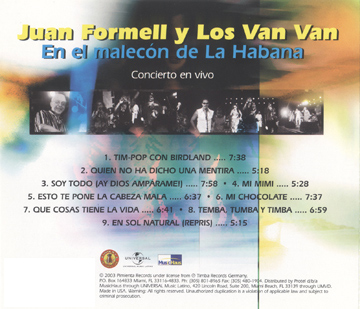 The departure of Pupy, Formell's ill health, and frustrating battles with the bankrupt Havana Caliente label resulted in 4 years of very little productivity. This live album contains two new Formell originals - Tim-Pop con Birdland and Mi mimi and the last song Pupy wrote before leaving, Qué cosas tiene la vida, which he himself recorded as the title track of his first album after leaving. The live versions of earlier songs are great to have and it's very interesting to hear the virtuosic Cucurucho pay homage to Pupy's style while adding subtle nuances of his own. It's also interesting to hear Mayito's take on Mi chocolate, originally sung by Pedrito.
2004: Chapeando
Unicornio CD 8026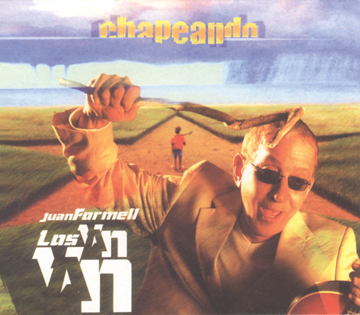 | | | | | | |
| --- | --- | --- | --- | --- | --- |
| tr | title | | composer | arranger | lead singer |
| 1 | Chapeando | . | Formell | Formell | Robertón |
| 2 | Corazón | . | S. Formell | S. Formell | Lele, Jr. |
| 3 | Después de todo | . | Formell | Formell-Cucurucho | Yeni Valdés |
| 4 | No pidas más presta'o | . | Formell | Formell | Mayito |
| 5 | Por qué no te enamoras | . | Fabré | Leliebre | Robertón |
| 6 | Te recordaremos | . | Ramón Jiménez | S. Formell-Luna | Ramón Jiménez? |
| 7 | Anda ven y quiéreme | . | Formell | Formell | Lele, Jr. |
| 8 | Nada (No me engañés ...) | . | Formell | Formell | Yeni Valdés |
| 9 | La buena | . | Cucurucho-Jorge Díaz | Cucurucho | Pedro Calvo |
| 10 | Agua | . | S. Formell | S. Formell | Mayito |
| 11 | Ven ven ven | . | Cucurucho-Jorge Díaz | Cururucho | Robertón |
| 11 | El montuno (Montuno sin complicaciones) | . | Formell | Boris Luna | Mayito |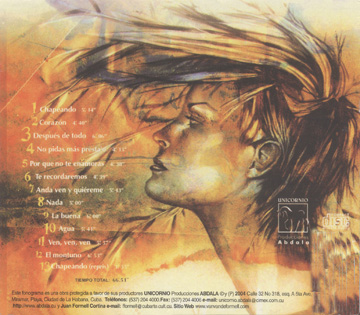 This album has two rearrangements of earlier Formell songs with different titles, and one with the same title, but a completely different song. Después de todo , unfortunately, is not the gorgeous haunting ballad from the second track of Volume III. Nada is No me engañes más, que tú eres nada, from El baile del buey cansao, and El montuno is El montuno sin complicaciones from Volume VI.
Samuell turns in two great originals in Corazón and Agua, the latter having an amazing arrangement even if its lyrics don't quite live up to his father's. The new Juan Formell tracks are all as great as ever: Anda, ven y quiéreme and No pidas más presta'o, and, especially, Chapeando. Pupy's replacement, Roberto "Cucurucho" Valdés contributes Ven ven ven , a song worthy of his legendary predecessors.
Michelle White's Chapeando summary and a link to her review: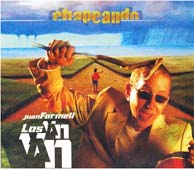 2005 Chapeando - This is the first studio CD to feature the new line up since the departure of César Pedroso and Pedro Calvo. Speaking of lavish packaging, this CD is almost worth buying for the cover alone which features art by some leading Cuban artists (note the front cover), lyrics transcriptions and 3 very interesting commentaries on the group and the album in both Spanish and English, one by Juan Formell. The newest singers are Lele Rosales and Yeni Valdés who each do an excellent job. Pupy was replaced by Roberto "Cucurucho" Rodríguez. Grandson of the legendary Bebo Valdés and nephew of Chucho Valdés he comes from along line of pianists and does not disappoint. Together with Jorge Díaz he also contruibuted two of Robertón's hit songs: Ven ven ven and La Buena . Samuel Formell also authored two hits on this album: Agua, sung by Mayito Rivera, and Corazón , sung by Lele. This album is Los Van Van moving forward, clearing new paths as it were, and letting the new generation of bandmembers show what they are capable of. I can't give you a musical analysis, but as a dancer let me list the songs that will get you on the floor time and time again: Corazón , No pides más presta'o , Por qué no te Enamoras (a Candido Fabré song), Anda ven y quiereme , La Buena , Agua , Ven ven ven and El Montuno . For more see my album report . [Michelle White]
2007: Live From Camagüey
Guataca GR-1001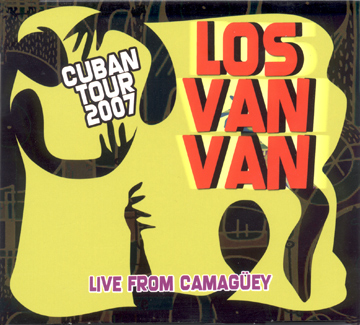 tr
title
composer
arranger
lead singer
1

Popurrí No. 2 :
Qué tiene Van Van
Deja la ira
Yo soy normal, natural
Eso dámelo a mí
Llévala a tu vacilón
Qué sorpresa
Qué cosas tiene la vida
Mi mimi
Qué pasa con ella
Eso que anda

.
various
various
various
2
Soy todo
.
Formell
Formell
Mayito
3
Agua
.
S. Formell
S. Formell
Mayito

4

Agua, pt. 2
.
.
.
.
5
Ven ven ven
.
Cucurucho-Jorge Díaz
Cururucho
Robertón
6
Chapeando
.
Formell
Formell
Robertón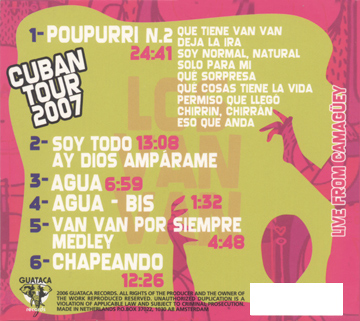 As you can see from comparing the back cover to our chart, this collection was thrown together sloppily, with lots of wrong titles. The coros are also a bit sloppy, but it's an energetic performance.
2007: Aquí el que baila gana - El concierto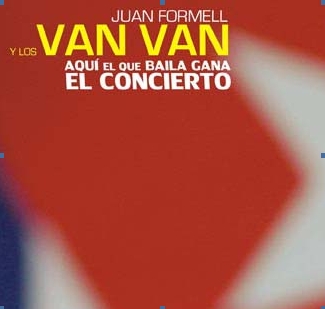 My copy is on order. This appears to be two live CDs and a DVD, with tracks listed below.
CD1
1. Chapeando
2. Tim Pop Con Birdland
3. Popurrit N° 1
4. Después De Todo
5. Que No Que No
6. Si A Una Mamita
7. El Baile Del Buey Cansao
8. Anda Ven Y Muévete
CD2
1. El Negro Está Cocinando
2. Marilú
3. Por Encima Del Nivel (Sandunguera)
4. Soy Todo (Ay Dios Ampárame)
5. Anda Ven y Quiéreme
6. Ven Ven Ven
7. No Pidas Mas Prestao
8. Somos Cubanos
DVD
1. Chapeando
2. Tim Pop Con Birdland
3. Popurrit N° 1
4. Después De Todo
5. Que No Que No
6. Si A Una Mamita
7. El Baile Del Buey Cansao
8. Anda Ven Y Muévete
9. El Negro Está Cocinando
10. Marilú
11. Por Encima del Nivel (Sandunguera)
12. Soy Todo (Ay Dios Ampárame)
13. Anda Ven y Quiéreme
14. Ven Ven Ven
15. No Pidas Mas Prestao
16. Somos Cubanos
17. Anda Ven Y Quiéreme - Video Clips
18. Plan B (Dale Dos) - Video Clips
2009: Arrasando
Sony/Planet 901072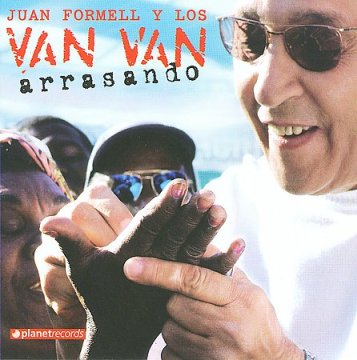 tr
title
composer
arranger
lead singer
1
Arrasando
.
Juan Formell
Samuel Formell

Samuel Formell
Boris Luna

All
2
Si No Te Quieres Tú
.
Cucurucho
Jorge Díaz

Cucurucho
Mayito
3
Tú a Lo Tuyo, Yo a Lo Mío
.
Juan Formell
Juan Formell
Yeni Valdés
4
Me Trajo Dos
.
Samuel Formell
Samuel Formell
Boris Luna
Lele, Jr.
5
Que No Te De Por Eso
.
Roberto Hernández
Boris Luna
Robertón
6
La Rumba No
.
Juan Formell
Juan Formell
Mayito
7
Este Amor Que Se Muere
.
Juan Formell
Jorge Leliebre
Yeni Valdés
8
Me Mantengo
.
Cucurucho
Jorge Díaz
Cucurucho
Lele, Jr.
9
Dame La Luz
.
Samuel Formell
Samuel Formell
Robertón
10
Mi Songo
.
Samuel Formell
Samuel Formell
Mayito
11
Un Tumbao Pa' Los Dos
.
Samuel Formell
Kelvis Ochoa
Samuel Formell
Vanessa Formell
12
Olaya
.
Rubén Blades
Jorge Leliebre
Robertón
13
El Travestí
.
Cucurucho
Jorge Díaz
Cucurucho
Robertón
domingo, 30 diciembre 2018, 06:06 pm