Indice - Table of contents
New Stuff
[hide]
Photos of the Day
[hide]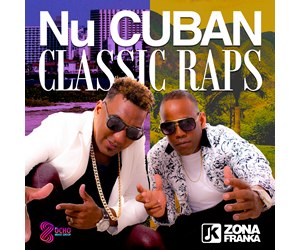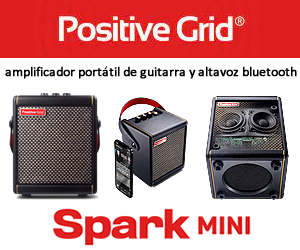 History and Discography of irakere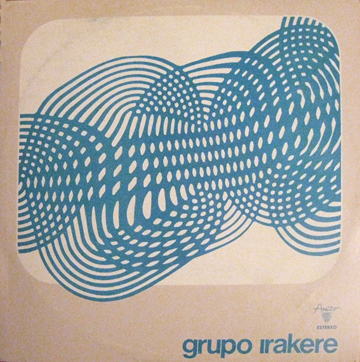 gracias a: David Peñalosa, Patrick Dalmace "El Tren Latino", Tom Ehrlich, Sonny Bravo, Arturo Gómez, Osvaldo Martínez, Luis Carranza, Rich Pagano, Raúl Hernández, Orlando Fiol
This Irakere discography is a work in progress -- a "wiki" of sorts. Our goal in publishing it in this form is to encourage readers to write in with additions and corrections.

NEW!: Patrick Dalmace's Chucho Valdés Discography is Online!
Chucho Valdés had been playing jazz with various future members of Irakere throughout the 60s, but it wasn't until 1973 that they began to play under the name Irakere. They made their first LP in 1974, but apparently had some demo recordings which became radio hits at least a year earlier.
According to UC Irvine musicologist and Irakere expert Raúl A. Fernández:
"Irakere was not really a formal group yet when "Bacalao con pan" was recorded. The Orquesta Nacional de Música Moderna was on a tour of Oriente Province, and had spent a few days in Santiago de Cuba. Some of the members, who had been rehearsing some ideas, stayed behind. In Santiago, a local music producer, composer and musician, Rodulfo Vaillant gave them a local studio to do a couple of recordings. One of those was "Bacalao con pan." The boys could not have recorded the tune in Havana, they were fairly controlled by the Orquesta de Música Moderna there. But somehow the tune made it from Santiago to radio stations in Havana where it became a hit; Irakere was formally organized a little bit later."
Pablo Menéndez (currently the leader of Mezcla) recalls the first time he heard Bacalao con pan:
"Irakere were jazz musicians who played stuff like "Bacalao con pan" with a bit of a tongue in cheek attitude -- 'for the masses'. I remember Paquito d'Rivera bringing a tape of the first four songs of Irakere over to the ICAIC, where he sometimes played with our group. He thought it was pretty funny stuff (as opposed to 'serious' stuff)."
We've yet to get a second confirmation of this, although we may be close to tracking down Mr. Vaillant in Santiago. Note that this demo recording they're talking about is nowhere to be found. The classic version of Bacalao that we find on about 20 different compilations was recorded in Havana in 1974 as part of the first album.
While it's still an issue of some controversy, Chucho himself said, in the Latin Jazz Founders documentary, that 4 musicians generally considered to be founding members of Irakere did not record on the first official Irakere album, Areíto LD-3420, (La colección, Vol. 1), due to mandatory military service. Instead of Enrique Pla on drums, it was Bernardo García. The conguero was not El Niño, but his older brother, Lázaro "El Tato" Alfonso. And the horn section consisted only of Varona and Averhoff, with Paquito D'Rivera and Arturo Sandoval still marching to the beat of military drums.
In any case, the first album was released in early 1974 as Areíto LD-3420. EGREM released the same 8 tracks, with the same catalog number, with at least three different covers!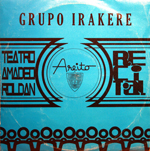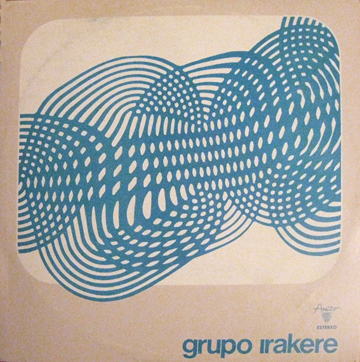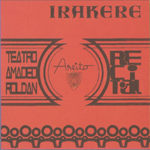 The text "Teatro Amadeo Roldán - Recital" has led the incorrect conclusion that the album was recorded live. Even more subversively confusing is the back cover of the second LP above. Perhaps EGREM was inspired by the Beatles' "Paul is dead" cover art chicanery.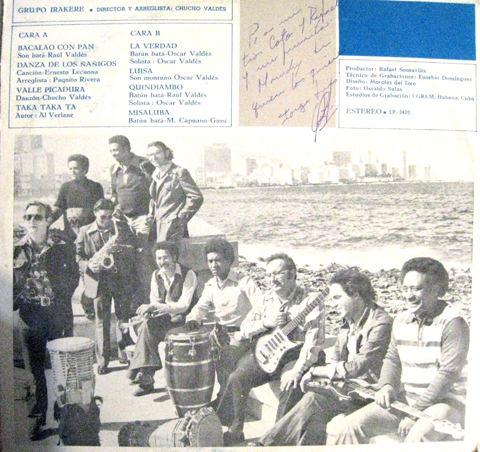 The three guys at the top are trumpeter Jorge Varona, Chucho, and saxophonist Carlos Averhoff. So far, so good, but below them, from left to right, we have four musicians who, according to Chucho himself, didn't play on the album: Enrique Pla (according to Chucho the drummer was Bernardo García), a very svelte Arturo Sandoval (holding Paquito's saxophone to further confuse us), Paquito D'Rivera (holding Arturo's trumpet), and El Niño, who hadn't yet joined when the tracks were recorded. To the right are guitarist Carlos Emilio Morales, bassist Carlos del Puerto, and singer/percussionist Oscar Valdés.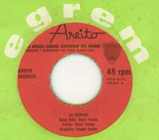 The 8 tracks were reissued on the CD La colección, Vol. 1, and on multiple compilations and foreign vinyl reissues. In our Roots of Timba section we review our two favorite tracks: Bacalao con pan and Quindiambo. The latter, paired with La verdad, appears on one of the few 45s we've been able to find by Irakere. Oddly, another, 6902, pairs the La verdad with Valle de la picadura. the only other single we know of was 7529, from about 1982, with Los caramelos and Que se sepa yo soy do la habana. There must be more singles and EPs out there, and if you know of one, please send an email! We're also very interested in confirming that the 45s have the same recordings as the LP. We think the do, but around that time, Los Van Van made a habit or doing separate recording sessions for their singles and albums.
Confused enough yet? Just wait!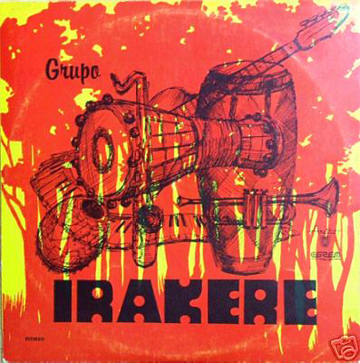 This cover shows Irakere's ground-breaking combination of jazz and folkloric instruments against a cluster of trees, known in Africa as an irakere. To avoid confusion, the insignia in the low right corner is not a clue -- it's the stamp of legendary Japanese vinyl collector Cubop.
Using multiple covers for the same album is one of EGREM's favorite tricks, but in this case they outdid themselves, releasing two albums, at least 2 years apart, with different numbers (LD-3660 and LD-3926), the same covers, and different tracklists:
| | |
| --- | --- |
| LD-3660 (1977 - Spring) | LD-3926 (1979 or 1980) |
| Chéquere-son | Camagüey |
| 38 1/2 | 38 1/2 |
| En nosotros | En nosotros |
| Juana 1600 | Juana 1600 |
| Moja el pan | Moja el pan |
| Este camino largo | Este camino largo |
| Xiomara | Xiomara |
| Iyá | Iyá |
It's hard to say why this happened, but when EGREM issued the egregiously under-documented 11-CD La colección, they very unfortunately used LD-3926, calling it Vol. 3, even though most or all of its tracks were recorded and released before the album they called Vol. 2. To further complicate matters, this same series of tracks was released time and time again on a variety of foreign labels, with conflicting dates of course, and many of the tracks are also released on live albums from the same time period, (as well as on studio albums entitled "En vivo"!).
In any case, the song in question, Chékere-son, is an extremely interesting one. It's based on a legendary 1945 Charlie Parker be-bop composition called Billie's Bounce. Almost every phrase of the Parker song can be found in Chekere-son but it's all jumbled together in a very clever and compelling way. David Peñalosa (author of the soon-to-be-released Unlocking Clave) sees the track as a pivotal one - perhaps the first really satisfying fusion of clave and bebop horn lines, a central element of the style of NG La Banda in the early days of timba. The easiest way to obtain Chéquere-son is on the compilation CD of the same name. It also has the rest of the tracks from 3660 except, unfortunately, Juana 1600, another of Irakere's more successful fusions - grafting the batá rhythm Babalú ayé onto another aggressive up-tempo dance grooove.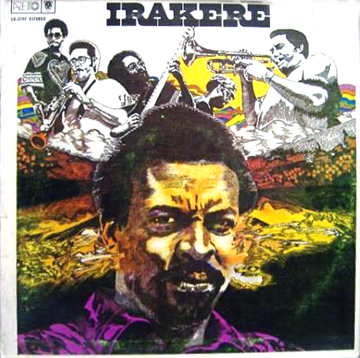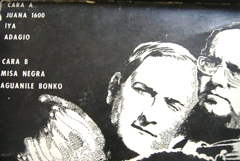 Areíto LD-3769 - recorded June 1978
Continuing chronologically, we arrive at the extremely busy and fruitful summer of 1978. First came Irakere's famous tour of US and Europe. Recordings from early June at the Newport and Montreux jazz festivals were combined for a Grammy-winning release on the Columbia label that really put Irakere the map. This was also released by EGREM as LD-3769.
The next month, on July 28, 1978, Irakere recorded another searing concert, this time in Cuba at the Teatro 23 y 12 for the occasion of the Festival de la Juventud y los Estudiantes. Here's an excerpt combining the various appearances of the MC to help pinpoint the details.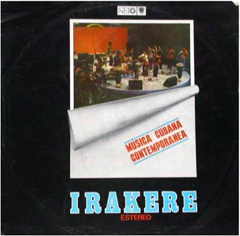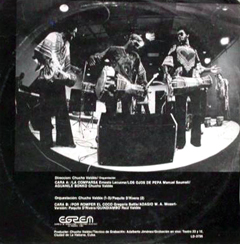 Areíto LD-3726 - recorded July 28, 1978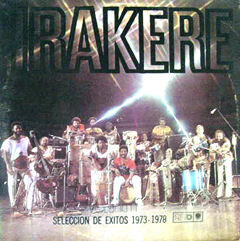 This material was released on many foreign compilations, and by EGREM as Volume 4 of La colección. Like Volume 3, it was also recorded before Volume 2 -- probably because it was re-released on LP in Cuba several years later, as Areíto-4003, Selección de éxitos, 1973-1978, Vol. 1. It was also released, with "creative" edits, and incorrect track names, by the Habanacán label. Volume 2 of Selección de éxitos, LD-4004, with the same cover, was a collection of studio reissues.
The third famous concert of the summer of '78 was very different - consisting entirely of classical music hybrids feasturing guitarist Leo Brouwer: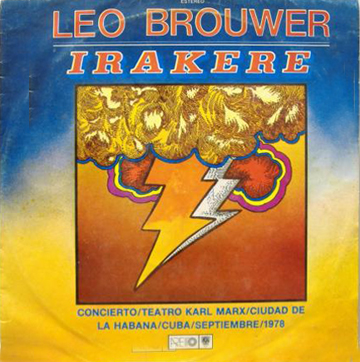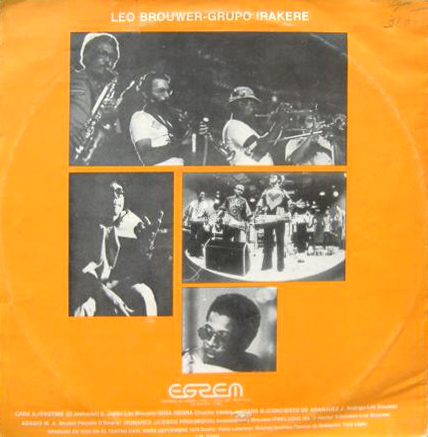 Areíto LD-3769 - recorded September, 1978
After two studio albums and 3 live concerts, this was the one EGREM decided to call "Volume 2" in La Colección. Go figure. Also note that the black and white photos seem to be from the July concert.
There were at least two studio sessions in 1979 -- the last two before Paquito's departure in May of 1980.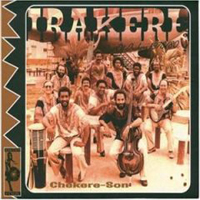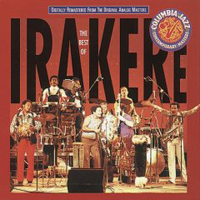 April, 1979 - New York
This session produced six odd tracks (Claudia, Ayer te concí, Añung añunga, Gira gira, Baila mi ritmo and Ciento años de juventud) that don't appear to have ever been issued in Cuba and can only be had on compilations. The one on the left is missing Gira gira, and is paired with better sounding transfers of 7 of the 8 studio tracks from LD-3660 (leaving out the studio version of Juana 1600). The one of the right leaves out Ayer te conocí, and is paired with 4 of the 5 live Grammy-award winning tracks from LD-3769, (leaving the live version of Juana 1600!). It's highly ironic that both of these reissuers chose to jetison Juana 1600, which, with its prominent use of batá rhythms and folkloric coros, is much more interesting -- both musically and historically -- than some of the less original studio tracks from these foreign sessions which offer little more than derivative collages of American jazz and fusion.
The seventh track was the first studio version of one of Irakere's main live vehicles of the time, a steaming dance track called Por romper el coco. The New York version comes in at 5:22 and features a trombone solo by Sandoval. An 8:40 studio version (titled simply El coco) was recorded in August of 1980 in Japan. There's also a live version on the 1978 23 y 12 concert.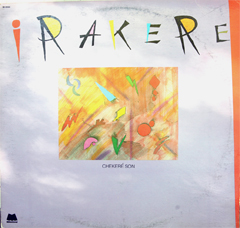 May 25-June 1, 1979 - Havana
(click here for large photo of back with dates and personnel) This session was recorded in Cuba for a Japanese company and released on JVC and Milestone with the cover above. It contains the following six tracks:
1) Chéquere-son - This is a different and much long version of the opening song of Irakere's second studio album, LD-3660, discussed above.
2) Quince minutos - This is a very different version of the very non-Cuban sounding easy-listening jazz number that became the title track of LD-4267 in 1986.
3) La semilla & 6) Cha cha cha - Both of these found their way onto LD-4004, EGREM's Selección de éxitos, Vol. II.
4) La comparsa - This is the only known studio version of the opening number of the famous 23 y 12 concert.
5) Camagüey - When EGREM inexplicably re-released LD-3660 as LD 3926, this recording replaced Chéquere-son as the opening track.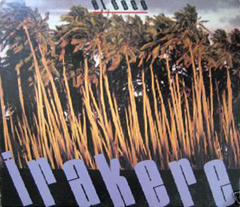 August, 1980 - Tokyo
In addition to the long studio verion of El coco already mentioned, this 5-track vinyl LP has two eclectric tracks not found elsewhere: Las hijas de Anaco, a jazz-samba hybrid, and Zanaith, a jazz ballad. Molinaria, a classical/jazz hybrid, was later re-recorded in Cuba on LD-4018.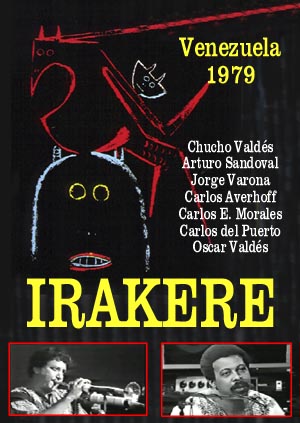 But, just as you begin to think that searching for the "roots of timba" in Irakereland is like searching for a needle in a haystack ... you find the needle! In this case, it's a 10-minute version of Ese atrevimiento, a guaguancó that turns into a torrid timba dance track -- complete with multiple gear changes and "bomba"-style electric bass slides --some 9 years before timba was supposed to have been invented.
From a timba-centric point of view, this might the most important Irakere track since Bacalao con pan. Irakere recorded another 10-minute version of Ese atrevimiento the next year in Cuba, but perhaps the most exciting version is from the "Venezuela - 1979" video, which had to have been from late 1980 or early 1981, as can be deduced from the personnel changes listed below. The video has Velazco and Sandoval, but not El Tosco.
May 1981: Trabuco
Live in Caracas - Integra label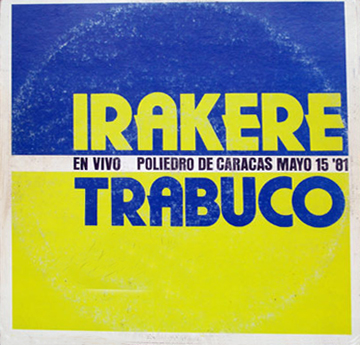 This is a different concert recording from Venezuela. I haven't heard it, but it appears to have one side from a group called Trabuco and one side of Irakere El guayo de Catalina, Tres días, and El Caramelo. (more info here)
The personnel list of these various concerts and albums helps us narrow down the personnel chronology.
May, 1980: Paquito defects in Spain, and Germán Velazco, who had gone from Revé to la 440, replaces him on alto and soprano sax.
August, 1980: Arturo Sandoval was still present on the studio album El coco.
May, 1981: Sandoval had left by the time of the Caracas Trabuco concert, forming his own group with Irakere founding drummer Bernardo García, and was replaced by Juan Mungüía. José Luis "El Tosco" Cortés must have still been with Los Van Van but we know he had moved over to Irakere well before the 1982 recording of LVV's El baile del buey cansao.
1981 (later than May): Para bailar son
La colección Volume V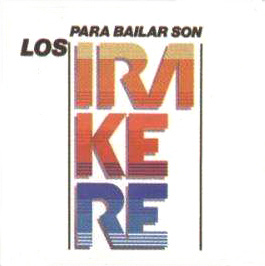 This is the only volume of EGREM's "colección" that was never released on EGREM vinyl. Instead, it was licensed to the Tierrazo label. If you can, please send us a photo of the back, or of the record label itself.
The most important tracks from a "roots of timba" point of view are another great studio version Ese atrevimiento, also with gear changes, and El Tosco's No quiero confusión -- a bit change from his early charts from Los Van Van -- featuring brass writing that anticipates the "metales de terror" approach he later championed with NG La Banda. Confusión is also one of the early up-tempo dance tracks to break with the long-standing tendency towards 2-3 clave. Try singing the coro "no quiero confusión" while you clap clave. Another solid track is Arsenio's Dile a Catalina, setting the stage for Issac and Melón's 1997 version.
1982: Volume VI
Areíto LD-4018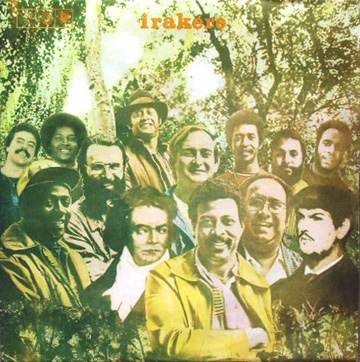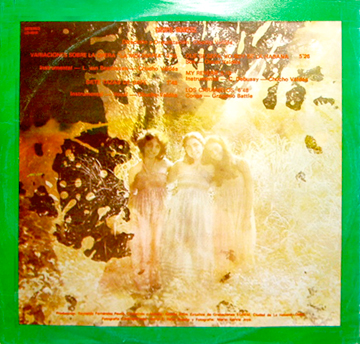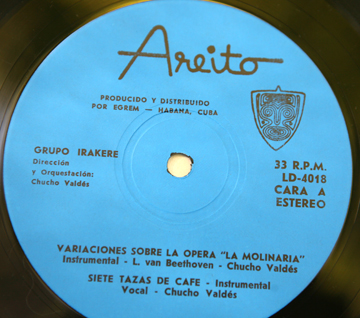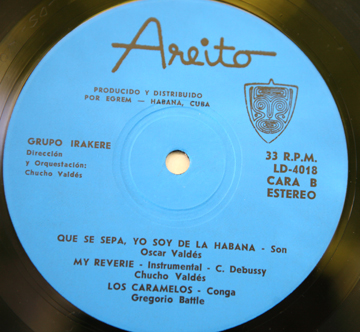 The two dance tracks from this album were released as a 45 (Areíto 7529) at least several years later. Que se sepa, yo soy de La Habana has the famous "oh, la Habana, oh, la Habana" that everyone always quotes, including Issac, who quotes it in the Irakere homenaje verse of La fórmula. Los caramelos is one of the earlier examples of the super-fast Santiago carnaval-based, merengue-like groove that's since been used steadily by many groups (also including Issac).
December, 1982: Tierrazo Concert in Puerto Rico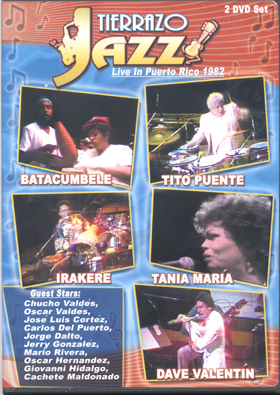 This 1982 concert video from Puerto Rico is priceless - live Irakere at its best, with three of their best tracks. In El tata, El Tosco is playing piccolo with the horn section, but you can imagine him taking notes as Oscar Valdés sings saca las manos, saca los pies, (source). Now fast-forward 8 years to Tosco's NG La Banda arrangement of Los sitios entero (source).
The 2-DVD set also includes the extremely young Giovanni Hidalgo with Batacumbele and various other groups. Here are the Irakere tracks:
El tata 10:52
Chucho's Theme 1 4:25
Chucho's Theme 3 1:30
Chaca 7:34
Chaca 2 8:47
Ese atrevimiento 13:12
Juana 1600 5:43
1983: Calzada de cerro
Areíto LD-4053 -- La colección Volume VII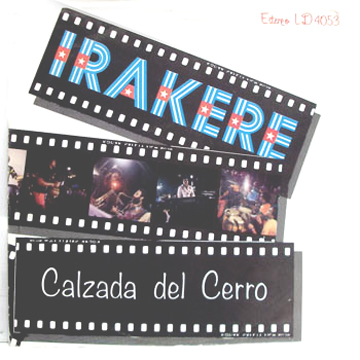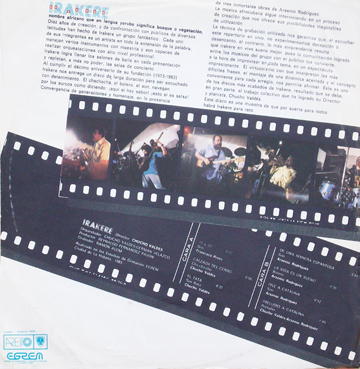 l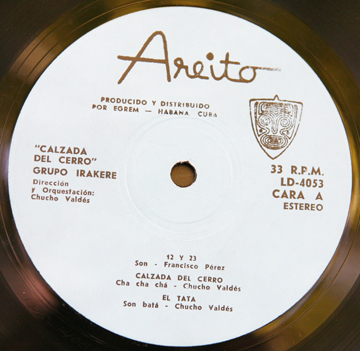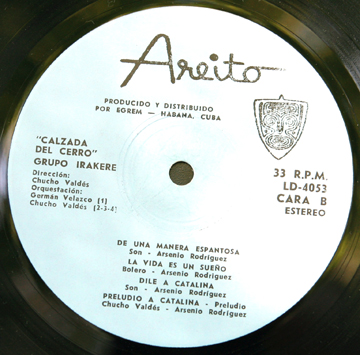 12 y 23 is a nice, but tame dance track and Calzada de Cerro, in spite of its very Cuban-sounding title, sounds like a warmed over version of Clare Fisher's over-played Latin jazz lounge standard Morning. But just when one's timba-centric attention span starts to run out, along comes El tata, (source - Vol. VII is currently unavailable), discussed in the previous section, to remind us how deeply indebted timba is to Irakere. It's a very satisfying fusion of batá and the type of Irakere dance groove that most directly pre-dates NG and the other timba bands of the 90s.
The album ends with a trio of tracks based on Arsenio Rodríguez compositions, a jazz ballad based on La vida es un sueño, an abstract solo piano version of Dile a Catalina, and a remake of the 1981 Catalina arrangement, but without the piano intro and with different soloists.
April, 1983: Orquesta sinfónica nacional
Areíto LD-4139 -- La colección Volume VIII
Live at Teatro Mella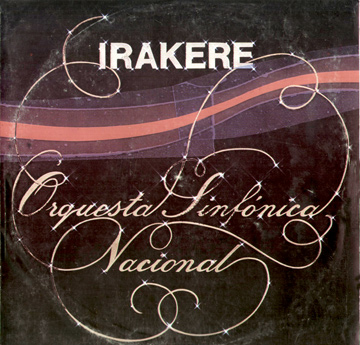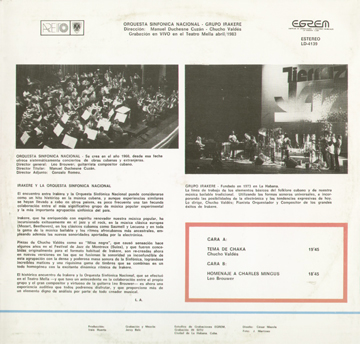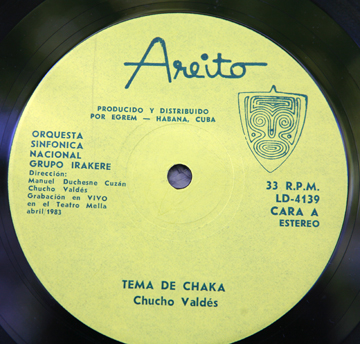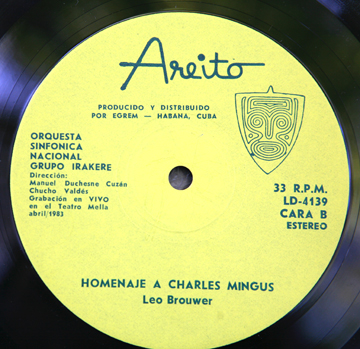 This album has no dance tracks and no obvious connection to the development of timba but it's interesting to hear Irakere with a symphony orchestra.
1985: Bailando así
Areíto LD-4186 -- La colección Volume IX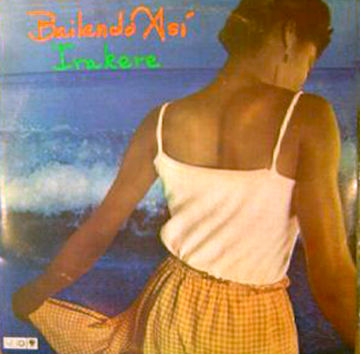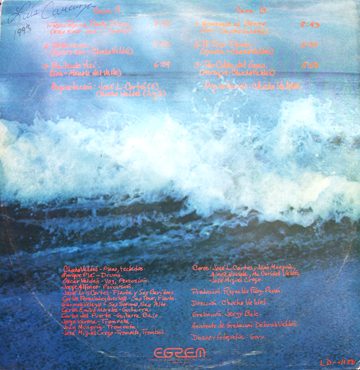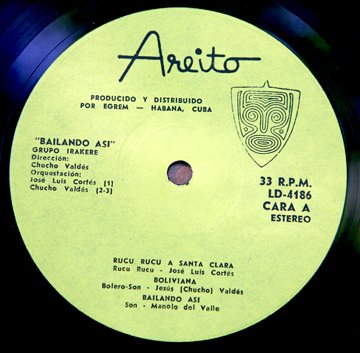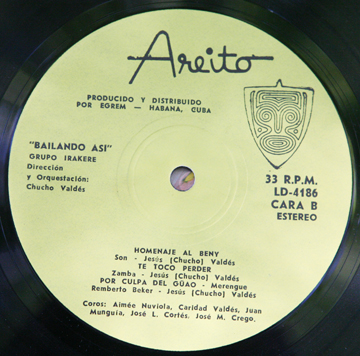 The killer dance track here is El Tosco's Rucu rucu a Santa Clara. As you can see from the label, we're getting closer and closer to NG La Banda. Trumpeter José "El Greco" Crego, who would later, along with the two Irakere saxophonists, Averhoff and Velazco, become part of NG La Banda's metales de terror horn section.
There's also a nice homenaje to Beny Moré which forms a nice trilogy with the early Arsenio tributes and Carlos del Puerto's A Chano Pozo from Tierra en trance.
1985: Tierra en trance
Areíto LD-4224 -- La colección Volume X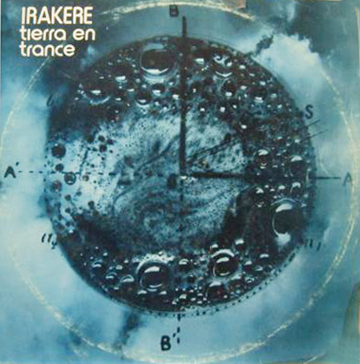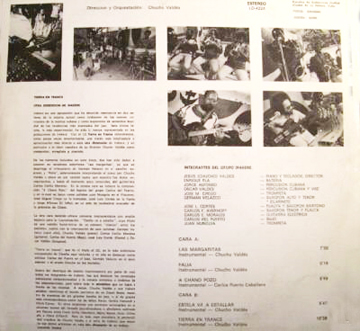 Other than the Chano Pozo tribute, this is primarily a jazz album.
1985: Quince minutos
Areíto LD-4267 -- La colección Volume XI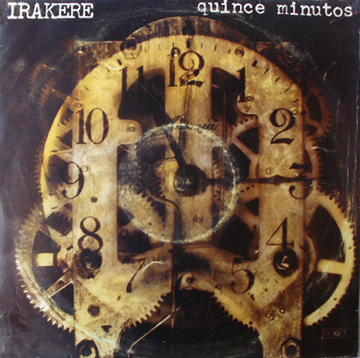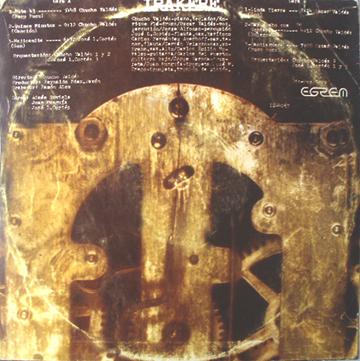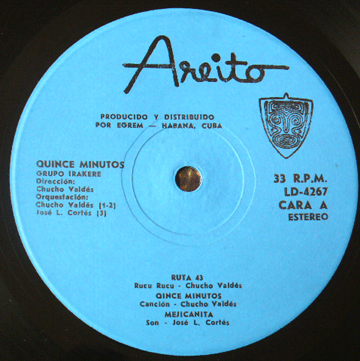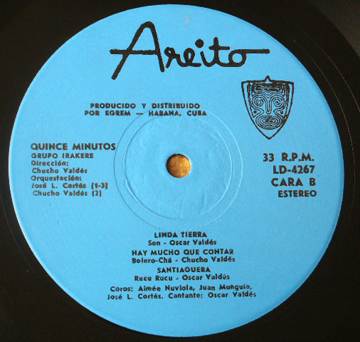 The final volume of La colección is much heavier on dance tracks. Tosco's Mejicanita sounds like a medium tempo timba groove. It's interesting to note how much Tosco's NG vocalizing sounds like Oscar. Ruta 43 is a solid dance track, but the standout, once it gets going, is Santiaguera with its timba breakdowns and coro inflections.
1987 - Irakere Live at Ronnie Scott's in London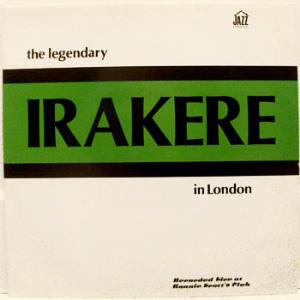 There's been some speculation about even earlier live recordings at this legendary London jazz club, but the consensus is that the first one was in 1987, with Bailando así, Johana, Estela va a estallar, Las margaritas, Lo que va a pasar and The Duke. The announcer mentions that Irakere had played there several times before, but we think this is the first one that was recorded. There may also be a 1988 recording and there's definitely one from 1993. From a "roots of timba" perspective, these concerts are quite tame compared to the highpoints of the previously mentioned shows from the late 70s and early 80s.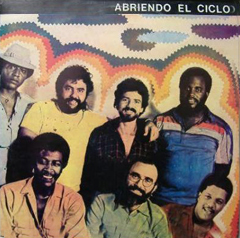 Beginning around 1986, El Tosco, while still a member of Irakere, began moonlighting as the leader of his own project, which he called Nueva Generación. He often used the rest of the Irakere horn section as well. We're still trying to piece together the discography, but we think they made 3 albums and we think that Abriendo el ciclo was LD-4385 in late 1986 or early 1987.
Eventually Tosco broke away from Irakere entirely, shortened "Nueva Generación" to NG La Banda, pilfered Tony Calá from Ritmo Oriental, and an extraordinary new rhythm section featuring Giraldo Piloto, Feliciano Arango, Rodolfo "Peruchín" Argudín, and Miguel "Pan con Salsa" Armas. When their dramatic new style matured in late 1988 with songs like La expresiva and La protesta de los chivos, NG, essentially an Irakere-Ritmo Oriental spinoff, ushered in the "timba" era.
Irakere continued on, as successfully as ever, primarily playing jazz, but, as they always had, throwing in enough burning hot dance music to please that portion of their audience.
The critical difference, from our point of view, is that in the 70s and 80s, Irakere was pushing the envelope and actively reinventing dance music with innovations like gear sections with no bass, gear sections with sliding bass, fast jazz-influenced horn section writing and folkloric rhythms and lyrics. While all of this was very much secondary in the minds of the Irakere musicians, it nevertheless had a tremendous influence on the eventual development of timba. In the 90s however, it was the timberos who were pushing Irakere, rather than the other way around. Important timba figures such as Leo Vera, Carlos Manuel, José Miguel and Tony Pérez passed through the band as Irakere's dance style adapted itself to keep up with the frantic innovation that was going on all over Havana.
As timba's perfect storm reached its frenzied peak in 1997, the energy swept Irakere to its best dance album of the 90s:
1997: Babalú Ayé
Bembé 2020 2


Nominated for a Grammy, Babalú Ayé, featured the multi-talented José Miguel, a phenomenal timbalero who sings lead with Paulito-like ease and accuracy. While not as innovative as the Oscar Valdés, Miguel perfected the dual role of lead singer/percussion virtuoso. Miguel, now the leader of the on again-off again timba band La Balanza, added a timba composition of his own as well as doing new versions of Irakere classics like Por romper el coco which benefited greatly from his professional singing voice. The closing title track features a guest performance from santería master Lázaro Ros.
Ironically, the musicial area where the greatest timba fireworks might be expected -- Chucho's piano tumbaos -- changed very little in response to the extraordinary reinvention of the style by the new crop of timba pianists. We're left to wonder what amazing timba piano tumbaos this formidable virtuoso might have created if he'd been so inclined.
Rather than go mano a mano with Melón, Noroña, Tirso and Rolando, Chucho, while maintaining his leadership of the band, stopped touring with Irakere altogether in the late 90s, performing instead with a jazz quartet.
Summary
We've barely scratched the surface of the overall history of Chucho Valdés and Irakere. Chucho recorded jazz prolifically throughout the 60s, using many future Irakere musicians as sidemen: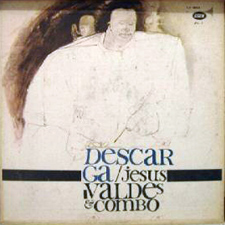 x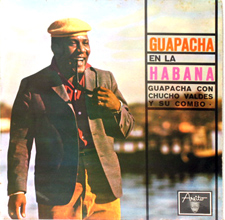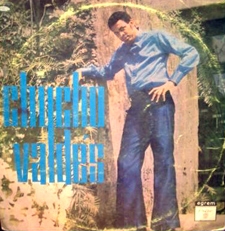 x
Chucho also played in other bands, even including a 1965 stint with Revé! We'd love to hear a recording of that! Beginning in 1999, he returned to his solo career. Our discography doesn't cover any of this, nor does it cover much of Irakere during the timba era. Instead we've focused almost entirely on the period from 1974 (the founding of the group and the creation of the batúmbatá rhythm) to 1988 (the departure of El Tosco, Averhoff, Velazco, and El Greco to form NG La Banda).
Within this period we discover that most of Irakere's music consists of instrumental concert music fusing Cuban and Afrocuban rhythms with jazz, rock and classical music. These tracks are of little use to us in our efforts to trace the "roots of timba", but the relatively small amount of vocal dance music that Irakere produced turns out to be absolutely indispensable to an understanding of timba.
So ... what are these indispensable tracks and what's the easiest and cheapest way to collect them? There's no fully satisfying answer. Even if you spring for the four best "greatest hits" compilations, you can see from the chart that you'll still be missing some tracks you won't want to live without. Keep in mind that the one "roots of timba" track you absolutely have to have is Bacalao con pan. Also note that Volume 4 of La colección is live - all others are studio.
Essential Irakere Dance Tracks
| | | |
| --- | --- | --- |
| La colección | title | compilations (see below) |
| Vol. 1 | Bacalao con pan | 1, 3 |
| Vol. 4 | Por romper el coco | 2, 4 |
| Vol. 4 | Aguanile bonkó | 1, 4 |
| Vol. 7 | El tata | 3 |
| Vol. 1, 4 | Quindiambo | 4 |
| | Chéquere-son | 2 |
| Vol. 5 | Ese atreviemiento | |
| Vol. 9 | Rucu rucu a Santa Clara | 1, 3 |
| Vol. 3 | Xiomara | 2 |
| Vol. 11 | Santiaguera | 1, 3 |
Other Good Dance Tracks
| | | |
| --- | --- | --- |
| source | title | compilations |
| Vol. 6 | Que se sepa yo soy de la Habana | 4 |
| Vol. 5 | Yo quiero confusión | |
| Vol. 9 | Bailando así | 1 |
| Vol. 11 | Ruta 43 | |
| Vol. 11 | Mejicanita | |
Great Folkloric Fusion Track
| | | |
| --- | --- | --- |
| source | title | compilations |
| Vol. 3, 4 | Iyá | 2 |
| Vol. 3 | Juana 1600 | |
Nice Tributes to Earlier Genres
| | | |
| --- | --- | --- |
| source | title | compilations |
| Vol. 5, 7 | Dile a Catalina | 3, 4 |
| Vol. 9 | Homenaje a Beny | 3, 4 |
| Vol. 10 | A Chano Pozo | 4 |
Putting it all together ... if you can live without Bailando así and Juana 1600, here's our recommended list, in order:
1) Compilation #3
2) Colección Vol. 4
3) Colección Vol. 5
4) Compilation #2
5) Colección Vol. 11
6) Compilation #4
Additional Recommendation:
Irakere on DVD:
The 1982 Tierrazo concert video from Puerto Rico
The so-called 1979 Venezuelan video
(actually from 1980 - black & white - bootleg)
Latin Jazz Founders Documentary
(Historical Documentary with some musical performances - more info)
Tuesday, 20 March 2018, 03:32 AM