Sin Clave No Hay Na
SIERRA MAESTRA LAUNCHES U.S. TOUR IN CHICAGO
Also: Maraca Tour Continues, and More...
Sierra Maestra launched its 2011 United States Tour in Chicago with a rousing outdoor concert at Chicago's Millennium Park on Thursday, July 14 followed by a great indoor dance party at the Mayne Stage on Friday, July 15. The Millennium Park concert had an opening set by Chicago's own Funkadesi, which does a mix of bhangra, funk, reggae and the kitchen sink quite well. They made a tasty appetizer to Sierra Maestra's main course of la musica Cubana. Much dancing erupted, even in the seated area. It's always fun to time how long the city's "Please don't dance in the seats, there is space for that back in the park" requests actually remain effective when a band like Funkadesi or Sierra Maestra hits the stage. Kudos to the city for bringing them here.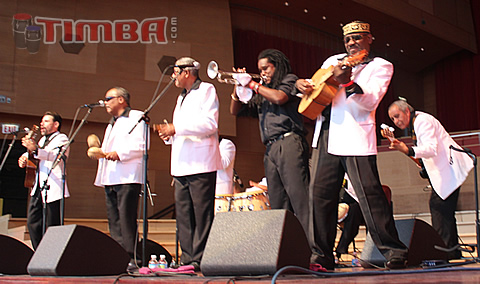 Sierra Maestra 's followup at the Mayne Stage was a high-energy Cuban dance party with Son, Guaracha and other rhythms that ended with a Conga line (we're saving that Conga line for a future post). Now then, there's really no substitute for catching a band like this live, so Timba.com's own Michelle White has posted their tour schedule here , but for those of you who live on another planet or just can't get to a live concert for some other reason, there is some relief available:
click here to read the full story about Sierra Maestra in Chicago and more concert photos
1. Chicago's radio station WFMT (98.7 FM) is broadcasting its recording of the Millennium Park concert on Friday July 22 at 11pm Central time, and they stream on the web!
2. You can always buy (you should really do that anyway) their recent CD, Sonando Ya, which was nominated for a Latin Grammy last year and which we reviewed here a few posts ago.
3. We have posted a few photos from the Chicago concerts. We also sat down with some of them for a fascinating video interview last Friday, and we'll be posting that in the future after we add in an English translation. For now, Click here for photos of Sierra Maestra's Chicago concerts
Item Two: Maraca Tour Continues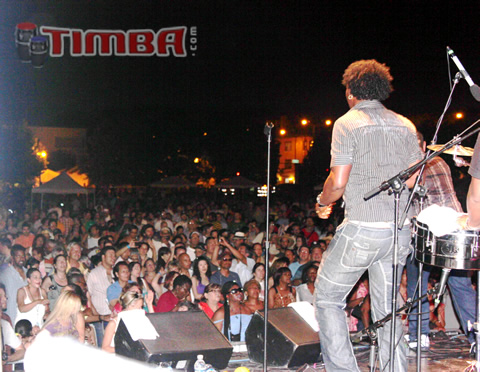 We caught Maraca 's performances in Milwaukee and Chicago and can't say enough good things about the current incarnation of his 13-piece band from Havana. In fact, we're going to help you see what the crowds thought: We have a gallery from Chicago and Milwaukee (and Colorado thanks to Celine's help) that includes, in addition to the usual shots of the musicians, some pictures with a "band's eye" view of the crowds. This group is throwing down some serious dance music (including some killer Timba), and the crowds are responding accordingly. click here to read the full story about Maraca and for more photos from Colorado, Wisconsin and Illinois
Item Three: ¡Que Palo, Palo!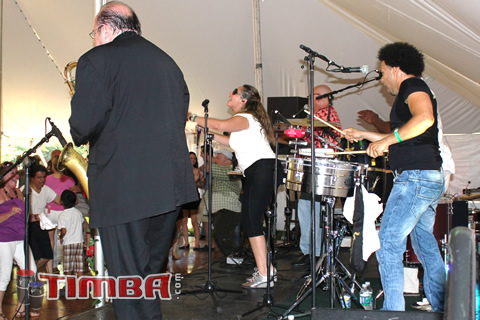 When the music is good enough, we have a special place in our heart for musicians and bands that defy labels if they really do have the music to go along with the posture. Palo! is based in Miami, and its highly-talented members include Ed Calle, whose sax work alone is worth a listen, along with a vibrant singer, Leslie Cartaya, mad musical scientist Steve Roitstein (the leader), and two killer percussionists originally from Cuba, Philbert Armenteros and Raymer Olalde. Click here to read the full story and for more photos from Palo's recent Chicago concert.
continue reading Sin Clave No Hay Na