Indice - Table of contents
Lo Nuevo
[hide]
Fotos Del Día
[hide]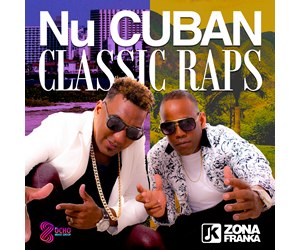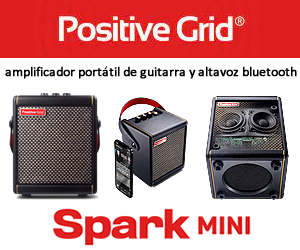 The Roots of Timba, Pt. III - 1985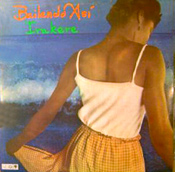 Irakere released Bailando así. With the addition of El Greco on trumpet, 80% of the members of NG La Banda's Los metales de terror were in place. The classic "roots of timba" track here is El Tosco's Rucu rucu a Santa Clara. [source].
If I were trying to make a case for Chucho's unequivocal, Mohammed Ali-like statement that "Irakere invented timba", I would ask you to imagine yourself at a live concert in 1985 hearing this. I would then rest my case. There's much more to "timba" than that of course, but Irakere, going all the way back to 1974's Bacalao con pan [source], could produce, when so inspired, an electrifying new kind of rock concert energy that was essential to the new "attitude" of the timberos.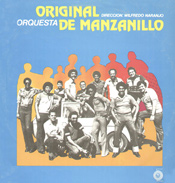 Original de Manzanillo released the self-titled Siboney LD-316. We could only find three of the tracks, and of those, only one applies to our survey of the roots of timba. A lot of Original de Manzanillo's has a distinctly non-timba aesthetic, but like Irakere, they have a handful of incredibly innovative and forward-looking gems such as Córranse ahí.
The introduction [source] supplies the first of many great moments. The piano enters alone with the archetypical cliché minor key tumbao, but the bass leaps in at an unexpected place with an unexpected note, changing the harmony of the piano tumbao from i to bVI. Before you can catch your breath a flurry of string and flute interplay gives way to a brief pedal and Cándido Fabré bursts in, already in full voice. It's almost impossible to find a good fadeout point with Fabré because he scarcely ever takes a breath! The ideas keep pouring out of his mouth, and this is only the cuerpo. He continues almost uninterrupted for nearly 8 minutes with the intense urgency that's made an indelible mark on the styles of many if not most timba singers. Compare this passage from Córranse ahí, for example, to a live 2004 version of Mandy Cantero singing Pupy Pedroso's La bomba soy yo [studio version]. Celia Cruz also covered the song in her later years as La guagua.
Original de Manzanillo also released another 1985 album called Acabo de llegar around this time, but we haven't been able to find it.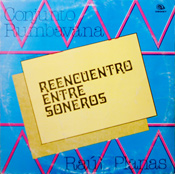 Rumbavana recorded Oye lo que trae Rumbavana in April and later in the year released Reencuentro entre soneros, reuniting them with Raúl Planas who sang with the group for many years. There's also an album, Siboney LD-299, from late 1984 that we haven't been able to find.
These albums are less adventurous than Conjunto Rumbavana and Déjala que baile sola. There are more fireworks to come in 1987 and 1988, but in this period Rumbavana wasn't experimenting - just producing pure conjunto music of the highest calibre as you can hear from this excerpt from Oye lo que trae Rumbavana [source].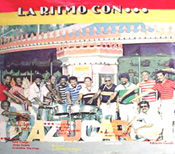 Ritmo Oriental, a Havana band in spite of its name, finally made it to el oriente to record its first album on Siboney, El baile del azúcar -- the original source of the famous a la derecha, a la izquierda [source for all] coro that was later requisitioned by NG La Banda, Charanga Habanera, and just about everyone else. What many people don't realize is that there's a lot more to El baile del azúcar than that catchy coro. It's also one of the best examples of Tony Calá's songwriting abilities.
Another great Calá composition is Advertencia para todos. The mix on this album is a revelation as we can finally clearly hear the great drummer Daniel Díaz. Our second excerpt looks forward to the timba era as it shifts in and out of percussion breakdowns, only to dramatically return to the original roots of Ritmo Oriental and all the charanga orquestas ... the danzón.
While in "el Oriente", la Ritmo picked up two more songs from the Santiago-based composer Rodulfo Vaillant, who had already given them Quién dice and Por hacerme caso. Ana margarita was la Ritmo's entry into the merengue-based fad of the mid-80s and Más no cabe is a little-known gem combining the rhythmic fire of their earlier work with some very imaginative harmonies and managing to pull off the hat trick of quoting -- in the same 4-clave phrase, Jobim's One Note Samba, their own El que no sabe, sabe, and Duke Ellington's It Don't Mean a Thing if it Ain't Got That Swing.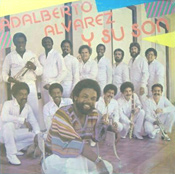 Adalberto Alvarez y su Son debuted with a self-titled album. With Son 14, Adalberto had already added trombones to the conjunto format - now he added timbales in the person of the great Calixto Oviedo, who later played drums on such NG classics as Santa palabra and La bruja.
As he did with his Son 14 debut, Adalberto began this album in an extremely unusual way. The first two minutes of the first track sound like a casual rehearsal before AA counts off Espero que vuelva María.
If your Cuban music obsession started, like mine, in the 90s, the 80s are just full of surprises, like Chivo quiere que le den candela [source], clearly the inspiration for one of Los Van Van's biggest hits of the 90s, Que le den candela [source]. As it turns out, LVV stole not only that coro, but also Adalberto's brilliant trombonist Hugo Morejón, as introduced by the singer, Félix Valoy, whom Adalberto himself had just stolen from Revé. Some things never change.
Adalberto's work in the 80s can be thought of in three ways. He's looking backwards, repopularizing and paying homage to the classic son conjunto style, but also stretching the definition of that style by adding timbales, trombones and new harmonies and arranging techniques. Finally, he's looking forward to timba, the most dramatic example on this album being the final track, Mi negra me ha vuelto loco [write EGREM].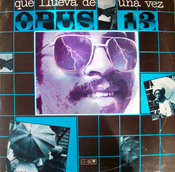 Opus 13 released their second album, Que llueva de una vez. We don't have the full personnel lineup but in addition to the two master arrangers, Betancourt and Ceruto, this one also had Angá on congas and Emilio Morales on piano. The Opus 13 of the 80s was a very aggressive and innovative group that began to bring together many of the personalities and musical concepts that were crucial to the style of Paulito's 1998 juggernaut.
For example, in Betancourt's Oiga usted señora [write EGREM], Paulito's "pedal" gear is anticipated not only in the breakdown to piano and percussion, but also in the sustained low tone (probably a baritone sax). Baila bailarina juxtaposes brass, coro and improvisational percussion and Que llueva de una vez combines majestic strings and brass with bloques and changes in rhythm section texture.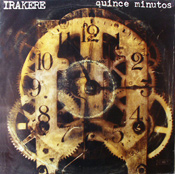 Unless there's a flaw in our system of dating these albums by the EGREM catalog numbers, Irakere released 3 albums in 1985. We've already discussed Bailando así and its big hit, Rucu rucu en Santa Clara. Tierra en trance was a jazz album except for a nice tribute to Chano Pozo.
Quince minutos had three solid pre-timba tracks, the most aggressive being the Oscar Valdés composition, Santiaguera, which anticipated timba with its blues-tinged horn lines, its breakdowns and bloques [source], and its raw energy. On the lighter side, but still with pre-timba overtones, were Ruta 43 and Tosco's Mejicanita [source].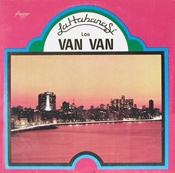 Los Van Van released its tenth album, La Habana sí. Formell had found a perfect chemistry between his new warmer approach to songwriting, Pupy's harder, darker, funkier style, Changuito's endlessly creative percussion creations, Pedro Calvo's fully matured singing and iconic stage presence, and the brilliant trombone mambos and synth playing of new arrival Hugo Morejón. Van Van was on an historic roll and there would be no more personnel changes until the 90s and the auspicious arrivals of Angel Bonne, Mayito Rivera, Samuel Formell, and Roberto Hernández.
Se muere la tía, quoted by nearly every timba band, is a classic. It takes the tonally ambiguous chord progression that Adalberto and Revé used to create so many addictive coros, doubles the length, and explores each harmonic interpretation, creating one of the best coro vamps of all time: I - bVII - IV - III - vi - II - V - IV.
Let's take a very quick sidetrip from our countdown and use this song to catch up with some of the technical discussions we began in our study of the Cuban bass tumbaos of the 70s. As the songo era began, we started to find a very distinct pattern. Almost every song was in 2-3 clave and almost every bass tumbao began on the downbeat of the 2-side, followed by a guajeo-like pattern that marked the clave. For example:
1974 Ritmo Oriental- Que se sepa bien, mi amor (J.C. Maza)
xx0x 0xxx 0xx0 xxx0 2-3 rumba clave
0xx0 x0x0 x0x0 x00x bass - MIDI
bass: Humberto Perera
source: write EGREM
Later in the 70s we encountered more and more examples of clave-neutral "bombo-ponche" tumbaos that avoided the downbeat, anticipating each harmonic change by playing the new chord on the ponche. For example:
1976 Los Van Van - Dale dos (EPA-6912B)
xx0x 0xxx 0xx0 xxx0 2-3 rumba clave
xxx0 0x0x xxx0 0x0x
xxx0 0x0x xxx0 0x0x tumbao 2 -- MIDI
bass: Juan Formell - drums: Changuito
source: Los Van Van, Vol. IV
The most dramatic technical trend of the 80s was the emergence from hibernation of 3-2 clave, probably due to the popularity of modernized conjuntos like Rumbavana and Son 14.
When we say a song is "in 2-3 clave" we mean that the harmonic progression begins on the 2-side. This results in the chord changing right on first main beat, but in 3-2 an interesting effect is created as the harmony changes on the offbeat ahead of the first main beat and then the strong downbeat feel of the 2-side comes in the middle of the measure. For example:
1985 Los Van Van - Se muere la tía (Rodulfo Vaillant)
0xx0 xxx0 xx0x 0xxx 3-2 rumba clave
0xx0 xxxx 0xx0 xxxxkick drum
xxxx xxxx xxxx xxx0 (bass pickup)
xxx0 xx0x 0xxx 0xx0
xxx0 0x0x 0x0x 0xx0 audio -- MIDI
bass: Juan Formell - drums: Changuito
source: Los Van Van, Vol. X
Finding the Clave
The most obvious feature, and one which we encounter over and over in the 80s, is the "bum-bum-bum" (underlined) on the 2-side. This is the easiest way to hear where the clave is because the bum-bum-bum locks in perfectly with the steps of the dance.

In our chapters on the 70s, the issue of clave direction seldom came up because almost everything was in 2-3. In the 80s, however, it's very important to be able to quickly know where the clave is. If you can count rhythms, the easiest way to do this is to look for 0x0x 0xxx or xxxx 0xx0. If you find one of these, that's the 2-side.

However, there's a much easier way to find the clave that doesn't require any musical training at all. Try this experiment: dance to Se muere la tía ... over and over ... and try to feel the sensation of the "bum-bum-bum" of the bass tumbao hitting at the same time as the "5-6-7" of your dance step. That's it! Not every song is this obvious, but almost every song will reinforce the dance step on the 2-side in some way. If you try this, let us know how it works for you.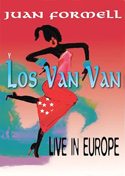 We'll also use Se muere la tía to call attention to a very important and historic European Los Van Van concert DVD from this approximate time period. With timba, we have extensive access to live concerts which make it abundantly clear that this music is much different and much more intense in concert. The studio recordings are simply a starting point for longer, more intense, more sophisticated live arrangements. The same thing has always been true, as this passage from the video [source] illustrates. A live Los Van Van concert in the 80s had much of the same power and energy that we're used to hearing today. Even then, "El tren" was still barreling down the tracks with a vengeance.
La Habana sí had several other important songs, such as the original version of Pupy Pedroso's El buenagente [source], familiar to timba fans as the title track of his third album with Los Que Son Son from 2005. The second coro is particularly interesting for clave connoisseurs. Both versions start with a trombone mambo in 3-2 clave. The Van Van version uses a "New York clave change" to switch to 2-3 clave for coro 2. The Los Que Son Son version [source] keeps the quirky break but then uses a "clave license clave change" to stay in 3-2, changing the rhythm of the coro accordingly. Both versions are great, but if you get used to one and then listen to the other, it can be extremely unsettling!
The other Pupy composition from this album is one of his most beautiful -- La duda de Belén. The cuerpo, Pupy's arrangement, and Pedrito's interpretation are haunting and perfectly excecuted and the coro that follows has a deep, dark groove that would be very much at home in the repertoire of any of today's modern timba bands. Also of note is Pupy's wild solo in which, among other things, he plays double-time 3-2 clave against normal time 2-3. Here's a slow-motion version that makes it easier to follow the many twists and turns of the polyrhythmic Pogollottian.
Quien bien te quiere te hará llorar is the first LVV recording using Changuito's famous merensongo rhythm, which has been lovingly documented in the Silverman/Changuito book [source], the History of Songo video, and our own Tomás Cruz Conga Method, Vol. II [source].
martes, 22 marzo 2011, 07:32 pm