Indice - Table of contents
New Stuff
[hide]
Photos of the Day
[hide]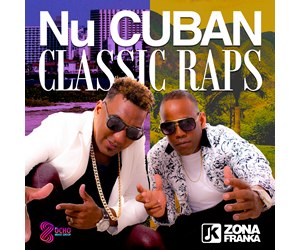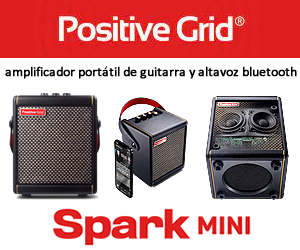 The Roots of Timba, Pt. III - 1989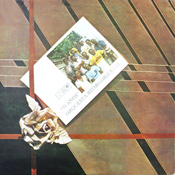 Ritmo Oriental:30 años
Tony Calá wrote what may have been his last song to commemorate la Ritmo's 30th anniversary -- 30 años [source] -- but he'd moved on to NG La Banda by the time it was actually recorded, so the vocal chores were inherited by Juan Crespo Maza. Maza also contributed three originals, including Azúcar con chocolate [write EGREM].
There are also two songs by Original de Manzanillo composer Cándido Fabré. Qué tiene la Ritmo [write EGREM] may been a source of inspiration for the lyrics of Los Van Van's Qué tiene Van Van and NG La Banda used the same general melodic phrasing on several songs, including Ya llegó la hora [source]. Fabré also wrote Pasen señores pasen [write EGREM] which has some of the album's best bloques.
Finally, there's a ten-minute Popurrí de éxitos giving us glimpse into the mind of arranger Enrique Lazaga as he embarked on the impossible task of narrowing la Ritmo's greatest hits to a mere 8. It's a painful process, but it's hard to argue with his choices.
Yo bailo de todo
Mi socio Manolo
Ahora sí
Matrimonio Feliz
Y se baila así
Nena, así no se vale
El agua no me llevó
Baile del azúcar -- [excerpt 2]
[sources]
To get a sense of the towering greatness of this band, here are 13 equally worthy masterpieces which didn't make it into the popurrí:
La Ritmo suena a Areíto
La Ritmo te está llamando
Qué rico bailo yo
La chica mamey
Al que le tocó le tocó
El son de Claro
Con el chenche buchenche
Maritza
Bailadores
Barrios de los rumberos
Cuida'o con la percusión
Azúcar a granel -- [excerpt 2]
Baila si vas a bailar
[sources]
The list could go on and on. Ritmo Oriental rode the crest of the elusive wave of pop music inspiration for over 15 years without interruption, a feat that few have accomplished in any genre.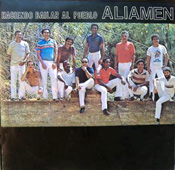 Orquesta Aliamén: Haciendo bailar el pueblo.
As La Ritmo was celebrating anniversary number 30, Aliamén reached their 25th. The title track begins with a dedication [source] from none other than Adalberto Alvarez.
Most of this album is more conservative than one might hope given the reports that have come back from people who heard this band's torrid concerts in the mid-80s. Nevertheless, t here are plenty of "timba roots" if you take the time to listen for them. Por ejemplo ...
Pianist Ernesto Ramos' introduction to El adiós de este momento [write EGREM] is the earliest example we've encountered of one of the favorite tricks of the timba arrangers -- the "where's 1?" introduction -- the idea of beginning a track with an intentionally ambiguous rhythm. We know from interviewing Charanga Habanera's arranger, Juan Carlos González, that he delighted in intentionally confusing not only the audience, but the band (in rehearsal) with his ambiguous creations. Of course, the North Americans had been up to this sort of mischief for years - for example, the classic introduction to Chaka Khan's Ain't Nobody [source].
But getting back to the piano intro to El adiós de este momento, it starts right on the beat with an extra accent provided by the güiro. With no other instruments playing there's no reason for the listener to hear this as anything other than beat 1. But it's not -- it's beat 4, the backbeat! And the first two notes of Pancho Amat's tres entrance only add to the confusion until he whacks the same backbeat (beat 4) with his third note and the coro enters to restore order to the proceedings.
0xx0 xx0x xx0x 0xxx 3-2 son clave
xxxx xxxx xxxx 0000 opening notes of piano intro
xxxx xxxx x0xx 0xxx tres - first 2 notes
xxxx xxxx xxxx 0xxx tres - 3rd note [audio]
Now compare the Aliamén piano intro to the one from Paulito FG's Con la conciencia tranquila [studio source], which also starts on beat 4. To achieve a further measure of obfuscation the timberos often began with a string of notes of the same pitch, preventing the listener from using melodic cues to find the elusive "1".
Ramos adds another subtle foreshadowing of timba piano playing -- a "rolling" effect that's easier to hear than to describe!
Later in the track El Indio turns it over to his famous guest tresero who adds some displaced rhythms of his own.
La merenguera [write EGREM] starts with another great piano intro which sounds a little like Feelin' Alright. El Indio often quoted a later part of this song in the 2000s as an extra coro on extended versions of Manolito's Llegó la música cubana [studio source].
Un meneíto yo traigo pa' ti starts with a mystery rhythm that no one has been able to identify -- it sounds a little like a 4/4 version of the batá rhythm yeggua -- but all timberos will be able to recognize the singing of Sixto "El Indio" Llorente, who clearly had his "tumbao pega'o" well before he joined the Trabuco in 1998.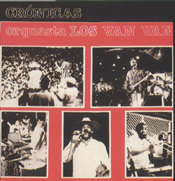 Los Van Van: Crónicas [source]
We conclude The Roots of Timba with Los Van Van's final and arguably finest release of the 80s - a nearly perfect album in every respect.
The album begins [source for all excerpts] as if in a chamber music parlor - a short, beautiful miniature composition which segues dramatically to the ambience of a live Van Van concert with a now-legendary Pupy Pedroso piano tumbao leading the way. After covering all the key albums that led up to timba, we can safely credit Pupy with having done more than any other pianist towards laying the groundwork for one of timba's fundamental concepts: the unique, song-specific piano tumbao. Pupy didn't always do this, and almost certainly didn't consciously pursue the idea as an artistic goal, but if you go through the recordings of the 20 years leading to timba, looking for piano parts which in and of themselves identify the song, Pupy created more of them, sooner [source], than anyone else.
Juan Formell, by his own admission, is a huge Beatles fan, and his pursuit of the Beatles-inspired goal of making an album with a distinct personality and dramatic flow is perfectly realized here. The short introductory "bookend" track is followed by a magnificent "first movement", one of Formell's greatest pieces of work. Setting the pace for an album that has no love songs or cliché lyrics of any sort, No soy de la gran escena is a social satire. It's an indirect but unmistakable lampooning the high-brow Cuban television program De la gran escena, which featured ballet and opera but turned up its nose at Cuban music (hence the refrain qué pena, qué pena, si yo no soy de la gran escena). To refute the idea that rumba and son, two of the most sophisticated and timeless forms of the 20th Century, are somehow less serious than an Italian aria or Russian classical music, the arrangement creates a stark juxtaposition of Tchaikovsky's first Piano Concerto with the second montuno section of No soy de la gran escena. Don't miss Pupy's piano entrance.
To head off any high-brow rebuttal, Formell proceeds to unleash a torrent of brilliant musical ideas. The mambo is simple but magical - giving an ever-so-subtle nod to the afore-mentioned Beatles [source] before surging into one of the most intense foreshadowings of timba gears of the 80s. This time, it's much more than just the breakdown to an addictive piano tumbao with dramatic bloques -- it's the urgency in Pedrito's voice -- the adrenaline rush of exploding into a new section and then exploding out of it, each transition ratcheting up the intensity another notch. The track concludes, at 6:40, with a guest solo from Arturo Sandoval.
Having captured our imagination with the dramatic opening tracks, Formell deepens the trance, as the Beatles or Brian Wilson loved to do, with a serene and understated "slow movement", Que vivan los abuelos. The mood continues into the thoughtful harmonies of the opening of Artisanos de la harina, with the lyrics shifting their quirky subject matter from the elderly to the bakery, but this time the arrangement is an early, modest example of what I like to call the "Formell slow burn", a technique that JF took to extraordinary heights in the 90s with songs like Soy todo. The first coro lifts us out of the pensive interlude and then, with suave, que no tengo dientes we're back to the concert energy of the opening of the album, ending side A of the vinyl album with an adrenaline rush.
Side B, again, starts with a unique and unforgettable instrumental figure, followed by another great bit of songwriting from Formell, who keeps the string of unusual lyrics going with Se cambia el turno, about the difficulties of being a consumer in the ill-managed Cuban retail system. Coro 1 was the inspiration for a very catchy timba phrase that's right on the tip of my tongue, and coro 2 adds yet another gem to one of the greatest collections of coros ever assembled.
Now Pupy takes over. Cuatro años de ausencia sounds very much like it could be from Pupy's new group of the 2000s. The question is whether it's more amazing that Pupy's 1989 music still sounds so modern today, or that Pupy, at 60, is still churning out cutting-edge modern hits 18 years later. Either way, it's amazing, and more amazing still that Pupy and Formell have each accomplished this nearly impossible feat of staying at the top of the hit parade for generation after generation of young listeners and dancers.
The television executives from De la gran escena, who felt that that Van Van's simple-minded and vulgar music was unworthy of sharing the broadcast with a Puccini recitativo, must not have heard the 4-part counterpoint of the bass, piano, trombones and violins on the opening of Cuatro años. It's also probably the most unique and imaginative of Pupy's pre-timba tumbaos. There are also some very interesting 20th Century classical music harmonies in the transition to the wicked groove of the second coro, which was no doubt a prominent part of the record collection of a certain Mr. Simonet, who would later make extensive use of its harmonic structure and general rhythmic feel.
There are many required ingredients in the making of a "perfect album": a sense of conceptual unity, a sense of inevitability in the ordering of the songs, an absence of anything even resembling a weak or filler track, a momentous opener, and a barn-burning finale. Pupy takes care of this last bit with Tranquilo mota, the closest thing to a love song on the album ... the object of Pupy's affection being his hound.
The cuerpo and first coro are both classics but the climax arrives with the second coro. A well-placed repeated note is all it takes to turn the piano tumbao into a hook and the same could be said for the trombone mambo, but listen in slow motion to the way the punches of the piano and bones alternate to create a composite rhythm.
From Tránsito to Chapeando, Formell has been a proponent of the Sgt. Pepper's-inspired idea of "bookend" tracks - using alternative versions of the same theme to begin and end an album. The timberos have frequently followed Formell's example, although sometimes applying it lazily - even to the point of repeating the same recording! In the annals of Cuban bookend albums, the reprise of Yo sé que Van Van is topped only Formell's own Te pone la cabeza mala, which has more new hooks in the reprise version than can be found on most entire albums. I rank Yo sé second based on the quality of the song itself, the fact that it became Van Van's theme for opening and closing live sets, and the quantity and quality of new ideas in the closing version: the bloque, the third coro, the fourth coro, and the fabulous mambo.
And so we come to the end of The Roots of Timba, having discovered that it's impossible to designate a date, group, album or song as "the beginning" of the genre. A fairly continuous evolution had been taking place ever since 1960. We're choosing this dividing line because the next batch of albums, including Revé's Suave suave and NG La Banda's En la calle, will require establishing a full explanation of timba "gears", after which we'll return to the end of 1989 and pick up the story where we left off.
Tuesday, 22 March 2011, 07:32 PM