Indice - Table of contents
New Stuff
[hide]
Photos of the Day
[hide]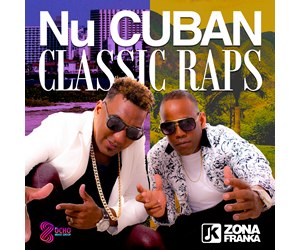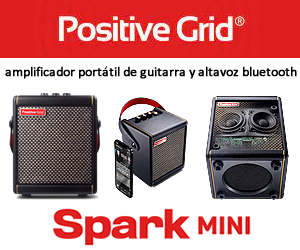 CUBADISCO 2019 IN REVIEW
by Bill Tilford, all rights reserved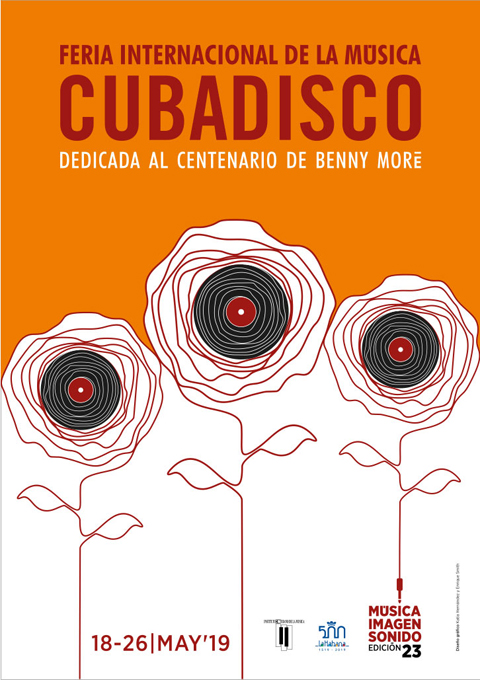 JULY 27, 2019: CUBADISCO 2019 PHOTO GALLERIES, VIDEOS AND DOCUMENTS

Although Cubadisco is Cuba's most important awards program for recordings, on a par with the GRAMMY Awards in the United States, it is also much more than that, with a week of academic presentations by day and concerts by night. You can read about the results in the June 15 entry; we are now pleased to share selected official videos by the winners, multiple photo galleries from different Cubadisco events and some key documents.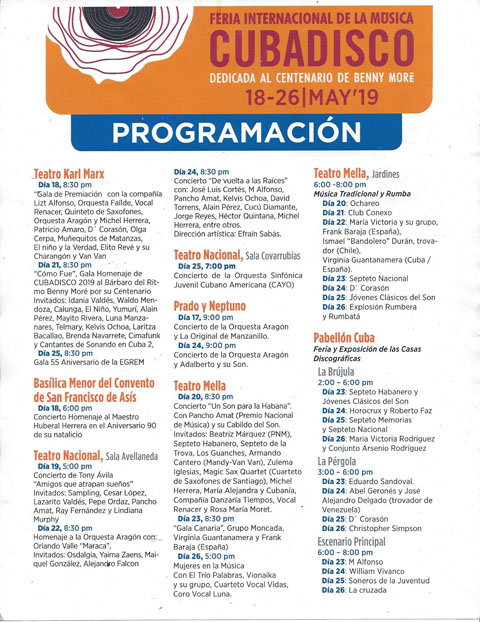 Videos: You can view official videos from several Cubadisco 2019 winners here

Galleries: You can view photo galleries with commentaries of several Cubadisco events:
Gallery: Concierto "De Vuelta a las Raices"
Gallery: Gala Canaria
Gallery: Cubadentro & Maria Victoria
Gallery: Homenaje a Orquesta Aragón
Gallery: Gala Concierto "Cómo Fue"
Gallery: Concierto "Un Son para la Habana"
Gallery: Gala 55 de EGREM
Gallery: Cubadisco 2019 Awards Ceremony
Gallery: Simposio CIDMUC, Cubadisco 2019
Documents:
Official Awards Booklet
Official Nominations Booklet
---

JUNE 15, 2019: CUBADISCO 2019 RESULTS

The Cubadisco awards ceremony , whose theme this year was the centenary of the birth of Benny Moré (yes, spelled with two "n"s for the occasion) and also honored the 500th Anniversary of Havana, returned to its traditional May dates in 2019 after experimenting with a combined event with Primera Linea in September, 2018. This left a shorter than usual window between the two Cubadiscos, and while the quality of the recordings (superb as always) was not affected by this, that shorter window might possibly be what accounted for the consolidation of the Jazz and Música Bailable categories into one category each this year. Hopefully this was a transient measure as the Jazz categories were especially well structured in 2018, and Cuba does need more than one category for Jazz in order to do justice to both large format and small format recordings, as is done in its excellent JoJazz competition. Likewise, although the Bailable categories were a subject of spirited debate in 2018, there was something to be said for letting newer artists and established names have separate spaces to compete. The Rock categories were missing this year, probably also a result of the shorter interval between events. There were, however, submissions in Hip Hop and Urban music.

There were two grand prizes this year, Saxofones Live Sessions (EGREM) by the Cuban Sax Quintet and De Revé a Van Van, Dos Leyendas (Bis). Not counting the awards for people and things other than recordings or the international prizes, EGREM, which is celebrating its 55th Anniversary in 2019, had the most awards with 13 followed by Bis with 12, Colibri with 9 and Abdala with 2. Three independent projects also received awards with Asere Productions/18A16 Productions taking two, LNME taking one and Muxia taking one.

Two ways in which the centenary of Benny More's birth were celebrated were in live performances, which included both Benny's songs and retro stage sets from his era, and two special recordings released by EGREM, Lo más Bárbaro del Ritmo 1945-1952 (EGREM), a compilation of his work from the period, and Siempre tu voz, Homenaje a Benny Moré (EGREM), a tribute by Omara Portuondo & Orquesta Failde.
A Special Prize for musicology research was awarded to Grizel Hernández & Malcoms Junco for a Book/CD publication, Contar el rap. Narraciones y Testimonios vol.1. As you will see in the awards booklet, several other noteworthy Special Prizes were awarded this year.

In the coming weeks, several items related to Cubadisco and the academic Simposio will be added here, In the meantime, You can download the complete official awards booklet (special thanks to Lourdes Martínez of Publicaciones Cubadisco) here.
---

MAY 2, 2019: CUBADISCO 2019 NOMINATIONS ANNOUNCED

In a press conference held on April 26th at the Hotel Tryp Habana Libre, the nominations for the 23 edition of Cubadisco, Cuba's most important awards for recorded music, were announced. This year, Cubadisco returns to being a separate event (it was held together with Primera Linea last year) and its traditional May dates (May 18 to 26 this year). The awards ceremony will be held on May 18 at the Teatro Karl Marx. This year the awards will be televised on Canal Clave, an excellent music channel in Cuba. This edition of Cubadisco is dedicated to the 100th anniversary of the birth of Beny Moré and the 500th anniversary of Havana.
This year there are 29 categories at the nomination stage of the process, and Bis Music has the largest number of nominees with 47 followed by EGREM with 33 and Producciones Colibrí with 25. There are several independent productions this year.
The Música Bailable category contains a LOT of Timba this year, and in honor of its 55th Anniversary, EGREM has released a 12-CD collection of reissues from its archives. That collection is one of several special prizes that you see mentioned in the nominations booklet.
Bill Tilford will be covering this year's Cubadisco for TIMBA.com; incidentally, he also wrote the liner notes for one of the nominees in the Música Instrumental Vocal category, Bendita Guanabacoa by Hermanos Arango.

You can download the official Cubadisco 2019 nominations booklet here.
(Many Thanks to Lourdes Martínez of Cubadisco Publications)
---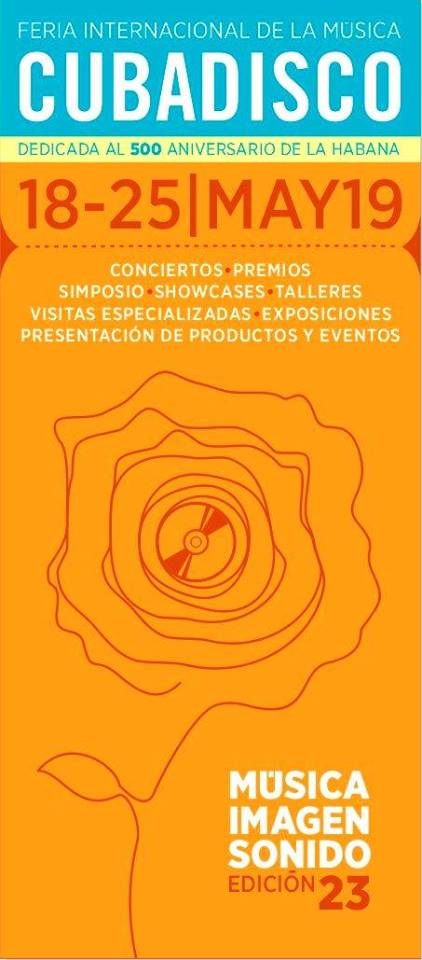 In 2019, Cubadisco will return to the month of May We will also attend that event this year. More details to follow closer to the date. In the meantime, if you read Spanish, you can read the convocatoria here.
Saturday, 27 July 2019, 12:48 PM