Notes from Jazz Plaza 2018
Havana, Cuba, 16-21 January, 2018
by Bill Tilford, all rights reserved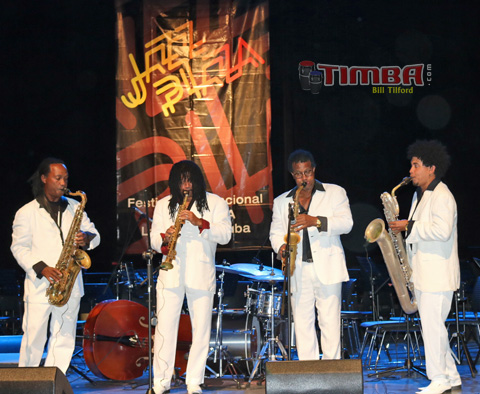 Cuarteto de Saxofones de Santiago

Jazz Plaza is always both a joy and a challenge. The joy comes in the form of so much wonderful music to choose from. The challenge is that it is physically impossible to catch all of it at the same time, so there are always groups that one regrets missing. Each night, there were presentations in multiple presentations throughout Havana (AND Santiago de Cuba, which was also an official festival site this year). That being said, I adopted a strategy of selecting presentations that involved either a CD release, an up and coming group that merited a closer look, or significant changes in an existing group. More often than not, these took place in the Teatro Mella in Vedado, and most of the concert commentaries will involve concerts that took place there. This meant, however, that I made the excruciatingly difficult sacrifice of NOT seeing the concerts by more prominent and extablished artists that took place at the Teatro Nacional de Cuba every night. One hopes that you can imagine how difficult it was to choose NOT to see Bobby Carcassés, Chucho Valdés, César López, Ernan López-Nussa and others of their stature. I was rewarded, however, with a new awareness of artists and groups such as Cucurucho Valdés and Rodrógo Garcia and Ceda el Paso (to name just two) that might otherwise have escaped my attention.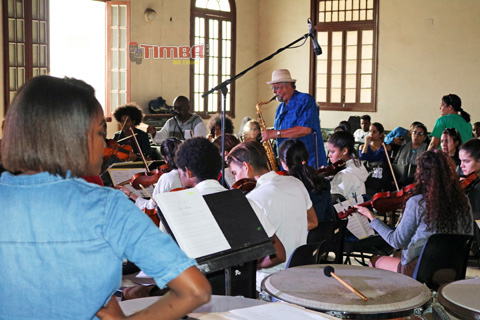 US saxophonist Joe Lovano rehearsing with student musicians at Amadeo Roldan

Jazz Plaza is a truly international event, but something that distinguishes it from some other Jazz festivals of international stature is that there is less emphasis on trying to attract the biggest possible names from other countries and more upon having artists that will add something special. In a couple of cases (US saxophonist Joe Lovano with the Orquesta Sinfónica del Conservatorio Amadeo Roldán and the Joven Jazz Band, Congolese pianist Ray Lema with the Orquesta Filarmónica del ISA) this involved performing with Cuban student musicians. In a couple others (Victor Goines, Ted Nash, Jimmy Bosch and Camp Kirkland from the US), the visiting artists participated in the Colloquium in addition to performing.

A distinctive feature of Jazz Plaza this year was the depth of involvement of student artists and bands. This did not detract from the musical quality of the festival; as many of the best Cuban student musicians play on a par with older musicians in other countries due to the intensity of their focus upon their craft (one should bear in mind that these are conservatory students).

A relatively unique aspect of Jazz Plaza is that there is a daily Colloquium with master classes by musicians, round tables, and presentations by musicians and musicologists. This took place in FAC (Fabrica del Arte Cubano) in Vedado. Although better publicized this year than in previous years, in practice this remains under the radar of many festival attendees. Perhaps the sections dedicated to the Colloquium in this article may help stimulate future attendance.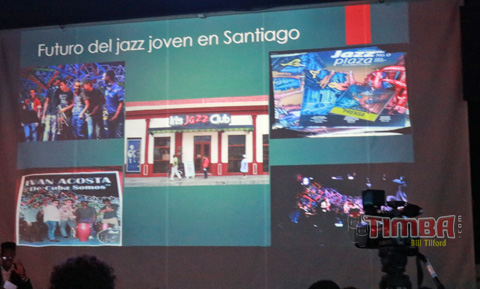 From a presentation about Santiago's Jazz scene at the Colloquium

Using the links that follow, several resources, photos and commentaries related to Jazz Plaza may be downloaded or viewed:

For the official schedule of Jazz Plaza, click here (as with all festivals of this type, there were a few changes on the ground at some of the secondary venues, but the schedule is mostly accurate).

To download the official schedule of the Colloquium, click here.

Extensive photo galleries and commentaries in English and Spanish of daily events may be viewed as follows:

For the Colloquium, click here
For some events of January 16, click here
For some events of January 17, click here
For some events of January 18, click here
For some events of January 19, click here
For some events of January 20, click here
For some events of January 21, click here
For a visit to a rehearsal at the Conservatorio Amadeo Roldán, click here

Jazz Plaza publishes its own excellent daily in Spanish during the Festival. With permission, I have scanned and posted copies from my paper versions here:

Jazz Plaza Daily 0
Jazz Plaza Daily 1
Jazz Plaza Daily 2
Jazz Plaza Daily 3
Jazz Plaza Daily 4
Jazz Plaza Daily 5
Jazz Plaza Daily 6
Additional resources:
There is an excellent Jazz website in Cuba, D'Cubajazz. There is a related page in Facebook.
Some radio and television programs in Cuba worth mentioning include
1. La Esquina del Jazz, on CMBF, Mon-Fri from 11pm-11:58PM Havana time. It livestreams here.
2. The Jazz Place on Radio Havana Cuba, one of Cuba's shortwave stations, every other Saturday night during the hourly nightly English language transmission (it alternates with another program, Music With a Message). If you are unable to listen via shortwave, the RHC website is here but sometimes streams the Spanish language transmission rather than the English. Tunein.com also carries RHC programs during the day of the broadcast.
3. A Todo Jazz is a long-running program on Televisión Cubana and often features the most interesting new artists. Although it may not be possible to view this live outside of Cuba, program fragments occasionally appear in YouTube.
4. There is a fairly new television channel in Cuba, Clave, that features multiple musical genres including moments of Jazz.

Many Thanks to Jazz Plaza's General Coordinator Branda Besada and Iliana Pérez of the Instituto Cubano de la Música for their friendship and help with my visit.
Monday, 12 March 2018, 07:10 PM