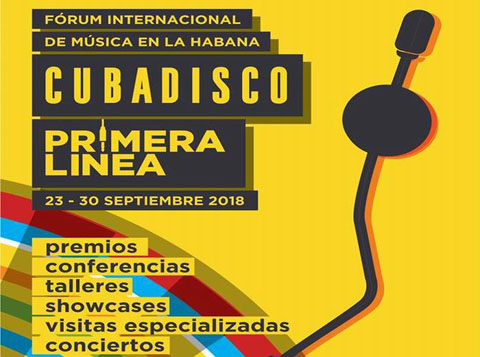 Galerías de fotos de Cubadisco 2018 y Primera Linea 2018

Las siguientes galeríás de fotos de Cubadisco y Primera Linea 2018 están disponsibles:
Alberto Lescay & FORMAS at Primera Linea
Toques del Rio at Primera Linea
Primera Linea daytime presentations
Septeto Habanero at 31 y 2
Ignacio Piñeiro 130th Anniversary Gala at Cubadisco 2018
Angel Yos & La Maquina Loca at Cubadisco 2018
Cubadisco Inaugural Gala 2018
Cubadisco Awards Ceremony 2018
Maria del Mar Bonet Concert at Cubadisco 2018

---
7 DE OCTUBRE 2018

Cubadisco 2018 fue reprogramado este año y combinado con Primera Linea. Un evento adicional, el 1 Encuentro de Melomanos y Coleccionistas, tuvo lugar al comienzo de estos dos eventos. Bill Tilford asistió a los tres, y en las próximas semanas publicaremos galerías de fotos y comentarios sobre diferentes aspectos de los eventos.
Más de 240 grabaciones de Cuba y la diáspora se entregaron a Cubadisco en 2018. Este año se experimentaron algunos debates animados sobre algunas de las categorías, especialmente las nuevas categorías de Música Bailable. Hubo 177 nominaciones incluyendo grabaciones que fueron nominadas en múltiples categorías y 58 premios sin incluir Premios de Honor no relacionados con grabaciones específicas. Producciones Colibri recibió la mayor cantidad de premios por grabaciones con 18 seguida de EGREM con 16, lo contrario ocurrió en las nominaciones donde EGREM tuvo 50 por grabaciones, seguido de 43 por Colibrí. Las únicas categorías más o menos dominadas por un solo sello fueron las categorías de música académica, donde Colibrí tiene la misión específica de trabajar con esos géneros.
Se puede ver o descargar el folleto oficial de nominados aquí
Se puede ver o descargar el folleto oficial de la premiación aquí

Se puede ver o descargar el libro oficial con la programación de Cubadisco y Primera Linea aquí.

Muchísimas gracias al Instituto Cubano de la Música y a Periodicos Cubadisco por darnos las versiones digitales de estos folletos y libros.
---

17 March 2018

Cubadisco 2018 will take place in Havana, Cuba June 23-30, 2018. Watch for more details soon. The official announcement, including the rules for the submission of recordings to the awards competition, can be seen here...

17 de marzo, 2018

Cubadiso 2018 tendrá lugar en La Habana, Cuba, del 23 al 30 de junio, 2018. Más detalles vendrán en un futuro cercano. La convocatoria oficial, que incorpora las bases de la inscripción de grabaciones en el certamen, se puede ver aquí...
domingo, 29 diciembre 2019, 01:09 pm