Michelle White - Timbera Archives - 2007
Wednesday January 31 2007 - Elito Revé y su Charangón - Stockholm Concert Report
The Charangón is on tour in Europe and everyone I hear from tells me the same thing: ¡ahora es cuando es! The concert in Stockholm last week was 2 hours of non-stop, hardcore, aggressive timba. Don't miss your chance to see the band live! Here are the remaining tour dates.
Click here for a report on the Stockholm concert with three video clips, including the estreno Ya No Te Doy Más Na'.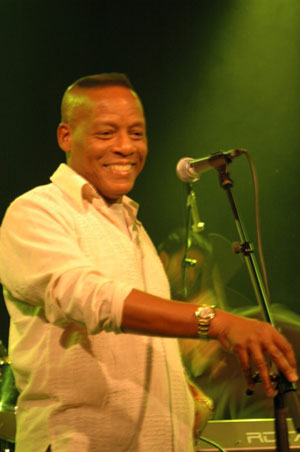 Photo ©Karim Ryde used by permission
Monday January 29 2007 - Interview with Pepito Gómez at Locos por la Salsa
In reference to Kevin's recent update here is a little more info about Pepito. The Italian site, Locosporlasalsa.com, has published an audio interview with Pepito Gómez, who left Pupy y los que son son last fall. The interview is in Italian and Spanish. For those who don't speak either a quick summary: the interview begins with Pepito quickly describing his musical history to bring us up-to-date. Then he talks about what he has done since leaving Pupy. Most significantly, he has recorded a solo CD. They play a one of the ballads from the CD during the interview. Pepito is also working on some dance songs, and has been rehearsing with Issac's former band, as Kevin mentioned.
Click here to listen to the interview that was conducted by DJ Cesarretto.
Friday January 26 2007 - Llegó Lo Que Tú Esperabas - El Charangón
Elito Revé y su charangón are on tour in Europe and are playing to full houses and getting rave reviews. The first concert was held at Havanna-Berlin, and both fans and the band alike said it was a great concert. But the band couldn't stay long in Berlin because they had to get to Stockholm for a concert the next day. So directly after the concert they climbed onto the bus and drove about 20 hours non-stop.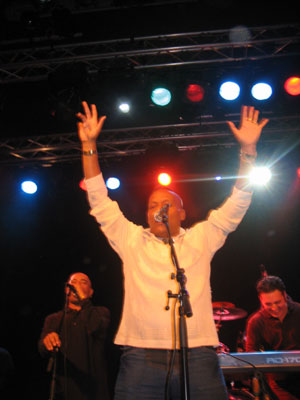 Elio Revé in Stockholm
Despite the long trip, the band was electric when they hit the stage. I attended the Stockholm concert and had a great time. The sound could have been better, but the band itself was fantastic. El Charangón is exactly the kind of hard core dance music that fans love. I will post a full report this weekend, but for now take my advice and find a way to catch one of the concerts. I guarantee you won't stand still all night.
They play tonight and tomorrow in Norway before heading back down to Austria, Hungary and Italy. Click here to find the concert nearest you.
Tuesday January 23 2007 - Cubamemucho March 9-11, 2007, Munich - featuring Yanek Revilla
The organizers of Cubamemucho have released a list of instructors and DJs that have already been confirmed for the congress in Munich. They have confirmed the participation of Yanek Revilla, winner of both the couples competition and the rueda competition on the Cuban dance show Bailar Casino. To see Yanek dance casino and rueda de casino in compeition click here. You may also know Yanek from the Salsa a la Cubana DVD series by Salsaville.
For videos from previous Cubamemucho congresses, see the Cubamemucho site.
Here is an excerpt from the Cubamemucho newsletter:
More confirmations for Cubamemucho 9 th - 11 th March 2007 in Munich,
Germany:
Alberto Valdez, Cuba, worldwide the No.1 for Rumba Cubana
Seo Fernandez, Cuba, worldwide the No.1 for Cuban Showstyle
Chiqui Dixon, Cuba, worldwide the No.1 for Afrocuban
Jorge Cameguey, Cuba, worldwide the No.1 for Timba
Eric Suarez, Cuba, worldwide the No.1, for Miami Style Casino
Claudio Pacheco, Cuba, worldwide the No.1 for Son
DJ Melao, Cuba the No.1 of all Timba DJ
and of course we do have many more stars to come ......

tickets online: www.cubamemucho.com
Trendsetters - Latin Lovers International
Your family Sonnenschein
Monday January 22 2007 - Pupy in Europe
Our friend Raphael has generously provided us with a little picture of Pupy from the concert in Zurich on the 19th. I don't yet the name of the singer who replaced Pepito, but I'm sure our friends in Paris or Milan will be giving us more details soon. For the remaining tour dates, click here.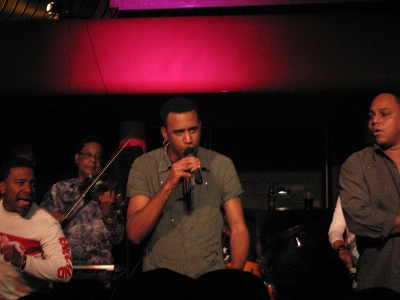 Jannier, Mandy y el cantante nuevo (Photo used by permission)
The brief report says the concert in Zurich was great and lasted 2.5 hours. Dantes Cardosa, "El Ricky Ricon" was with them and performed a number with them during the second set.
More Tour Updates
We have added more dates for Bamboleo and Los Van Van, who will be touring Europe in February and March, respectively. Click here for new dates for Gilito y su clave.
Thursday January 18 2007 - Boni & Kelly hablan de su nuevo disco "La Vida Es"
Boni & Kelly están actualmente en Europa y ya van muchos rumores sobre los dos. Por eso hermanos han tomado un minuto para contarles a sus fans sobre el nuevo proyecto.
Boni & Kelly:
"...simplemente somo dos ARTISTAS cubanos que estamos llevando nuestra música mas allá del malecón habanero, para defender nuestra cultura por el mundo. No hemos abandonado nuestro publico, que nos apoyó siempre, solo estamos abriendo el camino a nuevos mercados internacionales que es a lo que todo artista aspira. Hemos firmado con Universal music y Liverpool music nuestro nuevo CD grabado en República Dominicana, EUA y Panamá, titulado "La vida es" del cual haremos el lanzamiento internacional en Madrid los primeros días de Marzo.
Esperamos de todo corazón que les guste esta nueva producción y que nos sigan apoyando donde quiera que estemos.Recuerden que la música es como el amor! Un lenguaje universal!"
Boni & Kelly Talk about their new CD "La Vida Es"
Boni & Kelly are currently in Europe and there are a lot of rumors going around about them. So the brothers have taken a minute to tell their fans about their new project.
Boni & Kelly:
"...we are simply two Cuban ARTISTS that are taking our music beyond the malecón habanero, to defend our culture throughout the world. We have not abandoned our audience, that has always helped us, we are just opening the road to new international markets, which is what all artists aspire to. We have signed with Universal Music and Liverpool Music our new CD recorded in the Dominican Republic, EUA and Panama, titled "La vida es" for which we will be doing the international release in Madrid the first days of March.
We hope with all our hearts that you like this new production and that you continue supporting us wherever we are. Remember that music is like love! A universal language!"
Wednesday January 17 2007 - Pupy Arrives in Europe Tomorrow!
Pupy y Los Que Son Son will arrive in Europe tomorrow to begin their winter tour of Europe. The first concert is in Zurich at Cubanito. The concert in Paris on the 20th was cancelled (not by Pupy or his agency) but don't worry, if you were planning to see Pupy in Paris, you can catch him a day later on the 21st at Back Up. Click here to see the rest of the tour dates.
Los Van Van Tour Update
Speaking of Zurich, Los Van Van will play two nights in a row at Moods. The concert dates in Zurich are March 4 & 5. Click here to see the dates we have collected for this tour so far. I expect more updates to come as more information becomes available.
Click here to see the other tours that we have concert dates for at the moment.
Revé Tour Update
We have also updated the tour dates for Orquesta Revé. Some of the to be confirmed dates have been confirmed. Click here to see which.
¡Pupy Llega a Europa Mañana!
Pupy y Los Que Son Son llegarán a Europa mañana para empezar la gira de invierno. El primero concierto es en Zurich en Cubanito. El concierto en Paris el día 20 se canceló (no fue por Pupy ni su agéncia) pero no te preocupes, si estabas planeando ver a Pupy en Paris, puedes ir al concierto un día después en el 21 en Back Up. Pon clic aquí para ver todas las fechas.
Actualización de la Gira de Los Van Van
Hablando de Zurich, Los Van Van tocará dos noches consecutivas en Moods. Las fechas de los conciertos en Zurich son el 4 y el 5 de marzo. Pon clic aquí para ver las fechas que hemos encontrado para este gira hasta ahora. Espero más actualizaciones a medida que más información se hace disponible.
Actualización de la Gira de Revé
También hemos actualizado las fechas para Orquesta Revé. Algunas de las fechas para confirmar ya se confirmarón. Pon clic aquí para ver cuales son.
Pon clic aquí para ver la lista actual de las otras giras.
Thursday January 11 2007 - New Projects in 2007
It's a new year and time to look forward to the new projects and special events that we can expect from Timba artists this year.
Paulo FG y su Élite celebrate 15th anniversary
2007 marks the 15th anniversary of Paul FG y su Élite. I don't know yet when or what they are planning to do to celebrate, but certainly it will be something special to show their appreciation of the support they have received from their fans for so many years. We can also expect new recordings from Paulo this year.
Pachito Alonso y sus Kini Kini
Pachito Alonso has started work on a new CD. One of the new songs that has all the makings of a hit is called Pasarela. We'll keep you updated when we know more about the release date for the new CD.
Manolito y su Trabuco + Gente D'Zona
Manolito says that for some time now he and Gente D'Zona have been interested in doing a project together. This year we can expect them to record a son + reggaeton. That should be interesting. For the moment they have released something a bit more traditional: the video for Sabrosona which is a Trabuco version of Orquesta Aragon's big hit. You can watch the video at Salsamania.
Leoni Torres Records Solo CD
Charanga Habanera singer Leoni Torres has recorded a solo CD of pop ballads. Don't worry, he says that he has no plans whatsoever to leave La Charanga Habanera, but he has always wanted to record a CD of his own ballads. He has already filmed the first video for the song Adónde Vas. The story is about a guy whose girlfriend moves abroad but he doesn't want to leave and remains alone in the home that they used to share.
Charanga Habanera Estrenos
La Charanga Habanera is already performing a few new songs in concert. Click here to see a video of a performance of one of the estrenos in Sweden. I don't know yet when we can expect a new CD, but as always we will keep you updated when we hear anything. Charanga Habanera will be touring this summer from June 26 through August 9 and will continue to collaborate with Eddy K. Click here to see a video of Charanga Habanera and Eddy K live in Gothenburg.
Azúcar Negra Estrenos
Limonta tells us he already has several new songs and is hoping to find time in their schedule to record another CD in 2007. Rumor has it that singer Yorgi, who recorded Mi China Gladys with Salsa Mayor, is the latest addition to the group. In the meantime, I can recommend Azúcar Negra's last CD, Toque Natural, if you don't already have it.
New CD by Hatuey
Swedish group Hatuey has recorded a new CD called Llegó El Momento. The album contains timba, salsa and fusions that they call socarengue and plenaton. The CD is doing well in Europe and they are now looking for distribution in the US. We'll let you know when it becomes available there. There is a soundclip at their site and you can also order the CD directly from them: http://www.hatuey.info/
Wednesday January 10 2007 - Más Timba Para Los Timberos!
I'm back from vacation now and have a lot of catching up to do. I am pleased to say that 2007 is off to a good start with winter tours in Europe and Casino and Rueda de Casino events around the world.
Tours
I updated the tours pages for Orquesta Revé, Los Van Van and Calle Real. The Los Van Van schedule is lacking a lot of dates, so if you have any information about concerts we haven't posted, send an email.
Dance
Timba.com has added the basic framework for a new Dance section. The close relationship between the music and the dancers is one of the integral features of Cuban music, and we hope with this section to be able to finally fill in what has been missing at Timba.com. This is an exciting addition to the site and we look forward to keeping casineros updated on congresses, clubs dance videos and more. To list your Cuban Dance event, send an e-mail. Here is a little summary of some of the special events coming up in 2007.
Cubamemucho will be holding a Cuban Salsa Congress in Munich from March 9 - March 11.
Vancouver, British Columbia will be hosting the 4th annual Cuba Baila Rueda de Casino event on April 21-22.
Courtesy of Sela Salsa, Cancun will host its first Cuban Salsa Congress from May 10 - 14. According to Sela Salsa, Azúcar Negra has been booked for the congress. Sela Salsa will also be organizing a salsa congress in Peru from February 15-19 and in Marbella from June 14-18. If we hear more about any Cuban bands appearing at these congresses we'll let you know.
Cubakultur will be organizing dance trips to Cuba the 3-17 of April, 2-16 of July 2007 and 8-22 of October 2007

martes, 22 marzo 2011, 07:32 pm