CUBADISCO 2015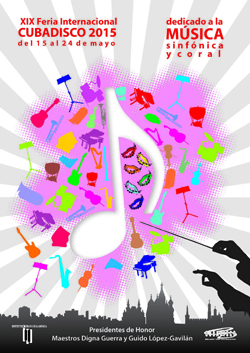 20 APRIL 2016
With Cubadisco 2016 approaching in less than a month, we wanted to reprise some items from 2015.

I. You can download the official Cubadisco 2015 book of winners and nominees here.
II. In addition, we have prepared special pages with links to reviews and videos of many of these recordings:
1. The CD nominees are here
2. The DVD and video nominees are here
3. The technical categories are here.
---
9 August 2015



A new article about the Museo Nacional de la Música, one of Cuba's cultural treasures, is available here.
---
2 August 2015
Scenes from Cubadisco 2015, Part III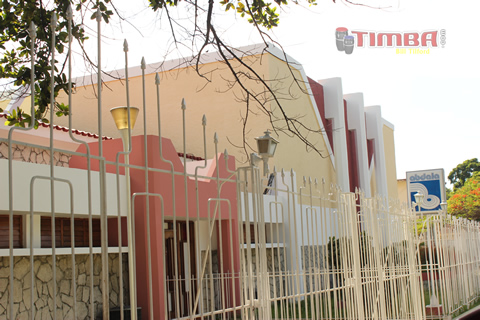 Some of the activities for the International Symposium took place at Estudios Abdala. A look at Estudios Abdala is now available here.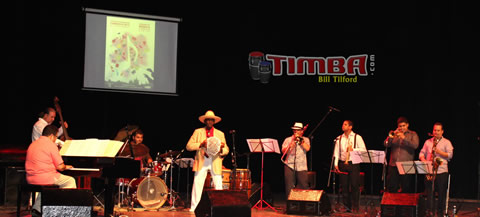 Several Cubadisco winners gave concerts during the course of the event. One of the best was the concert by Arturo O'Farrill and some of Cuba's best Jazz artists for the purpose of honoring the centennial of the birth of Chano Pozo. A look at the concert is available here.
---
26 July 2015

Scenes from Cubadisco 2015, Part II

One of the core functions of Cubadisco is the International Symposium, which runs for a week and includes a mix of historicall papers, technical presentations, demonstrations and very lively discussions about the future of Cuba's discographic industry. Some scenes from the International Symposium are now available here.
For participants from foreign countries (such as myself), there is a special reception at the Casa de la Amistad. Entertainment is part of the reception, and one of the groups that performed, Frasis, won my musical heart. A photo gallery from that reception and a video of Frasis in concert are available here.
---

19 July 2015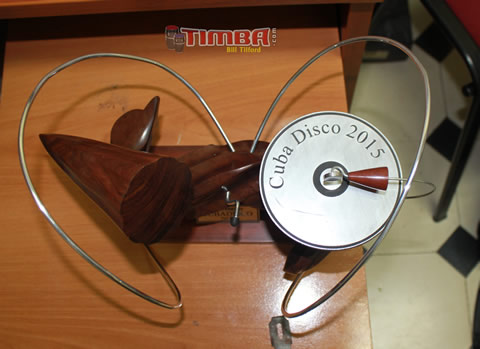 Part I of Bill Tilford's Scenes from Cubadisco 2015 is now available here.
---

1 JUNE 2015
OFFICIAL CUBADISCO 2015 AWARDS BOOK AND MORE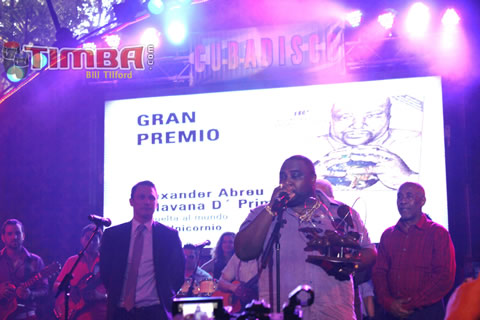 Alexander Abreu receiving one of the Grand Prizes at Cubadisco 2015.
I have returned from La Habana, and in the weeks to come I will be posting a large number of items related to Cubadisco 2015. In the meantime, I wanted to share a couple of brief observations:

Although Russia was the invited Country of Honor because that country played a crucial role in the modern classical music education system in Cuba since the 1960s, and some Russian artists were involved in Cubadisco performances this year, the United States was quite visible this year due to the performances by the Minnesota Orchestra and a delegation of more than 300 people. As you will see in some items that I will share in the near future, the expanded presence of the United States in this event is already proving to be a mixed blessing there. I encountered some almost-stereotypical predatory and ignorant North Americans along with some of our best and brightest. I hope that we send enough good people in the future to outweigh the impressions that will be made by people in those latter categories.
Cubadisco itself is in a transition of sorts - the Commercial Fair was smaller this year, and a public discussion of a new Cuban recording academy was already in progress when I arrived. This was an important topic both at the CIDMUC Symposium and in the Cuban press. The impact of this proposal on future Cubadisco events is not yet clear. Last year's daily publication during the event did not reappear this year - rather there will be a much larger Final Edition in a few months. However, other press from both Cuba and other countries (including the US) was far more visible, and that should be considered a positive development. The music, naturally, was wonderful again, and I will be publishing reviews of several recordings in the weeks to come.
While I am sorting through numerous photos and files, you can download the official awards book here (thanks again to Lourdes Martínez of the Publications Department of Cubadisco for sharing the official Awards Book with us and granting permission to share it with you).

You can download the program for the 2015 Cubadisco International Symposium here.
---
9 MAY 2015
OFFICIAL CUBADISCO 2015 NOMINEES BOOK

Many thanks to Ms. Lourdes Martínez and the Publications Department of Cubadisco for sharing the official Nominees Book of Cubadisco 2015 with us and for granting us permission to share it with you. You can download the official book here.
---
8 MAY 2015

MEZCLA'S 30TH ANNIVERSARY CONCERT MAY 9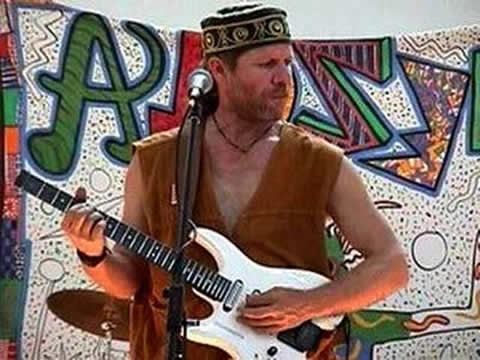 One of the concerts related to Cubadisco this year is Mezcla's 30th Anniversary concert at the Sala Teatro del Museo Nacional de Bellas Artes on Saturday, May 9 at 7:30pm. This celebrates 30 years of Mezcla and 45 years of the career of Pablo Menéndez . In one aspect, this will be a bittersweet event due to the recent passing of early member Lucia Huergo, who was parte of Cantos , which has been nominated for a Cubadisco in the Afrocuban music category.
---
2 MAY 2015
CUBADISCO 2015 NOMINEES ANNOUNCED
At a special Gala at the Cabaret Tropicana in Havana Cuba on April 30, the nominees for Cubadisco 2015 were announced. Several special awards (including the international prizes) are always announced later in the process, but this list contains the general categories and some of the special prizes.

As a special extra, we have added some video links when they are available in order to help introduce you to some of these artists. Many North Americans who are unfamiliar with the range of music that is being recorded in Cuba will be surprised at the scope, and we strongly encourage you to share this page with anyone who still has a stereotypical view of music in Cuba. We did not include links that looked like they might be "pirate" links, but in some instances where video related to the recording was unavailable, we did include another recent video by an artist that is illustrative of their style but not part of the nominated album along with the occasional interview clip and other surprises.

Over time, we will also be adding reviews of many of these recordings. A link is included to those which are already published. This is a work in progress and will be updated in the future.
A special note regarding the album covers and video links: If it appears that Bis Music has many more links and photos than the other labels, this is because Bis currently has a much more robust presence on the web than EGREM or Colibrí, and it is much easier to find information from Bis on the Internet at the moment. This is not a reflection of the relative quality of the music among the labels..
CATEGORY
ARTIST(S)
TITLE
LABEL
REV?

VIDEO?


COMPILATION






Luis Carbonell
Un juglar antillano
Bis Music


Celeste Mendoza
La reina del guaguancó
EGREM
CLICK
HERE, but not part of
album
Amaury Pérez
Gratitudes
Sello Unicornio
Various Artists
Motivos martianos
EGREM
Various Artists
Trinidad: Historias de un mundo aparte
Bis Music
CLICK HERE (trailer)
TRADITIONAL SON
Pancho Amat
Herencias
Bis Music
CLICK HERE (recent, but not part of album)
Maria Victoria Rodríguez
Entre dos aguas
Bis Music
CLICK HERE (recent, but not part of album)
Septeto Santiaguero & El Canario
No Quiero Llanto, Tributo a Los Compadres
EGREM
CLICK HERE
CLICK HERE
Son del Nene
Siguiendo mis tradiciones
Prod.
Colibrí
Soneros de Camacho
Se acabó el mundo
Prod.
Colibrí
CLICK HERE (recent, but not part of album)
MUSICA AFROCUBANA
Team Cuba de la Rumba
La rumba no es como ayer
Bis Music
CLICK HERE
Lázaro Ros y Mezcla
Cantos
Indep.
Team Cuba de la Rumba
La solución
EGREM
Rumbávila
Defendiendo mis raíces
Sello Unicornio / CMP Ciego de Avila
CLICK HERE
MISCELLANEOUS TRADITIONAL
Orquesta Chepín Choven
Llegó el Chepín Son
EGREM
Guillermo Rubalcaba
Como en el ayer
Prod.Colibrí
Orquesta América
70 Américas
Prod.
Colibrí
Pachito Alonso
De Machin a Pacho
Prod.
Colibrí
CLICK HERE (recent, but not part of album)
Alabao
Te llevaré
Prod.
Colibrí
CLICK HERE
CHAMBER MUSIC
Various artists
Mitología de las aguas. Obras del maestro Leo Brouwer
Prod.
Colibrí / Espiral Eterna
Darío Martin y Fadev Sanjudo
Netzaj
Prod.
Colibrí
CLICK HERE (recent, but not part of album)
Yalil Guerra, Ensemble Solistas de la Habana, Iván Valiente
Works for String Orchestra
R.Y.C.Y. Prod.


CLICK HERE
CONCERT MUSIC
César López y Orquesta del ISA
Entre Cuerdas
Prod.
Colibrí
Various Artists
Edgardo. Obras de Edgardo Martín
Prod.
Colibrí
CHORAL MUSIC
Digna Guerra y Coro Entrevoces
Oh, Yes!
Prod.
Colibrí

CLICK HERE (recent, but not part of album)
CONCERT SOLOIST
Joaquin Clerch
Etudes
Prod.
Colibrí
Liana Fernandez
Intermezzo al sur
Prod.
Colibrí
Rosario Franco
Rosario Franco
Prod.
Colibrí
VOCAL & VOCAL/ INSTRUMENTAL MUSIC




Novel Voz
Tratando de Llegar
Indep.
CLICK HERE (recent but not part of album)
Ars Longa
Bolero Vs. Fandango
Prod.
Colibrí
CLICK HERE (recent but not part of album)
CUBAN JAZZ
Ernán López-Nussa
Invención Lekszycki
Prod.
Colibrí
Iván "Melón" Lewis
Ayer y hoy
Acezame
CLICK HERE
Ruy López-Nussa
La Academia
Prod.
Colibrí
CLICK
HERE
CLICK HERE
Various Artists
Lecuona JoJazz
Prod.
Colibrí
Yosvany Terry
New Throned King
Pasion
CLICK HERE
JAZZ
Estado de ánimo
Estado de ánimo
Prod.
Colibrí
Gabriel Hernández
Mr. Many Moons
Indep.
Héctor Quintana
Dactilar
Prod.
Colibrí
Ruly Herrera
Mal tiempo
Prod.
Colibrí
CLICK HERE
Maikel Visel, Reinier Elizarde, Juanma Barroso
Trio on
Big
Music
CLICK HERE (recent but not part of album)
INSTRUMENTAL MUSIC
Chuchito Valdés y Eddy Navia
Carnaval en piano charango
Indep.
CLICK HERE
Guillermo Rubalcalba
Como en el ayer
Prod.
Colibrí
Alejandro Falcón
Cuba now danzón
Prod.
Colibrí
CLICK HERE
Eliel Lazo & The Cuban Funk Machine
Eliel Lazo & The Cuban Funk Machine
Stunt Records
CLICK HERE

CLICK HERE
Pacho Amat y Daniel Amat
Haciendo son en otro jazz
Prod.
Colibrí
CLICK HERE
SOUNDTRACK
Raúl Paz
La otra esquina
EGREM
CLICK HERE
Various artists
Irremediablemente juntos
Bis Music
CLICK HERE
TRADITIONAL TROVA
Santiago Feliú
Senderos
Prod.
Colibrí
CLICK HERE (recent but not part of album)
Trio Palabras
De Corona a la Trovuntivitis
Prod.
Colibrí
CLICK HERE (recent but not part of album)
Dúo Voces del Caney
Viente canciones de Sindo Garay
Prod.
Colibrí
Xiomara Laugart
Tears and rumba
Chesky Records
CLICK HERE
Miriam Ramos y Harold López-Nussa
Intemporal
Prod.
Colibrí
NUEVA TROVA
Augusto Blanca
Poblinas Vol I y Vol II
Prod.
Colibrí
Benito de la Fuente
Fe de vida
Prod.
Colibrí
Leonardo García
Detrás del tilo
Prod.
Colibrí
Virulo
El bueno, el malo, el cubano
EGREM
CLICK HERE
Yoan Zamora
Globalización
Centro
Pablo
CLICK HERE
TROVA-POP-ROCK


Adrián Berazaín
Si te hago canción
Bis Music
CLICK HERE
Polito Ibañez
De las manos y los pies
Bis Music
CLICK HERE
Vanito Brown
Norte, sur, este y aquel
Bis Music
CLICK HERE
Mauricio Figueiral
Flores de tequila
Bis Music
CLICK HERE
CANCIONÍSTICA
Amaury Pérez
Canciones a Peti Vol. I y Vol. II
Prod.
Colibrí
CLICK HERE
Haydée Milanés
Palabras
Bis Music
CLICK HERE
Rosita Fornés
ConVivencias, Duetos
EGREM
CLICK HERE (May not be part of album)
Omara Portuondo
Magia Negra
Prod.
Colibrí
CLICK HERE
Alexander Díaz
Conversando con la luna
EGREM
CLICK HERE
CHILDREN'S MUSIC
Lidis Lamorú
La magia de los sueños
Bis Music
Miriela Mijares
Cantar y decirte quiero
Prod.
Colibrí
Omara Portuondo
Acuarela
Bis Music
Various Artists
Ortodecimante
Bis Music
Various Artists
Rimando con mis derechos
Sello Unicornio / UNICEF
FUSIÓN
Guantánamo Free
Como el elefante
Indep.
CLICK HERE
Kamankola
Antes que lo prohiban
Tuyuca
CLICK HERE
Luis Barbería feat. Sexto Sentido
A Full
EGREM
CLICK HERE
Qva Libre
La sicodélica estelar
Bis Music
CLICK HERE
Raúl Paz
La otra esquina
EGREM
CLICK HERE
ROCK
Avanz
Crazy for you
Indep.
Blinder
Hegemonic Cult
Rhombifer Music
CLICK HERE (recent but not part of album)
Médula
La reencarnación
ALPIS
CLICK HERE
The Shepal
Inalcanzables
Agencía Cubana
de Rock
CLICK HERE
Zeus
La verdad prohibida
Prod.
Colibrí
CLICK HERE (recent but not part of album)
POP
Dayana
Ida y vuelta
Ahí Namá
Diana Fuentes
Planeta Planetario
EGREM
Jessee Suárez
Ése soy yo
Ahí Namá
CLICK HERE
Lindiana y Mantra
Terras
Letras & Sons
Patricio Amaro
Más de lo que tú me das
Bis Music
CLICK HERE
POPULAR DANCE MUSIC (NEW RELEASES)
Alaín Pérez
Hablando con Juana
Bis Music
CLICK HERE
El Niño y la Verdad
Llego La Verdad
EGREM
CLICK HERE
JG
Que no me controlen
Ahí Namá
CLICK HERE
Laritza Bacallao
Sólo se vive una vez
Planet Records
CLICK HERE
Alaín Daniel
Trayecto
Ahí Namá
CLICK HERE
POPULAR DANCE MUSIC
Elito Revé y su Charangón
La aplanadora de Cuba
Bis Music
CLICK HERE
CLICK HERE
José Luis Cortés y NG La Banda
En la calle una vez más
Bis Music
CLICK HERE
David Álvarez y Juego de Manos
Somos Cuba
EGREM
CLICK HERE
Aymée Nuviola
First class to Havana
Worldwide
Alexander Abreu y Havana d'Primera
La vuelta al mundo
Sello Unicornio
CLICK HERE
RAP-HIP HOP
La Cruzada Estudio
Pedazo de cielo
Bis Music
Negrons
Qué onda
Agencia Rap
Ondalivre
A deguello
Asere
Prod. / 18A16 Prod.
CLICK HERE
REGGAETON
Marvy Freddy y Kayanco
Fama y Money
Indep.
Marvy Freddy y Kayanco
Comercializando
Indep.
ELECTRONIC MUSIC
Carlos y Rafael
Yongolailan
LNME
Dj. Ra & Dnix
Amaneciendo
LNME
CLICK HERE
JVG
Música para soñar
Indep.
Makk
Frecuencia
Indep.
Rezak
Session Ocha Niwe
Indep.
NEW ARTIST
Héctor Quintana
Dactilar
Prod.
Colibrí
Ruly Herrera
Mal tiempo
Prod.
Colibrí
Liana Fernández
Intermezzo al sur
Prod.
Colibrí
El Niño y La Verdad
Llegó la verdad
EGREM
CLICK HERE
Laritza Bacallao
Solo se vive una vez
Planet Records
CLICK HERE
DVD PERFORMANCE FOR CHILDREN (FILMMAKERS)
Marcel Beltrán
Canción para estar contigo / Bárbara Llanes y Teatro de las Estaciones
Prod.
Colibrí
Alberto José Paredes
Casichiflados / Payaso Jarol
EGREM
Luis Najmías Jr.
La magia de los sueños / Lidis Lamorú
Bis Music
DVD PERFORMANCE (FILMMAKERS)
Claudio Pairot
El nuevo mundo / David Blanco
Bis Music
CLICK HERE
Maykel Blanco
Cerrando filas / Maykel Blanco
Bis Music
CLICK HERE (trailer)
René Arencibia
Eliades Ochoa desde el Gran Teatro de la Habana
EGREM
Enrique Carballea / Luuis Najmías Jr.
Mi primer concierto / Descemer Bueno
Bis Music
Ernesto Eduardo Dobarganes / Diana Marta Utrela
Habana Abierta Live/Habana Abierta
Prod.
Colibrí
CLICK HERE (film trailer)
AUDIOVISUAL CONCERT (FILMMAKERS)
Rolando Almirante
La familia /López - Nussa
Prod.
Colibri
Lester Hamlet
Dúo / Harold López-Nussa y Ernesto Vega
Prod.
Colibri
Alejandro Ramírez
Concierto homenaje a César Portlllo de la Luz
Prod.
Colibrí
Rolando Almirante
La leyenda de Arsenio
EGREM
CLICK HERE (film trailer)
MAKING OF
René Arencibia
Cuba now danzón / Alejandro Falcón
Prod.
Colibrí
Ángel Alderete
Intemporal / Miriam Ramos y Harold López Nussa
Prod.
Colibrí
Alejandro Reyes
Mal tiempo / Ruly Herrera
Prod.
Colibrí
Giselle E. Delgado
A Full /Luis A. Barbería feat. Sexto Sentido
EGREM
Ileana Rodríguez
Magia negra / Omara Portuondo
Prod.
Colibrí
DIDACTIC DVD (FILMMAKERS)
José Manuel García / Pancho Amat
Mis caminos del tres / Pancho Amat
Bis Music
Roly Arena / ElevaStudio
Máster Class: La trompeta / Varios intérpretes
Prod.
Colibrí
Roly Arena / ElevaStudio
La improvisación / Varios intérpretes
Prod.
Colibrí
Sonia Pérez Cassola / Ernesto García
Ortodecimante / Varios intérpretes
Bis Music
René Arencibia
Rimando con mis derechos / Varios intérpretes
Sello Unicornio / Unicef
MULTIMEDIA (FILMMAKERS)
Liliana Casanella, Elisa Álvarez, Armando Herrera
75 años / Orquesta Aragón
EGREM
Katia Hernández y Enrique Smith
Obra de Edgardo Martín / Varios
Prod.
Colibri
MUSICAL DOCUMENTARY
Marcel Beltrán
Digna Guerra
Prod.
Colibrí
Luis Najmías Jr. / Ruy López-Nussa
Estado de Ánimo
Prod.
Colibrí
José Manuel García / Eddy Cardosa
Un juglar antillano / Luis Carbonell
Bis Music
Lester Hamlet
Omara: Cuba
Prod.
Colibrí
Mayra María García/Guillermo Amores
La rumba no es como ayer / Team Cuba de la Rumba
Bis Music
VIDEO CLIP (FILMMAKERS)
Omar Leyva / Adrián Berazaín
Oshún / Adrián Berazaín
Bis Music
CLICK HERE
Joseph Ros
Hablando con Juana / Alain Pérez
Bis Music
CLICK HERE
Fernando
Pérez
Canción fácil / Haydée Milanés
Bis Music
CLICK HERE
José Rojas
Cuando tú dices que me amas / Qva libre
Bis Music
CLICK HERE
Alejandro Valera
La moda / Van Van
EGREM
CLICK
HERE
CLICK HERE
LINER NOTES
(WRITER)
Tony Pinelli
Cuba now danzón / Alejandro Falcón
Prod.
Colibrí
CLICK HERE
Jorge Gómez
70 Américas / Orquesta América
Prod.
Colibrí
Lázaro Garcia
Cantar y decir te quiero / Miriela Mijares
Prod.
Colibrí
Leonardo Padura
Palabras / Haydeé Milanés
Bis Music
Maria Elena Mendiola
La academia / Ruy López Nussa
Prod.
Colibrí
CLICK
HERE
Marta Valdés
Intermezzo al Sur / Liana Fernández
Prod.
Colibrí
MUSICOLOGICAL NOTES (WRITER)
Olavo Alen
Haciendo Son en otro Jazz /Pancho Amat y Daniel Amat
Prod.
Colibrí
Jesús Gómez Cairo
Senderos / Santiago Feliú
Prod.
Colibrí
Miriam Escudero
Oh, yes! / Digna Guerra y coro Entrevoces
Prod.
Colibrí
Carole Fernández
Boleros Vs Fandango / Ars Longa
Prod.
Colibrí
Laida Ferrando
Siguiendo mis tradiciones / Son del Nene
Prod.
Colibrí
DESIGN (GRAPHIC ARTIST)
Katia Hernández y Enrique Smith
Poblinas /Augusto Blanca
Prod.
Colibrí
Adrián Berazain y Alejandro Cervantes
Si te hago canción / Adrián Berazaín
Bis Music
Mauricio Vega
Pedazo de cielo / La cruzada
La
Cruzada Estudio
Edel Rodríguez "Mola"
Mi primer concierto / Descemer Bueno
Bis Music
Alexis Bousquet
Planeta Planetario / Diana Fuentes
EGREM
Katia Hernández y Enrique Smith
Senderos / Santiago Feliú
Prod.
Colibrí
RECORDING
(ENGINEERS)
Maykel Bárzagas
Cuba now danzón / Alejandro Falcón
Prod.
Colibrí
Orestes Aguila
Invención Lekszycki /Ernán López Nussa
Prod.
Colibrí
Javier Monteverde
Ayer y hoy / Iván "Melón" Lewis
Acezame
CLICK HERE
Iván Gutierrez / Frank Rodriguez
Planeta planetario / Diana Fuentes
EGREM
Oreste Aguila
Llego la verdad / El niño y la verdad
EGREM
CLICK HERE
Jorge Benítez / Guillermo del Toro
La vuelta al mundo / Alexander Abreu
Sello Unicornio
CLICK HERE
LIVE RECORDING
(ENGINEERS)
Olimpia Calderón Y Enzo Estrada
Mitología de las aguas / Obras Mtro. Leo Brouwer
Prod.
Colibrí
Luis Durán
El nuevo mundo / David Blanco
Bis Music
Maykel Bárzagas / Maykel Bárzagas Jr.
Mi primer Concierto /Descemer Bueno
Bis Music
Orestes Aguila
Dúo / Harold López Nussa y Ernesto Vega
Prod.
Colibrí
SPECIAL PRIZES (ARTISTS)
Various Artists
Eterno Formell
Bis Music
Los Van Van
La Fantasía. Homenaje a Juan Formell y los Van Van
EGREM
CLICK HERE
CLICK HERE
Various Artists
Indefinidas confesiones. Poemas de Antonio Guerrero
Bis Music
Various Artists
Sara
Prod.
Colibrí
Guillermo Rodríguez Rivera/various artists
Con olor a manigua
Prod.
Colibrí
Jesus Ortega
Fanfarria de Primavera. Obras Electroacústicas de Jesús Ortega
Prod.
Colibrí
Pablo Milanés y José Maríá Vitier
Canción de Otoño. Pablo Milanés interpreta canciones de José Maríá Vitier
Bis Music


CLICK HERE
Wednesday, 20 April 2016, 01:57 PM