Indice - Table of contents
New Stuff
[hide]
Photos of the Day
[hide]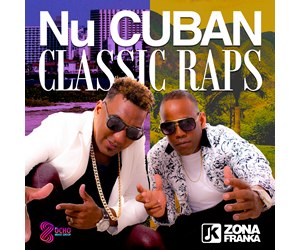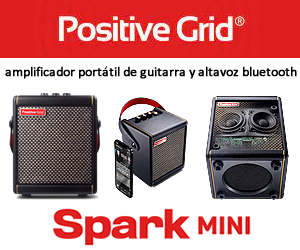 Chicago-Based Bands - Albert Sierra
Albert Sierra's Cuban Flavor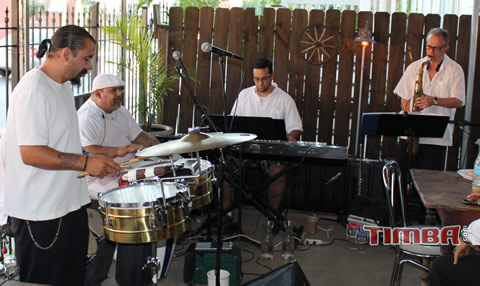 Alvert Sierra's Cuban Flavor at 90 Miles
Albert Sierra, bandleader and conguero, was born in La Habana, Cuba and came to the Chicago at the age of nine. In 1995, he moved to Miami for 16 years where he had his own band (Tito Sierra) which recorded a 2005 CD La Nueva Ley that we will be reviewing in the near future.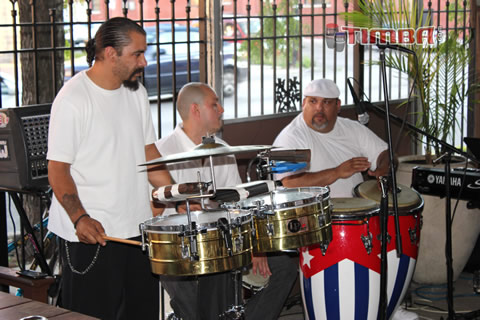 In 2011, he returned to Chicago, where his Latin Jazz combo, Albert Sierra's Cuban Flavor, is the house band at the 90 Miles Cafe. Albert also has some other musical projects in progress and plays with other groups in the area. The core members of his band are Albert Sierra Sr., leader/conguero, Albert Sierra Jr., timbal, Fernando Rodriguez, bongo, Adrian Ruiz, keyboards, Michael Levin, sax and flute, and Jesus Manuel, vocal. The group does a range of Latin jazz standards from both the Cuban and Brasilian songbooks as well as some familiar tunes like Body and Soul. The conga/bongo/timbal combination gives this group a stronger percussive kick that most of the groups of its size in the area, and when we heard them play, Adrian, who has become one of Chicago's utility infielder keyboardists for the area's Latin bands, was stretching out a little here beyond the usual piano-only tone settings that a lot of bands seem to be locked into now. As this is being written (June 2012), Albert has been back in town for less than a year, so we will be watching his other projects going forward.
The group does not have a website, but there are some clips of them at 90 Miles on Youtube.
Sunday, 24 June 2012, 06:44 AM