Indice - Table of contents
Lo Nuevo
[hide]
Fotos Del Día
[hide]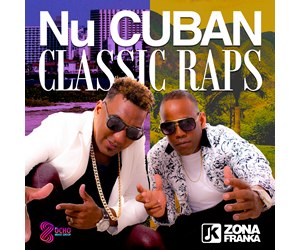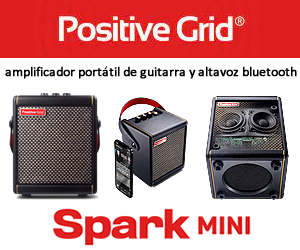 Chicago-Based Bands - Pa-Ti
Pa-Ti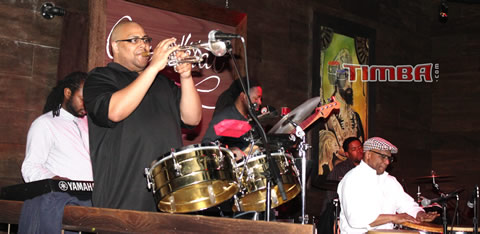 Background: The Afro-Caribbean Jazz ensemble Pa-Ti (formerly known as Carazzz has been playing together since 2003, primarily at different venues and festivals on Chicago's South Side. Core members are Gregory Carmouche, leader/congas/bongo/percussion, Justin Dillard, keyboards; Steve Corley, drums; Frederick Jackson, reeds/minor percussion; Leon Q. Allen, trumpet/flugelhorn, timbales, and Jeff Harris, bass guitar. The group specializes in Afro-Caribbean Jazz, much of which is also danceable.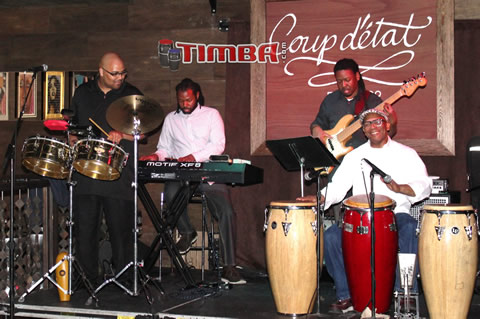 What We Saw and Heard: We tasted a set by this group at the Coup d'Etat lounge on 2109 S. Wabash on Wednesday 8, 2013. Most of the items that we heard were some pretty common Latin Jazz standards (Bemsha Swing, Killer Joe, Maiden Voyage), but there were also some more ambitious touches in the repertoire - Mingus' Pithecanthropus Erectus and some intriguing passages woven into Mambo Inn that we couldn't immediately identify but sounded as if they could have inspired by the work of Eduardo Simon or Bobby Watson's Horizon project. Frederick Jackson's bop and post-bop reed work and Leon Q. Allen's trumpet/flugelhorn work make this band worth a listen - these two bring more of an edge to the material than you normally hear in typical covers. We suspect that there is probably more to this rhythm section than we heard that night; for this gig they were capable but restrained. Incidentally, for a while before the live performance started, Leon spun an unexpectedly good (we haven't really seen him as a DJ before, so this was a surprise) collection of modern (including Timba and Cuban Salsa) dance music at the turntable.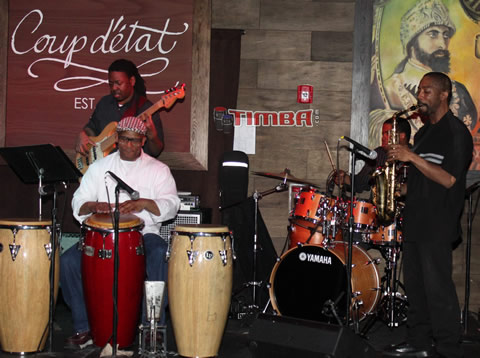 The Verdict: What could easily have been just one more band covering Latin Jazz standards is elevated by some interesting song choices in their book along with an extra dimension that Mr. Jackson and Mr. Allen bring to the material with the quality of their solos. Most of the songs are danceable, but most people in Chicago don't dance to Latin Jazz, so we are grading this on the basis of the Jazz element. In some of the songs, the passages where the rhythm section settles into a groove are a little longer than they need to be, but the solo work, when it comes, more than compensates for this. It would be a little late given the years they have spent staying under the North Side's radar to call them a welcome addition to the scene, but it is a good time for them to come out and have more exposure citywide in addition to their South Side gigs. If the group tightens up its "jam" passages a bit and puts a heavier emphasis on more ambitious song choices (which they can clearly play), it has the potential to be "noticed" in the Latin Jazz community. Meanwhile, it is still very much worth checking out when you have the opportunity.
Pa-Ti's website is pa-ti.info
sábado, 11 mayo 2013, 05:03 am