Indice - Table of contents
Lo Nuevo
[hide]
Fotos Del Día
[hide]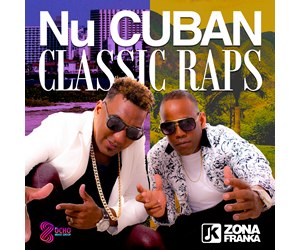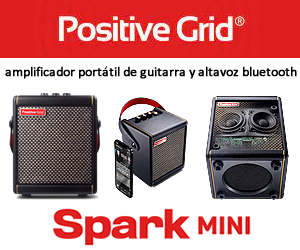 Chicago-Based Bands - Havana
Havana
All photos and review by BIll Tilford, all rights reserved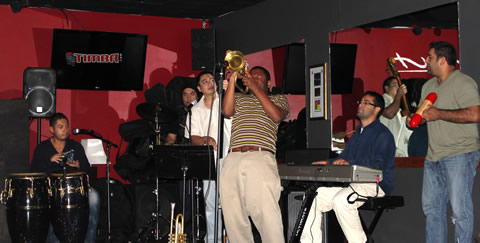 Background: We would be within rights to call this Havana 2.0, see the Havana archive page for information about the original group led by the late Richie Pillot. The current lineup features a core of Jerome Croswell on trumpet, flugelhorn and percussion, Adrian Ruiz on piano, Dennis and Byron Calito on percussion and Jose Porcayo on bass. Havana had been in long-term residence at Cafe Bolero, which closed in the summer of 2012.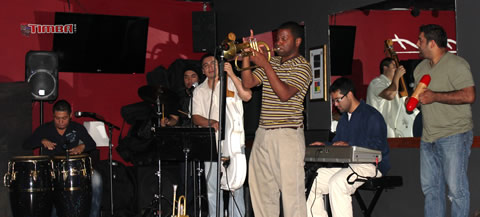 What we saw and heard: We caught the group at the Output Lounge on September 18, 2012, where they were beginning an every-other-Wednesday run. The group still plays an intelligent book including some Cubop (for example, the set included Bird's Au Privave and Chucho's Mambo Influenciado), and it probably plays a little more en descarga than it did previously. The Output Lounge has room to dance, and some couples were up for the guajiras.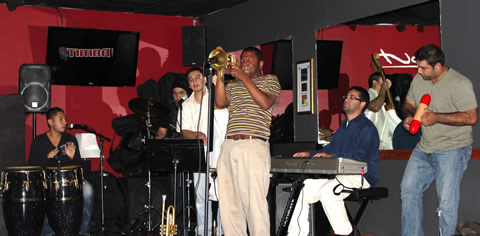 The Verdict: Jerome is known well enough by musicians but probably under-recognized by audiences and writers for his trumpet/flugelhorn work in this music. Now that he is doing the heavy lifting for the group, it will be interesting to see where he takes its book. Adrian has excellent Latin Jazz chops as well, and the rhythm section, which also turns up in Chicago's rising dance band Rica Obsesion, is solid. Highly recommended as a continuing important source of Cubop (which is where they really stand out from most of the area's other groups) and other Latin Jazz, and as some of the audience demonstrated when we were there, you can also dance to much of what they do. We will be keeping an eye on this group in the months to come.
August 2013 Update: As of this writing, when this group performs, it generally performs now under the name Rica Obsesion Havana or just the Jazz unit of Rica Obsesion, which has been focusing more of its efforts lately on its very popular dance band unit.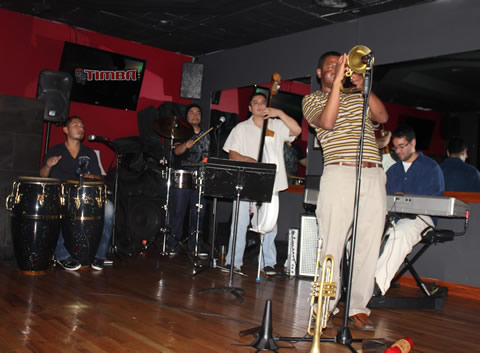 viernes, 09 agosto 2013, 07:11 am