Indice - Table of contents
New Stuff
[hide]
Photos of the Day
[hide]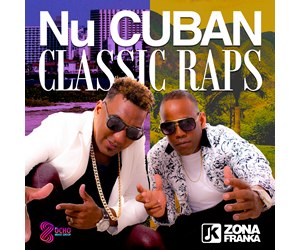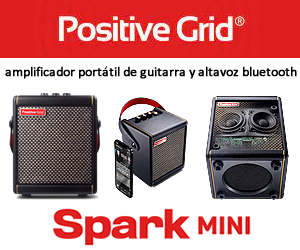 Chicago-Based Bands - Mambo Fino
Mambo Fino
Review and photos by Bill Tilford, all rights reserved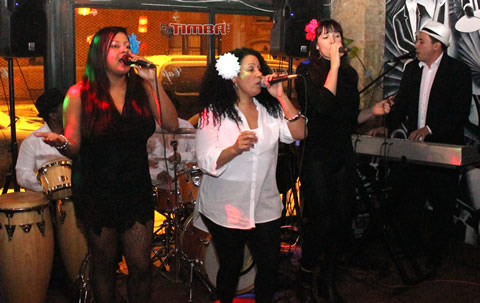 Background: Mambo Fino is a pan-Latin band led by 37-year old Cuban-born pianist Yendrys Cespedes Caballosa, who moved to Chicago recently and also performs with Hector Silveira's orchestra. The group was formed in January 2013. Yendrys graduated from the Conservatorio Jose Maria Ochoa in Holguin in 1994 and spent much of his early career as a music director, arranger, composer and bandleader in Oriente province.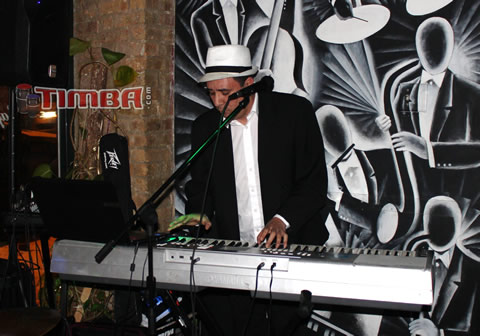 The melodic core of the group is three female vocalists:
Colombian-born Diana Mosquera, who has been singing since the age of seven and turns up in multiple bands performing various genres in the area.
Argentine-born Maria Carballo, who began her career singing the blues in Argentina and sings and plays (guitar) R & B in the Chicago area in addition to singing in Milongas. She participated in a 2008 Blues documentary "Sounds of Freedom".
Puerto Rican-born Maribel Lopez, who began singing in her father's Salsa band at the age of 5. She is also a dance instructor in the area.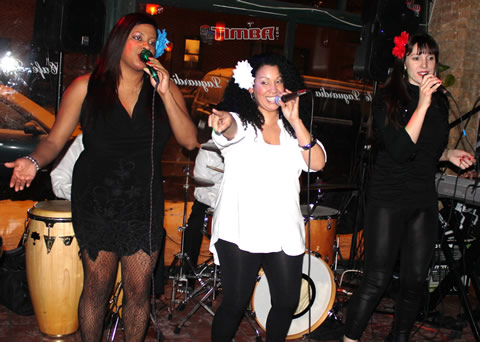 The rhythm section includes Colombian-born percussionist Diego Luis Mosquera, whose more than 30 years of experience includes work with Carlos Vives, and Chicago-born percussionist Michael Hernandez, who started playing drums at the age of 9.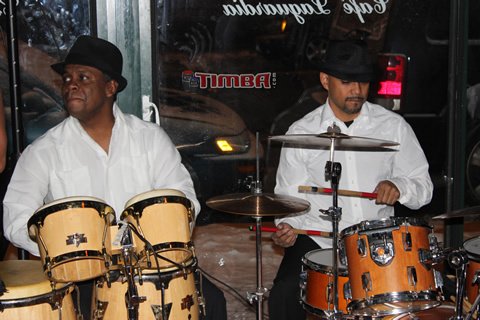 The material is pan-Latin - Cuban, Merengue, Cumbia, Bachata, some Latin Pop. As mentioned earlier, the three vocalists, who in this group are at their best doing three-part harmony, carry most of the melodies. Yendrys has the task of being a one man backing band (keyboards, synth brass, bass part), which he does ably, but this limits (without eliminating) his soloing during the vocal numbers. In the Cuban material, however, his distinctly Cuban piano style shows through. The vocal line also engages the audience very well. The group recently put together a CD which we have not yet heard.
What we saw and heard: We have seen this group twice - one at the 2013 Festival Cubano, and most recently at Cafe Laguardia on Friday, January 24, 2014 (since December 2013, they have had a regular weekend slot here). The material was, as described, pan-Latin. Perhaps because both one of the vocalists and one of the percussionists is of Colombian heritage, the Cumbias (some of which were infused with other styles) were especially strong points in their set.
The Verdict: The years that this writer spent behind the mouthpieces of various lower brass instruments make it difficult for him to warm up to any group that uses synthesizer sounds as a substitute for regular instruments (as this group does for brass and bass). But he also understands the cold realities of the musical economy, and just as it is possible for an actress to still be beautiful even though you know that she has implants, there is no escaping the fact that Mambo Fino puts on an energetic, enjoyable show, the singers and musicians are legitimately talented, and the front line especially shines. Disliking them on philosophical grounds just isn't an option in this case. (Note to restaurant and club owners: DO NOT use this as a precedent to downsize other bands. This group is an exception, not a new rule. If they were a regular Salsa, Timba or Latin Jazz band, this wouldn't work.) They are certainly developing a local following, and we would love to see them get successful enough that they can add more musicians and still get paid properly. In the meantime, check them out at their Café Laguardia run if you can.

Mambo Fino does not yet have a web page (and they can expect to be nagged about this), but they do have their own Facebook page.
Sunday, 26 January 2014, 05:39 AM