Indice - Table of contents
New Stuff
[hide]
Photos of the Day
[hide]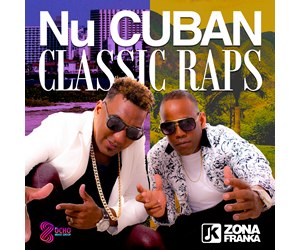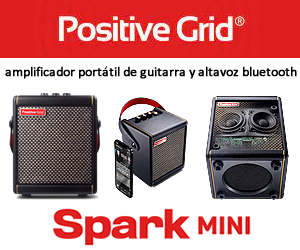 Chicago-Based Bands - Carpacho Super Combo
Carpacho Super Combo
(aka Carpacho y Su Super Combo)
(Photos and review by Bill Tilford, all rights reserved)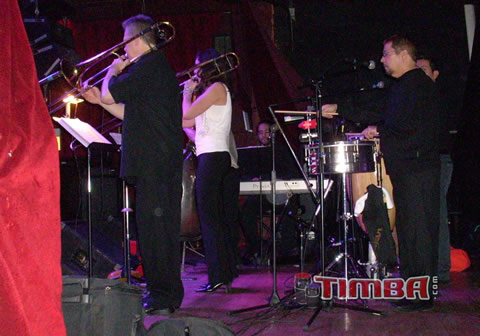 Background: According to the group's leader, Roberto "Carpacho" Marin, who is of Colombian origin, this band will be coming up on its 25th anniversary in July 2011. A few of the key musical influences have been the Fania All-Stars, Tito Puente, Grupo Niche and Oscar D'Leon. The core group is a seven piece ensemble with Carpacho on bass and lead vocals, Carol MacPherson on trombone, Dan Stark on Trombone, Cristobal Flores on timbales, Guiro Acevedo on congas, Jennifer Marin on vocals and percussion and Adrian Ruiz on piano. For Latin Jazz performances, a smaller 5-6 piece version of the group also performs with a different repertoire than the regular dance band. Some of the key strengths of this group are Carpacho's vocal stylings (for the salsa clasica part of the repertoire, he is able to assume different vocal personalities for different songs), a very tight rhythm section and excellent ensemble work both instrumentally and vocally. The group is in the process of getting material together for a possible future CD. As of March 2011, the dance band is playing special engagements, and the Latin jazz band (which also plays some dance numbers) has an open run on Saturday nights at Las Tablas , 4920 W. Irving Park Road, Chicago IL.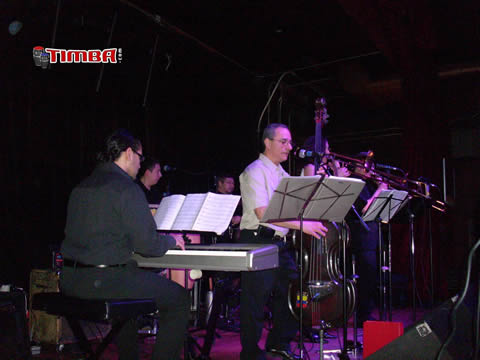 What we saw and heard: We took in two different sets by this group. The first was on Wednesday, March 16 at Green Dolphin Street (for our general report on the regular Wednesday night event there, see The Salsa SIde of Wednesday on Green Dolphin Street ). Most of this set was a combination of Colombian, Puerto Rican and Cuban-style salsa along with some merengue and cumbia. The dual-trombone work was versatile, at times bringing some Conjunto Libre-quality call and response work to the material. One of the real highlights of the evening was La Murga (de Panama), a tune that Willie Colon popularized. Carpacho's group turned things up several notches during this number by throwing in a controversia de metales that took the two trombones out on the dance floor for a duel.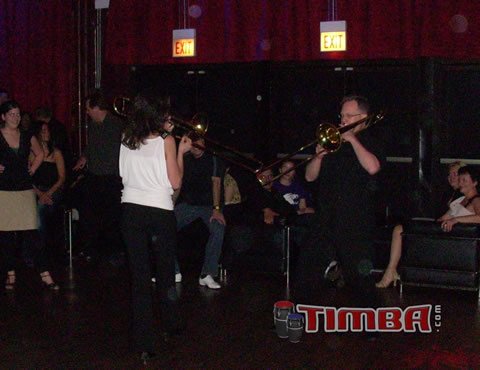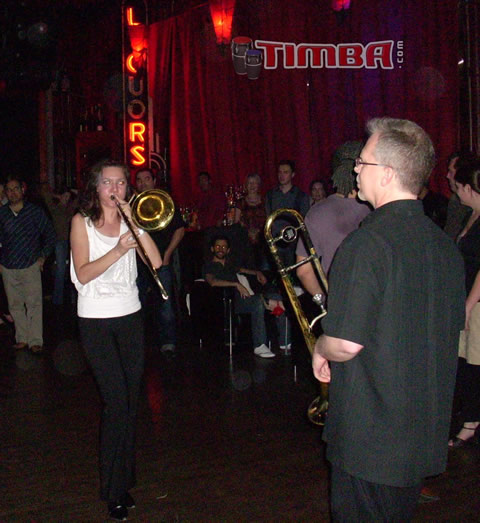 Another highlight was near the end of the set, when the group broke loose with a descarga that featured an excellent solo by the timbalero (Cristobal Flores), who was then joined by Eliezer from Eliezer y su Orquesta, who was in the audience and also took a turn at soloing on timbales.
We also took in a set at Las Tablas on Saturday, March 19, 2011 by the Latin jazz version of the ensemble. The material for this set was also well-done but mostly different, including some bossa nova numbers such as How Insensitive and The Girl From Ipanema along with some well-executed Latin jazz versions of standards such as Besame Mucho, Blue Bossa and Autumn Leaves. As the evening progressed, the group also went into some of its dance numbers as well (Las Tablas is primarily a restaurant serving fine Colombian cuisine, but there is some space for dancing).
The Verdict: One of the things that really struck us about this group is that in addition to being on top of its material, it appears to be genuinely having a lot of fun on stage, and it transmits that feeling to the audience really well. The fact that three of the members are family (Carpacho, wife Carol and daughter Jennifer) may help explain this, but whatever the reasons, it brings a nice party band feel to the proceedings for dance events, and at the jazz set, the material complemented a fine Colombian supper very well. For dancers, this is an excellent band for catching a really good Fania-era salsa vibe (they also do some really good cumbia, but the sets we took in weren't really designed for them to show off much of their cumbia chops).
January 2012 update: Carpacho now has a website: Carpachosupercombo.com
Carpacho sent us the following video link:
Monday, 16 January 2012, 07:26 AM