Indice - Table of contents
New Stuff
[hide]
Photos of the Day
[hide]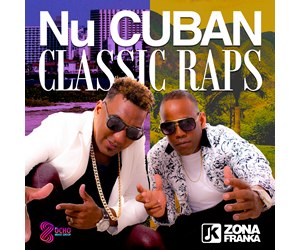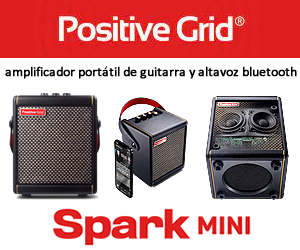 Chicago-Based Bands - Son Bayú
Son Bayú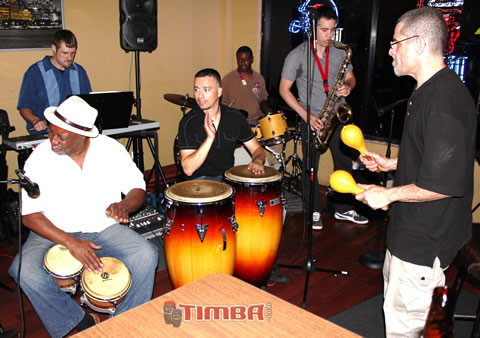 Background: According to bassist Frank Torres, Son Bayú was formed in 2010. The core members of this Latin Jazz group are Frankie "Pancho" Merced, piano/director; Frank Torres, bass; Pete Vale, conga; Orlando Robinson, drums; Cyrille Laurens, sax; Rafy Hernandez, bongo and Marty Singer, vibes. The group also uses some auxiliary singers and percussion on occasion. As of July 2012, the band has a regular once a month gig at the Mas o Menos Lounge, a bar on Division Street in Chicago that features Latin Jazz weekly on Thursdays. The group has also recorded a couple of single demos in the studio.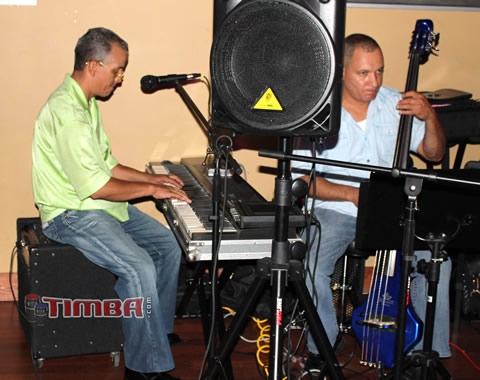 What we saw and heard: We dropped into Mas o Menos for the band's July 5, 2012 set. This was a mostly-instrumental outing with a number of Latin Jazz standards such as Little Sunflower, Para Ti, Señor Blues, Manteca and Song For My Father as well as some Latin Soul including a cover of Knocks Me Off My Feet, which was originally covered by Stevie Wonder. The combination of the instrumentation (vibes and sax are driving the melody) and the choice of material gives the group an overall feel that's kind of in the Cal Tjader / light Mongo Santamaria zone. A few musicians from other groups also dropped in and sat in on a song here or there during the night.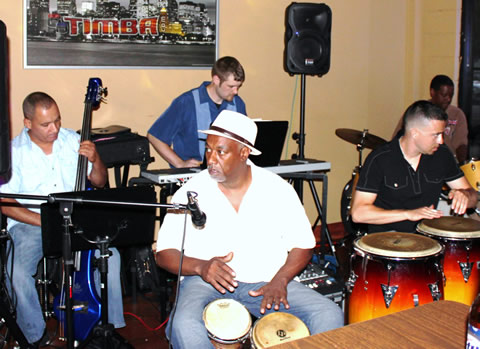 The Verdict: Writing about the bands that are playing the clubs and restaurants in Chicago can sometimes be tricky because many of these gigs in the city are de facto structured jam sessions with a core group of musicians (the band) augmented by drop-ins by other musicians. The sit-in factor adds some suspense and excitement to the evenings but also makes it necessary to mentally write those musicians out of the equation when evaluating the actual band. That being said, the core band is not really in the same class as Chicago's first-tier Latin Jazz bands such as CALJE, Chevere or Conjunto, but that does not mean that it is a bad band either - there aren't a lot of pyrotechnics or "wow" moments here, but the group lays down a nice, solid groove, and fans of Cal Tjader and Mongo's lighter material would especially enjoy it. We should also add that some pretty heavy-duty percussionists dropped in for a couple of numbers during the evening when we were there, and if that happens frequently, it will give the band an extra dimension on some songs during those nights. Finally, this band is relatively new, so we'll be checking up on it in the future to see how it is evolving. For now we'll grade it as "good" with the potential to become excellent as it matures.
Monday, 09 July 2012, 05:38 AM