Chicago-Based Bands - Angel D'Cuba
Angel d'Cuba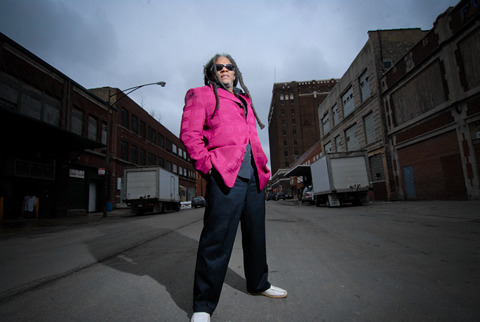 (Photo supplied by James Cornolo of Angel d'Cuba's group)
Prior to coming to Chicago approximately 14 years ago, Angel d'Cuba (Angel Luis Badell) performed with several groups in Cuba including a hitch as Mezcla's lead singer. He has also had a varied career in Chicago, performing not only Cuban music but some other genres such as Reggae. He currently leads his own group which performs a range of Latin music from old standards such as El Bodeguero to new modern original compositions (his own) which are closer to what we would consider Timba territory along with material from other countries. He performs in several configurations ranging from as small as a trio to the full band of 8-9 pieces, and what you'll hear depends in some degree on where you hear him and which musicians he is performing with. That being said, when he's in full Cubano mode, this is the Chicago band that can and sometimes will give you material such as Los Van Van's Sandunguera (Por Encima del Nivel) , and some of Angel's originals are a good listen for Songo and TImba lovers as well.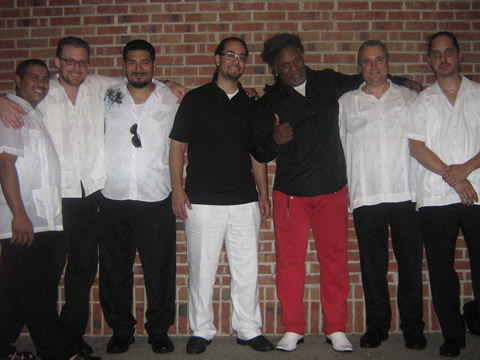 We have listened to Angel more than once in different settings with different musicians, but the outing that best portrayed what the group can offer with its "A" game was at the Taste of Chicago on June 24, 2011. The set included some standards (Son de la Loma, El Bodeguero, Bilongo, Dos Gardenias) , a Mongo Santamaria groove (Watermelon Man ), Cañonazo and also three of Angel's modern original compositions, Me Sale del Corazon, Herencia and Muchacha de Escuela . The musicians for the outing included Angel as lead singer, James Cornolo on tres and electric guitar, Jerome Croswell on trumpet, Eddie Ramos on saxophone, Bob Lovecchio on bass, Nathan Rodriguez on timbales, Ogie Merced on congas and Darwin Noguera on piano. Some very nice solo work, particularly from Jerome and Darwin, helped elevate what could have been run of the mill standards into fresh renditions of the material. Bilongo in particular has become rather too ubiquitous in this writer's opinion among bands doing a Cuban book (as has El Cantante on the Puerto Rican end of things), but it was redeemed in this case by an extended jam with some excellent piano and trumpet lines. And, of course, Angel is an excellent lead singer as well. (Photo supplied by James Cornolo of Angel d'Cuba's group)
Click here to see a few photos of the band at the Taste of Chicago

Click here to see some more recent photos in January 2012
On June 9, 2011, we sat down with Angel for an interview about his career, his current studio project (a forthcoming CD) and his views about the music scene:
Click here for interview (audio, approx 33 minutes, English)
Timba fans may find it a little ironic that the local musician best musically equipped to bring Timba to local audiences only makes it a relatively small portion of the band's book, but Angel lays out a persuasive case for why he does what he does in the interview, and the group does a creditable job of freshening up the "old standards" part of its book. It is, however, when the originals come out in a full-band setting that the group truly distinguishes itself, and it is our hope that it will have more opportunities to demonstrate that as the future unfolds.
March 2012 update: The group's debut recording, Heritage, is being released in March 2012. You can read a review here.
The group's website is Angeldcuba.com
Monday, 26 March 2012, 02:13 AM