Indice - Table of contents
New Stuff
[hide]
Photos of the Day
[hide]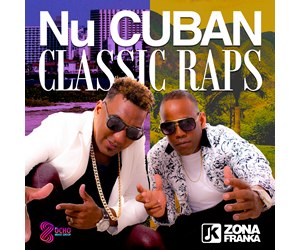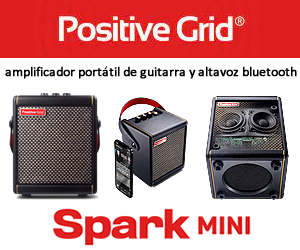 Chicago-Based Bands - Sureya y su Orquesta
Sureya y su Orquesta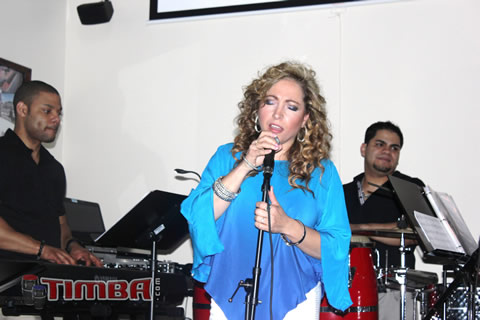 Background: According to leader/lead vocalist Sureya Perez, she is originally from Guantánamo, Cuba and began performing in Chicago in the mid 1990s as vocalist for Samuel del Real's orchestra. After a stint of approximately 15 years with them, she formed her own band approximately 2 years ago. The core is a 9-piece group and does a combination of originals and covers. Sureya enjoys groups like Son 14 and Los Van Van, but Celia Cruz is more of an influence on the group's working repertoire. She and the band are currently recording a new CD to be released in the fall of 2012, and she is scheduled to be an opening act at the festival following the Puerto Rican parade this year.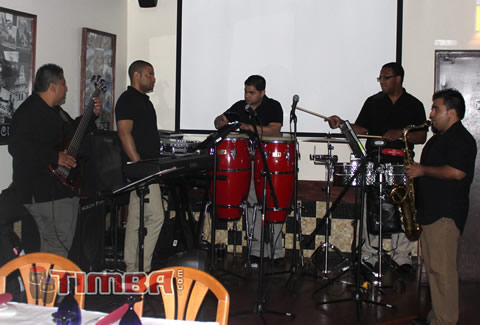 What we saw and heard: We heard just a sliver of the band at the 2011 Festival Cubano, but not enough to do a full writeup then. We then heard a restaurant set at Siboney Cuban Cuisine on March 17, 2012 by a 6-piece unit of the larger group (Chicago's bands frequently need to 'downsize' a little when playing ithe restaurants here) including Sureya, leader/lead vocals; Mike Rivera, bass/music director; Danny Feliciano, congas; Harley Figueroa, sax; Juan Picorelli, congas and Mike Rosario, piano. (Other members of the group not present for this set are Tony Morales, trombone; Victor Garcia, trumpet and Ellis Vargas, bongo.) Like most of Chicago's first-tier Latin bands, these musicians also have Jazz chops, and the group opened with a Latin Jazz set early in the evening followed by dance sets as the evening progressed. The Jazz set included some standards like Fly Me To The Moon, but one of the more enjoyable moments during that portion was actually a mix of Oye Como Va and Cocinando. The dance set brought out some Cuban classics like El Cuarto de Tula and Quimbara. We've heard so many groups phone in their performances of that material over the years that we have hardened our hearts against many of today's bands that try to work that book without actually putting something worthwhile into it, but Sureya and the band have managed to keep the songs alive and vital. Sureya has a very dynamic voice and stage presence. She's not a Celia Cruz impersonator but brings enough vitality to her own style to prevent you from being tempted to draw the unfavorable comparisons to Celia that so many female vocalists frequently have to endure. Equally important, she appears to be comfortable enough in her own role to let the rest of her musicians stretch out and strut their stuff more than we normally hear in these songs. That combination is potent enough that while they were playing El Cuarto de Tula, for example, instead of muttering, "Oh, that song again", we found ourselves thinking "Hey, that is really good..." They also did an unusual uptempo rendition of Chan Chan, and the dancers settled any argument over whether the song worked by filling the dance floor. The saxophonist carried the evening pretty well in the absence of the rest of the metales with some fine solo work, and the rhythm section was excellent.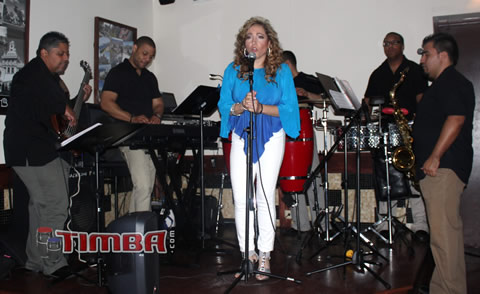 The Verdict: We hope to have an opportunity later this year to hear the full 9-piece group, and we'll say more about Sureya y su Orquesta when that happens, but the 6-piece unit was also a lot of fun. This is a versatile group of musicians, so we aren't going to risk pigeonholing them as just a Celia Cruz-era band, but nevertheless, they do that material well and energetically enough that if we were going to take a group of people to hear that part of the Cuban songbook played by a Chicago-based group, this is the group that we would recommend. Chicago has a few fine female vocalists in this music, but Sureya is the most dynamic of them that we have heard to date, and to her credit, she also lets her instrumentalists out on a longer leash than many vocalist/leaders in the business are prone to do. Highly recommended.
Sureya's website, which includes a bio, photos and some song clips, is sureyaperez.com
Tuesday, 20 March 2012, 04:04 PM